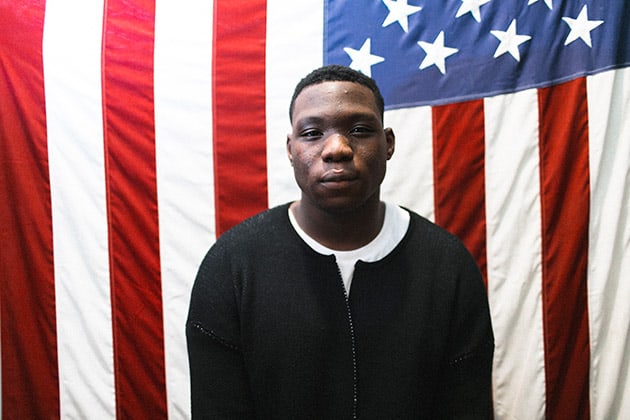 Watch Tunji Ige's Political-ish "Why Don't You?" Video
Even love songs carry a social message in a Donald Trump world
Tonight we watched Trump's inauguration and it felt like watching an accident happen in slow motion. Like most socially aware people, we've imagined the worst but fortunately, there's more to the future than bad news. For Tunji Ige, the future holds more creative ideas waiting to be tapped. Last year's EP, Missed Calls gave us a hint of his playful, exciting sound and saw him recognized as one of the most inventive young producers in Hip hop right now.
His new video "Why Don't You?" directed by longtime collaborator Glassface, juxtaposes the imagery we've come to expect from contemporary R&B and hip-hop videos with footage from contemporary America; anti-Trump graffiti, violent policemen, women with bubble butts, a guy in a gas mask throwing money, while Tunji questions the place of the artist as a voice for social change. His video is heavy on contradictions and when he was asked about it, he explained:
"I want to give the people what they want and show them what's really going on. My reality of being an artist in an age where you're more bound to win with streams and viral parodies, click bait to distract from the message at hand. Especially within my beloved genre of hip hop that is evolving into a scape of Auto-Tune 808s. How does one stand out and how can one still get the message across? I feel like this piece of art gives the people everything they want and more, maybe a little more than they can handle, through my eyes."
Check out the video for "Why Don't You?" below and look out for the full song, co-produced by Tunji and Heaven in Stereo, his long-time partner to be released tonight.