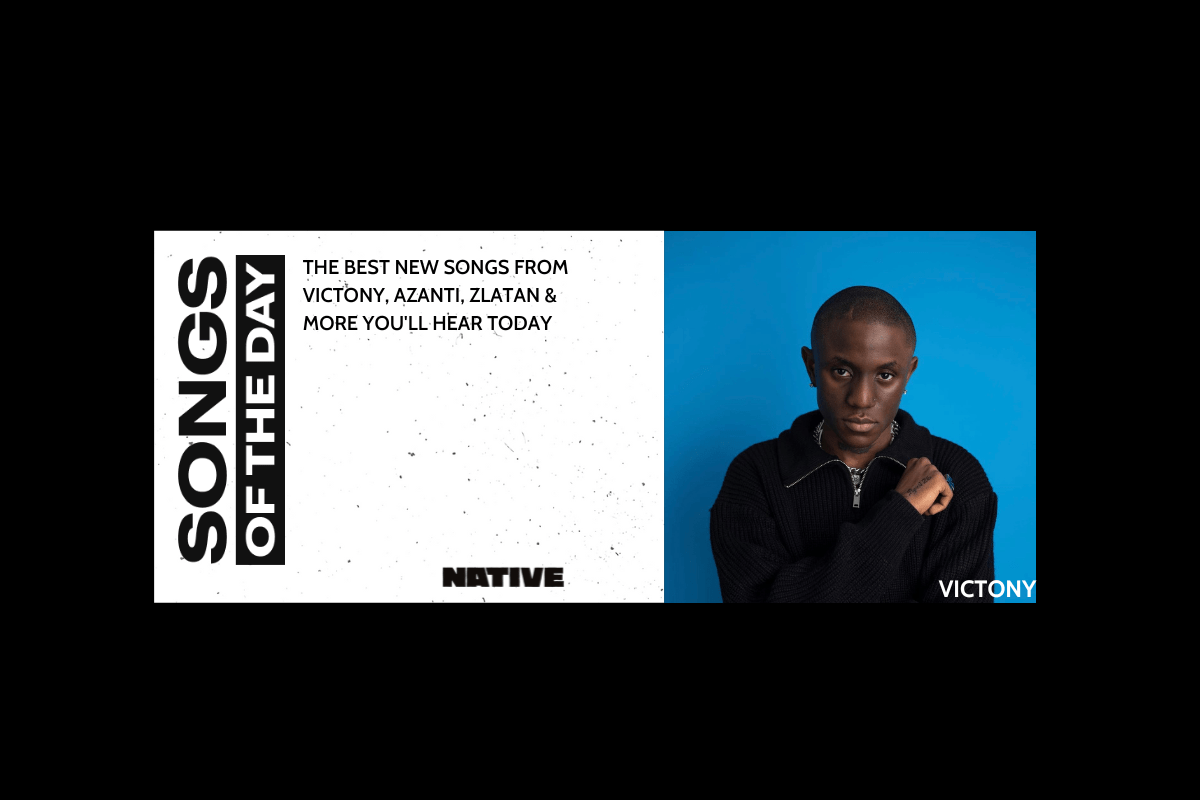 Songs Of The Day: New Music from Victony, Azanti, Zlatan & More
New music to start your week
2022 is winding down, and it's been an eventful year for Afropop. There's been a torrent of great new music, spawning a massive stack of inventive smash-hit songs. From Highlife-infused Ghanaian pop, to the unrelenting force that is Nigerian street-pop to South Africa's indomitable Dance scene, to tantalising Drill explorations in East and Central Africa, and much, much more, we're living through abundant and musically expansive times.
Every week, many songs from African artists make their way to digital streaming platforms, and wading through them can be intense. That's where The NATIVE's Songs of the Day column comes in to help. We go through as many new releases as possible, spotlighting them here, two to three times every week. Today, enjoy new music from Victony, Liya, Azanti, Ladé and more. Lock in!
VICTONY & TEMPOE – "SOWETO"
Nigerian artist has unveiled the official music video for "Soweto" off his 'Outlaw' EP. The Jyde Ajala-directed video is a fest of colours and captivating dance moves that fit the aura of the track. The video also features guest appearances from Nigerian music producer Tempoe.
LIYA – "IZZ GOING (SKALALA)"
DMW's frontline female act Liya unveils her first single of the year "Izz Going (Skalala)." The Kdreamkillit-produced track treads the same path as last year's "Melo"; here, Liya is in playful mode as she sings of doing things her way and having fun.
AZANTI – "LATE4DINNER"
Apex Village's Azanti follows up his earlier record "Gettin' Hot" with an infectious new cut "late4dinner." Produced by London, the track is a romantic tune wherein Azanti airs his desire to jump past obstacles and be with his lover. "Tellin' you I'm drunk but you want me to drive/You must be ready for my love tonight," he sings.
LADÉ – "ALL THE WAY"
Off the success of her viral hit "Adulthood," indie Nigerian singer Ladé has kept her foot on the pedal. Her latest single "All the Way," produced by Aykbeats, is her letter to men seeking romantic relationships with women. "No need for shalaye/Money na the language /If you want a woman, you go all the way," she sings over the Amapiano beat.
DAVOLEE & ZLATAN – "WAT (WEST AFRICA TIME)"
On this mellow, Amapiano-tinged track, Davolee and Zlatan reject the shackles the poverty as they affirm their desire to work hard and make money. Davolee, who started as a hardcore rapper has evolved over the years, adding singing to his repertoire. "My papa no too get/And I go buy the jet/You see, I'm just so confident," he sings.
YINOLUU – "CONSTELLATIONS"
On his seventh single of the year, Nigerian music producer Yinoluu creates a chill vibe on the R&B/Soul-tinged "Constellations." He sprinkles guitar chords onto kicking bass while also inserting chopped vocals; the result is an alluring blend soundscape that you can't help but sway to.
ICEZY – "HOLY WATER"
Born Isaac Akanno, up-and-coming Nigerian singer Icezy dedicates his latest single "Holy Water" to his love muse. With silky vocals, the Afropop artist serenades his lover with praise about her body and their connection. Produced by Dokashot, "Holy Water" features a seductive, slow-whine groove backed by guitar and piano chords.
Featured image credits/