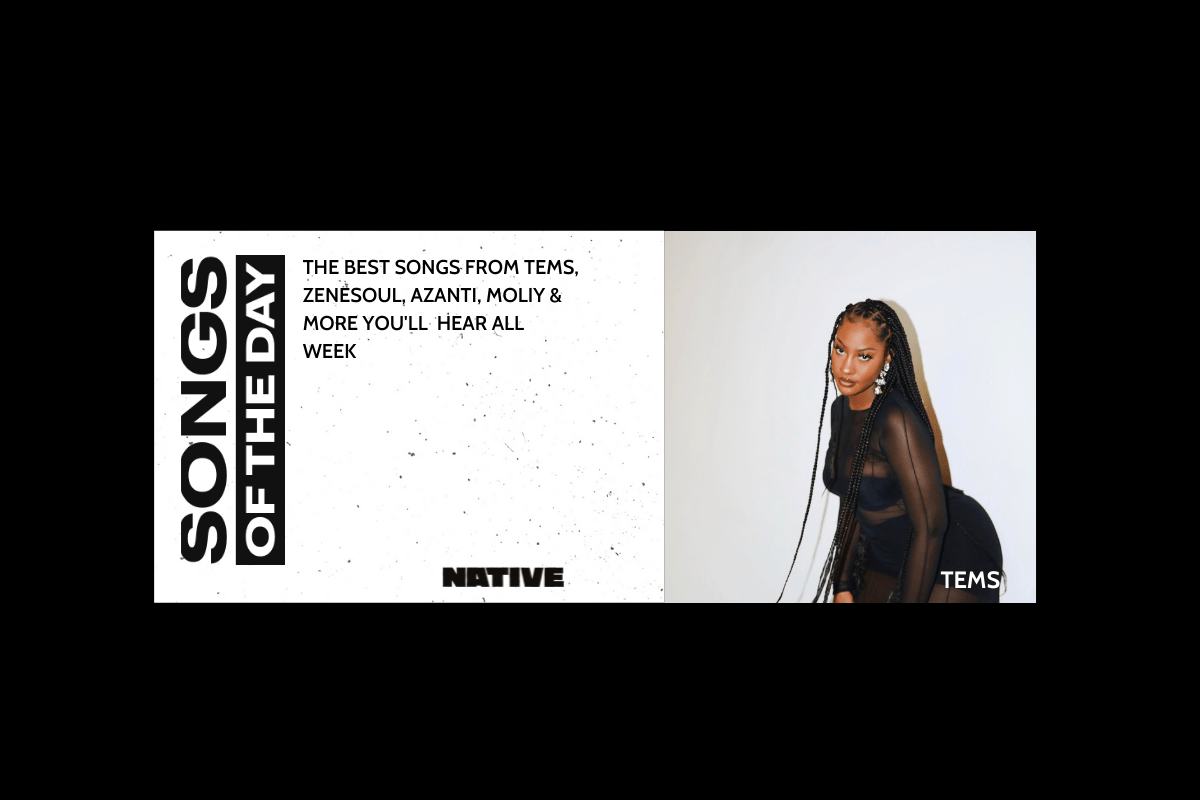 Songs Of The Day: New Music From Tems, Zenesoul, T.I Blaze & More
new music for your playlist
2022 is no longer a new year, and Afropop knows that very well. As much as the previous year was packed with scene-defining achievements, especially within the context of global growth, the only way to keep the momentum from falling off is for artists to keep reaching into their bag for great music that holds the ears and captures the hearts of millions of listeners across the continent and well beyond. That's exactly what's been happening, so much so that there's hundreds of new singles, at-least one new must-hear album and a new smash hit every week.
Amidst this torrent of new music, the NATIVE is committed to highlighting the best releases you need to hear, and possibly add to your playlists. That's the essence of our 'Songs of the Day' column. On Wednesday, we highlighted new drops from Kabza De Small, NV Funk, BadTheSoundBoy and more. Today's curation includes new cuts from Tems who featured on Future's new album alongside Drake, Zenesoul, Majeeed, Moliy, T.I Blaze, Skiibi and more.
FUTURE — "WAIT FOR YOU" FT. DRAKE & TEMS
Future is back with a new album 'I Never Liked You', and "Wait For You" is an early standout on it. On "Wait For You", he unites with Nigeria's own Tems and Canadian Superstar Drake. The track which is a sample of Tems' 2020 "Higher" — Future sounds forlorn as he whips through rapid fire lines about feeling vulnerable, doing drugs and a precarious situation with a love interest. Drake also holds up his end as he dishes swanky lines about a troubled situation with his muse: "Why you introduce us if you know that you was with him? Made me shake his hand when y'all been fucking for a minute". However, Tems' dazzling voice intersperses the record and is the connecting fluid that holds the track together.
ZENESOUL — "IS IT LOVE?" FT. AZANTI
For her latest offering, Zenesoul taps Afropop wunderkid Azanti for a new record titled, "Is It Love?" Over an upbeat groovy beat, Zenesoul opens the record with her rich soulful voice, questioning her muse's feelings towards her. "Is it love? Or am I just a fool for you?" She sings with conspicuous distress in her voice. Azanti steps in, lancing the beat with his smoky voice as he delivers an illustrious verse in classic Afropop fashion about being jilted by his muse with lyrics such as "Oh no, I been alone yeah. And I been wasting, cause I been deceiving myself that I was over you".
MOLIY — "9 To 5"
Off Moliy's just released three-track EP 'Mahogany ST', "9 To 5" is an obvious standout. The track is a suave electrifying blend of Afropop and reggae, upholstered by shimmering guitar riffs and bouncy melodies. Over the groovy track she delivers a resonating verse about her strength as a woman, the efficacy of hard work and how the typical 9-5 work schedule doesn't work for her.
MAJEED — "YAWA NO DEY END" FT. JOEBOY
Following the incredible success enjoyed by the original, wunderkid Majeed doubles down with a Joeboy-assisted remix. "Yawa No Dey End" is a beautiful mid-tempo highlife-inflected Afropop record. Over the groovy beat, Majeed displays pristine shrewdness, as he runs through the armada of problems he's faced with and declares that letting loose and enjoying life is a much better option to being sullen. "But I go live my life, I go chop life, my brother yawa no Dey end", he sings over the hook. Joeboy comes in with an electrifying verse — to the same effect as Majeed's message — that transposes the song to a more lofty echelon.
T.I BLAZE & SKIIBII — "KILO"
Off the back of impressive runs for the pair, they unite for a fresh rousing Afropop offering. Over the boisterous Niphkeys-produced beat the pair take turns delivering rapid fire about youthful ebullience and their grind up to fame. "I'm already used to the fakeness, so I focus on the greatness", T.I Blaze brazenly declares over the stirring production.
NINETY — "HOLD MY SIDE"
"Hold My Side" is a silky new number that finds the Nigerian singer Ninety weave poignant tales over a groovy beat with his sultry vocals. On the track, Ninety effusively expresses his love for his muse and showers her with adulation. Using cleverly fashioned lyrics, he acknowledges his muse's reservation about him and reassures her of his desire to be with her for the long haul singing "I no go like to let you go, I no go like to play tinko". The single features on his on his debut EP 'Diamonds' which was released today.
Featured image credits/NATIVE
---