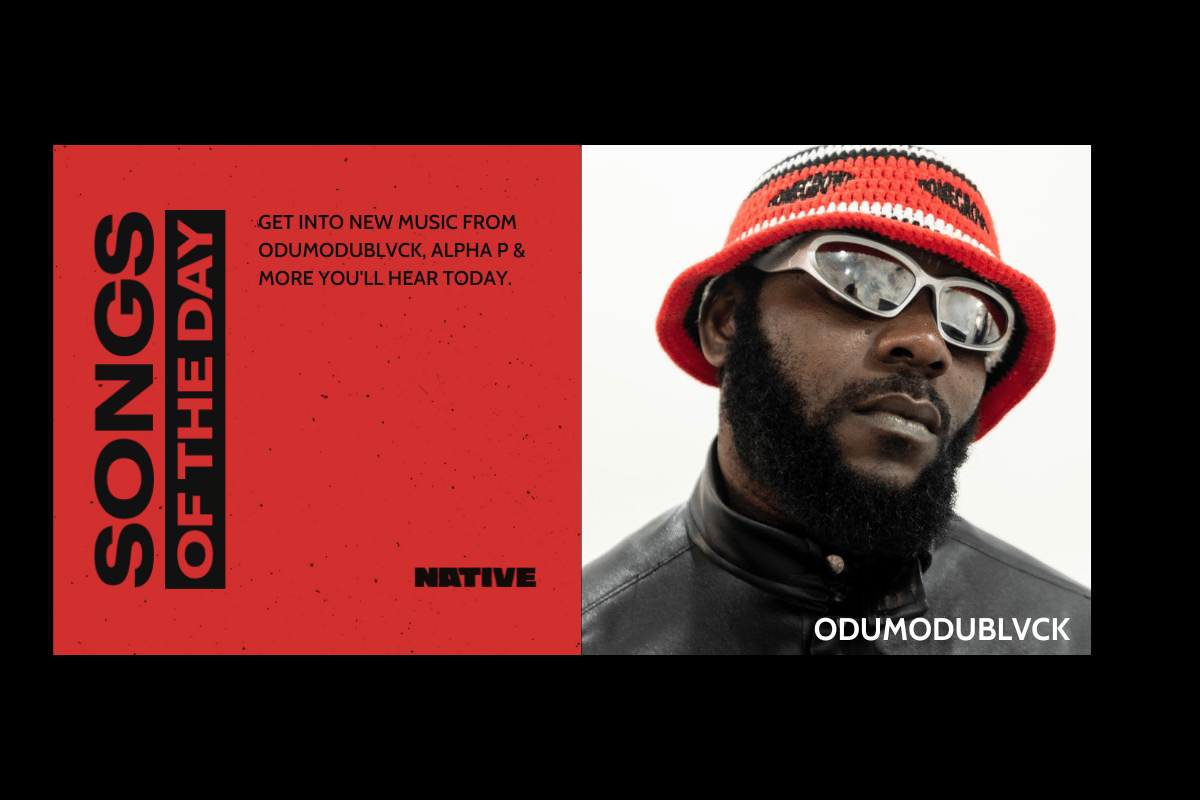 Songs Of The Day: New Music From Odumodublvck, Alpha P, Somadina & More
mid week tunes
2022 is winding down, and it's been an eventful year for Afropop. There's been a torrent of great new music, spawning a massive stack of inventive smash-hit songs. From Highlife-infused Ghanaian pop, to the unrelenting force that is Nigerian street-pop to South Africa's indomitable Dance scene, to tantalising Drill explorations in East and Central Africa, and much, much more, we're living through abundant and musically expansive times.
Every week, many songs from African artists make their way to digital streaming platforms, and wading through them can be intense. That's where The NATIVE's Songs of the Day column comes in to help. We go through as many new releases as possible, spotlighting them here, two to three times every week. Today, enjoy new music from Odumodublvck, Ruger and more. Lock In! 
ODUMODUBLVCK – "PICANTO"
Fresh off the announcement of a joint venture deal with Def Jam Recordings, NATIVE Records has signed Abuja-based rapper, OdumoduBlvck, the heavily sought after artist who has spent the last 18 months drumming up a buzz that has seen him anointed as one of the most seminal voices out of the nation's capital in more than a decade. Arriving yesterday, "Picanto", an emotive debut single on the label, featuring Nigerian Street-Rap legend pioneer Zlatan & Ecko Miles, respectively. The brooding, haunting single details the real-life struggles of a modern day young Nigerian hustler. The trio offer a cross between Drill and Hip-hop as their verses effortlessness flow into one another, delivering some catchy bars and memorable one-liners.
ALPHA P – "VERONICA"
Following his stellar performance on DJ Tunez' "Majo" assisted by Wizkid, and Tay Iwar, Alpha P leads us into the festive season with his new single "Veronica." On the BlaiseBeatz-produced track, he enlists the help of Afropop singer, AV to deliver a romantic-tinged track couched in vibrant drum patterns and anthemic horns. The new track is set to feature on Alpha P's new project, which is due for release next year.
KILLERTUNES & SUTÉ IWAR – "ALL MY DAYS"
Following the release of singles "WYD" and "OH NO," superstar producer Killertunes lends his performance and producer prowess on his third single for the year, "All My Days." On this slow-tempo number, he enlists Suté Iwar lush vocals over some  piano keys as the pair sing praises to their love interest saying, "In all my days o, I never see this type of waist o." Assisting their mellifluous vocals is a stunning saxophone solo, midway through the track.
YCEE – "AZUL '22" ft COSTA TITCH, PHANTOM STEEZE, MA GANG OFFICIAL
For his first single this year, YCEE taps into South African production heavyweights Sibusiso Johannes Mnyakeni, Sebuti Alec Mohalanyane and Thando Tshabalala on the catchy Amapiano number, "Azul '22". Inspired the popular phrase in Nigerian clubbing culture , "who order Azul?", YCEE croons over a high-tempo beat "2022, who order Azul?/ Is it you or you or you?"
THANDO SKWATSHA – "THANDOLWAMI"
Emerging South African singer-songwriter taps into the homegrown sounds to deliver a beautiful R&B debut album, 'iimimi nentsuku' written in his traditional languages isiXhosa and isiZulu. The 12- track project showcases Thando's passionate lyricism with a blend of house, Afropop and electronic music sensibilities. On one of the introductory tracks on the project, "thandolwami", Thando reflects on a past relationship in form a glorious ballad.
T'NEEYA – "MONSTA ALTA"
Earlier this year, German-Cameroonian singer hooked audiences with her distinct vocals on "Coming", reaffirming her place amongst the R&B/Soul talents coming out of Africa. For her latest release, T'Neeya has shared an enthralling 2-track project 'Monsta Alta', T'neeya's fierce and feminine alter ago comes out as she unapologetically expresses her standards and expectations from anyone coming into her life. On the titular track "Monsta Alta," T'neeya blends Afropop and 90's R&B influences to produce a commingling of sounds that is equal parts soul and funk, as she performers her verses in English, Pidgin and French.
MOH GREEN – "JO" ft. 1DA BANTON & FRENCH MONTANA
French-Algerian DJ and producer, Moh Green enlists 1Da Banton for his compelling new single "JO", the lead promotional single for his upcoming EP, 'Just Now'. More popular for his infectious singles "Ca Ta Va Bien" and "Omri – Remix", "JO" is Moh Green's second release for the year, following "Comme Ça" which featured Thomas Mendjy and Elams. "JO" which translates to dance in Yoruba is a groovy number featuring lush drums and intoxicating flute arrangements sure to get any listener on their feet. With performances from Nigerian and Morrocan artists, 1Da Banton and French Montana, "JO" offers a diverse fusion of cultures on an afro-influenced dance track.
Featured Image Credits/The NATIVE