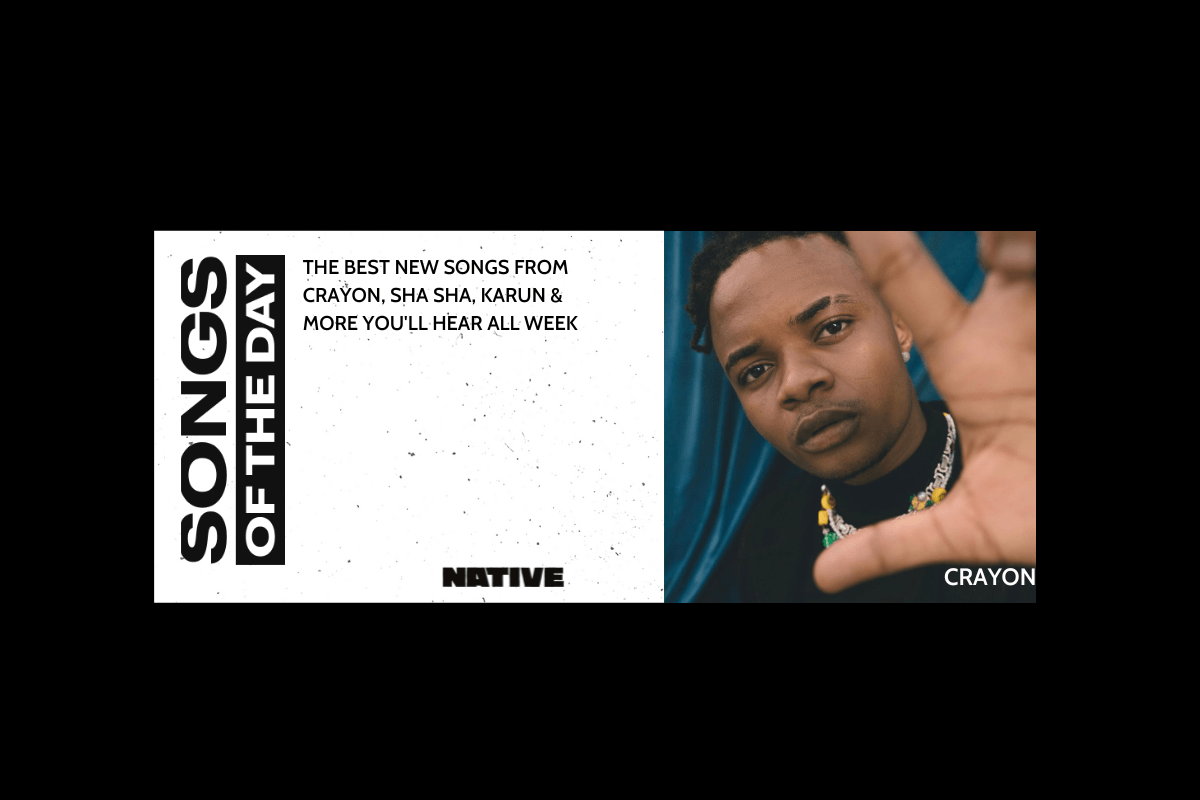 Songs of the Day: New Music From Crayon, Sha Sha, Karun & More
new week, new music
We're halfway through 2022, and it's been an eventful year for Afropop. There's been a torrent of great new music, spawning a massive stack of inventive smash hit songs. From Highlife-infused Ghanaian pop, to the unrelenting force that is Nigerian street-pop, to South Africa's indomitable Dance scene, to tantalising Drill explorations in East and Central Africa, and much, much more, we're living through abundant and musically expansive times.
Every week, tonnes of songs from African artists make their way to digital streaming platforms, and wading through them can be intense. That's where The NATIVE's Songs of the Day column comes in to help. We go through as many new releases as possible, spotlighting them here, two to three times every week. This mid-week drops makes up for the column's absence last week, packing jam after jam for your listening pleasure.
CRAYON – "IJO (LABA LABA)"
Crayon ranks among the most exciting young stars in Afropop. Since his debut EP 'Cray Cray,' the Mavin Records act has continued to prove his mettle, making dedicated ears of an easily distracted audience. Unarguably one of  the biggest songs released this year ("Overdosing") thrives off the sunny glee of his vocals, the alertness of his melodic phrasing to contemporary culture.
"Ijo (Laba Laba)" keeps up the form, marking his introduction to the gift that is Amapiano. It comes no better than a Sarz beat, and Crayon easily thrives off the spacey drums and accompanying elements, delivering a song that's fun, anthemic and inspirational. Its recently released visuals was directed by TG Omori and features Don Jazzy in a starring role, with cameos from Magixx, Blaqbonez and other notable faces. 
SHA SHA FT. SOA MATTRIX – "UNGOWAMI"
The contemporary thrust of Amapiano counts Sha Sha among its biggest influencers. Her vocal mastery enables her the keys to the entire scene, collaborating with virtuosic intent while bringing the world closer to her uniqueness. Alongside Soa Mattrix, her latest song "Ungowami" packs an impressive progression of instrumentals. Dusty Piano log drums and swirling keys interlace with their distinct voices, rippling with strength and tenderness all at the same time.
NANDY & OXLADE – "NAPONA"
Tanzanian singer Nandy's ties with the Nigerian music industry is extended here. After featuring Joeboy not long ago, Oxlade emerges now as the masculine character who she's helplessly in love with. Right from the bubbly overtones of the production, the head-swirling nature of the song is beautifully introduced. Nandy and Oxlade's voices are in sync, as they both sing in the rain-dripping style of the R&B classics. 
GUILTYBEATZ, TWITCH 4EVA & MR HUDSON – "UNIVERSE"
A psychedelic trip best describes the feel of "Universe." This collaborative masterpiece travels by way of Ghana and the United Kingdom. Ghanaian-British producer sets the scintillating groove, merging fast-paced percussions with moody keys and electric synths to create a futuristic EDM vibe. He's joined by British singer Mr. Hudson on the chorus, while Ghanaian rapper Twitch delivers a short but notable verse.
COBHAMS ASUQUO – "ELEPHANT MAN"
It's not everyday you get a new single from Cobhams Asuquo. The legendary producer and musician is kept busy by other engagements but once every while, he returns to showcase a glimpse of his brilliance. "Elephant Man" is a distinct record from the alternative affiliations of his earlier days. In that sense, he's fully conversant with today's pop music, bringing his assured songwriting into a boppy beat. The titular term refers to his influence on the soundscape, making well-earned brags while keeping a sense of the perspective it took to get here.
MUT4Y, AZANTI & DJ TUNEZ – "BE MY LUV"
On this song, frequent Wizkid collaborators Mut4y and DJ Tunez curate an exciting experience. Setting the tempo with an energetic beat ready-made for an outdoor party, Azanti comes in full flow. His confessions of love aren't delivered with brooding prescience but rather with a vivacious sense of his celebrity. He's lyrically aware in the style of Afropop's young musicians, singing "Omo if you leave I go tire" with genuine somberness, even though the elements swirling around him lies on the other side of that emotion.
KARUN FT. HOOK – "PEN & PAPER"
Alternative R&B musician Karun is one of Kenya's finest voices, boasting a rich catalogue. Her glistening vocals form the core of "Pen & Paper," a song that takes you down the trippy field of unrequited love. Her similarly remarkable songwriting comes into focus as well, using the metaphor of a pen and paper to paint the nature of her desires. The mood is decidedly ambient, slowly building towards its final moments with the credo of an heavenly tune.
EBII – "FOLLOW"
Rising UK-based Nigerian singer Ebii released the two-pack project 'Two4Summer' over the weekend. A standout is its opener, a mid-tempo sizzler which moves with romantic intent. It's titled after the character's closeness with his love interest, pledging "I no go use you catch cruise" and not long after, underlining that she makes "a man wan move correct." The groovy allure of the record will surely rub off the right way on listeners, and perhaps a number of them would mark his name out for the future.
Dremo – "Monaco"
For his first official release of the year, Dremo is here with new Hip-Hop tune titled "Monaco." On the Niphkeys-produced record, the rapper chants meaningful lyrics such as "I've been working on a low/K'owo malo tan l'apo" which translates to "I've been working on a low/So my money doesn't run out", audaciously stating that he's been working and consistently chasing the bag. Dremo pairs the record with a colourful and vibrant video which only serves to make the new number an enjoyable listen.
Featured image credits/