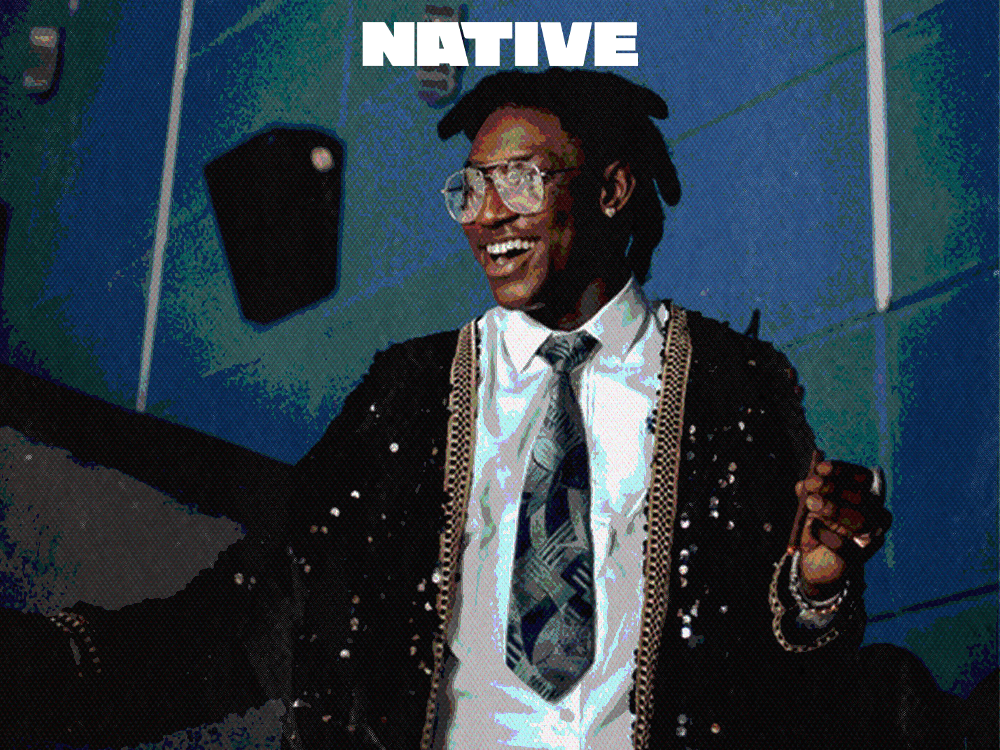 A 1-Listen Review Of Shallipopi's 'Presido La Pluto'
The Shallipopi regime is in full effect
Clear road for Shallipopi. Those words have been inescapable in Nigerian music this year, the bat signal for one of the biggest breakout artists of the year in Afropop. Born and raised in Benin, capital of Edo State, the man born Crown Uzama has unloaded a handful of ubiquitous hit songs in just over six months, buoyed a unique style of street-hop where his conversational cadence, infectious, languid rap flow and unending slang are laid over rattling, log drum-based production.
It's a massive feat for an artist to have a distinct musical identity within a short while of their entry into wider public consciousness, which is to say, you know a Shallipopi song immediately you hear it. Starting with "Elon Musk," which went from brewing underground hit to club staple, Shalli's patented style has earned him a reputation of crafting easily repetitive lines, most of them flecked with the irreverence of street dealings and youthful exuberance. The language is purely informed by Benin street culture and its heritage—"Obapluto," off his 'Planet Pluto' EP, is the totem of the latter.
In the spirit of striking while the iron is hot, Shallipopi has now released his debut album, 'Presido La Pluto', a momentous undertaking that should capitalise on his flow state as one of the more disruptive and most discussed artist in Nigerian rap this year.
View this post on Instagram
In usual 1-listen review fashion, all reactions are in real time while the music plays. No pauses, rewinds, fast-forwards or skips.
"Never Ever"
I don't know if I'm excited or if I'm simply intrigued. "My life is like a moving train," one moving at the speed of a bullet in the last couple of months. This went from vaguely reflective to easy flexing. I like the Rocky and Riri reference, because there's a Rocky element to his craft, mainly from a narrative standpoint. I like this as an intro, not a big statement but the tone adds some dimension to the Shallipopi musical archives.
"Evil Receive"
Yeah, the log drums are here, gritted by reverbs. This sounds like something Vigro Deep would helm, or maybe Caltonic. The way Shallipopi flows alongside the beats he picks is always commendable, like it always sounds no one else could sound as effortless. I like that there's a muscular base to these one-liners, but it still sounds as languid as ever. Whoever produced this beat has overdosed on the experimental, more electronic side of Amapiano. "Alhamdulilah, I be God special design" is a ready-made caption. This song feels longer than a typical Shallipopi song, but the momentum doesn't disappear. These fuzzy synths, chef's kiss.
"Cast" (feat. ODUMODUBLVCK)
This has some bounce. Bizzle for producer of the year, someone plug that up. (Pardon the music industry-related pun, for those that get it. LOL.) This song has the potential to blow the roof off clubs, every line so far feels like it should be yelled at high volume. Mr. Declan Rice on the scene. I don't know about this verse, man. I liked the African mum bit but it doesn't have the raging essence of a major Odumodu guest verse. Shallipopi is a nice guy, he won't let your girl cheat on you with him without putting up some fight. A good man, that guy.
"More than Me"
Oriental strings, interesting choice. I like this, helps that Shalli enters with a melodic flow. "I've been coming," that's what she said. Sorry, I've been rewatching 'Brooklyn 99' recently, blame Nasty C's "Release Me"—again you know if you know. This is kinda uplifting, the grass to glory thing is nice. I don't know that it's anything more than a deep cut, but everything turns to a hit with this man. Might skip this if it plays while I'm on shuffle, but it's a decent album cut.
"Eazy"
I could already hear the bombast of this beat from the first few seconds. This fluttering flute is very Benin, very south-south. "This life no funny, I've got to make money." We all feel you, Shallipopi. Bro, this guy could make the hardest children's album if he wanted to, I can see the appeal to it. The flows he employs would have 5-year olds wilding out, LOL. Doesn't mean it's puerile, I'm just being imaginative. I really like this song, the background vocals are adding a nice texture to the affair. This is up there with "Evil Receive" as one of my early favourites.
"Things on Things"
The single I really liked. Might be my favourite Shallipopi song yet, every bar is a heater. "Lesson learnt is a lesson learnt/you nor fit insult my intelligence" is one of the greatest rap lines committed to wax in the year of Our Lord 2023. That guitar flourish under the chest-puffing of the second verse is absolutely crazy. I'm sorry, but this is the best song Shalli has made. It's the controversial conversation that followed same-day single release, "Oscroh," that overshadowed this masterpiece. I hope this album refocuses that.
"Wet on Me" (feat. Zerrydl)
Woah, this bass kicked my ears in. Zerry is not exactly a photocopy of Shalli, he might be even raunchier, and that makes me bet on him to be a star in the next few months. Nothing the Nigerian pop culture loves more than irreverent figures—for better or worse. Is Zerry from Benin? [Editor's note: Zerrydl Shallipopi's brother.] Something in the water, man. Is Butter sweet? I don't know, man. This is a Zerrydl showcase with a quick verse from his label boss, and he doesn't waste his time in the spotlight.
"Iyo"
Benin music, man. Grateful for that Edo Funk compilation album I stumbled upon on Bandcamp last two years or so. I've been to Benin twice, I need to go back soon. This is folk-rap, which is kinda what street-hop is. All this etymology is me saying that this is the song I've been most intrigued by on this album. I dare you to hear this song without pointing your two index fingers out and doing that popular auntie dance. That's the perfect accompaniment to this jam. Will be back here.
"Oscroh (Pepperline)"
Ah yes, the single that got everyone talking. I can't count how many times "the lifestyle cost, na you know" has popped into my head, and I've played the song a total of two times. Well, three now. The "Sandalili sandalili" melody is so hilarious. Yeah, I know it's "standard living," but I'm keeping my street cred. I say this man would have the 5-year olds going crazy if he made an album specifically for them! They might even be turning up to this already. Catchy tune.
"Over the Seas" (feat. Focalistic)
Fam, I wanted to hear "Ase trap tse ke pina tsa ko kasi" so bad. Both these niggas make music for the hood, but it's not trap. See what I'm saying about a children's album, can someone tell me I'm not pulling this out of thin air, FFS? This flow is ready-made for a nursery rhyme. I'd probably have learnt the 7X timetable faster if it came in this flow. "My new Mercedes, it don't use a key." Okay, Maradona! Talk yo' shit. A Rahman Jago reference from a South African rapper? That man is a youth culture icon, cue in what I said about irreverent figures. "If Shalli drop, it's a masterpiece." I know like ten niggas that would scoff at that. I see the appeal of this, just don't know that it's not a skip in the long run.
"Jungle"
Back to the strings. Oh, sing-song trap, with a patois-indented cadence. Interesting. "Man, I wish that I could live forever" is something I only hear from artists. The music helps those sentiments, I guess. "In my family, I'm the only breadwinner" is REAL! I just remember a video I saw of Shallipopi rapping with a more traditional cadence, and this isn't particularly a surprise. I recently told Wale that I had a feeling that Shallipopi might pull off a surprising musical switch, this is proof that he can if he wants. This is definitely a deep cut, but I hope it becomes something bigger. If not for anything, for those that won't acknowledge Shallipopi as a rap artist.
"Jonze"
Penultimate song, feels like a worthwhile experience so far. Wow, I almost thought I heard "Kun Faya Kun," LOL! Shout-out Dvpper, for those that get it. LOL. Nah, my ears are funny to me in this moment. Shallipopi tells great stories, granted they're not linear, but I can see the happenings. I have mixed feelings about this song, I can't lie. I can see it fascinating many people. It's just not hitting for me fully. Will revisit, but it's hehhh for me right now.
"So What?" (w/ Tekno)
Nah, this is a jam. I was low-key pissed that it didn't make Tekno's recent album, which is really good if you haven't listened. The spirit of William Onyeabor is hovering over this song, particularly that groovy synth riff. It's odd that this song didn't get proper single treatment, it's as club-ready as anything in either artists' catalogue. This Shallipopi verse is the perfect showcase of the fact that he knows how to write for a banger. Masterkraft put his foot in this beat. I fuck with this, still.
Final Thoughts
In some cases, debut albums are straightforward, like when you have multiple hits and confidence is palpable. Recently, think Asake and 'Mr Money with the Vibe' or Fireboy DML and 'LTG' or, further back, Wande Coal and 'Mushin 2 Mo'hits'. Shallipopi's 'Presido La Pluto' doesn't have the same instant, all-consuming factor of those albums, but it has similar markings. There's no second-guessing himself, it's mainly twelve attempts at making bangers, which is where Shalli has thrived so far. That he barely strays  from his template is commendable – too much change in such a short time isn't always a good thing.
For what it's worth, there's some variety, even if only little, and it tells us that there's way more to Shallipopi's artistry than we know so far. Perhaps that's another draw to this album, that we don't know everything about the artist, and this  could be a journey that lasts longer than the initial moments of viral attention. From what's in front of us, though, 'Presido La Pluto' furthers the bonafides of a seemingly effortless rap hit-maker, one that knows the power of quips becoming anthemic chants, especially when paired with those 'Piano-indented arrangements that carry vivid Benin musical influences. The future will figure itself out; right now, Shallipopi's regime is in full effect.
Stream 'Presido La Pluto' below.
---