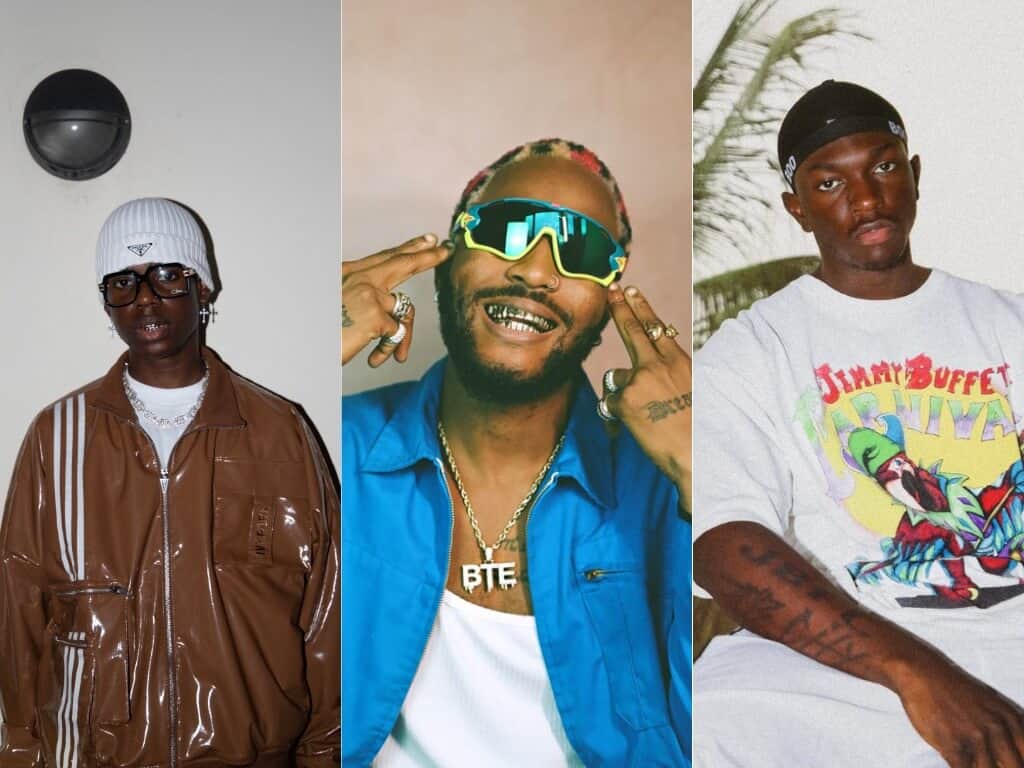 Songs Of The Day: New Music From Rema, Prettyboy D-O, Kida Kudz and more
Start your weekend right
Much as we'd like music drops to slow down and give us a chance to catch up with the unique tunes that are sprouting from across the world, the reality of the music business in the post-2010 era is very much different. With amazing songs dropping at an unrelenting pace, it's not always easy to cut through the noise and sheer volume of it all to find the music that will accompany our melancholy, inspire our next creative breakthrough, tether us our loved ones more securely, or take us to a place of unencumbered elation.
That's where our 'Songs of the Day' column comes in. We try to keep our fingers on the pulse of music from across the continent and beyond, bringing you exciting songs from talented musicians who are continuously trying to bounds of artistry with their music. Last weekend, we spotlighted songs from Midas the Jagaban, M.I and Oxlade, Tems, Rebecca Winter and more. To kickstart this long-weekend, we're bringing you the best releases from around the continent including Rema's latest single from his forthcoming debut album, alongside new releases from Prettyboy D-O, Rexxie and Sho Madjozi, Kida Kudz, Emo Grae, L.A.X and Davido, D.A.P The Contract and many more. Enjoy.
Rema – "Soundgasm"
Two years ago when he made his debut on the music scene with his self-titled EP which featured hits such as "Dumebi" and "Why?", it was clear that MAVIN and Jonzing World had secured another star on their hands. The boy from Benin with the golden voice and otherworldly melodies has spent the time since converting unbelievers into Ravers, thanks to his distinct sound, and radio-ready hits. This year, Rema is focused on his greatest feat yet: the release of his debut album, which we hear should be on the way any minute now.
To whet our appetite, the Mavin star has made an official introduction to a new music genre, which he titled 'Afrorave' with a  new single, "Soundgasm".  In usual Rema fashion, the lyrics are salacious, the beat is propulsive and the vibes are a-plenty. Singing "Sexy love, what she need from a bad boy like me/Your body high me like lean when we do it skin to skin", Rema gets straight to the point with his muse, painting a picture of the euphoric sexual experiences they could share if she were to accept. In the song's accompanying video directed by Bobby Hanaford, we see the singer in a completely different form, playing the role of the loverboy as he sings and serenades his muse with an acoustic guitar. It's clear that the rebrand is complete and Rema is in full album mode. Watch this space.
PrettyBoy D-O – "Living in Bondage"
Since the beginning of the year, Prettyboy D-O has been teasing the release of his forthcoming project 'Love is War', an aptly titled project that is in line with the tropes of anarchy and thug-love, two sentiments that have trailed his brand since his entry unto the music scene. Today, he's just unveiled one of the project's promotional singles titled "Living in Bondage", named after the '90s Nollywood classic.
Over the song's menacing production, he rap-sings "Mom I'm at war/say a prayer cause I'm in war, Tell me in the Bible who killed Abel?" over the song's pre-chorus asserting that he's constantly on survival mode because of the cut-throat settings he has been born into. Following on from "Jungle Justice", Prettyboy D-O continues to be a voice for the injustices that happen right on his doorstep in Nigeria. The song is a straight display of his rapid-fire lyricism.
Kida Kudz – "Makaveli"
Next month, Kida Kudz will be releasing a new album, the highly anticipated 10-track 'TOP MEMBA' which he's already teasing with promotional singles "Ball Till We Fall" feat. Bella Shmurda and "Animalistic". His latest release is the braggadocious number "Makaveli" which finds the Jiggy Boyz top member delivering on his top form with crisp lyricism and clear-cut delivery. Delivering fire bars at a breakneck pace, he raps "started from the ghetto now we global/Am too solid and no one can shake/Dem man know I'm the truth", boastful about his growth over the years. A literal street chronicle, Kida Kudz paints a visual picture of his years of come-up and the trajectory of his career so far. "Makaveli" is clear proof that he's ready to up the ante on his next project.
Rexxie – "KPK Remix" (feat. Mohbad & Sho Madjozi)
Talented beatsmith, Rexxie is weeks away from the release of his debut project 'A True Champion', which is set to feature both local and international acts such Naira Marley, Bad Boy Timz, Midas the Jagabn, Ms Banks and more. Ahead of this, he's now released the remix to his hit single "KPK" which features Mohbad and South African singer, Sho Madjozi. The remix retains all of the original's stellar elements, including its infectious groovy Ampiano production, however, this time, there's the added inclusion of Sho Madjozi's verse which finds the singer telling listeners to "Ji Masun". It's everything you'd expect from this Naija x SA collaboration.
L.A.X – "Pepe" (feat. Davido)
After delivering his sophomore project 'ZaZa Vibes' last year, singer L.A.X is back with his first official single this year titled "Pepe" featuring Davido. Over the song's mellow production, both singers deliver verses about their desire to spend their money on that special woman in their lives. Produced by DMW's Napji, L.A.X sings about blowing his "pepe" on top "Sisi Nene" over the song's catchy hook before he's joined by Davido on the chorus who sings about a woman playing games on him: "Which of your niggas go fit deliver/she want to do me wayo".
DAP The Contract – "Trouble" (feat. Famous Bobson)
Earlier this year, rapper and singer DAP The Contract released a 4-track EP titled 'I'm Glad You Made It This Far', a succinct collection of songs to commemorate how far he had come as an artist with his ever-growing fanbase. Without wasting any heat, he's back with a new single, this time a mid-tempo groovy single titled "Trouble" featuring Famous Bobson. On the song, he assumes the position of both the jaded rapper and the emotional singer, wearing many hats as he delivers the song's first verse and its infectious hook: "Shawty wanna be my lover/Shawty giving me double trouble". He's joined by Bobson on the second verse who's equally smitten with a dangerous woman.
Emo Grae – "Gone"
If you haven't been paying attention, Marlian Music signee Emo Grae has a voice of gold and he's not afraid to use it to sing the most vulnerable lyrics we've ever heard. His latest single "Gone" is a romantic number that finds the singer addressing a love interest who has taken his love for granted. Singing "Shey you know say I dey for you, girl I ride for you/Funny how I have no bullets but for your love I'm gone" over the song's uptempo beat, he speaks directly to his affection for his muse, expressing his commitment to her and their love despite her own hesitation. Another anti-love hit in the works.
Dr. Adaku – "Can't Touch That"
London-based singer, songwriter, a newly-minted PhD holder, Dr Adaku has just released her first official single of the year, the educative and groovy number titled "Can't Touch That". Inspired by her desire to teach others abiut the importance of consent in sexual and romantic relationships, Dr Adaku serves up an infectious Afropop number that's capable of instructing listeners and attracting them to the dancefloor. Over the anthemic production, she sings-raps "Entitlement is never the answer/And did you know that consent is key sir", stressing the importance of respecting women's bodily autonomy and allowing them to exist with the glaring watch of the male gaze. Informative and a bop? We couldn't stan more.
Featured image credits/Instagram
---