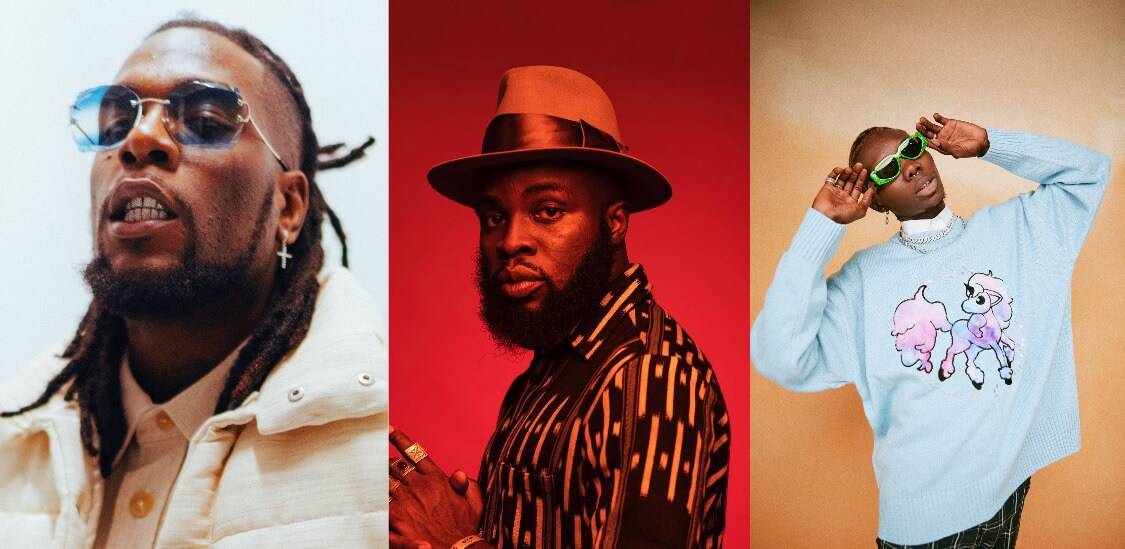 Songs Of The Day: New music from Burna Boy, Blaqbonez, M.anifest more
Recommended cuts you should get into this weekend
After working tirelessly for the majority of the past quarter, crossing our T's, dotting our I's, and putting you unto some of the hottest new artists on the continent, our editorial team was left feeling burnt out and unable to deliver you, our ever-loyal community, the content that you signed up for these past few years. To that end, we took a much-needed editorial downtime to do some necessary housekeeping and realign ourselves with our mission of championing the sounds of tomorrow: today.
We know that it can be hard to keep up with all the new releases out there, even in a year when many of us had time to catch up with all the new music at our fingertips. So, in order to keep our content ever-changing and current, we're rethinking the ways in which we put you onto new music; whether that's via our radio show which premieres bi-weekly on No Signal or our regularly updated Apple Music and Spotify playlists or a monthly roundup just like this one, we're committed to keeping you on the pulse with the hottest sounds. Monday's special selection had Ladipoe, Sakordie, Merry-Lynn, Kwesi Arthur, and many more. This weekend's selection has Burna Boy, M.anifest, Blaqbonez, Ajebutter, KDDO and Davido, Le Mav and Tay Iwar, Lojay and Sarz, Tòcame and many more. You're Welcome.
Burna Boy – "Kilometre"
Burna Boy is on a blistering run. Since bagging the Grammy's for the Best Global Music Album earlier this year, he's teamed up for a number of collaborations with artists such as Justin Beiber and Becky G. For his first solo single of the year, "Kilometre", the PH-born singer is now reflecting on how far he's come in his career while calling out all the opps who don't believe in his undeniable star power. Over the Chopstix-produced beat, he sings "Odogwu ni me sha, I don waka many kilometres/I don tey for the game", clearly in a celebratory mood as he rightfully brags about the challenges he's had to face to get to this point. Each word carries a profound significance, this is the result of consistent hard work and determination for years in the making. Screw being humble.
Blaqbonez – "Heartbreaker" (feat. Nasty C)
After months of teasing his major label debut album, 'Sex Over Love', with promotional singles, "Bling" featuring Amaarae and Buju and "BBC Remix" featuring Tiwa Savage, the wait is finally over. On the project's second song, "Heartbreaker", the rapper teams up with South African rapper Nasty C for an anti-love anthem that fits into the project's overarching theme of physical intimacy over forming any romantic connections. Singing, "This hoe tell me that she like me, hope this dick is enough for ya/I'm a heartbreaker" over the song's drum-led production, Blaqbonez states his intention to keep the relationship strictly sexual to his muse reinforcing the jaded detachment of rappers who are known for their numerous sexual partners. Nasty C is equally disrespectful on the number stating that his hood status is the reason he can't commit beyond the physical.
M.anifest – "Confusion"
Ghanaian singer and rapper, M.anifest has just released a new single titled "Confusion", the follow-up "No Fear" featuring Vic Mensa and fellow Ghanaian singer, Moliy. Over the song's groovy production by Juls, M.anifest paints a picture that visualises his experiences as an African man who faces obstacles set up against us from a choking capitalist system and years of bad governance. "No money dey but they all pray hard/The whole system on hold up, even adults no be grown up" he sings, singing about experiences that will resonate with an African audience, no matter which country on the continent they are from. Confusion is rife in Africa and M.anifest is the people's voice.
Ajebutter22 – "King Of Parole"
This is not a drill. Butter szn is back just in time for the weekend. On his first solo single of the year, "King of Parole", the singer and songwriter asserts his position as the minister of vibes and entertainment over his city, Lagos. Over the song's exuberant production which borrows from the popular Amapiano sound that is taking over soundwaves across the African continent, Ajebutter sings "Whatever you want is what you get, baby don't fret Butter is here" littering the song with potent bars about his ability to deliver all the promising and soulful vibes that we've come to associate with the singer. It's clear that he's back in full swing with this playlist and DJ set-friendly single.
KDDO – "Beamer Body" (feat. Davido)
KDDO and Davido have linked up for a new uptempo romantic single titled "Beamer Body". The new single continues KDDO's increased role as a singer, an ability he's less renowned for in comparison with his production work. On "Beamer Body", KDDO and Davido sing about the glorious female form; celebrating African women for all their assets and declaring their love for them. "Girl there's something about you/your body is a killer" sings KDDO over an array of percussive instruments and delectable Afropop drums. The accompanying music video finds both artists looking at home in their kingdom as a gamut of thick and skinny women dancing alongside them. 
Adekunle Gold –"It Is What It Is"
Last year, Adekunle Gold delivered 'Afropop, Vol. 1', an interesting collection of songs that showcased his undeniable growth and steady incline over the years. This year, he's been relatively lowkey but not anymore as the singer/songwriter has released a brand new single titled "It Is What It Is" the first track from his highly anticipated fourth studio album which will be released later this year. On "It Is What It Is", Adekunle Gold sets the record straight. If it's going to cost him his peace of mind then he won't be involved any further. Singing, "No energy for nobody wey no happy for me", over the song's drum-led beat, the singer embodies the song's title and talks his shit. 
Speaking on the single, Adekunle Gold said: "The truth about freedom is it is only found in clarity of self.  I believe this song is about letting yourself be free from every other voice but the one guiding you internally." With "It Is What It Is" Adekunle Gold continues to show his ability to meet the demand for music that is consistently showcasing a unique mixture of versatility and style. 
Odunsi The Engine – "Fuji 5000"
Odunsi The Engine has a charm for releasing some of the best visuals in these parts. This time around, he's linked up with his friends and family for a vibrant feast shot and directed in his home city Lagos. The video for his latest single, "Fuji 5000", is set in a world entirely of the singer's making, complete with the baddest girls, Cruel Santino, and a fire intermission all shot through a trippy rotating format. It's exactly the type of video you want to add to your watchlist this week.
Le Mav – "Supersonic" (feat. Tay Iwar)
Last year, 80's sounds producer Le Mav teamed up with Abuja-based singer, Tay Iwar for a joint EP titled 'GOLD', a transcendent pairing that felt like it might have been divinely ordained. For his first official single this year, the duo are back together again for the sweet-sounding "Supersonic". 
Over glittering keys and subtle drum patterns laid down by Le Mav, Tay Iwar sings "You changed my life from the first time I met you/Girl I've been knocking on your door" expressing just how much a muse has placed him under a spell. The intoxicating experience seems to take the singer by surprise as he declares "Girl, you got me". Tay's soft vocal inflection on the track stands in contrast with the urgency of the song's production but he never breaks a sweat, gliding smoothly over the array of melodies that sound tailor-made for post-midnight intimate dancing. 
Lojay & Sarz – "Tonongo"
Afropop singer Lojay has just released a new single titled "Tonongo", a brassy anthemic number that features the skilled production of one of Nigeria's prolific beatsmiths, Sarz. Singing "Put all your soul into it, you make the thing go tonongo" over the song's mid-tempo production, Lojay quips about his experience falling in love with a dancer with the most enthralling dance steps.
Sarz's slick production which blends contemporary Afrobeats with Hip-Hop and sensual R&B sounds provides the perfect backdrop for Lojay's sweet-sounding vocals as he declares his affection for his muse. Speaking about the new single, the singer shared "'Tonongo" is about expressing the depth of emotion that lies beyond the surface. The single was inspired by the atmosphere of a strip club – moody and dark – a fitting ode to the dancer the song was written about. It's so spiritual. I'm just a vessel. I hope people relate to it and find beauty in it." The single is the precursor to their joint EP set for release in coming weeks.
Zarion Uti – Proud (feat. Minz)
For his latest single, "Proud", singer Zarion Uti is speaking candidly about his experiences—he's proud of how far he's come. Alongside Minz and over the groovy mid-tempo production by Telz, he sings, "Who God don bless, no man can curse/Dey must feel the gbedu, omo na by force", declaring that he's destined for greatness and can't be deterred by adversaries on his way to the top. At the end of the song, the lyrics, "Hungry man no fit get holiday", ring true, these are two artists who are working their way to the top of the chain against all odds 
Spirit Disco – "Tòcame"
Nigerian-born and Barcelona-based musician Spirit Disco has become popular in recent years for his eclectic Spanish Afropop and Alternative fusion sound. His latest single, "Tòcame", is an uptempo number that translates to 'touch me' and it's a Spanish Afropop track that is inspired by young intimacy in the multicultural city of Barcelona. In the video, which was directed by the singer himself we see friends and family enjoying each others company in vibrant sentimental settings that will surely resonate with listeners.
Featured image credits/Instagram
---