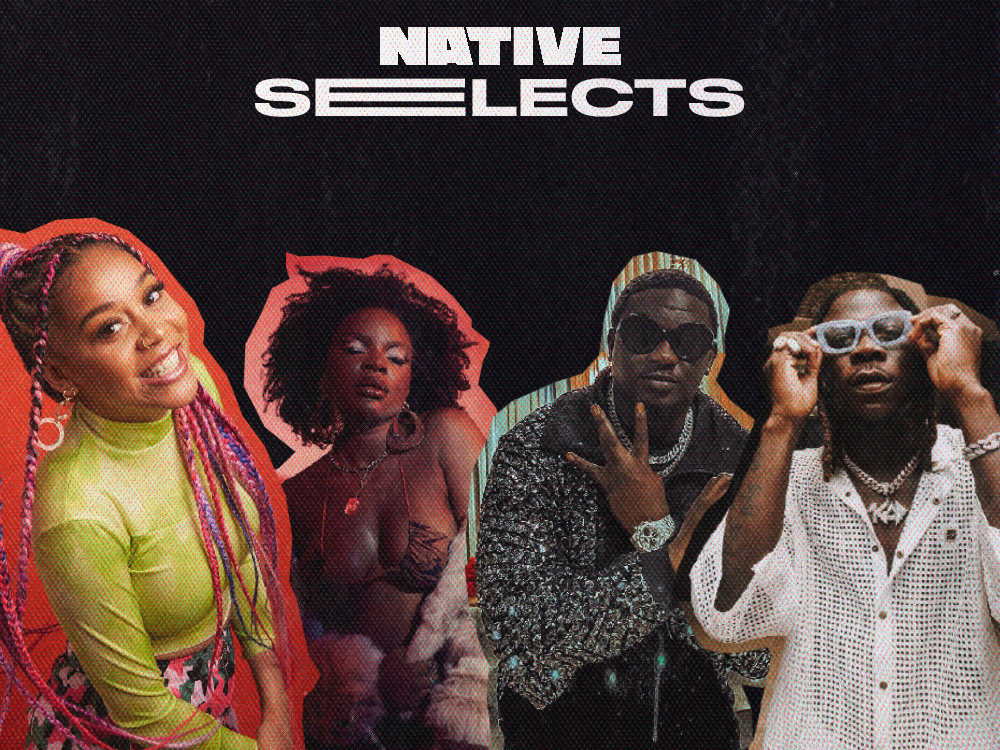 NATIVE Selects : A List Of The Best Songs This Week
Featuring Lojay, Adanna Duru, Sho Madjozi & more
It's already been a month since the year kicked off and 2023 is looking exciting and promising for Afropop. Artists such as Tyla have made a luscious comeback while Seyi Vibez is in his moment of glory. With fans gearing up for a year of album releases, the artists are constantly feeding their enraptured fans with prolific singles. 
With new releases coming in every day the NATIVE team dedicates itself to keeping you in the loop with the latest songs on NATIVE selects as we discover rising acts. On Tuesday, we covered Bad Boy Timz, Pheelz, and more with each song representing a wide range of artistry. Today, we round up the best Afropop songs we've heard this week from all across the continent including new cuts from Lojay, Adanna Duru, Sho Madjozi and more.
LOJAY – "MOTO"
Lojay is kicking off 2023 with a refreshed energy and strong intentions. Following his stellar run in 2022 with the NATIVE Sound System and Ayra Starr-assisted single "Runaway" and "Leader," the singer shares new single, "Moto," a heart-wrenching anti-love anthem about longing for a lover whose heart can't be trusted. Co-produced by Lojay himself and Elementz and AOD, the new single explores heartache through the lush layers of Lojay's distinctive vocals as he showcases his lyrical abilities through raw songwriting and storytelling. The single serves as the first sign of Lojay's debut solo EP 'Gangster Romantic,' which is slated for release in March.
BLAQBONEZ – "BREAKING THE YOKE OF LOVE (OFFICIAL THEME SONG)" FT. CHIKE & RAYBEKAH
Following the success of his 2021 debut album 'Sex Over Love,' Blaqbonez has stuck to the overt message and mission of that project. In February 2022, he kick-started the crusade-themed "Breaking the Yoke of Love" concert where fans would undergo sonic deliverance to expunge any thirst for romance. Last year, his sophomore album 'Young Preacher' continued on that path, and in preparation for this year's concert, he tapped Nigerian singers Chike and Raybekah for the concert's official theme song.  
Chike and Raybekah set things off with stirring vocal renditions of the lyrics "Sometimes love is peace/But these days, love is wicked," underneath Gospel-esque piano chords. When the bass, drums, and backup choir vocals come in, Blaqbonez swaggers into his verse to admonish those who believe in the 'fairy-tale' of soul mates. While the morality of Blaqbonez's ideologies is always in question, his musicianship is never up for debate—and the latter is the case on this track.
ADANNA DURU – "UR A BITCH" 
Viral sensation Adanna Duru has been slowly winning the fans over with her honeyed vocals with her pop sound mixed with classical R&B . Releasing her first single of the year, "Ur A Bitch"The soft piano keys against the guitar keys usher you into Adanna Duru's colourful world. The upbeat electronic pop track displays Adanna's impeccable vocal range bridging the traditional sonics of R&B classics with a sensual bounce. As she sings of superficial love and self-identity she peels a new layer to her artistry with the sassy delivery "..I am not a threat there is no competition// don't antagonize me like that, I am so out of this bitch…" All its elements mesh together as the lyrics are introspective and a little sad and balance the beat and pop rhythm.
DJ VOYST – "BASED ON ANALYSIS" FT. VICTONY 
Known for his immersive collaborations, DJ Voyst is here again. This time he's joined by Victony, a musician whose art has resonated with more people than ever over the course of 2022. On "Based On Analysis" he explores the sensual path he's made a name in, utilising his famous trick of colouring religious hymns with sultry intent. On the Magicsticks production, Victony delivers a melodic performance with his sleek and stellar vocals. Magicsticks,  embeds his distinct Amapiano flavour to carry the svelte tones of Victony craving companionship.
WANDE COAL – "KPE PASO" FT. OLAMIDE
After featuring on Olamide's "Hate Me" last year, Nigerian act Wande Coal enlists the YBNL boss to repay the favour on "Kpe Paso." Slated for Coal's 'Legend Or No Legend' album in April, the Kel-P-produced "Kpe Paso" is a fun, up-tempo banger wherein Wande Coal and Olamide drop braggadocious lyrics about their place in the industry as well as make passes at their female admirers. The Jyde Ajala-directed music video is a colourful recreation that mirrors the intentional but carefree nature of the song and elevates it as one of the best songs/music videos of this year already.
SHO MADJOZI – "CHALE"
Disruptive South African rapper/singer superstar Sho Madjozi has a slew of hits under her arm. Gearing for a year full of fresh releases, Sho Madojzi kickstarts with "Chalé." The song is sung mostly in her native tongue of Tsonga with the hook in English. Bringing off the fun, mischievous, and playful nature of Sho Madojzi, bits of the song went around during the holidays on TikTok and it instantly went viral with a couple of million views.
STONEBWOY – "MORE OF YOU"
Stonebwoy is the moment. Still ravishing in last year's success Stonebwoy returns with his first release of the year – "More Of You." Produced by GRAMMY-nominated American/ Jamaican producer Supa Dups, the soulful, uplifting record is the perfect tonic for the start of the year, a sleek, resonant gem tailor-made for dancefloor motives. Underlining Stonebwoy's natural finesse when combining Ghanaian sounds and deep Ghanaian percussion with Reggae and Dancehall elements.
DJ NEPTUNE – "BIENVENUE" FT. RUGER
Ruger is an exhilarating artist; his spin on Dancehall, Afropop, Bashment, and R&B never goes unnoticed, which has resulted in him and his long-time producer Kukbeatz churning out hit after hit. On DJ Neptune's "Bienvenue"—a French word for welcome—Ruger croons his admiration for a love interest whilst making romantic and sexual promises. A result of the efforts of DJ Neptune, Kukbeatz, and Choke Boi, "Bienvenue" is a nice blend of Afropop, Dancehall, and Amapiano and another mark of Ruger's star power.