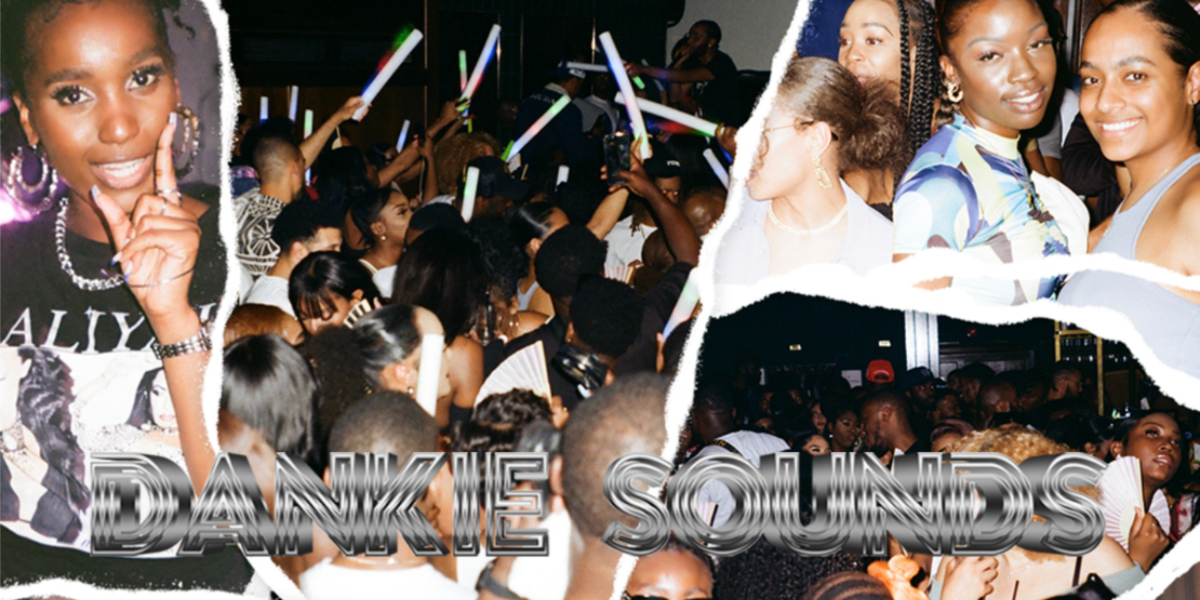 NATIVE Exclusive: The Evolution of Dankie Sounds
a London-based collective playing Amapiano and everything Dance music
"If you come to a Dankie Sounds, you can't sit still," Babatunde Adeniyi says, barely five minutes into our call. It's a cool Thursday afternoon and the young entrepreneur is together with his three other "brothers"–Sama Olanrewaju, James Anyiam and Reuben Brown–who are currently living in London, United Kingdom. A year ago, all four of them quit their corporate jobs to start an entertainment brand, the one currently known as Dankie Sounds. 
"In these first twelve months," recounts Tunde, "we've been fortunate to grow from doing our first event of maybe, like a hundred and thirty people, to now selling out a thousand tickets in less than 24 hours and that's a real testament to the glory of God as well as the customers, and those that continue to support what we're doing."
The word 'Dankie' has connotations with their London and African characters. It's most commonly known as 'thank you' in the Afrikaans language of South Africa, but 'Danke' has also been known to describe pengness in London circles, a solemn compliment for looking fresh. All four friends have African connections: Tunde is obviously Nigerian, Sama is from Sierra Leone, Lebanese, and Nigeria, Reuben is from Ghana and Grenada, and James is from Nigeria. 
View this post on Instagram
Dankie Sounds is a community of people gathering to play really electrifying Dance music. Their setlist is typically African influenced, and they've spent the past few years building a strong reputation in the UK where young communities are catching the Afro-inspired wave. In their early days, the soothing Jazz of Amapiano was their forte; nowadays, they've expanded onto broader forms of the sound. 
"We were fairly new to Amapiano at the time when we wanted to launch but we knew it was a sound that we liked, and really enjoyed, compared to some of the other sounds that were out then," explains Tunde. "We were seeing the trend of how this music was growing. It's a genre that promotes the movement of dance. Everyone on this call loves to dance. At the end of the day if it's music that makes us dance we like it, and want to bring it to the ears of people that we think 'when you hear this sound, you're gonna like it too'."
"I think what sets Dankie apart," continues Sama, "it's not just an event, it's an experience. [Through the times] we still kept the experience. When customers come to Dankie Sounds they might just have maybe their handbag but when they leave, they left with a tambourine, they left with a glowstick, they left with light-up glasses, rings, whistles, horns—we give an experience to the customer that is quite unique."
The district of Camden Town in northwest London was the roots of their beginning. They started a three month residency in a scenic rooftop bar and in November 2021, did something groundbreaking by featuring an all-female lineup of DJs. "This was something at the time that we felt needed to be done to showcase the amount of rising female talents there is," says Tunde. "Not only in the industry, but in the space of Amapiano. That event was our biggest attendance that we'd seen."
View this post on Instagram
From then on, Dankie Sounds set their sights on Africa. They decided on Ghana, collaborating with rap group NSG to play at their venue. It was a considerate risk because most of them had never been to the country (except Reuben, who's half-Ghanaian) talk more about hosting their own event. The event was packed, they say, bigging up Ghana for their chokehold on the local entertainment scene. "That kinda set our tone on alright, we wanna take Dankie, not only to London, we wanna take it to the world. It's a brand that we really wanna take around the world." 
You'll see colourful posters of their many events on social media. The Dankie Sounds community also have traditional series they play alongside their regular shows worldwide. An event they've regularly held this year is Ladies Love Dankie, which was largely inspired by the all-female event last November. "Until we've given every female DJ on our list a platform to do that event, we'll continue to do them," says Tunde. "Just to chime in," Sama adds, "even in the London Amapiano scene as well, a lot of it is pushed by actual female DJs as well. So as we're celebrating women it also aligns with what's going on in London right now." 
They're also intent on utilising the Detty December to grow their presence in the motherland. Having set the template with their Ghana show, they're looking to host events in Nigeria, South Africa and, wherever the sound takes them across the continent. "We want to be students of the culture, understand the scene over there and do what we continue to do, which is learn in a respectful way." 
Part of paying that respect means recognising the homegrown players in every scene, and Danke have continued to collaborate with talented DJs and event organisers in these places. Looking over the wider music ecosystem, the founders of Dankie have had first-account witness on the ubiquity of Amapiano and other genres orbiting Afropop. "You're now seeing non-Africans DJs that are pushing the sound of Amapiano, not because it's a trend or hit, but because they truly are lovers of the music," says James. "They approach the genre with respect, with humility and have a passion for the sound."
View this post on Instagram
As you'll expect from this varied mix, the guys listened to very different music–including church music–during their formative years. Being in the UK meant Grime and Rap formed a prominent slice in that diet. It was later into their young adulthood did African music begin to get on the radar, and who would have thought? Right now they're active players in the game. Their contributions to the running of Dankie Sounds is similarly varied and cognizant of their individual skills. Tunde handles strategy, Reuben is the creative director, Sama executes and manages the talents they work with, while James is largely responsible for the brand's youthful representation online, across socials. 
Dankie are already deep into the future, making great projections–not just for Amapiano, but Dance music in general–about how the scene would consistently continue to grow. Their merchandise is very limited, but they're inclined to do pop-up shows at venues they play in. "We just see an exciting, bright future; scary, a lot of ups and downs, but overall, like, a blessing," says Sama. 
"That's what's so unique about what we're trying to do and our mission," affirms Tunde. "Yes, our fundamentals are, we're an event brand, an entertainment brand. That's where we started but what we've built the brand to now is one that you can actually book Dankie Sounds to be at your event, you can book Dankie Sounds to be on the lineup of your festival, you can book Dankie Sounds to open up for a headline concert, you can book Dankie Sounds for your corporate Christmas party. It's now become an act in its own right. Actually, the experience you get with Dankie isn't one that can be replicated. We're building on that by playing around in the studio right now and making music so we cannot only provide the platform for the music to be shared, but also influence the creation of the music in the industry itself. That's the beautiful place Dankie Sounds is at now".
Featured image credits/Courtesy of Dankie Sounds