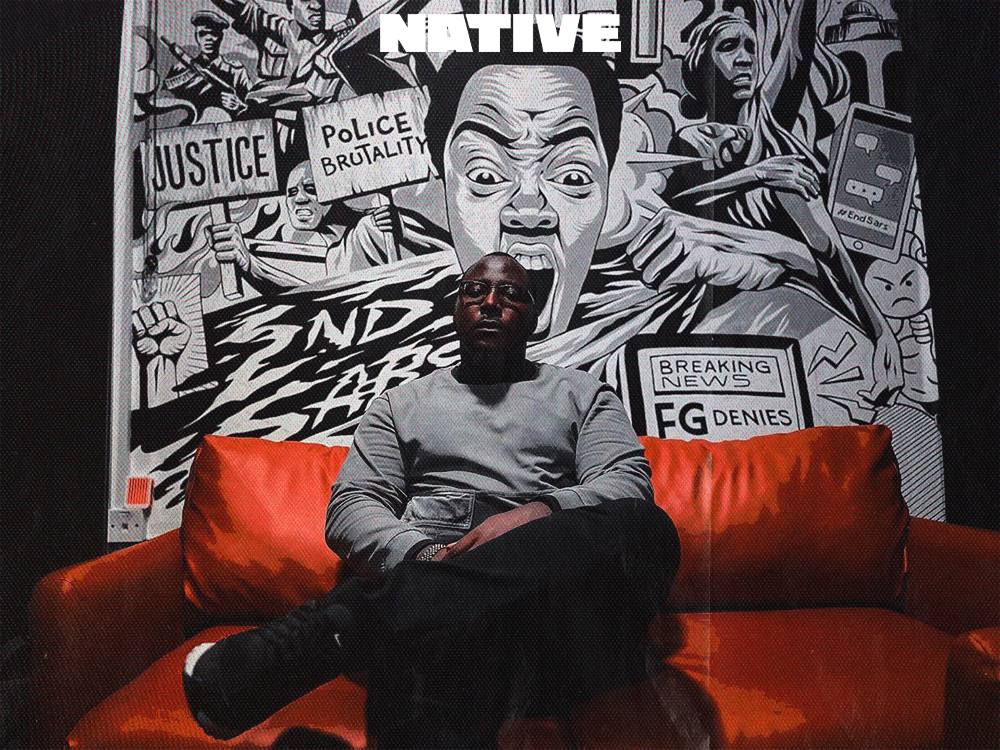 NATIVE Exclusive: Eclipse Nkasi's Grand Vision For Music And AI In Africa
"there's a whole revolution coming."
Curiosity has always motivated every one of Eclipse Nkasi's endeavours. It began with music, opening him up to the world of rap as a teenager in secondary school. This led him to discover the music production software FL Studio and set him on the path of being a music producer. Nkasi followed the allure of curiosity to the business side of music making as he became an event organiser and the Head of Promotions at prominent Nigerian record label, Chocolate City Music. After that, he would then move into the Marketing and Advertising industry, where he'd work with a number of notable brands on campaign content and strategy. By late 2022, Nkasi's curiosity showed up again: this time introducing him to the endless possibilities of artificial intelligence (AI).
View this post on Instagram
"I was always interested in technology. I always liked to seek out knowledge. So it wasn't very long before those two started to collide," he tells the NATIVE. "I started to have ideas that were very inspired by technology and I felt like this could be something that I could do." Artificial intelligence, a relatively new phenomenon in today's world, is gaining more recognition for the abilities of digital machines (computers, robots, and more) to replicate the analytical and decision-making abilities of the human mind.
Nkasi's observations of the technological evolution and his passion as a creative person inspired him to found Wakati Media, a company blending technology with creativity. "Our goal is to reshape the way people experience music, film and fashion. We are leveraging artificial intelligence, virtual reality, augmented reality and so much more." In May, Nkasi released the first offering of his technology-meets-creativity ideation in the form of 'Infinite Echoes,' a nine-track project and, in his words, Africa's first AI-powered music album. The album was made in three days with a $500 budget and was nourished by Nkasi's close friends David Wondah, a music producer and sound engineer and Nnamdi Agbo, a singer, songwriter and actor.
"I knew that artificial intelligence was going to be able to do a whole lot, especially within the creative space. This is following what I had seen in the late part of 2022 with ChatGPT, Midjourney, DALL-E and the likes of them," Nkasi says. He was worried about what the role of an artist and creative when AI was involved and had conversations with friends. "[This was] split across two lines: people who thought 'This is the end. AI is here to take all our jobs and we are done for.' However, there were also people who thought AI would not stand a chance and was missing a real human element. "Instead of falling into one of those boxes, the best thing for me was to just figure out what was possible," he shares.
"I'm now very aware of what can happen, of the fact that AI isn't going to eradicate artists and not because I'm saying that sentimentally but because I know for a fact what is currently possible till that changes tomorrow.  So now, I function from a place of information and first-time experience."
Nkasi made a documentary to record his, Wondah and Agbo's experiences with recording 'Infinite Echoes.' A large share of the album was created by AI-powered software: Soundraw for beat making, ChatGPT for the lyrics and ElevenLabs for voiceover work. "We added extra instruments to suit what we wanted. The most obvious thing to do with AI and music would have been to do some fake Drake or fake Rihanna voice cloning and that we didn't want to touch, and I'm very grateful that I stayed away from it," he says. 'Infinite Echoes,'  which follows Nkasi's 'Child of Destiny' (2020) and 'Gravity' (2023), is an intricate story of a character named Leo in a dystopian universe who goes through different situations to realise that he alone possesses the power to win. It is a sonic tale of self-discovery and self-actualisation. 
"I have a way that I approach album making and this is an example of why human nature would always define how an AI project comes out," shares Nkasi. As a creative, Nkasi belives in telling a story, a cohesive sonic vision bounded together with lyrics. "The themes that cut across the album are things that I also highlighted in the beginning when I started prompting. It was clear that I wanted the songs to be about hope, love and a sense of faith. The actual story [of the album] was written by ChatGPT, of course taking direction from what I gave. We give it the context and the themes we wanted it to contain; the sonic influences –  Hip-Hop, Afrobeats, Soul and a bit of Dancehall, which is the type of sound that I like to explore personally."
With ChatGPT, Nkasi generated song and album titles and a tracklist. Song titles for "Love Tempo," "Dream Chaser," "Find You," "God's Whisper, Pt. 1" and "God's Whisper, Pt. 2" stayed the same, except for "Ifuu (Men Di Bad)." He also made sure to fill his promptings with exact details of the lyrics and the emotions therein he wanted. "It's advanced prompting. [You] get content that feels better for you because in the end there's no song on 'Infinite Echoes' that doesn't sound like it's a song Eclipse could have written," Nkasi says. 
According to Nkasi, using advance prompting achieves much better content than generic output. "If you use ChatGPT extensively, you start to realise that it does have certain words or phrases that it panders towards. You run the risk of having things that have these overarching ChatGPT-ey type of writing over time and that's why it's good to give it more context. The best example would always be the song 'Find You.' That's the Dancehall one," he says. Nkasi had the entire chorus written out before prompting ChatGPT and only gave the machine the chorus. "[I said] 'Give me the rest of the song—the verses and other parts of it—but make sure it's about 80% patois, 20% English and maybe 10% Nigerian Pidgin.' That's the same thing we did for "Ifuu (Men Di Bad)" because it's an Igbo song written by ChatGPT, even though I also wrote a huge part of it."
"God's Whisper, Pt. 2" was produced by David Wondah, with the lyrics written completely with ChatGPT. It's a soaring Gospel duet by Nkasi and Mya Blue, an AI-generated singer. Mya Blue materialised out of the creation process for 'Infinite Echoes' as Nkasi felt the desire to push the boundaries of AI further. Hopping onto Midjourney, he went to work on Mya Blue's facial characteristics and sonic textures. For the voice synthesis process, Nkasi tested Mya Blue's pronunciations with "very weird songs," seeking to smoothen her use of English and Nigerian Pidgin. Mya Blue has done covers of Davido's "KANTE," Libianca's "People" and Resonance's "Lee Lee." Nkasi reveals that while working on Mya Blue, he never thought about her race; he was only concerned with creating and bringing his vision into reality. Still, that hasn't stopped Mya Blue from impressing several listeners.
Nkasi also lets on that there is a huge demand for more music for Mya. "We already have offers from one of the top distribution companies in Nigeria to distribute her music. So now, we're in the studio trying to make original music from her because apparently everybody wants to hear it," he says. According to Nkasi, Mya will soon have her own single and make appearances on other mainstreams Nigerian songs. "[There's] possibly an EP from her by the end of the year."
For Nkasi, the biggest lesson that he has acquired from working on 'Infinite Echoes' is one that every creative person needs to heed: "Just execute." The project drained Nkasi emotionally and financially—from would-be funders failing to fulfil their promises to losing all the footage for the documentary and having to rent equipment again and reshoot. He's grateful that he didn't give up on the project even when those trying moments tempted him.  "We have investment offers from VCs [venture capitalists]. We have a whole plan in terms of how we intend to do this on a bigger scale and be able to incorporate more creatives," he says. 
Nkasi also mentions that all creatives will benefit from AI, especially if they stick to the path of ethics. He believes this is important so that nobody's copyright is being infringed upon in the process of creating music with AI and the final product is true to each person's craft. "I will continue to spread the word [by] organising workshops and training that will help more people get into the world of AI and music and arts, but get it from the right angle," he says.
Through his company Wakati Media, Eclipse Nkasi is determined to restructure how entertainment and media content is created and consumed in Africa. With 'Infinite Echoes,' the journey has begun. More content in the areas of film and fashion are in the pipeline. "These are the milestones for me. There's a lot of work that I need to do across those spaces," he says. "I can see that there's a whole revolution coming. So to anybody who is with it, I say, 'Welcome to the Resistance.'"
Featured image credits/NATIVE