Despite the agitation the world looks to be cursed with, culture remains the one constant. Documenting human culture through any lens or angle is important for the preservation of the history, but art is easily the most boujee way to go about it. Polartics are offering a chance to be part of the documenting of our culture with their exhibition lined up for the 21st of December at the 12 Glover road location in Ikoyi.
Polartic is an online art gallery that's patently curating and exhibiting contemporary African art. Their launch event this Friday is an exhibition of the evolution of distinctly Nigerian icons and influences that shaped popular culture. Emerging artists like Joseph Obanubi, Wami Aluko, and Andikan will curate pop culture's progression from their youthful POV and they'd like you to come be a part of that.
You can see the flier for the exhibition below.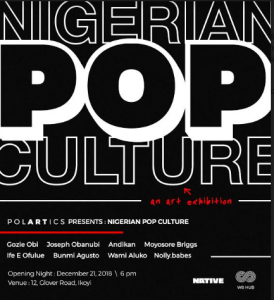 Featured Image Credits: Instagram/

---
Mariam is (insert pretentious stuff about myself here). Share your thoughts with me @MA_Y_M
---