In 2017, just before he had completed his undergraduate degree at university, Joseph Akinfewa-Donus, now popularly known as Joeboy, had to make a life-changing decision. He could either receive a one-time lump sum of $5,000 or a chance to shoot a video backed by one of Afropop's most dazzling musical acts, Mr Eazi. He chose the video and it's safe to say, the rest is history.
Four years and some months later, Joeboy's fated decision to star alongside the emPawa boss, Mr Eazi, led Joeboy on a incredible career run which saw him releasing back-to-back hits from "Baby" to "Beginning", sharing his debut EP 'Love & Light' and amassing over 700,000 monthly listeners on Spotify.
Now, Joeboy has his eyes set on another big career milestone, the release of his highly-anticipated debut album 'Somewhere Between Beauty and Magic', a 14-tracker that explores love, its complications, perks, and the way in which the complex emotion defines all human interactions. A week before its release, Joeboy joins me on a Zoom call from his home in Lagos, bursting with confidence and self-assurance that the album is finally here, arriving in a timely fashion in the month of love.
"
It was a pretty long process to get to this point so I am just super excited that's finally go time. I know my fans have been eagerly waiting and I can't wait to finally share my album."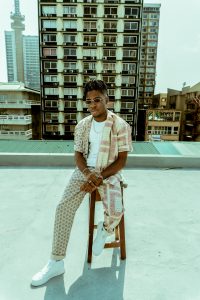 Although Joeboy is certain that now is a good a time as any to release his debut, the singer tells me that the album was actually ready for release over a year ago. But when the world shut down to curb the spread of a deadly virus at the start of March last year, Joeboy delayed the release, waiting to see how the turbulence of the pandemic would affect the music industry. The effects were catastrophic, and many of the singer's live performances had to be put on hold or cancelled altogether. "I then moved my album to the final quarter of the year but that's when the End SARS protests happened and I had to lend myself to the cause," Joeboy admits. The album was once more pushed back because of the uncertain times but then the worst happened.
Joeboy suddenly lost all the files for his debut project's recorded songs, a story he recounts with a resigned tone. Beaten down by the prospect of recording the project's songs again, Joeboy had all but given up on the release of his debut. Weeks later, he received a call from YBNL boss, Olamide which instantly set him straight. "He told me that people don't throw stones at trees that don't bear fruit, they only throw at those that bear fruit," Joeboy shares with NATIVE. This exchange had a lasting impact on the singer who immediately vowed to redirect his focus to the positives around him. Armed with this knowledge, which acted as a protective balm for the tumultuous past year, Joeboy embarked on re-recording the songs, trying his best to replicate the same vibe. Whether successful in the latter or not, Joeboy is now ready to welcome listeners into the world surrounding his debut album.
On 'Somewhere Between Beauty and Magic', Joeboy sets out to deliver on his best form, exploring more range in his themes and songwriting and showing a level of growth and confidence that seemed amiss on 2019's 'Love & Light'. He tells me that during the album's creation, his focus was on showing a range of emotions, this time drawing out familiar pains and fortunes that would resonate with his growing fanbase. "I think I have proven, to an extent, that I can make music and make great hits so I am not really trying to prove anything anymore," Joeboy speaks confidently. 
"Hits are always important, but when you keep stressing to create hits each time you release a song, it kinda limits your creativity."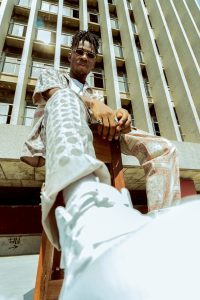 With the album already available for pre-order, the project's tracklist reveals that 'Somewhere Between Beauty and Magic' is a solo effort – there will be no features to the 14 tracks. Still, the tracklist is replete with a number of talented young producers in these parts: Dera, the mastermind behind Joeboys hit single, "Baby"; BeatsbyKO, a longtime friend and collaborator of the singer; Tempoe, Type A, and more. Joeboy tells me he meticulously convened these diverse producers, in order to guide us listeners through as many different soundscapes as he can employ, within the project's short runtime.
When I ask why he's worked with such a diverse range of sounds, Joeboy tells me that he has a lot of respect for the new generation of Afropop producers who he believes are actually responsible for shaping the sound of the growing genre. He is also amazed to be working alongside peers such as Fireboy DML and Oxlade and colleagues like Olamide who he used to look up to for many years.
At this moment, the future is still uncertain but we can expect Joeboy to keep hedging his bets on himself and making beautiful, romantic music. Before our call ends, Joeboy tells me that although he's about to drop his debut album, he's already looking forward to working on his next. "I'm wasting no time in hosting my next recording camp. The world keeps moving so my motto is to remain consistent and focus on the positives." In today's fast-paced music industry, it's clear that Joeboy has what it takes to stay ahead of the curve and it's certainly his time to shine now.
Pre-add 'Somewhere Between Beauty and Magic' below.
Featured image credits/Ikenna Nwagboso (BANKU MUSIC)
---
.@tamimak_ Is a Staff Writer at The NATIVE
---