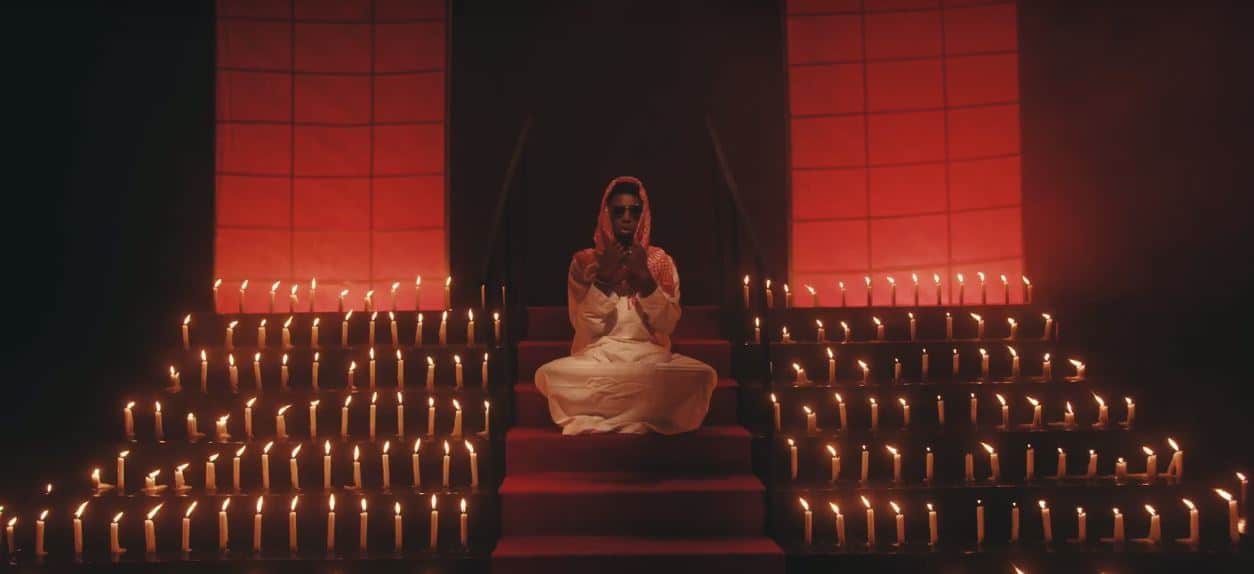 The art of using music as a form of prayer
The lesson is that prayer can be anything.
If you grew up in a Catholic home where your Saturdays were spent in catechism lessons, and had to go to mass at 6:30 am every Sunday, you'll understand why I grew up to hate anything to do with church, God and organised religion. The older I got, the more freedom I had to stray away from the church, and subsequently also from God since that was the only avenue I was taught to reach Him through.
In these confusing 'Rona times however, everybody is looking for a bit of grounding, a safety blanket in the wake of our current reality, and I seem to have found God again. Without particularly looking or even meaning to, I found God in between the lines of Roddy Ricch lyrics – hear me out.
A few months ago, we discussed with a few young Nigerians about what drives the strengths or weaknesses in their faith and belief, exploring the different avenues to their decisions. As a generation, we don't have the same religious foundation our parents and grandparents had, and we're more open to finding different means outside of religious institutions to being grounded in a higher being. This is largely thanks to having grown up adapting to different cultural advances, with access to more information than older generations did, which makes us more open-minded and willing to challenge 'the way it has always been'.
The 'Rona has brought about a time of heightened feelings, everybody is living in fear and anxiety about the world as we know it changing. Everything is slowing down and as a result, I'm not just playing music in the background to drown out the blaring horns as I drive in traffic, or when I need to focus on work and silence the thoughts in my overactive mind. I'm actually listening, and the presence of prayer is something that has stood out to me in most things I hear. From reflective hip-hop to danceable afropop, artists are turning to God in times of temptation and turmoil, using their songs to either request for provision and forgiveness or as a means to give praise and thanks.
DMX is one artist who has never shied away from his proximity to God, even through his most troubling times. Outside of his music, he's been actively evangelising in churches, on the streets, and most recently through Instagram Live. A few weeks ago, he spent a few minutes preaching messages from a bible passage, asking viewers to join him in a prayer to accept Jesus as your Lord and saviour. Every X project has had a gospel message in at least one song, and if we go all the way back to his debut album, 'Its Dark & Hell Is Hot', we see him presenting himself humbly to the Lord on "Prayer". In this spoken-word piece, DMX is questioning his pain and asking God whether he was born to lose or is being taught a lesson, and this is something most people in pain –whether physical or emotional – can relate to.
In the same breath, when you listen to an artist like Bella Shmurda's debut album 'High Tension', on the intro track "Ginger Me", he's presenting a similar sentiment, calling upon a higher being to comfort him through his confusion and tell him everything is going to be fine. The album's lead single "Omnipotent" is also a loud cry for God's protection, where chants "sheybi iwo lo'n sho mi?" (I know you're looking over me) on the hook. From two completely different worlds, what ties these two artists together is the music and their pain, which they illustrate for listeners to interpret in their own way.
Outside of songs that are quite clearly aimed at praising God, sometimes one can recognise little details that feel like it's God talking directly to you. Earlier on, I mentioned that I found God in between the lines of Roddy Ricch lyrics and I wasn't joking. Somewhere between his "Prayers To The Trap God", him speaking about his penthouse with a bird's view through "God's Eyes" and the absolutely perfect incorporation of a church choir on "War Baby",  I became envious of the faith he had in God through the perilous times he raps about in his debut album, 'Please Excuse Me For Being Antisocial'.
I had been listening since the album dropped in December, however, all this quiet time made the music stand out even more, and it was almost as though I was hearing the songs for the first time. Perhaps it was the fact that I was able to relate to how unsettled he seemed to be – even though his reality very different to mine, or that I was just not paying attention to the lyrics before. Regardless, in the same way Roddy needed God, I found that I did as well.
When Skepta, Chip & Young Adz dropped 'Insomnia' last month, one song that stuck out the most was "Traumatized" where they detail all the pain they harbour from the trauma of their past lives. Chip ends the hard-hitting song about drug dealing, loss and gang activity with a little prayer he says at night for God to help him beat his addictions, and alleviate his post-traumatic stress.
Future's "Trap Niggas" starts off saying "show us the way, and if you can't show us the way, then forgive us for being lost". On the chorus which became a chant that year, he personifies his gun as God's protection and also takes the abundance present in the bleak situations they live in to mean God's blessings. Similarly, on "Oluwa Lo Ni", Wizkid is convinced that him amassing all the wealth and success he has, given that he's coming from "one jeans, one shirt, and that same shoe" is only by God's grace.
When I'm feeling a bit unsure of myself, I play "Keys To The Kingdom" which feels to me like God reminding me who I am. Tiwa Savage's soft vocals telling me that I have to face my past to grow from it, and Mr Eazi telling me I'm 'the king inna the kingdom' pump me with the fuel I need to keep going even when I don't feel like it. This is exactly what I imagine the power of prayer is, and it's interesting to have found it through music.
Afropop has always managed to incorporate messages to God without being preachy and in-your-face about it, and you'd be hardpressed to find an artist who hasn't dedicated at least a few songs to thank God for how far they've come. When you listen to a song like 2Baba's "Thank You Lord" or Tiwa Savage's "If I Start To Talk", you feel the presence of God.
The fact that I seemed to feel God in these secular songs, gave me more faith in the fact that there is a God, despite the things that made me sceptical in the past. Through music, I found a different approach to seeking God out, in a way the church and organised religion never managed to my whole life.
There has always been a strong connection between music and the belief in a divine power, and God's presence shouldn't be limited to where he 'ought to be'. The fact that artists like Kanye West have built up even more success after turning to God, in the same breath that Sinach, a bonafide gospel singer, broke barriers by being the first black person to break a record on Billboard USA should mean something.
Prayer is a humbling opportunity to set our struggles at the foot of a higher being, and the entire world would agree that we need to now more than ever. It shouldn't have a particular shape or form, because, the pain you're looking to alleviate doesn't take any particular shape or form either. As far as I know, God is everywhere, and He'll come and find you wherever you are, even if it's through your speakers.
[mc4wp_form id="26074″]
---
Damilola is the HBIC around here. Don't tweet at her @damdamxx
---