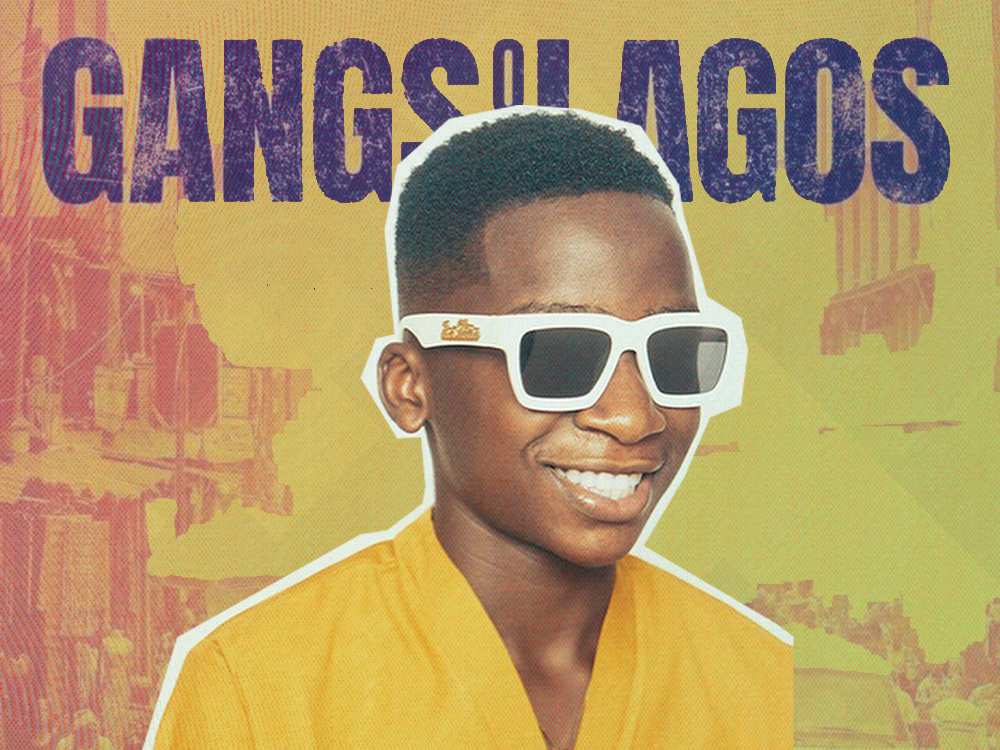 Introducing Ikorodu Bois' Maleek Sanni, The Latest Star in 'Gangs of Lagos'
"Omo aye for life"
Nigerian comedy group Ikorodu Bois are an internet sensation, appealing to fans with their DIY skits and entertaining audiences in Africa and around the world. Formed in 2017, the group consists of Muiz Sanni, Maleek Sanni and their cousin Fawas Aina—all managed by Muiz and Maleek's brother Babatunde Sanni. The group uses everyday household items—mops, pots, wheelbarrows and bins—to recreate multimillion-dollar music videos and Nollywood and Hollywood movie trailers, shot by shot.
Based in Ikorodu, a suburb in Lagos, the group, with its 1.2M followers on Instagram, has caught the attention of celebrities including basketball star LeBron James and film superstar Will Smith. In 2020, Ikorodu Bois got an invite from the producers of the Hollywood flick Extraction 2 after the recreation of the movie trailer went viral. They also got the endorsement of the American streaming platform Netflix, which gifted them filming equipment. 
"[Maleek] actually wants to go into acting later in life, but his elder brother, Muiz, still wants to be a doctor," Babatunde revealed in an interview. Last year, Maleek and Fawaz made their acting debuts in Kunle Afolayan's Netflix-distributed film Aníkúlápó with small roles. Judging from Babatunde's words, Maleek seems determined to make a career out of acting as he has featured in Jade Osiberu's rave-of-the-moment film Gangs of Lagos.
Dubbed the first Amazon Original Movie from Africa, Gangs of Lagos, which premiered on the American streaming platform Amazon Prime Video, has won the hearts of movie lovers who have embraced the project, dissecting it in threads and kick-starting conversations on the internet. Gangs of Lagos is centred on the lives of a group of friends in Isale Eko, Lagos who work for the criminal underworld but hold dreams and aspirations of a more comfortable, secure future. The performances of the actors in the production have received rave reviews, from veterans like Chioma Akpotha to newcomers like Omoniyi "Zlatan" Temidayo Raphael. But amongst the cast is a special set of child actors, most especially Maleek Sanni, Small Mummy (real name Ashafa Salamot) and Oluwanifemi Lawal, who play younger versions of the three friends.
In the first act of the film (approximately 30 minutes), Sanni, Small Mummy and Lawal (as well as Pamilerin Ayodeji) are the stars in their roles as Obalola, Gift and Ify. They are street kids, snatching bags and remitting the proceeds to older, street ganglords. Obalola is the son of a late street gangster and an overly religious mother who is desperate to ensure he doesn't end up on the same path as his late father. While it is the voiceover of Tobi Bakre (who plays the older Obalola) that colours the film from start to finish, Maleek does a fantastic job of portraying a young, vulnerable and impressionable boy who seeks a father figure. 
View this post on Instagram
The conversations between Maleek and his friends are honest and childlike, in an unforced manner. When they talk about their dreams for the future or their crush on another character, amid bants, the chemistry is undeniable. It sounds like the kind of everyday conversation every adolescent child would have, regardless of their familial or financial background. But it is Maleek's interaction with the older actors that highlights his latent talent. After his character is brought to face the gang leaders for a crime he committed, his stoic outlook endears him to one of them, Nino (Tayo Faniran), who takes him under his wings. Nino is the father figure that Obalola desperately seeks, even though he doesn't know. In a scene where he narrates wanting to be a gangster like Nino to another character, he says, "But Nino said no. He says I have head for book, that I should become an economist like that CBN governor, or writer like Wole Soyinka." With Nino, Obalola is whoever his guardian wants him to be: street-smart hustler here or untainted bookworm there.
But the most powerful scene Maleek had was his character refusing to return home to his mother. As Obalola's mother, Iyabo Ojo delivers an intense performance. Her love for her child is the fiery and smothering type—"You know I'm doing all this for you," she tells him in Yoruba. Heartbroken by the death of her husband, she fights to prevent her son from falling into the same predicament. When she finds out Obalola has moved in with Nino, she begs him to come home with her, and when he refuses, anger clouds her face as she utters curses at him. Obalola doesn't say a word but his face bears his emotions: fearful of his mother's words yet determined to create his path. It is that scene that stamps Maleek as a gifted actor. 
In 2021, Maleek's reenactment of a Steve Harvey speech received praise from the popular American TV host for capturing his mannerisms, from the hand movements to the pauses. The following year, he did another sketch of Steve Harvey. These and the other skits with his Ikorudu Bois relatives have helped Maleek polish his acting skill, which now has its deserved recognition with Gangs of Lagos. As an actor in the film, his character was used to lay the foundation for an older version, and Maleek achieved this, with a strong performance that forged an emotional connection with the audience. 
With talented child actors slowly becoming a thing again in Nollywood, actors like Maleek, Small Mummy, Oluwanifemi and Pamilerin herald an era when the screens won't only be the arena of older actors but instead, a place where craft and expertise are allowed to blossom. The future looks promising.
Featured image credits/NATIVE