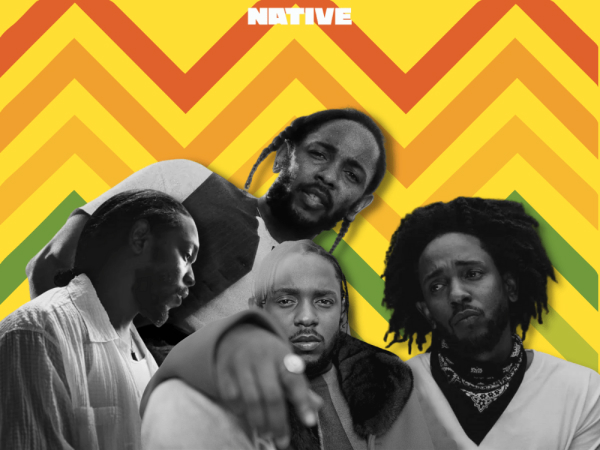 The significance of Kendrick Lamar releasing his album from Ghana
It's a flex for Ghana and Ghanaians
The best rapper alive just spent a week in Accra, Ghana.
That may not sound like a big deal to the cynics amongst you, given the West African country has recently become the destination spot for global superstars, Africans across the continent, and Black people in the diaspora. What makes it notable though, is the timing. On the eve of the release of his fifth studio album, 'Mr. Morale & The Big Steppers', the Compton-born rapper was shuttling around Accra, from Jamestown to Osu, prepping its release.
View this post on Instagram
Since vaulting into the upper echelon of superstardom with his instant classic major label debut album, 'good kid, M.A.A.D City', every Kendrick Lamar full-length release has been an event. Regardless, this new project is arguably the most anticipated of his incredible career. His last set, 'DAMN.', came out in 2017, and the soundtrack he curated for 'Black Panther' was released in 2018. Five years between solo albums is an eternity in streaming years, especially for an artist that's notoriously invisible on social media.
Usually, one would expect an artist releasing a new album after a self-imposed hiatus to want to cater to their immediate audience, through radio runs, interviews with local press, "surprise" appearances at staple events, and other parochial attempts to dominate the IG feed for that day. Obviously, Kendrick's level of ubiquity and the global reverence he commands affords him the luxury of not going the traditional route with his return LP, but flying to another continent entirely is an unexpected turn in the rollout script.
As expected, what he was doing in Accra has been a topic of conversation in music circles on the continent. Rumours of a top-secret video shoot for a song off 'Mr. Morale…' seem plausible. Perhaps he just wanted to see what all the hype was about? Pictures from the private listening event on the night, hosted by Spotify, show Kendrick with Ghanaian artists Black Sherif, Amaarae and Stonebwoy.
Love to everyone that came out to celebrate @kendricklamar in Ghana at our #MrMoraleAndTheBigSteppers party last night 💚 pic.twitter.com/wzYe0fNzhh

— Spotify (@Spotify) May 15, 2022
Whether the motivation for his travel is either of those speculations, something else entirely, or a combination of several factors, the presence of Kendrick Lamar in Ghana at a significant time in his career is eyebrow raising. While this is his first time in Ghana, this isn't Kendrick's first time in Africa. In 2014, he visited South Africa, a trip that he said heavily influenced his classic, jazz-indented third album, 'To Pimp A Butterfly'. Travelling around Johannesburg, Durban, Cape Town, and visiting Nelson Mandela's cell on Robben Island, the rapper has repeatedly credited visiting the rainbow nation with broadening his approach to making music.
On 'TPAB', he references Nelson Mandela on the epic 12-minute closer "Mortal Man," and storytelling highlight "How Much A Dollar Cost" is based on a real life moment during the South Africa trip. On the 'Black Panther' soundtrack, he recruited South African artists Yugen Blakrok, Sjava, Saudi and Babes Wodumo for standout moments. As well-executed and well-curated as it was, the soundtrack was barely the pan-African effort many would've liked, but the inclusion of those artists is another mark of the profound effect visiting an African country had on him. It's only right he came back for seconds.
Apart from the industry events he's been at in Ghana, pictures and videos of Kendrick Lamar doing more mundane stuff has made its way to Twitter timelines. Over the weekend, he was at Freedom Skate Park, hanging out with people in the community, taking pictures and signing autographs. He was also spotted playing football at a makeshift pitch in Jamestown, and he spent some time at the bar beach in Laboma.
Kendrick Lamar signing autographs and meeting skaters and fans at Ghana's first skate park, Freedom Skate Park in Accra.

The skate park was being supervised by Virgil Abloh, the late Head of Louis Vuitton's Men's Wear Collection before he died. pic.twitter.com/5xWxMmO8An

— Africa Facts Zone (@AfricaFactsZone) May 15, 2022
As heart-warming and intriguing as it is to see Kendrick Lamar having an eventful time and clearly enjoying himself in Ghana—coupled with his time in South Africa—it's not novel for American music stars, specifically Black artists, to mingle with local residents upon touching base in the motherland, some staying longer than the others. Stevie Wonder famously received the four Grammys for his sprawling magnum opus, 'Songs in the Key of Life', in 1977, during a prolonged stay in Lagos after Festac '77. A few years prior, in 1974, Nina Simone moved to Liberia and stayed in Monrovia for three years. In 1997, Ghostface Killah travelled to Benin Republic for alternative medical care and ended up staying longer than planned in a Village hours outside the capital city of Cotonou, a stay that inspired his seminal and lyrically esoteric masterpiece, 'Supreme Clientele.'
Each of those artists had reasons for visiting (and remaining) on the continent at those points in their lives, from disillusionment with racism to redefining their perspective—via searching out relief for physical and mental health issues. "We never dream of Africa. Like, 'Damn, this is the motherland,'" Kendrick Lamar told Dave Chapelle of his South Africa trip in a conversation for Interview Magazine. "You feel it as soon as you touch down. That moment changed my whole perspective on how to convey my art."
Those sentiments might elicit an eye roll or two from many of us who were born and raised in African countries, but it is impossible to dismiss the profoundness of visiting Africa for the first time for those born and raised in the diaspora. Besides, many artists have shown that visits to the continent don't need to have a weighty reason attached to them to have a deep impact on them. The simple feeling for Black artists to be surrounded by people that look like them, is enough to make one feel at home.
Ari Lennox gushed about being in Ghana for last December's Afrochella (to some unnecessary backlash), Cardi B has always been effusive about coming to Nigeria in 2019, Chance the Rapper chronicled his Ghanaian trip on Twitter and wants to return with "a bigger group," Dreamville acts Bas, JID and Earthgang have stayed multiple brief stints in South Africa, collaborating with local rap artists and even tapping Shane Eagle (Bas) and Blxckie (Earthgang) for international tours.
Interestingly, Kendrick Lamar isn't the first superstar Rap artist to be in Africa on release day. In 2018, close friend and peer J. Cole was in Nigeria on the same day as the drop of his fifth album, 'KOD', in obligation of a live show, and he performed a few songs off the project for the first time in front of over 6,000 turnt fans. It would be disingenuous to claim Kendrick is following Cole's path, since the circumstances of their trips to West African countries are as similar as they are different.
There have not been any scheduled live shows, and beyond the peeks we've seen on social media, only Kendrick Lamar, his pgLang co-founder Dave Free, and the crew they travelled with really know reason behind this Ghana trip. From an external standpoint, though, it's an exhibition of the post-digital era, where artists can release their music without being tethered to their home countries. It's also an exhibition of autonomy from an artist that continues to carve out his mythos by being meticulous and intentional.
The oft-repeated mantra of "Africa To The World" has somewhat defined the last decade of music coverage on the continent. It wasn't too long ago that D'Banj and Don Jazzy being spotted with Kanye West seemed like a momentous occasion for the continent, or at the very least, the Nigerian entertainment industry. We don't have to strain our memories too much to remember the fanfare that Drake's feature verse on the "Ojuelegba" remix brought, or the pride we felt the morning we woke up to a Shatta Wale & Beyoncé collaboration.
Kendrick Lamar made a calculated choice to be in Ghana for the release of his feverishly anticipated follow-up to a Pulitzer Prize-winning album. Even if you still want to be cynical about the magnitude of this occurrence and its timing, it's hard to not admit that the best rap artist of his generation choosing to mark a significant point on the timeline of his career in the land that pioneered Highlife, away from the country that birthed him and Hip-Hop, is a flex. It's a flex for Ghana and Ghanaians, and to a lesser but notable extent, for Africa and Africans on the continent and in the diaspora. While there will always be a clamour for and from African artists to take their music "to the world", it appears now, more than ever, The World is Coming to Africa.
Stream 'Mr Morale & The Big Steppers' below.
Featured image credits/NATIVE
---