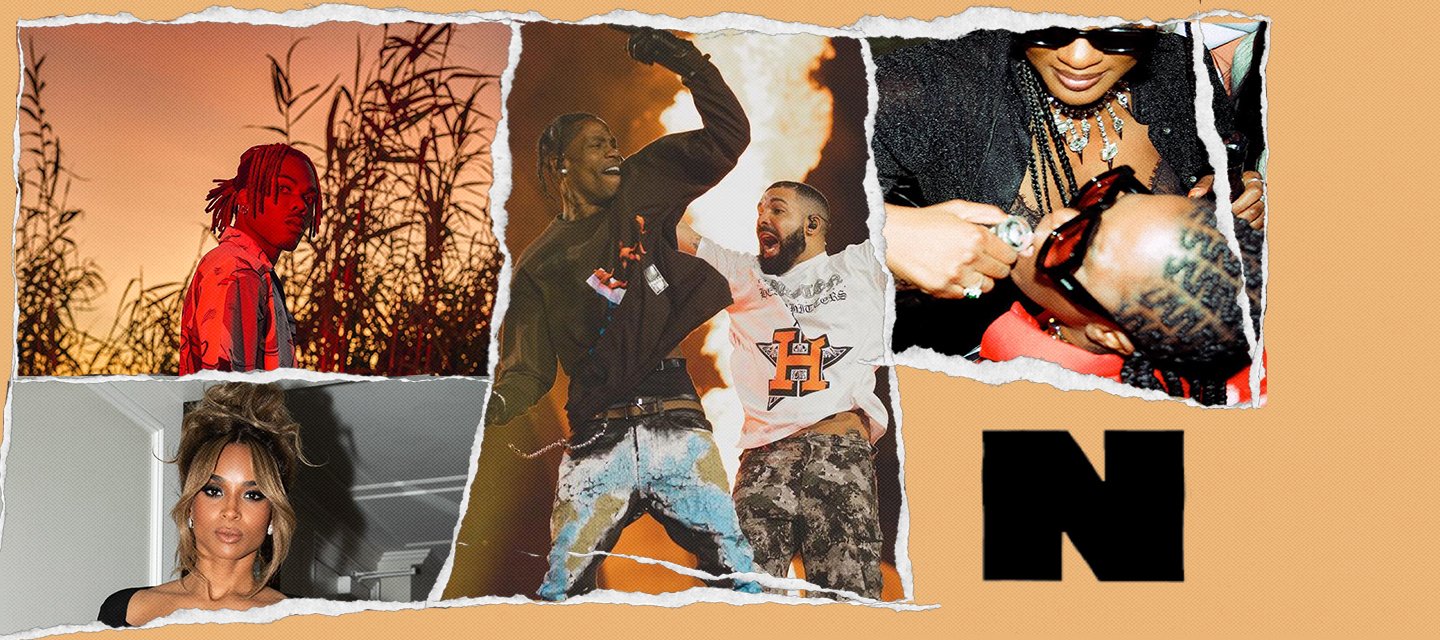 Hot Takes: Stan Culture In Nigeria, Astroworld Fest, Ciara's Prayer & More
all the hottest takes
In the blink of an eye, the final quarter of 2021 is almost out the way. It's November again in the city and we're gearing up for the party season in these parts. Already, Afropop is witnessing a defining moment with artists such as Wizkid, Tems, Ayra Starr, Amaarae and more, taking the genre beyond the shores of the continent, and inadvertently whetting appetites for the hot-ticket event calendar.
I, for one, am certainly looking forward to what December has to offer. Already, I've attended Art X Live and a number of other shows in Lagos, so I'm pretty pumped to see more live shows and experiences return this season. That being said, the wheels of pop culture haven't stopped turning and as we near the end of the year, there's more to discuss and debate than ever before. That's why I'll be taking the reins this week to bring you all the hot takes from the past week. Enjoy!
What I'm currently listening to
As always, there's a lot of music in circulation. At the moment, I'm not listening to my usual Afropop music as I'm branching out and seeking out newer sounds. I came across this album titled 'Introspective' a few days ago and I'm currently hooked. R&B is the way to my heart so it didn't take much to convince me to spin this on a loop. For me, it's one of those albums where you simply can't have just one favourite. However, if I had to choose, it would be "Face To Face" and that's only because it mirrorred my feelings to a tee. Aleksa Safiya certainly just gained a new fan and maybe she'll gain some more by the time you guys check this out.
What I'm watching atm
My all-time favourite series 'Dynasty' just returned to Netflix and I certainly cannot contain my happiness. I've totally missed the Carrington drama and whew! I'm excited. I haven't been able to finish the new season. I'm 7 episodes in and it's about 26 episodes but I certainly will soon. 
The stans are at it again
Over the past few months, Afropop songs such as "Essence", "Love Nwantiti", "Sad Gurlz Luv Money," and the likes have taken over global charts. It's certainly a win for all on the continent but stans definitely make some certain things harder to enjoy in the moment. While we're all aware the impact that Wizkid's Starboy FC has on the culture, it's safe to say that they're more often than not stoking the flames of polarising discussions online. 
In a recent conversation on Twitter, fans of Wizkid were seen discussing the global Tems-assisted hit "Essence" in tandem with CKay's chart-topper "Love Nwantiti." The way I see it, the focus should be on driving the music and our culture more than anything else. There's no reason to compare because, at the end of the day, each song is a hit song in its own way, given that they both smashed glass ceilings in the Afropop space. As the Grammys inch closer, it doesn't seem like either of these artists will stop gaining popularity from fans across the world and that truly is a testament to Afropop's global moment. 
I'm a believer in celebrating wins no matter how little they seem and these wins are certainly no small feat. They both deserved to be celebrated and the music deserves to reach the right ears. Now, they've paved the way for more coming in behind them including Ghanaian-American act, Amaarae who just scored her debut on the Billboard Hot 100. 
.@amaarae & @moliymusic's "Sad Girlz Luv Money," featuring @KALIUCHIS, debuts at No. 80 on this week's #Hot100.

It earns Amaarae and Moliy their first career entries on the chart.

— billboard charts (@billboardcharts) November 15, 2021
Is This The Next APC Women's Leader?
A week ago, a 26-year old textile trader and member of the All Progressive Congress (APC) political party in Nigeria, Arnee Sarkee, publicly announced his intentions to run for the position of Women Leader of the party. In the list of ludicrous headlines in Nigerian politics, this one certainly takes the cake. It's even more alarming that this isn't his first time pulling such a scene. In 2019, he ran for the position of Women's Leader in a Kwankwasiyya group.
In a recent interview with BBC Pidgin, he mentioned he believes men should "take charge" of women's affairs at all times and doubled down on his misogyny. In a patriarchal society, where the odds are already stacked against women, it's disheartening to see men still fight for their innate right to rid us of our agency. Women are already underrepresented in Nigerian politics and it's harmful thinking such as this that gives rise to discriminatory laws. 
Sarkee also mentioned that the biggest challenge is to win the acceptance of women stating that: "some are jealous of me and others feel I want to seize what belongs to them but that is not true." To make matters worse, Sarkee also goes to great length to explain why it is his God-given right to rule over women. It's alarming what people would justify in the name of God. All I know is that people like this within society need to be de-platformed before they bring others to the fold. 
View this post on Instagram
Lives lost at Astroworld
Earlier this month, Travis Scott's Astroworld Festival resulted in a tragedy after several young lives were lost during the event in Houston, Texas. According to official reports, the concert attendees and fans surged towards the stage during Travis' performance causing a stampede in the largely overcrowded venue. Further sources have claimed that the holding capacity of the venue compared to the tickets did not tally.
In the aftermath of the festival, Scott has responded by providing therapy to the fans and families of fans in attendance, paying for funeral costs for all the lives lost, and covering the medical bills of the injured. Not to mention, he's also been slammed with a class-action lawsuit that could potentially spell disaster for other big-ticket festivals coming to town in the coming months. However, as traumatic as the experience has been for those involved and those watching it unfold, there have also been those on the Internet who have already turned this issue into a joke.
Memes have flooded the Internet since Scott's video response, reducing what should be a solemn moment into a mockery. We've been saying for a while now that we're memeing and doomscrolling the pain of the past year away but when do we draw the line? The death of young people at a festival is certainly no joke and certainly not content that should be reduced to the stuff of memes and gifs. Lives were lost, people are still in hospital today and some still don't know if they'll survive this one. 
I don't know how we're going to rescue the Internet from this weird dark nihilistic phase but we certainly have to stop and question what is and isn't entertaining content.
View this post on Instagram
Ciara's Prayer
HELLOO? The queen of R&B is back and she's 'Still Over It'. Recently, LVRN singer, Summer Walker released the follow-up to her 2019 debut 'Over It,' a collection of smooth-leaning R&B hits that covered the misfortunes of love, life and loss. In all of this, "Ciara's Prayer" has stood out the most, gaining the attention of the Internet who have fawned over the singer's relationship since she split up with Future. 
Heated debates have already popped up on the timeline with both sides arguing for and against the need for resulting to divine intercession when in search of a spouse. While the Internet is certainly no stranger to debating about relationships and love, this time around, the conversation is wholly unnecessary. To me, "Ciara's Prayer" was certainly not about the man but rather about self-love and finding a safe space for your heart after being put through the wringer.
With lyrics such as "There's purpose in your pain," it's clear that Ciara is singing directly to anyone who has ever been burnt by a romantic interest. For me, it goes deeper than just this album. There are times when you find yourself in positions that are deeply hurting deeply and you can't seem to pick yourself back up. It's low moments such as this that Ciara speaks to on the song. I love and respect Ciara so much and she's certainly one of my icons but what she did on this was honestly so pure and so what's the word I'm looking for? Promising. Its all the hope you need as a person briefly tied into 2 minutes and I certainly needed this. I've listened to this every day since the release day and I don't think I'm stopping anytime soon.
Featured image credits/NATIVE