Hot Takes: SGaWD VS. Dvpper Music, 'Far From Home' Debates & More
all the hottest takes from pop culture
Christmas is inching closer and the spirit of celebration is in the air. Aside from the Christian festivity, the month of December is also home to parties and concerts, where music lovers gather to have a good time with their favourite acts. As the year comes to a close, there have been heated moments as well as funny ones, from Wizkid's "Rap is dead" melee and concert absences to Asake's wardrobe malfunction, the moments keep on piling. What would be the year's crescendo?
In the UK, the citizens are experiencing one of the coldest weathers while in Qatar, millions of football fans are feeling the heat of the tournament as it winds down to a close on Sunday. On this week's Hot Takes, I take the reins and write about copyright problems in Nigerian music, Netflix's Nigerian Young Adult show and Lionel Messi and Argentina's chances at World Cup glory.
WHAT I'M WATCHING
I didn't know what to expect before watching Franklin J. Schaffner's 1973 film 'Papillon.' I had read that it was a classic and that there was a 2017 remake of the same name but that was all I knew about the film. Minutes into the more-than-two-hours runtime of the film, though, I realised I was in for a treat. 'Papillion' is based on the 1969 autobiographical novel of the same title by French writer and ex-convict Henri Charrière. It is a story about the characters Papillon (Steve McQueen) and Louis Dega (Dustin Hoffman) who become friends while incarcerated in the harsh prison system of French Guiana and then begin to plan their escape.
Steve McQueen's portrayal of Papillon as a tough yet considerate convict is brilliant. One of the most stirring moments in the film is when Papillon, after being sentenced to solitary confinement, begins to hallucinate while being tortured with starvation and the cutting off of sunlight into his cell. As with other intense moments, the film doesn't shy away from the details, choosing to fully show the severe conditions of incarceration and its effects on the psyche of the prisoners. 'Papillon' is an excellent film about friendship and gut-busting resilience.
 COPYRIGHT INFRINGEMENT: SGAWD VS. DVPPER MUSIC
On Wednesday, on his Instagram Story, Seunfunmi Tinubu aka SET, the manager of Nigerian rapper and singer SGaWD called out Dapper Damm (CEO of Dvpper Music) over copyright issues concerning a song by one of its artists PaBrymo. The song in question is titled "Tippy Toe" and sits on PaBrymo's debut album 'Never Stop, Vol. 1.'
Through correspondence with the NATIVE, SET revealed that after his client SGaWD had recorded a verse for Dapper Damm on October 3, the label head and its artist PaBrymo had proceeded to use the verse "without any form of clearance or permission from SGaWD or myself."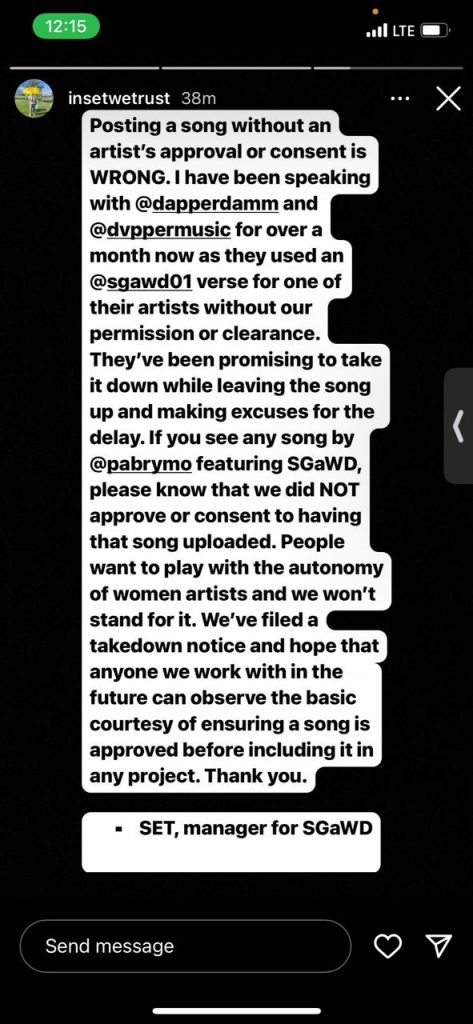 "After we started seeing promotion of the project with a feature from SGaWD, both she and I reached out to Dapper Damm to state that we hadn't heard the final version of the song and hadn't cleared it to be on the project yet," SET said. "We received the song a couple days before the project came out and were not satisfied with the mix on the song and we weren't even aware that the release date was so close. This led to us eventually requesting the song to be taken down after we realised that it released."
The issue of copyright infringement in Nigerian music is a familiar matter. This year, there was also the Carter Efe-Berri Tiga saga that rocked the scene. This SGaWD and Dvpper Music topic is another reminder that there needs to be a re-education among industry professionals about the proper codes of conduct as it concerns creative content.  This is always disheartening for any creative whose work doesn't get the deserved recognition/compensation it deserves. SET puts it clearly when he says, "Using an artist's vocals and lyrics when they haven't cleared or approved it is a violation. Creating music is a deeply personal process and at the very least, it is common courtesy to ensure that if you want to collaborate with an artist, you gain their explicit permission to use their work."
'FAR FROM HOME': YOUNG ADULT TV SERIES AND AGE-APPROPRIATE ACTORS
On December 16, 'Far From Home' will get an exclusive global premiere on Netflix. Produced by Inkblot Productions, the five-part series is the first Nigerian Young Adult show on the streaming entertainment service. 'Far From Home,' which is directed by Catherine Stewart, Kayode Kasum and Kenneth Gyang, is the story of Ishaya (Mike Afolarin), a charismatic teenager and talented artist from a poor family who gets a scholarship to a prestigious school in the country and whose happiness is threatened by a huge secret.
In some quarters of Nigerian online space, there has been criticism about the choice of casting older actors for roles of teenagers. Much of the argument leans on the fact that actors in the age range of the roles should be cast instead. I think that it doesn't matter; what matters is how well the actors can portray their characters. The South African TV series 'Blood & Water,' which is about teenagers in a school, is an example of excellent actors who wear their characters like a second skin.
Across the African shores, the hit British TV series 'Sex Education,' which is heavy in sexual content, would be impossible to make if it were to feature under-18 actors, even though its primary audience is the teenage population. What makes 'Sex Education' work and resonate with millions of viewers across the world is the believability of the actors who inhabit the world of the story. That is the power of good acting and it is that power that the Nigerian audiences should be most concerned that its actors possess.
MESSI CARRIES ARGENTINA INTO THE WORLD CUP FINAL WHILE MOROCCO ENDURES HEARTBREAK
This year's World Cup has been full of twists and turns. Heavyweights like Germany, Spain, Portugal and Brazil have exited the tournament, rueing their misfortune. On the other hand, Morocco has proved to be a giant killer and made history as the first African nation to reach a World Cup semi-final. Although the Moroccan fairy tale ended yesterday at the hands of the impressive France team, there is no doubt that the team—from the coach Walid Regragui to the players(the World Cup has rejigged the career of Hakim Ziyech who has had difficulty cementing a place in the Chelsea squad)—have made the African continent proud.
It was a great honor to watch today's World Cup match alongside Prime Minister Akhannouch of Morocco.

No matter who you're rooting for, it was remarkable to watch how much this team has been able to achieve. pic.twitter.com/5kC4zkT1HQ

— President Biden (@POTUS) December 14, 2022
On Sunday (December 18), Lionel Messi-led Argentina will take their chance at World Cup glory against the defending champions France. The last time Argentina won the competition was in 1986 after the Diego Maradona-captained team beat West Germany 3–2 in the final. Messi, who sports the No. 10 jersey for Argentina and toes the same legendary path as Maradona, has confirmed that Sunday's match will be the last time he wears the Argentine jersey. The final will also be Messi's opportunity to earn another point over his arch-rival Cristiano Ronaldo, whom he and his Portuguese teammates were dumped out of the competition in the quarterfinal by Morrocco. For the sake of football rivalry, an Argentina win on Sunday will scorch the hearts of Ronaldo fanatics while a loss will be a healing balm for them.
Wasn't sure whether I was going to watch the rest of the World Cup after we were eliminated… but how can you turn down the opportunity to watch Leo Messi when he can still play to that level at the age of 35. Honestly astonishing. 🐐

— James Maddison (@Madders10) December 14, 2022
On Saturday, Morocco still has the opportunity to make history by being the first African country to scoop a third-place win at the World Cup when they face a wounded Croatian team. Croatia, in some way, is similar to Morocco: they are dogged and don't mind playing ugly to get a win. For Morocco and Croatia, Saturday's match will test their resolve and offer them compensation for their troubles.