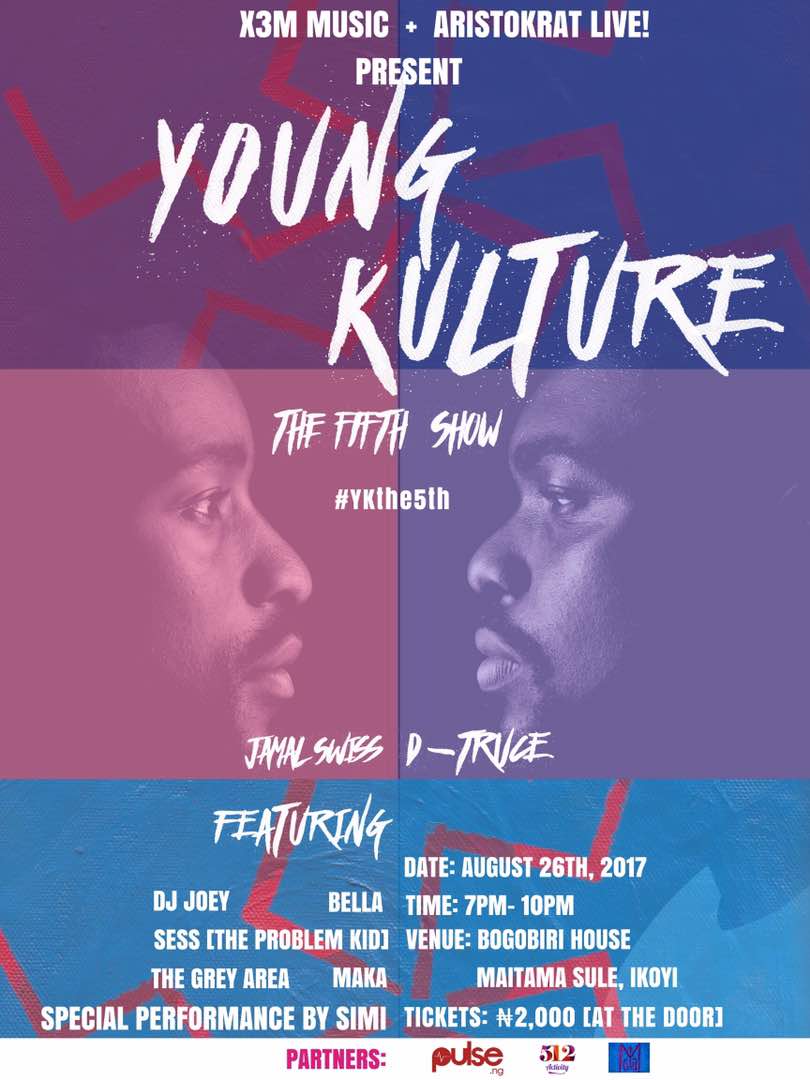 Dusten Truce's and Jamal Swiss are vying for the show of the summer with Young Kulture's #YKthe5TH
Mark your calendars
Live show format is such a rare thing in Nigeria. Apart from a handful of very skilled musicians who have grown a much older, more sophisticated fanbase and pioneer like the 9 man Bantu collective who runs the monthly Afropolitan Vibes concert, the average concert goer in Nigeria has at best seen artists lip-sync to a backing track. But live shows are the very soul of concert performance, the opportunity for an artist to morph, transform themselves. Artists like Lady Gaga and Beyonce have used their live performance concerts as an opportunity to re-imagine their music, experimenting with ideas that never made it into the official studio release, reworking their lyrics and instrumentation to pay homage to their forebears and speak on contemporary issues. This in part is why X3M's Dusten Truce and the Lucid Company's Jamal Swiss teamed up for their Pop-Up concert series Young Kulture.
The premise behind Young Kulture is pretty straightforward; music from Nigeria's most interesting young talents, taken from its predominantly electronic origins and given new life via the Young Kulture live band. Make no mistake though, this isn't just some random concert or festival; it is actually a tour for Truce and Jamal, who are both promoting projects with the tour, EP 23 to Life for Truce, and Based On True Events for Swiss.
There are few things I particularly find interesting about this approach to New Age Music. Young Kulture's has kept their set lists notoriously sparse for their first four shows as they traversed the mainland and island. They've also kept a surprisingly meticulous social media calendar and campaign for the tour, keeping their fans in the loop every step of the way. Sure there were some kinks but what show doesn't have kinks. After a hiatus, Young Kulture is closing out the summer with a fifth headlining show (though we can't say for sure if this will be the last one for the tour) and to celebrate they are bringing on a ruthlessly curated list of supporting acts for the #YKThe5th  pop up, and a headlining guest appearance from alt-darling Simi.
With Tinny Entertainment's Bella Alubo, Sess The Prblm Kid, The Grey Area and  Maka, if you've never been to a Young Kulture concert before, this might be the one to start with.
Tickets are 2,000 and are available at the gate and online here, and free palwine for the people who actually show up on time.
If you like live music and want to see the New Age really progress, this is definitely a good place to talk with your wallet. See you there.