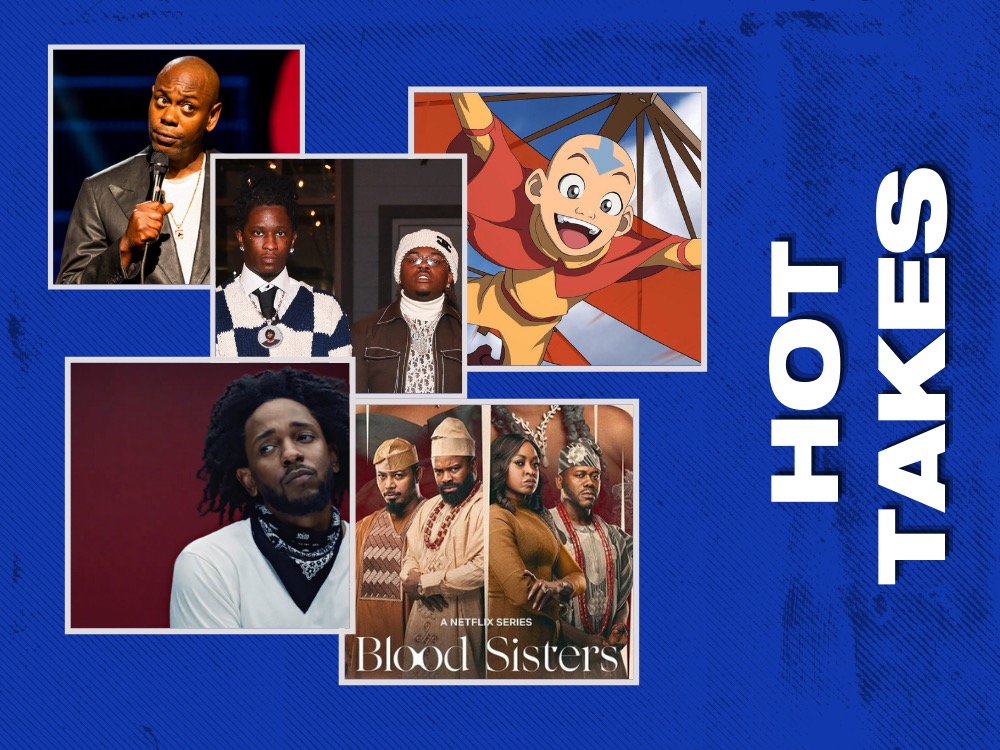 Hot Takes: King Kendrick, Netflix's Blood Sisters, Young Thug's RICO Arrest & More
all the hottest takes this week
There's one universal truth about the world: that life goes on. It has been a persistent conflict within people for generations, how one's inner life might have shifted greatly and yet the world outside doesn't know. Some might say that proves the futility of life, but personally I'm not given to such nihilism. This is perhaps an unusual way to begin a column about popular culture, but what's more popular than humans trying to grasp the meaning of life? 
Culture, on the other hand, is a different ball game. Culture moves with the pace of technology and modern tastes. We know so damn much, even though we'll never know enough. As the year advances, popular people give us enough reasons why they shouldn't be popular while everyone else proves they'll probably be worse characters if they become popular. This inspires the news, the buzz of social media arenas. Hot Takes infuses some nuance to the breaking news, the quintessential package for distilling global pop culture every week. Dig in for today's as I discuss the highly coveted Presidential forms for Nigeria's 2023 general elections, reactions to 'Blood Sisters' on Netflix, new music from Kendrick Lamar and Young Thug and YSL's racketeering charges. 
WHAT I'M WATCHING 
I've recently seen 'Silverton Siege', a movie about an event that really happened in South Africa. It is powerful, emotional and thought-provoking, and I think everyone should see it. Actually, I've written something more in-depth about the film so make sure to watch out for the website in the coming days. 
I'm also re-watching 'Avatar: The Last Airbender' and it's been a thrill so far. You'd think the animation holds the power of nostalgia over us but nah, it's actually very good storytelling. Plots and subplots are carefully expanded, and each character is three-dimensional. The CGI still remains a beauty, and I've fallen in love again with this series. If I have to throw in something quite different from the earlier suggestions, then 'Newness' (on Netflix also) is a movie that's been on my mind. 
WHAT I'M LISTENING TO 
My music listening habits are quite haphazard. I tend to take my time on new releases, instead revisiting crucial moments in the past, either enjoying them or thinking about them in new ways. Suffice to say, I've been listening to Ice Prince's seminal album 'Everybody Loves Ice Prince', which spawned some of my favourite Nigerian rap-pop songs of the 2010s: "Mercy", "Kpako", "N Word" and "Pray", featuring the late great Sound Sultan. 
I've also caught myself in a bubble of alternative rock and other psychedelia-inspired stuff. Some projects I've found particularly interesting are Noah And The Whale's 'Peaceful, The World Lays Me Down' and 'My Head Is An Animal,' by a band named Of Monsters and Men. Victony's 'Outlaw' is definitely getting repeated spins, too. Many jams on there but my favourites are probably "Outlaw" and "Apollo".
REACTIONS TO NETFLIX'S BLOOD SISTERS 
Given their budget and burgeoning name around these parts, African Netflix movies are usually released to sufficient hype. Earlier this year, Ebony Life's 'Chief Daddy 2' had been one of the most anticipated movies on the platform but when it dropped, a lot of people criticised its bland acting and zero dedication to realism. To that end, it was as though the dominant feedback of subpar storytelling will continue to be Nollywood's bane. 
I guess the Mo Abudu-led production house took those criticisms in good stride, because the reception to 'Blood Sisters' has been largely positive. Over the weekend, many took to social media to laud the coordination between the gory and sensual themes of the movie with the characterisation. Apparently the characters were cast beautifully, while the story moved without the fluff you'd find in much of contemporary Nollywood. 
To better help viewers understand the series' central conflict, The Native interviewed three members of the Ademola family. In all, they seemed to have had a good time filming. I haven't seen the series just yet and that's why I'm refraining from making explicit comments. But to the best of my knowledge, capable hands were on deck. I mean, do you know the movie director Biyi Bandele is an accomplished novelist? Check him out if you haven't. 
Upcoming ritual*sts!!! 🙄🙄🙄🙄 #BloodSisters #BloodSistersNetflix pic.twitter.com/zp621aurlh

— DeyemiTheActor (@_deyemi) May 8, 2022
NEW MUSIC FROM KING KENDRICK 
Five years is an impressively long time for a creative to not share their work, but that's what Kendrick Lamar did. After soundtracking the motions of Black America through three peerless and transcendental albums, becoming the first musician to win a Pulitzer along the line, Mr. Duckworth is knee-deep into his return process.
Last we heard him (on cousin Baby Keem's "green rangers") he rapped about "smoking on top 5s" and after announcing the May 13th release date of 'Mr. Morale & The Big Steppers', he's intent on backing that up. Yesterday Lamar shared the fifth instalment in his classic The Heart series, taking what is easily his most experimental audiovisual route yet. That's a huge claim for a rapper who has flied in videos and has taken the voices of several characters throughout his discography, but everyone agrees "The Heart Pt. 5" is a stunning piece of art. 
Standing against an oxblood-coloured background, Kendrick wears a white shirt and a black handkerchief, tied loosely around his neck. Spazzing over a sample of Marvin Gaye's "I Want You" his scattershot flow discusses the history of pain and how we've adopted it as culture. As he moves into wider pockets, a deep fake effect causes his face to change into Black personalities like Jussie Smollett, Will Smith, Kobe Bryant and Nipsey Hussle, from whose perspective he delivers a chilling verse about the unfortunate incident which led to the rapper's death. Immersed in his interests like never before, listeners have begun to unpack details from the song and video, perhaps in the hope we might understand a bit of Lamar's frame of mind as his fourth solo album arrives this Friday. 
YSL MEMBERS ARRESTED ON RICO RACKEETERING CHARGES 
It's not a good time to be Young Thug. The 30-year-old superstar made yesterday's headline for allegedly being part of a criminal gang. Atlanta Police took the rapper and ten others into custody after an afternoon raid on his home located in Buckhead, Atlanta. He and the others were said to have been booked into the Fulton County Jail in Atlanta, according to several reports. 
Young Thug was charged with one count of attempted murder and one count of participating in gang activity. Having pulled up resources and information on the rapper as far back as 2012, police officials claim he rented a car used in the drive-by shooting which resulted in the murder of Donovan Thomas, who was 26-year-old in 2015. Young Slime Life (YSL) was also labelled a gang, co-founded by Thug and several others in 2012. Officials uncovered its affiliations with the infamous Bloods gang, they revealed. He was also charged with conspiracy to violate the Racketeer and Corrupt Organisations (RICO) Act. 
I however have reservations about the part of the 88-page indictment which pulls up Young Thug's lyrics as a possible proof of his criminal history. The song in question, "Just How It Is", was the first Thug record I ever liked, and though it surely has lines like "we don't speak about shit on wax, it's all mob business", there's a long history of misinterpreting lyrics as evidence. Rap is infamously violent and white conservatives have sometimes twisted that to their advantage, using the rapper's perceived image to build a real-life case against them. I'm not asserting that Thugger is innocent. I'm saying, let art remain art and if FACTS prove he did the crime, then he should definitely do the time. 
BREAKING: Rappers @youngthug ,@1GunnaGunna among 28 defendants charged in 56 count indictment in Fulton County. My colleague @MarkWinneWSB & I have exclusive details. @wsbtv

— Michael Seiden (@SeidenWSBTV) May 10, 2022
APPLE DISCONTINUE THE IPOD, AFTER 21 YEARS
The streaming era has pretty much influenced how we listen to music. Providing CDs or vinyls are now treated as an additional thought by creators, more or less. Continuing the trend of discarding the past in total attention on the future, yesterday Apple announced that it was discontinuing the iPod device. Since 2001, music lovers have downloaded music onto the small device,  so loved because that sole function prevented any distraction.
Apple has announced that iPods remain available while stock lasts, but that hasn't stopped iPod lovers from reflecting on their relationship with the device. I mean, it's hard when everything around you is shifting and it seems like you have no say. The fact pretty much remains that capitalism is here to stay, and I wonder how many of our childhood darlings will be taken from us in the coming years. Farewell now, iPod. It was great while it lasted.
Apple has discontinued the iPod touch, ending the 20 year run of the iconic iPod brand.

What's your favorite memory associated with the iPod? pic.twitter.com/N1D9d3VSIG

— Pop Crave (@PopCrave) May 10, 2022
Make it comedy..but to what end?
by Wonu Osikoya.
By now it's no known secret that Will Smith physically assaulted comedian, Chris Rock on stage at the Oscars when Rock made an insensitive joke about his wife's alopecia. What has followed from this event is polarising discussions about whether Smith deserves to be banned from the Oscar's Academy, have his awards stripped off him and lose his standing in the comedy industry.
However, it seems perhaps a dangerous precedent has been set. On Tuesday night at the Hollywood Bowl in LA, Dave Chapelle was attacked by someone from the audience. While Chapelle's security was taking care of the man who had jumped him, Chris Rock went on stage and took Dave's mic while sharing: "Was that Will Smith?"
To me, I believe this is very insensitive for many reasons. If your fellow colleague has just been attacked on stage, I don't believe the first thing that should cross your mind is making insensitive comments about a similar situation of assault. It would have served the audience and viewers watching at home, if Rock had left out the Will Smith comments and instead focused on the matter at hand, which was assisting his colleague and friend. If this is a chapter you've decided to close completely, then do just that. But just as we can't control people's reactions, we also shouldn't tell people how to handle their emotions right? There's a thin line between comedy and just being plain insensitive and rude but where do we draw the line?
Featured image credits/NATIVE
---