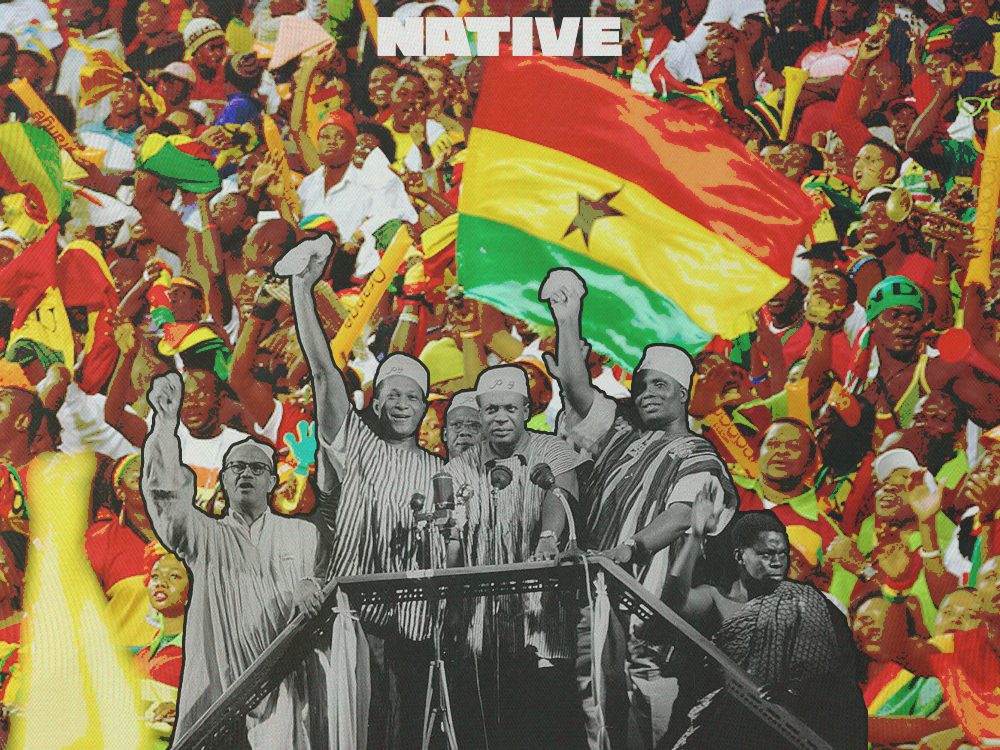 Ghana's Contributions to Afropop History Goes Deeper Than Music
In reverence to the West African country's 66th Independence Day anniversary
For a relatively small country, Ghana's contributions to Afropop has been gargantuan. Where contemporary audiences have been eager to praise the incursions of Nigerian and South African pop into popular spaces, the music of Ghana is no slouch in the journey of Afropop. From patenting the classical techniques of Highlife to providing a cache of lingo that's been used everywhere across the continent, there's no doubt that Ghana plays an invaluable role in bridging musical evolution with cultural ingenuity, and for too long its flowers have evaded her. 
In the nineteenth century, the music of Africa—and West Africa specifically—was a mix of the various traditional sounds across several ethnic groups and Eurocentric influences, especially from colonists who were resident in countries such as Ghana. Apart from church music, which was sometimes recorded in local languages, what was considered popular music around the 1900s usually had traceable influences from the more equipped Europeans. Ghanaians were the first to take the refined aspects of music-making and filter their own sounds through them, creating Highlife, which is rightly considered the sonic precursor to modern pop music in West Africa.
Happy 6⃣6⃣th Independence Day!
From the #UNinGhana🇺🇳 family to the Government and people of Ghana🇬🇭
May 🇬🇭 continue to stand for Freedom and Justice.#Ghanaat66#ghanaindependenceday pic.twitter.com/FHQ89UOzXc

— UNinGhana (@UNinGhana) March 6, 2023
This essential bit of history hasn't gone unchallenged. In the past, Nigerians have erroneously viewed Highlife as its own creation, ostensibly due to the fact that the genre became very popular during a crucial period of the country's independence in the sixties. Artists from the geographically bigger West African country have also minted gold records from its conventions, but would Nigeria have become that conscious to Highlife's appeal if artists like E.T Mensah hadn't toured the country? Considered the modern pioneer of the form, Mensah's creative freedom allowed the likes of Bobby Benson to learn directly from his style, and Benson in return solidified the genre's standing among the elite class of Lagos with his acclaimed Jam Sessions which would also help in developing many future stars of Highlife. 
More pertinently, it was the five-beat pattern which was adapted from the percussive style of Akan music which provided the sonic template for what's now known as Afrobeats. Without glossing over the diverse sonic traditions prevalent in accomplished music scenes across Francophone and Southern Africa, it's almost unarguable that contemporary Afropop as a global phenomenon was largely reliant on the sound of Ghana. Azonto and Hiplife had amassed great followership in diasporan communities before many genres that's now popular today. On 'Afrobeats: The Backstory', a most intriguing episode was when the filmmaker Ayo Shonaiya traced the origins of the five-beat pattern to Ghanaian folk music, also connecting its peculiarity to the primal bounce of Hip-Hop. 
Thus, Ghana resides at the very centre of Black art. No other African country boasts a relationship with such important conventions across music, art and history. Perhaps we can attribute this wide-ranging attribute to the reach of Ghana's coasts, which although prompting the unfortunate history of slave dealings, was also a factor towards its cultural vibrancy. Quite fortunately, the country has proven eager to align its historical importance with its modern outlook on culture. The revered Kwame Nkrumah was a pioneering figure of Pan-Africanism, and besides mentoring other African personalities who became thought leaders in their own countries, a strong imprint in his ideology is the communion of black communities across the world in fashioning a global front for our own interests. It's also telling that the great W.E.B Du Bois maintained a great relationship with Nkrumah and resided in Ghana until his death. 
In the past half-decade, Ghana has done important cultural work. From 'The Year of the Return' to other musical events which have designated areas of local history to highlight, a lot of people in the diaspora have travelled to the country. With celebrities often making that trip, the perception of Ghana in the international media space has tremendously improved, while music companies such as Audiomack have proven eager to set up offices in the country. Against the risk of trivialising diverse experiences, it's also important to note that this tourist attention hasn't always translated into a more vibrant economy for everyday Ghanaians, as we've reported in recent times. 
This cross-continental relationship was demonstrated on a holistic scale last year by the American rappers Chance The Rapper and Vic Mensa, who parlayed months of deliberate collaboration with Ghanaian acts like King Promise and Kwesi Arthur into the Black Star Line festival, a multidisciplinary event which was held in Accra's history Black Star Square and had US superstars such as Erykah Badu, T-Pain and Tobi Nwigwe in attendance. The name of the historic steamship corporation founded by Marcus Garvey, the Black Star Line was an important showcase of Ghana's decades-long role as a mediator of black cultures and experiences.
Another instance of international stars aligning with the GH culture came through the figure of Kendrick Lamar, who made a trip to the country around the same time his long-anticipated LP 'Mr Morale & The Big Steppers' was released last year. Being a rapper who allies closely with his African heritage, Lamar's move had an almost spiritual connotation. And yes, music hasn't always been the pulling factor—the rapper Noname whose interests in historic Black Literature brought her to the George Padmore Research Library on African Affairs last year. 
As a Nigerian, one is born to recognise the tensions with our next-door neighbours. In recent times the supremacy of Jollof rice has been the most keenly contested aspect of our shared history, although to that conversation no unarguable consensus has been reached (I'll wait until I taste Ghanaian Jollof in Ghana before I reach my own verdict). There's also the more touchy history of Ghana Must Go in 1983 which, it must be said, was spearheaded by a government that had an eye on retaliation (Ghana had done the same in 1954 and 1969) and didn't necessarily consider the nuances of diplomacy but also humanity, why it is necessary that anyone who hasn't proven a threat to society should be allowed to reside wherever they want provided they go through the proper channels of entry. 
Growing up, the love for Ghanaian culture was quite visible in social spaces. Even today, without missing a breadth a lot of Nigerians would mention Ghana as the African country they would most like to visit. I remember the homage Highlife musicians such as Cardinal Rex Lawson and Chief Osita Osadebe have paid to Ghana in their songs, either singing in local Ghanaian dialects or referencing the country in storytelling mode. Flavour's "To Be A Man" had such a character who travels to Ghana to hustle, and upon getting a visit from his friend, reveals that life hasn't been great to him. A sprinkle of the famous Kuffour name, and Flavour arrives at the cross-cultural blend which was responsible for birthing his genre. Ghanaian-themed bars were also a thing growing up, and during my moments of voyage in reality or through movies, it wasn't at all strange to see a 'Baba Ghana' bar which was owned by a Nigerian.
During the mid 2010s, the Ghanaian sound made a return to the centre of Nigerian popular music through Mr. Eazi. The revelation of Eazi was actually felt throughout the continent, but more poignantly within Nigeria, which was his home country. With songs like "Leg Over" and "Hollup" drawing from the aforementioned five-beat pattern, urban lingo such as 'ohema' and 'charley' also became widely popular. Runtown's "Mad Over You" was the sonic icing; mentioning Ghana girls and some famous meals from the country, its resonant production coated the song with the warmth of a love letter, from Nigeria, and indeed the rest of Africa, to Ghana. 
On their part, Ghanaian artists have been forward-facing with the sound. The likes of Sarkodie and M.anifest have frequently stretched hands of collaboration towards other African musicians, and in the process, creating multi-layered catalogues for themselves. Efya, Cina Soul and now Gyakie have reflected R&B excellence, blending its sensitivity with the brimming colours of Highlife. R2Bees, Shatta Wale and Stonebwoy are approaching veteran levels, but there remains a vivid desire for merging the rich sonic history of their country with sounds from elsewhere. In recent times, artists like Amaarae, Camidoh, Black Sherif and Kojo-Cue have showcased the necessary mix of talent and intentionality needed to secure their spot at the zenith of Afropop for the next decade at least.
What is obvious is that Ghana has always been a part of Africa's desire to fashion its own identity. The government can surely do better in bringing the benefits of its cultural renaissance down to the average citizen, but in terms of embracing its cultural history, Ghana is right now a beacon of inspiration to the entire continent of Africa. As the country celebrates its Independence Day today, it's surely worthwhile to consider what true independence means and how Ghana has taken the necessary first step of aligning its sociopolitical agenda with the storytelling of its peculiar history.
---