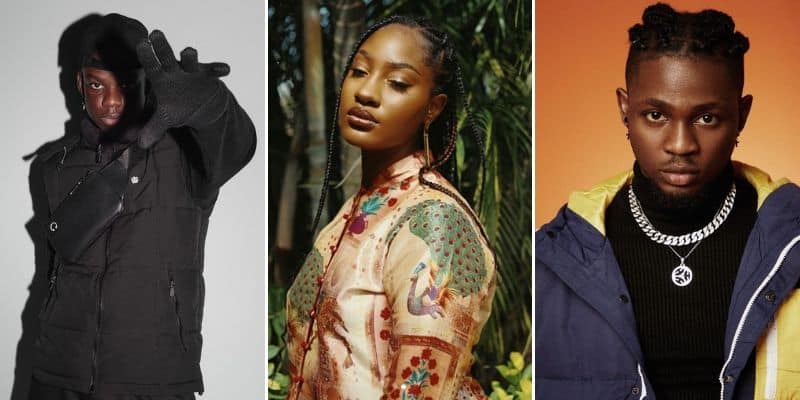 GEMS: A list of the best songs released this week
New music from Rema, Tems, Omah Lay, WurlD & more
Every Saturday, The NATIVE Will Put Out A List Detailing The Best And Most Enjoyable Songs Released During The Week. With The Scope Widening And Music Dropping At An Immeasurable Pace, It's Easy To Miss Out On A Lot Of New Drops, So We've Decided To Help Out, By Collating A List Of The Best Hip-Hop, Pop, R&B Song From All Over The Continent. Our Main Goal With This List Is To Make Finding Great Music Of The Moment Easier For You
Tems – "These Days"
Tems is undeniably one of the most exciting artists at the moment, and every song she releases sounds like an angel is speaking directly to you. This year alone, she's managed to keep the attention on her solely with guest features, from  Odunsi The Engine's reflective "Decided" to stirring up the perfect vibes on DRB's "Trouble" and teaming up with Khalid & Davido for the "Know Your Worth" remix. 
This week, she graced us with her first song of the year and 4th-ever single, "These Days" where she looks inwards for a deeply reflective number. Over the mellow drum-led beat produced by RVdical The Kid, she sings 'and these days are made from the pain/these nights are not full of stars' musing on what seems like a past lover who revealed their darker side to her. Tems has a way of expressing what we're all thinking, and this song is particularly needed during these unprecedented times. This new song gives us a moment to reflect on the grief of losing our normalcy and the guilt that follows when we think of those experiencing 'real' grief from losing loved ones around the world.
Kaychuba – "Ogbanje"
Vulnerability is not a calling card in Afropop, especially for male artists, and even when they do employ it in their music, it rarely ever gets really deep. Although he has only two singles to his name, Kaychuba might just be the honest, sad-boy hero we didn't know we wanted. On his debut single, "Selfish", the singer brings all the feels in a way that almost makes you ignore how self-obsessed he's being, and for his latest, "Ogbanje", he pulls off the same trick with a bit nuance to his storytelling abilities.
Taking stock of a relationship that ended bitterly, Kaychuba recounts all the ways he was used, misused and tricked by his ex. "Apart from 2014 wey you tell me say you go love me die/how many times I don call your phone wey you no reply me?", he sings, pulling out receipts to show he was putting in the effort.
Usually, there are two sides to how a break-up went down, but the detail Kaychuba uses to support his narrative, coupled with the way his emotive voice gently bounces off Timijay's R&B guitar riff and afro-folk percussion, it's difficult to contest his side of the story. In fact, he might get you to join in wallowing, because one way or the other, we've all been where "Ogbanje" is.
Rema – "Fame"
Since he broke out last year, Rema has successfully highlighted the range of Nigerian music in more ways than one. First, his debut EP, 'Rema' introduced him as an afropop singer before his emo trap follow-up tape, 'Rema Freestyle' eventually showed off his hip-hop influences. Secondly, his ability to embody both indigenous and foreign sounds has seen him become the poster child for new generation African artists. His latest release, "Fame" sees him looking back at how much has changed for him, and narrating his experience since becoming a pop star.
Over the Woodpecker-produced emo trap background instrumentals, Rema gets vulnerable and admits his struggle to handle dating as a celebrity. To be fair, relationships tend to get complicated even without the weight of being famous, but the lyrics, "Since I got this fame, it's been so hard to love again" are frighteningly revealing. His ability to subvert hip-hop's braggadocious trope for a melancholic anthem is impressive and we expect that fans will be raging to this one as soon as the lockdown is lifted and we're allowed to go out again. 
Shalom Dubas – "Ride with Me"
Maryland-based rapper/singer Shalom Dubas has just released her third EP 'Mint, Green', a 6-track project covers a range of themes from love to perseverance as she delivers her most well-rounded offering yet.
The EP's undeniable standout and lead single, "Ride with Me",  aged beautifully in light of all the other songs, where she a smooth love song which sees her showing off both her rapping and singing skills. Over an array of acoustic strings and vivid percussive patterns, she raps about her object of affection, saying they inspire her to show a level of affection she's not used to. 'I'm flame and I'm trying to ignite you/might write you a whole book of haikus' she raps, before delving into mellow harmonies that sweet and shimmer on the song's hook. 
Zilla Oaks x Prettyboy D-O x MOJO x Marv OTM – "No Conversate"
Conversate isn't a real word, but in the context Zilla Oaks, Prettyboy D-O, MOJO and Marv OTM use it on "No Conversate", the motive is crystal clear. Rappers asking to be left out of whatever doesn't add to their pockets is a norm in rap music, however, Zilla and his colleagues reinforce that mind-set with undeniable moxie. Over a Tochi Bedford beat which sounds like the sonic equivalent of a wide grin through gold grills, each rapper takes turns pointing to the bag as their major focus.
D-O opens "No Conversate" with the declarative hook and a typically commanding opening verse, where apostrophes—not commas—are what separates the figures in his account balance. Marv and Zilla follow suit in quick succession, expressing disdain for long talks when it's not about the "kpa", and bragging about how much money they have.
While all preceding rappers turn in impressive performances, it's MOJO who arguably steals the show with his irreverent energy and raps filled with an avalanche of quotables. "Na only money language I understand, mi o tie gbo Yoruba mo (I don't even understand Yoruba anymore)", he raps to open his verse, referencing a former Nigerian president and demanding for contracts instead of congrats further down the line.
Omah Lay – "Damn" 
Omah Lay's debut single, "You" was an instant hit and set the pace for listeners to anticipate his promised EP, 'Get Layd'. The initial release date was set for April, however, after listening to the 3 new tracks, fans will agree that it was worth the wait. 
While love songs are far from being a novelty in afropop today, Omah Lay brings a refreshing honesty to the romantic theme. The aptly titled first song on the EP, "Damn" is a welcome jolt, where he uses the cuss word to describe the magnitude of love. Singing "She loves me like damn/ Like damn damn damn" over the delicately caressed keys, breezy synths and saxophone harmonies, Omah Lay's impossibly nimble flow and catchy lyrics cement him as an Afropop star that shouldn't be ignored.
For the final verse, he describes his lifestyle as an outlaw, "I'm a bad boy/ I no get work/ I dey smoke cigar, and I dey smoke skunk". Given the sweet nature of his pre-released songs, one wouldn't naturally associate the lover boy to these things he sings, however, it fits into the song's narrative as a modern-day interpretation of Romeo & Juliet. "I know father don talk, make she just drop/ but she love me die, she no dey hear word", he sings to prove his trust in the bond he shares with his partner. While there's always the risk of losing relatability when you switch up your character in music, however, Omah Lay's mischievous personality on "Damn" pays off to make a damn good song.
WurlD – National Anthem (Growing Wings)
Last week, WurlD released his third project in the past year, and upon first listen it was difficult to choose a favourite, so we made the entire project our pick for Best New Music. Now after a week, we've landed on the Shizzi-produced "National Anthem" as the standout cut, an energetic song which serves as a great introduction to the project. Listening to the project in sequence will make you go from inadvertently bopping your head to thinking about the state of your life in one fell swoop, and songs like the opener, "NATIONAL ANTHEM (GROWING WINGS)" gets you to do both.
Where 'Arise O Compatriots, Nigeria's call, obey' can urge one to fit into status quo, WurlD singing 'Dem Go Try, But They Can't Divide Us/Dem Throw Stones, But It Never Go Touch Us' against a bass-heavy beat with pulsating drums seems more fitting to a generation of young Nigerians who have clocked the puzzle and refuse to be trapped by their environment.
Featured Image Credits: Instagram/WurlD
[mc4wp_form id="26074″]
---