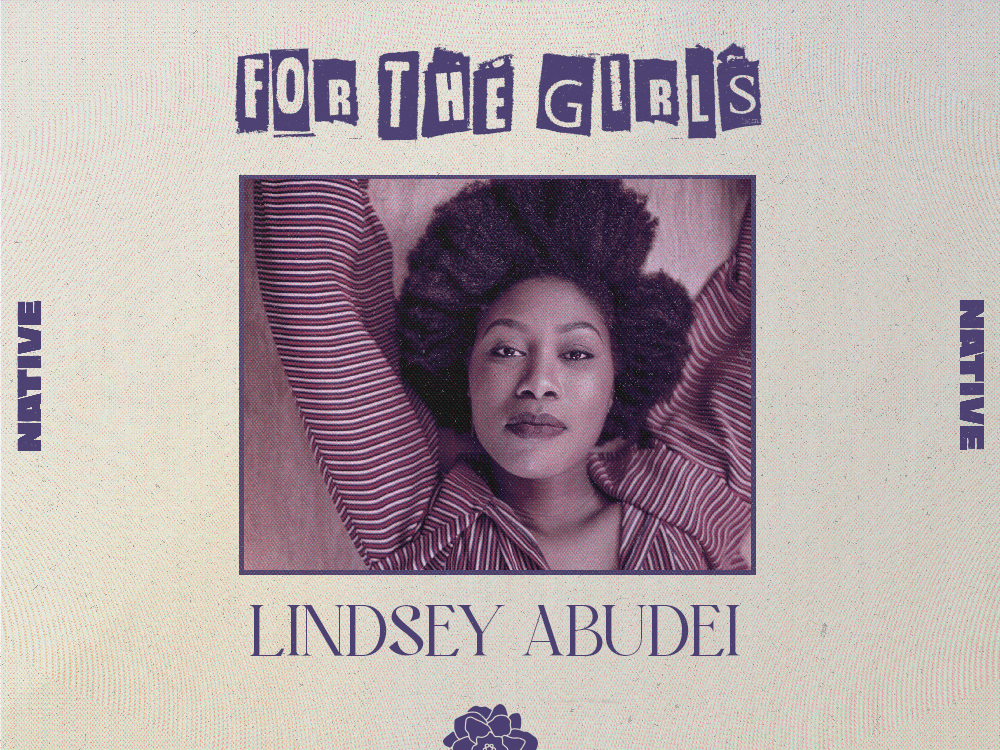 For The Girls: Lindsey Abudei is Expanding Her Horizons
The singer-songwriter's new tape 'Kaleidoscope' bears remarkable progression
Alternative music, on most days, is a contested sphere of the music industry. No one seems to agree the exact merits of its alternate status, while its commingling with distinct and recognisable genres builds a strong case for more specificity. In Nigeria however, the colourful influence of its popular music makes the outliers stand even more visibly. Creating from spaces of considerable sanctity, the likes of Asa, Bez Idakula and Blackmagic have thrown their boundless imagination behind their visions for soul-driven music, establishing their names in the canon of alternative music. In 2016, the unassuming vocals of Lindsey Abudei placed her in this elite class, as she serenaded the heart's longing on her excellent debut album, '…and the Bass is Queen'
Critics and everyday listeners seemed to agree: the latter class had the album's humane quality to grasp, as Lindsey unfurled relatable experiences with its innate complexity while possessing her voice as an instrument, soft and surprising, a delicate push against the warm roots of the bass guitar. Described as "immersing and without fault," the album's critical value would also be deemed "of international standard" while Oris Aigbokhaevbolo, writing in Music in Africa, had high praise for Lindsey. "Unlike her contemporaries," he wrote, "Ms Abudei puts production and songwriting on equal footing. She enunciates clearly; she sings wonderfully; and the beat throughout the album is stellar but never intrusive". 
View this post on Instagram
When The NATIVE spoke to Lindsey Abudei about a week ago, she was a little sick. So powerfully realised in songs, her speaking tone now seemed to calm into the pace of a flowing stream. So were her stories—of which she had many of—released into the world with breathless ease, so that during a half-hour of conversation nothing stood between her world and I. Her sophomore album 'Kaleidoscope'—whose literal meaning upholds multiplicity—had just been released some days before. "In this project we played with elements of different genres," she confirms, "there are elements of classical music, elements of orchestra, elements of rock in there, there's a folk element there; just different genres. And I also realised that before now I had been putting myself in a label. Cos it's so easy to say oh, you're a neo-soul singer but the truth is I am not. I am a singer-songwriter". 
Lindsey returns to her other projects for context, making the point that her sound travels too much to be restricted. Specific records are mentioned for their associative genres and on a sonic level 'Kaleidoscope' makes the statement that she's not a neo-soul singer. An experiment that tests the boundaries of a "regular" song, Abudei drew inspiration from K-Pop artists' masterful braiding of genres within the space of a single record. She does not rush her recordings; Lindsey returns to skeletal forms as readily as she celebrates the executed song, editing until the desired sound is arrived. That thoughtfulness went into the structuring of 'Kaleidoscope', which had intermissions after every song. 
"Initially, we thought the project was going to be a four track or a five track EP," she explains, "but I also wanted to play with transitions and I had these ideas, I had some of these songs I'd written that I wanted to be in the project. I was also trying to avoid having one song—let's say 'Thunder in My Arms' for example, and then transitioning into 'Gather Me to Your Place' in one song, because I wanted those intermissions to be held properly, so I separated them instead, so that they would not be missed, and they could be seen as their own stand-alones, even though they're intermissions of the songs following them. It's like a coin that has two sides". 
Clearly there's a deep interest for the arts which Lindsey Abudei reveals in her creative process. This intimacy informs her choice of producers and how she works: on '…and the Bass is Queen,' all except one song was produced by Atta Otigba, making the songs flow effortlessly over its fifty minutes runtime. On 'Kaleidoscope,' it is Bigfoot who enlivens her vocals with flawless composition, matching her pen's vivacity with his epic vision. "I haven't worked with any person that I don't have chemistry with," Lindsey tells the NATIVE. "If we don't have chemistry, we can't make music well. And when you're exchanging ideas, it's important that you're with somebody who understands where you're coming from. When I work with producers, it's important that I lay down the idea of what the project is, and then when it's certain that we get where we are and where we're going, then we start bouncing ideas and see whether it matches what we intended in the first place."
Lindsey Abudei can break down walls. She first held that immense power as a child growing up in Jos, listening to great music from her parent's engrossing collection. European artists from countries like the Netherlands, Britain and New Zealand were listened to alongside American classics which included Stevie Wonder and Roberta Flack. Lindsey also hopped on the nineties Hip-Hop train. 
Even with this awesome musical background, a professional career in music wasn't feasible until her late teens. "If you had asked me," she says, "I would have probably laughed at you cos I didn't see this coming". Following her expansive taste, she however continued to collect deep cuts of albums, shaping something alternative from what the radio usually played. She had record store owners as acquaintances and would make demands for seemingly obscure records. Lindsey's voice emerged more distinctly from her second year as a law undergraduate at the University of Jos. 
Lindsey broke into the esteemed community of local musicians which included M.I Abaga and his brother Jesse Jagz, Ruby Gyang and Ice Prince. A guy called Bolade Bisi, "who's pretty central to all our careers," had a studio in the neighbourhood and would travel for years, leaving it in the control of the Abaga brothers. They all had Jam Sessions at this place, and soon after Lindsey joined Loopy Records—this was some years before Lagos and Chocolate City came calling for the rappers. On "Jehovah" and "Dis Jagged Life," she lent her dulcet vocals to records from the brothers, although as she progressed into her own career she had to establish her own qualities beyond the collective's resume. 
In Abuja where she lived briefly, Lindsey was part of a Jazz quartet and also played the grand piano alongside Sammy Gyang. These closely knit circles helped inform the intimacy of '…and the Bass is Queen', which was the body of work that announced Lindsey Abudei as an accomplished musician. She wanted to "honour" the bass, which is perhaps the most underappreciated of instruments, but she also desired a stronger showing of her craft. "When I started recording [the album], I wanted to do something that was slightly different from 'Brown'," she says, "because 'Brown' was I needed to do something of my own. '…and the Bass is Queen' now became the project where I learned control. Learning when to let my vocals come in, to let it breathe, and to let other instruments breathe. Not always singing in every space that is there, and realising that the voice is also an instrument, it doesn't have to be chaotic". 
Lindsey Abudei has been living, which is something she eagerly reminds me of when I query her about the six years between her debut album and 'Kaleidoscope'. "I'm a human being; people forget," she says. "People always forget that artists are human beings and life has its own way of doing things. And sometimes, you're not in a space to make anything, and sometimes if you make something, you're not in the space to continue. I feel like that whole conversation of artists trying to beat time—at the end it burns you out, if you're not very careful. We've seen it happen in front of us". 
She's been working in less traditional spaces in music for the past four years, Lindsey however affirms. "But I'm thankful now we're here; there's a project", she says with understandable triumph. 'Kaleidoscope' arrives with all this feeling and contemplation, bridging Lindsey's poetically sparse direction with cinematic flourishes. "We'll see," she responds to the question of what she's got coming after this; videos, a show, something entirely different? "I don't want to throw everything away; it's one step at a time. We're hoping to have a live session towards the end of the month, so fingers crossed."
Listen to 'Kaleidoscope' here.
---