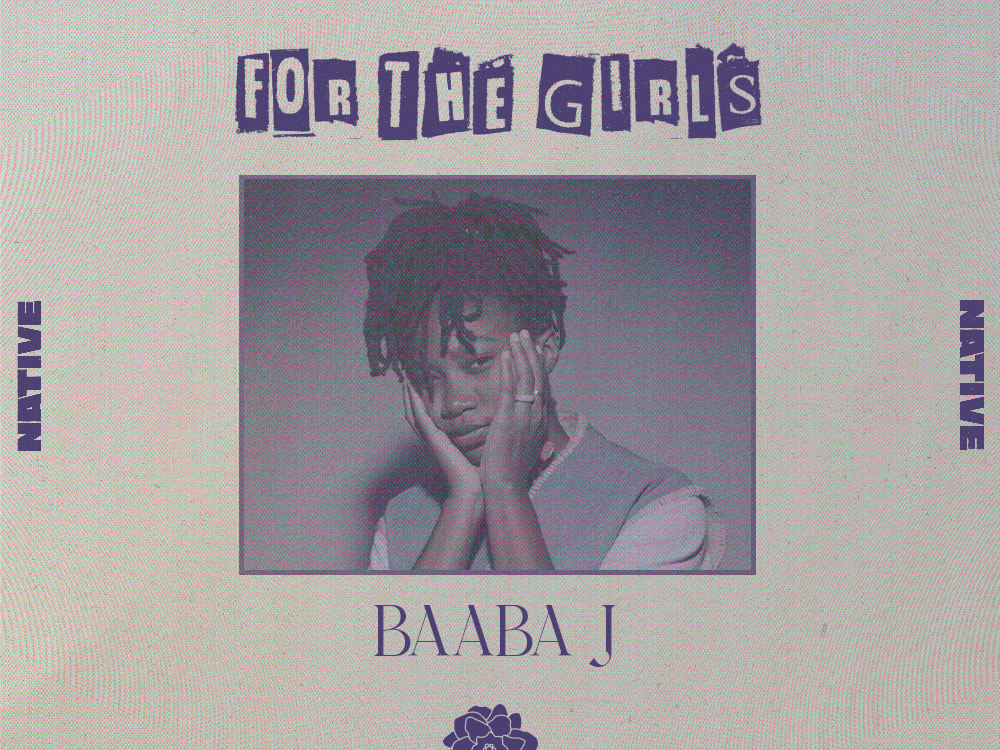 For The Girls: Baaba J is Finding Herself Through Soulful Melodies
soundtracking the youth experience for adults navigating life
As ever-evolving beings, self-reflection is a constant aspect of navigating life's tumultuous journey. However, making the transition into adulthood and acquiring independence comes with interesting discoveries one may or may not be ready to digest. Conflicting emotions and uncertainty become the new normal and that's a feeling a number of us can relate to. In her recently released sophomore EP, 'Okay Baby, Let's Do This,' Baaba J, like the rest of us, is beginning to find her footing in the world. She speaks about releasing her EP, "It was tough putting together this particular EP because it wasn't really themed. The theme of the EP is 'We are ready.' I am ready to take music seriously regardless of all the doubt and thoughts flying around of what could go wrong." 
The Ghanaian-born singer is still learning about herself and her music plays a key role in steering through the journey. As she figures things out, she understands that the journey is not one to be taken alone. That helps with partnering through the curation process for the project as well as the messages she communicates within her records. Her promotional single, "Ole" is dominated by her sweet-sounding vocals accompanied by slow-paced, rhythmic drum patterns and lightly clashing cymbals she reveals are performed live. "I am very particular about those things and I like to record them live. Most of the time, whatever instruments are going on the track will be played in the studio."
She bares her heart the entirety of the single, filled with the subtle disappointment that a relationship with her love interest is better left as friendship. Likewise, the rest of the extended play is filled with melodious, heart-warming coming-of-age anthems. Baaba J has proven that the voice of the youth is safe and secure in her hands, across seven fusion tracks championing a series of soulful melodies, African folk and touches of Pop. A few short days after the release of 'Okay Baby, Let's Do This,' we sat down with Baaba J to provide some insights on her creative process, working on the sophomore EP and more.
View this post on Instagram
Our conversation, which follows below, has been lightly edited for clarity. 
NATIVE: How would you describe your music to someone who has never listened?
BAABA J: I think it has a very African folk vibe. I try as much as possible to represent where I come from in my sound. Not only through language but the melodies, rhythms and cadence that delivers the music. There's a lot of African instruments reflected in my sound. I think if somebody asks me what my music sounds like, I would say it's a fusion of African music with Pop or Folk music.
You described your various musical inspirations which are different in their own ways. These influences contribute to the distinctness of your sound. What elements in those references contribute to that?
I think I am very heavy on instruments and their tones. In all of my music, you will hear a lot of guitar strings and piano. I am very particular about those things and I like to record them live. Most of the time, whatever instruments are going on the track will be played in the studio. I want to maintain the feeling of live performance with the instruments, and so I think that's one thing that runs through in my music. in the recent EP, that's like how all the songs were made. That's like a signature thing for me.
Why was that important to you; recording live and having instrumental focused music?
I guess because of the way I respond to music. For some people listening to a song, the first thing they're listening to is the lyrics. Others are listening to the melody and instruments. The first thing that catches my attention is the music of it; the instruments and rhythm. I have to listen to it a couple of times before I start thinking of what the artist is talking about. The first thing that gets to me is what I'm hearing and that's what influences the making of my music. That's how I relate to music. When you listen to my music, this is what you will notice.
So that's the part that comes more naturally to you. After getting the instruments down, how do you get to the zone of putting other elements like lyrics together?
Writer's block is really crazy. Most of the time when I have a block, sometimes it's very weird because I'm trying to write a particular song, that one isn't working but when I try another song, it works. Sometimes it's like the song is not ready to come out. Maybe this particular vibe is not ready to come out but when it's all through when I can't write, sometimes I just take a break. I give myself a break and try to do things outside of music. I also realized that once you push yourself, something will come out, even if it's not the best that you were going for, there's something that's going to come out. I take that break and then I come and work myself out a bit and I will get something, I may or may not work with that but that's how I go about it.
Do you have a particular African female musician that you look to for inspiration and why if you have any?
In my country, I listen to Sina a lot because she's one of the musicians that use Ghanaian English. She makes it still feel real and like the language we speak, I listen to Asa a lot. When I heard her music first, I don't think I knew anybody who was making that kind of music and it was just like she was in her own zone. I also really like Simi. She's very smooth and calm. Most of my music is very chill and I relate to those a lot. Right now, there's a lot of people I look up to; Amaarae, Tems, and even upcoming people like Bloody Civilian, Arya Starr. There's so many even songwriters that are producing for themselves too are really inspiring because I don't usually produce. I give direction to how to play the music because I play the guitar, and so I know what I'm looking for. I never really touch the computer. I give the direction from the back, but it's nice to see people full on producing their stuff, especially women. That's great.
You have already mentioned heavily instrumental driven, what would you say is the most important thing about the music you create and what do you want the listeners to take away when they hear it?
I always like talking about self-love and love for other people. One big thing I want people to take from my music is it's all about you. You're the one. Love yourself. Put yourself first. Besides the message, I feel one thing about my music is that it has a replay value. It plays some many times in your head and you have to go back and listen to it. It is because of how smooth I play around my melodies and instruments. That's like a very big takeaway because they're melodies that will get stuck in your head very easily. Even if you don't know the lyrics or you don't understand the grammar, the melody sticks. I think that's one very important thing about my music. It is easily registered. It is easy to learn. It is easy for people to catch it.
Are there new genres you're looking to explore in the future?
I have been doing a bit of afro-folk, I want to do Afrobeats, Amapiano infused with folk because I think that will be great to try. Alternative music as well. I want to try Rock. Afro-rock music, that will be fun. I have one hip-hop song on my debut titled "Tomboy," and people really loved that song. Since then, I haven't done anything like that and I think that song was really important for that period. That message I was talking about. I haven't done that on this EP. I'm still trying to tap back into it and try Rap and Hip-hop. Also more African influences in my language and  melodies that I use.
View this post on Instagram
What have the moments leading up to the release of your sophomore EP been like for you?
It was tough putting together this particular EP because it wasn't really themed. The theme of the EP is we are ready. I am ready to take music seriously regardless of all the doubt and thoughts flying around of what could go wrong. The songs don't follow a particular theme and this time, I had more songs than the first time. I had to pick it was difficult. I also had to find the best mixing & matching because when I did my first EP I didn't really know much. I was just excited as opposed to now where I'm working with more people. Knowing the potential of the EP, I wanted it to come out and stand on its own. The music had to be good besides what we had recorded. The mixing of the song had to be good, which was really difficult because of what we were trying to give. It was a lot of back and forth, but worth it. It's out now and people really love it. That's good. 
Talk to me about creating "Ole," that's the biggest song on the EP and one of the ones you have released prior to the EP
"Ole" is like most of my work, one of the songs I finished writing before entering the studio. So, I wrote it and I had the guitar progression in my head. I knew how I was going to go so I took it to my home studio where I worked with my cousin at the time. He produced "227" on my EP too. We started experimenting on the sounds and figuring out what kind of song we wanted to make. There's a lot we want to do. Is it going to be very Pop? Is it going to be Funk? Reggae?  We played around until we got to what we have right now. We really stretched the creative process because we had different genres come in for different parts and we had to choose a limit. It ["Ole"]was inspired by liking someone and liking them enough to know you can't be more than friends. It was fun to do.
Looking back at your 2020 debut, how would you say you have experienced growth over the years and do you think that has reflected in your sound in any way?
Definitely, I think I have learned so much about working with people. I'm more open to allowing people to share their views about my music and integrating that into my process.When I was making the first tape, it was just me at home in the pandemic with my cousin. The process was mostly a two-man thing but this one, even the creative direction of it. It wasn't just about me. I think one big thing that I took away from the creative process of the EP was working with people and how much people can bring to you even though they didn't have the starting idea. People can always chip in, although you are the bedrock of the whole thing. I have genuinely learned a lot. I have learnt writing with my audience in mind. Before, I was writing for myself.  Now, there's more compromise. There's more thinking, which one would the audience like the most? Should I maybe stretch a part or make the hook a little catchy? Now, there's so many things to think about when you're making the music that I didn't think about when I was doing the first one.
How would you describe your audience?
I think they're just youthful people trying to live. I have come to realize that most of my audience are people trying to be happy, trying to have fun or trying to be heard. That's why they listen to my music, they relate. Even at my shows, I have noticed a lot of them are youthful people who just like to express themselves. They relate to me because they think I am very comfortable in myself and I stand for who I am. 
What did you want them (your audience) to feel from your EP?
I will say most of the songs in the EP are about love in different ways.  Even seeing that we are different people, we are literally the same in some way. The EP just shows the kind of person that I am. It's me just going through the world trying to make my music and find more love and understanding. That's what the EP talks about.
Your audience is made mostly of young people trying to find themselves. Why do you think you're the best person to communicate the message?
A lot of my music is true. They are from my experiences and what I have seen people go through. I think people can tell when something is coming from a place of truth. IT's not a brand. It's not a brand for my music.  I think people can tell that what I'm saying in music is real. They relate to that honesty and they can trust it.
Which artist are you keen on collaborating with?
I would love to collaborate Black Sherrif, The Cavemen, Asa. There are so many Ghanaian artists too. It's a lot. All the artists on the Spotify radar programme, I haven't really gotten to meet them personally although we are on the same programme for this year. I would really love to collaborate with them in the future. I was talking about collaborations a lot when I released my first EP. I said I would do another EP with just me,  just introduce myself  before I start collaborating. Now that I have done that, I am excited to do music with everybody else.
So far, it seems like you're on the cusp of something bigger, what more can we expect from you?
Definitely more music. We are going to put out a couple of visuals for the EP too.  I really love storytelling and I have much interest in film. So there's going to be visuals. There's going to be performances; a concert where people can come and listen to all the songs together. I hope that the EP will be big enough that we can tour and perform in other countries because.  I really think that it's that good and when people hear it, they will want it live. I would love to perform and represent my country, my people. 
Featured Image Credits/The NATIVE