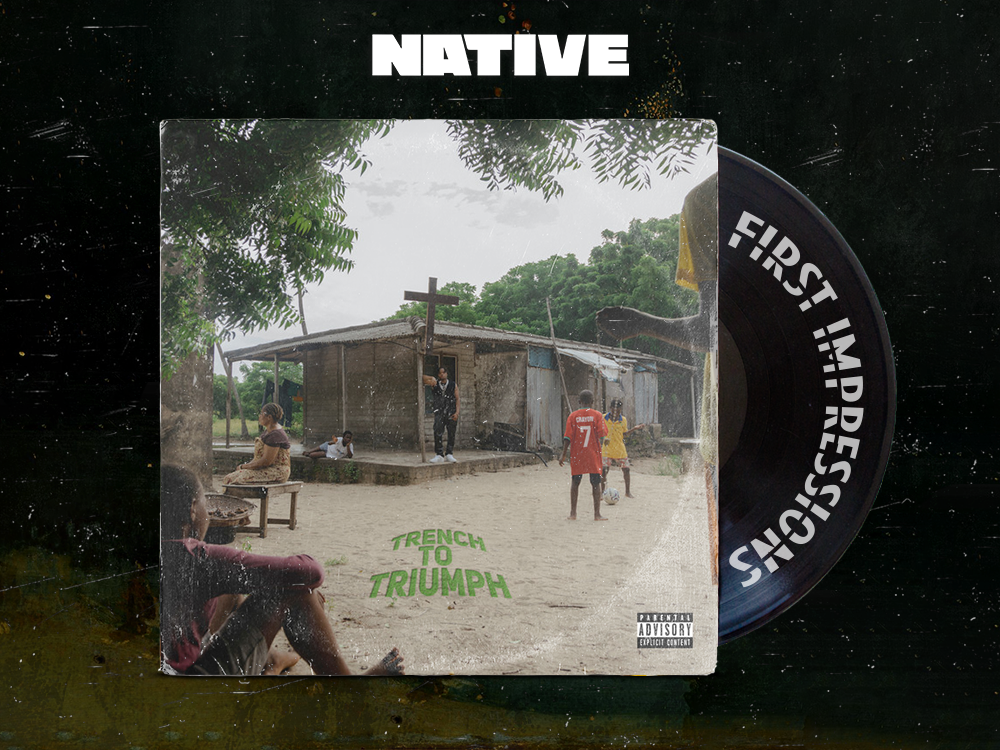 Our First Impressions of Crayon's Debut Album 'Trench to Triumph'
the project is testament to perseverance and talent
In 2019, when his labelmate Rema made a strong opening in "Iron Man," Crayon did the same with "So Fine," a romantic Afropop tune that highlighted his knack for melodious adlibs and hooks. As a new Mavin Records signee, Crayon shouldered the weight of expectations well and, on his debut EP 'Cray Cray,' showed more of his qualities. That same year, he copped a Rookie of the Year nomination at the Headies.
With every music release that followed, Crayon continued to clear his path to stardom. His 2021 EP 'Twelve A.M' revealed the Nigerian singer to be growing in confidence and evolving his sound. Crayon's star turn began to manifest on the 2022 Mavin Records collabo "Overloading (OVERDOSE)," with his chorus being the song's most distinctive feature. A few months later, he scored his biggest hit to date with "Ijo (Laba Laba)," boasting production from Nigerian veteran Sarz and a pan-African remix featuring Camidoh, Costa Titch and Focalistic. He closed the year with more impressive turns on Mavins' collaborative project 'Chapter X.'
Early in the year, Crayon consolidated his efforts with his and Yaba Buluku Boyz's "The One (Chop Life)," showcasing his hit-making abilities. With Crayon's debut album 'Trench to Triumph' now here, his journey, as suggested by the project's title, is a testament to his perseverance and talent. In our usual manner, the NATIVE team delves into 'Trench to Triumph' to offer our initial thoughts on 'Chapter X,' from favourite song to best feature to standout production.
View this post on Instagram
FAVOURITE SONG 
Alex: "The One (Chop Life)" featuring the Yaba Buluku Boyz is my favourite. The Buluku Boyz's upbeat verses complemented Crayon's tone in the Amapiano-fused track delivering the same energy the Mozambican trio is known for. Before now, "Ijo (Laba Laba)" was my favourite Crayon song, but "The One (Chop Life)" resonates with my mood right now. Chopping life!
Chigoziri: The Amapiano-laced "Ijo (Laba Laba)," although produced a year ago, still remains a big vibe and a favourite on the album. Just to stray away from familiarity, I'd say "Calvary Kid" is a personal favourite alongside "Ngozi." There's something about an artist singing about their wars and struggles that makes me appreciate their music more. Unlike most of the songs on this album, it has a melodic tune and a beautiful choir to pass across the message, taking you on a journey throughout the album. "Ngozi,"' another Amapiano-laced song featuring the fashion killer, Ayra Starr, is a love song that kicks in from the start. I think it is really a bop. The pair have only sung together as part of a MAVINS project like "Overdose" and "Won Da Mo" but they work beautifully on "Ngozi."
BEST FEATURE
Uzoma: I will go with both Victony on "Belle Full" and Yaba Buluku Boyz on "The One (Chop Life)." On the former, Victony's playful verse complements the mood and tempo of the song. And with the ad-libs, he and Crayon shine. Yaba Buluku Boyz bring high energy to the latter track with their chants and production. It's an instantly addictive song.
Israel: After listening to the project in its entirety, I can say that none of the features particularly stood out to me. The only song that left an impression was the Victony -assisted number "Belle Full."
Daniel Akins: Magixx on "You vs You" stands out for me. Magixx shows his vocal range with beautiful melodies that compliments now trademark Crayon's style.
STANDOUT PRODUCTION
Uzoma: I really like the production of "Superwoman." The rolling drums at the beginning of the song increase in tempo as the song advances. When the chorus arrives, the drums are seamlessly paired with Amapiano log drums. The layers in Blaise Beats' production are very impressive and Crayon's performance on the song makes it worthwhile
Daniel Banjoko: The production of "Ijo (Laba laba)" continues to resonate deeply with me. I've played this song countless times, solely to immerse myself in its impeccable mix of Nigerian afrobeat percussion and the ever-popular Amapiano sound. Sarz is always the man for the job. It sounds like the beat was set up to be played in a perfect loop and I can see why, it flawlessly complements the message of the song which is to let loose, dance, and enjoy oneself. 
BIGGEST POTENTIAL HIT
Dennis: "Belle Full" came out about a week ago and it's the perfect song for the Mavin machinery to beam into inescapable popularity. As a guest, Victony shines unreservedly, but not to the point where he hijacks the spotlight from Crayon, who adds some charisma to his usually giddy charm. KTIZO's colourful beat also warrants some replay.
Uzoma: I still feel "The One (Chop Life)" hasn't gotten the deserved attention. It's a delightful bop destined to get people moving. "Belle Full" and "Superwoman" are two other tracks I suspect will do great numbers for Crayon. The hook on the latter is really catchy and Blaise Beats' production packs a punch.
Moore: While it's hard to single out only one song from a project filled with likely hits, I'd have to choose "Ngozi" as the one with the most potential. The presence of an automatic hitmaker in Ayra Starr already gives the track an advantage, as well as the incredibly catchy beat.
BIGGEST SKIP
Chigoziri:  I'd say "Superwoman" didn't do it for me. I could only feel the Amapiano fusion and not the actual message of the song.
Daniel Banjoko: For me, "Wetin Go Be" didn't quite hit the mark. It's nothing against the song personally, but it felt a bit lacklustre, especially considering its position so close to the end of the project.
OVERALL FIRST IMPRESSIONS
Daniel Akins: 'Trench to Triumph'  is a beautiful project that tells the story of an artist used to the hustle finally coming to his own. Crayon found his voice, and with this project that features a balance of introspection on a song like "Calvary Kid," definite club bangers like "Modupe"  and love songs like "Superwoman,"  he lets us know he is here for the long ride. 
Nwanneamaka: "Ijo (Laba Laba)" was released over a year ago but still proves to be an earworm and I think that says a lot about Crayon's impending impact on Nigerian music. I never paid particular attention to the artist but after listening to 'Trench to Triumph,' he is definitely on my radar. This was a solid and cohesive attempt at a debut album. He provides a heartwarming perspective of the generic 'rags to riches' story with more focus on his growth as an artist and the opportunities he was exposed to. The project, as a result, leans into mellow tunes characterised by low-tempo chords on tracks like "Adey" with upbeat renditions on "The One(Chop Life)." Optimistic to see how he expands the world of the album with visuals as well. 
Stream 'Trench to Triumph' below.
Featured image credits/NATIVE