I started listening to the radio in 2009, the summer Akin's family moved to America.
My first radio, a Coca-Cola branded radio-hat was a souvenir I got at the World Cup trophy display in Lagos. South Africa was hosting the FIFA World Cup next year, and the radio-hat was what I had on my head, sullen, as Akin told me, Uncle Kenny had just brought him back from picking up his approved visa.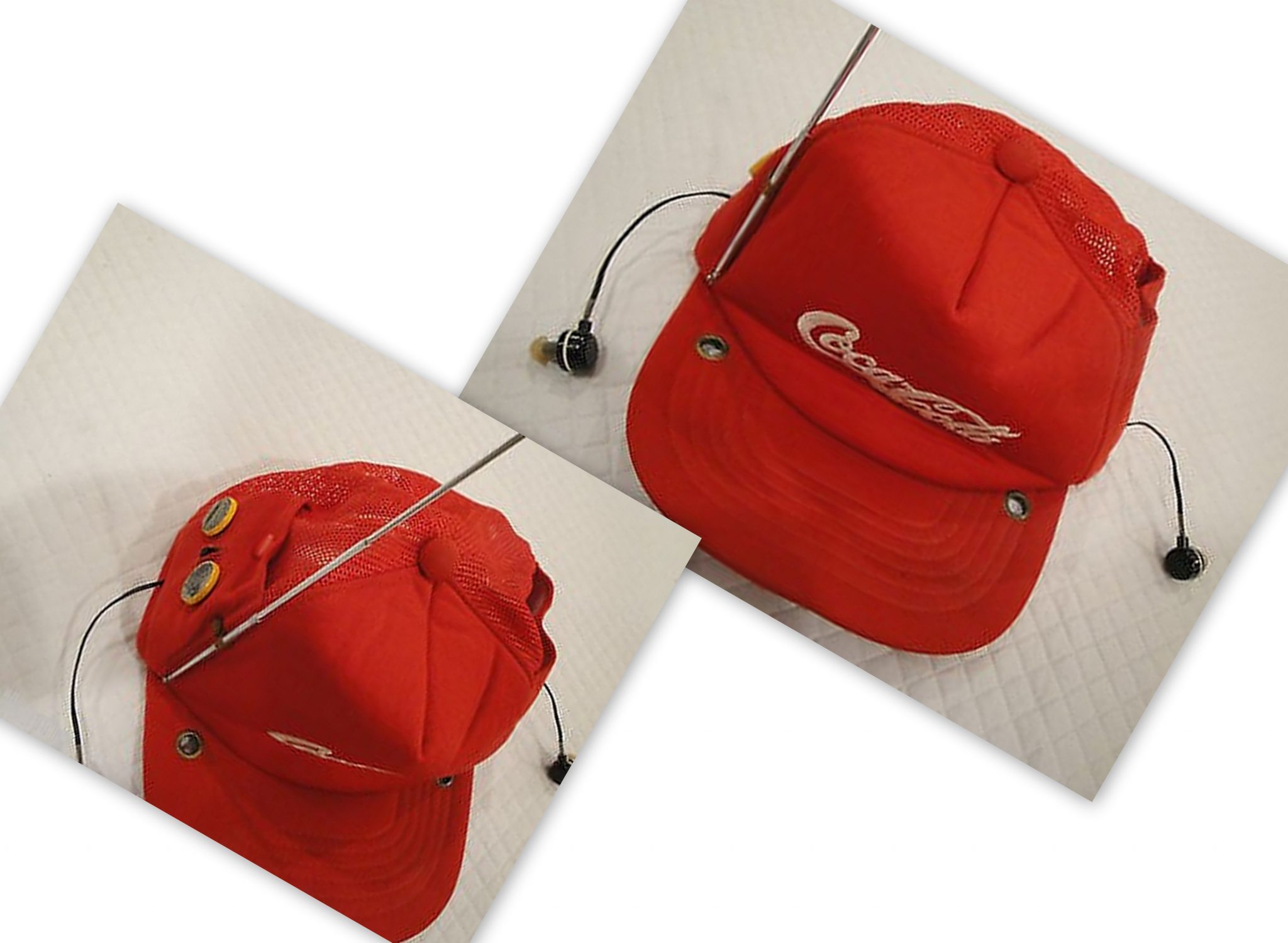 Though I already owned a cell phone before that, I still say 'my first radio' with nostalgia, because this was still 2009 Nigeria, and the first approved private radio station hadn't even been around for up to two decades.
After Akin moved away, I suddenly had nothing to do or anybody to do it with; TV got boring quick, video games offered no respite. Akin had not only been my best friend, but we both loved music. Cable TV was gradually gaining popularity in the mid to late 2000s, so by default, our favourites were: Akon, G-Unit, Black Eyed Peas, Ludacris and whoever else filtered through MTV or pirated VCDs collections of latest music videos from all over the world.
Because this was also the era of Nigeria's CD boom, Styl Plus, 2face, PSquare, 9ice, Olu Maintain, Lord of Ajasa, DaGrin, Wande Coal, D'banj and others all formed a major part of our process. With Uncle Kenny as our litmus for what's hot or not—whether it played on MTV Base or Channel Z—we eventually started to write our own songs. Our musical bond seeps into juvenile years that still foregrounds my best childhood memories.
By the time were 10, we'd mapped out over 15 songs, all the way down to the dance/performance routines to a fictional crowd going crazy. We kind of had it at the back of our minds that'd we'd eventually have to record our songs. But we were also two kids with no money, and don't even get me started on asking your civil servant Nigerian parents to support your child star ambitions (Funkeee !).
But none of that really mattered to us back then. We built our entire persona around who we tried to be with our music. I still have colourful memories of being an urban jungle misfit; a street footballer; a comic book artist; and mobile phone filmmaker; all adventures earmarked by the beaming smile of my comrade by my side.
Oddly, in the haze of emotions, I felt after late broadcaster, Tosyn Bucknor's death was confirmed, this was the memory that stuck with me.
In salute of 'Area Mama': Between a boy and his radio
There wasn't a lot of Urban FMs, or SoundCityFMs in those days, so working my way around what I liked and didn't like on the Nigerian airwaves took patience. It also didn't help that technology in Nigeria was at a weird place where, me, a mid-90s baby who had SONY Walkman player, as a child, was also part of a smartphone revolution by his mid-teens.
The first couple of shows I got hooked on were daily shows. Rhythm 93.7's 'Top Seven Jams At Seven', a music chart show hosted by JAJ the Mecadon, Cool FM's after-dark "Nite Cafe" with N6 and Joyce, but my favourite was Tosyn Bucknor's "Top of The Morning" on Top Radio.
Morning drive shows,  are usually too serious or not accessible for younger audiences but "Top Of The Morning"  peeped on that sweet spot between quirky and endearing. The positivity of the voice of Lagos was unmissable but peculiar. Tosyn's favourite, catchphrase "We thank the lord", was often repeated throughout the show. In a country where there is any hardly any visible cause to embrace the hope religion promises, it was at least ironic.
But the more I listened, the more I came to understand Tosyn Bucknor's charm offence.
The 'Area Show' as it was aliased, was a world of Tosyn's own making. Asides thanking the Lord and bringing positive vibes all-around, she became the Area Mama during the traffic-report segment, "Areaa!". Whether you are Dave calling with updates from Victoria Island or Mr Charlie from Ojuelegba, the first salute must first go to the Lord, then to Area Mama, who inspired the first salute.
Though unscripted and live-recorded, the "Top of The Morning" was structured accordingly to the day of the week. The week started with 'Motivation Mondays',  eased up to 'Women's Wednesdays', then concluded with  'The Friday Area Show'.
Each day was defined by its own theme. But combined with a request hour slot where Tosyn took music recommendations from the public daily, two days particularly stood out: Women's Wednesday and Alternative Thursdays.
As the name implies, Women's Wednesday only features songs and interviews with female artists. Eva Alordiah's 2011 "I Done Did It"  is a great Women's Wednesday success story. The single had dropped in February but didn't become a phenomenon until later in the year. By the time other radio stations were catching up to her viral single, Tosyn had been months ahead of the curve. In fact, without Women's Wednesday, Simi's "Ara Ile",  Retta's "Kolo For You", and other songs by women that weren't necessarily alternative but didn't fit into the conventional Nigerian sound, would have never gotten their cult success.
'Alternative Thursdays', and a culture changed forever
My understanding of the word "Indie Artist" came from listening to Tosyn's Alternative Thursdays. If Women's Wednesday served a marginalised gender in music, 'Alternative Thursdays' served marginalised voices. Yes, there were other OAPs who did what they could, but none of them had a primetime morning slot or Tosyn Bucknor's enthusiasm as a convener. This defined Tosyn Bucknor's influence in the growth of Nigeria's 'Alternative' scene.
At the dawn of the millennium, live music in Nigeria gave way to electronic replication and production of music. With major international labels in Lagos all gone by the late 90s, a new lawless industry was in full-swing with piracy headquarters, Alaba, as its centripetal centre.
We already had a roll-call of Trybesmen, Styl Plus, 2face, Mo-Hits, Choc Boiz, Banky W, Neato C, Wande Coal, 9ice, SoundSultan, Asa and Omawunmi amongst others by 2011, so it was not all bad. However, there was a problem with discovery.
Terrestrial TV and local radio rotated the same class of these seemingly top-flight artists, who already had funding, endorsement deals and big-budget music videos. Nobody was really trying to push the boundaries beyond snazzy instrumentals, good songwriting, and a great performance, which are – basics of a good artistry. But still basics.
Tosyn used 'Alternative Thursday' as more than a platform to plug new music. She introduced artists in catalogues and selections, easing fans into their personality and songcraft through interviews and rare personal co-signs.
Western indie bands like Switchfoot, Life House, Sixpence None The Richer, were among the oft-rotated favourites of 'Alternative Thursday'. 'Alternative Thursday' was also home to soul singers Bez, Brymo, Aramide, and Timi Dakolo—whose 2011 "Heaven Please" tended towards hard rock.
Tosyn spotlighting growing voices extended beyond being the 'Voice of Lagos' on Top of The Morning. She joined the WePushGoodMusic Initiative to co-produce One Mic Naija, a live music and comedy showcase series.
The first edition of 'One Mic Naija', held in August of 2011, it was the first time, anyone in Nigeria attempted to curate a stage for Nigeria's rising talents on a consistent monthly basis. As attendance for One Mic Naija became bigger, more mainstream acts also joined the line-up. Till date, One Mic Naija is the singular platform that has hosted the widest array of Nigerian mainstream artists as upstarts; from Wizkid in February 2012 to BOJ in 2014, Adekunle Gold in 2015 and Terry Apala last year.
'Alté Everything'
I try to evade the question, but every now and then, I find myself around music people and someone asks me: "What is alté" or "How long will the alté scene last?". Usually, I become tongue-tied as to how to respond without offending the asker. Because, in my memory, after 'One Mic Naija' showed the potential of Nigeria's youthful urban culture, Afropolitan Vibes, Basement Gig, Mainland Block Party and 90s Baby's Kick Back etc, have all happened.
It's easy to see now, why what is considered as "alternative"  in Nigeria has always been defined by attention to detail and quality control. But while that is true, it's merely half of the story. The other half is the story of a road taken for better or for worse, by artists who simply wanted to do what they loved. "Alternative" may be one way to describe their style, but alternative to?
The internet is changing what it means to be an alternative or independent artist altogether these days. The story of Asa, a chorister who left Nigeria to study abroad, due to incessant strikes, but spent all her money on a guitar instead, is unique. Yet, it's a story just as distinct as Mr Eazi's, a university party promoter, whose DIY style and strategic digital media use, have made him an international sensation. Or the story of the late Tosyn Bucknor herself, an award-winning, OAP, blogger, podcaster and writer, who was also the lead singer of alternative rock band CON.tra.diction.
Nigeria's Instagram-generation has grown amidst accelerated leaps in innovation that have defined even this era in human history. You hear this in Teni The Entertainer's Fuji-Hip-hop fused Afropop, the suspended-in-time feel of Odunsi and Davido's funk-inspired collaboration, "divine.", or the Afro-fusion of Burna Boy with undertones of social commentary. None of these artists make "alternative" music in the sense, but they're also indicative of the natural progression influenced by social-economic shifts like mobile internet and Cable TV.
If newer generation artists are 'alte' for representing the music, fashion and pop culture, they grew up on, in their art, then the term "alté " conceptually falls apart. They may be somewhat alternative, but that's mostly because of the unique and far-reaching influences that inspire their DIY process.
Earlier this year, I read Malcolm Harris' "Kids These Days: Human Capital and the Making of Millennials". In the book, Harris introduces the concept of a "Pedagogical Mask", a psychosocial tool he suggests society uses to fool young people into pouring hours of countless manpower into activities like education that promises a better life that is not guaranteed in reality.
While Harris' book has a limited perspective because it uses the United States as its only model, the concept still put my years of writing raps, drawing comics and filming short clips with Akin in perspective. Had he not moved away, who knows how our "alte" story would have played out? Especially now that anyone can become famous off sharing content they created in their bedroom, at no cost at all.
******
A few days ago, I sat at NOK by Alara, with Mars and Barzini, two rappers who started making music while they schooled in Enugu. We were in the area for Nasty C's exclusive listening session at another location around Alara, and got talking while we waited for the show to start.
Mars is quick to inform me, they only recently just moved to Lagos and naturally always had their guard up around strangers. But none of that mattered when we began to rib about the state of hip-hop globally. By the time we were headed to the Nasty C thing, we'd gotten lost in an argument about male feminism in African music, while discussing albums from Falz and PrettyBoyDO.
So what is Alté sef?
Well, take a look around: it's 2018. Banky W is running to become a legislator, Olamide's most critical hit of the year is a social commentary piece on drug abuse, and Burna Boy is the biggest artist in the country.
If what it means to be Alté is to do like Tosyn/Banky to get involved in a community you care about; or do like Fela/Olamide and make a song about a real-life problem affecting people who relate to your music; or be Burna Boy: a self-assured uncomprising artist, who can do no wrong; then everything has been alté for a long-damn minute.
The late-night ragers, retro filters, the auto-tune, laughs, memes, cartoons and innocence of good-natured friendships borne of similar interests; all markers of a generation born.
I know what my answer to the next person that condescendingly asks me about "The Alté scene" would be.
"I don't know what you're talking about"
---
Toye is the Team Lead at Native Nigeria. Tweet at him @ToyeSokunbi
---