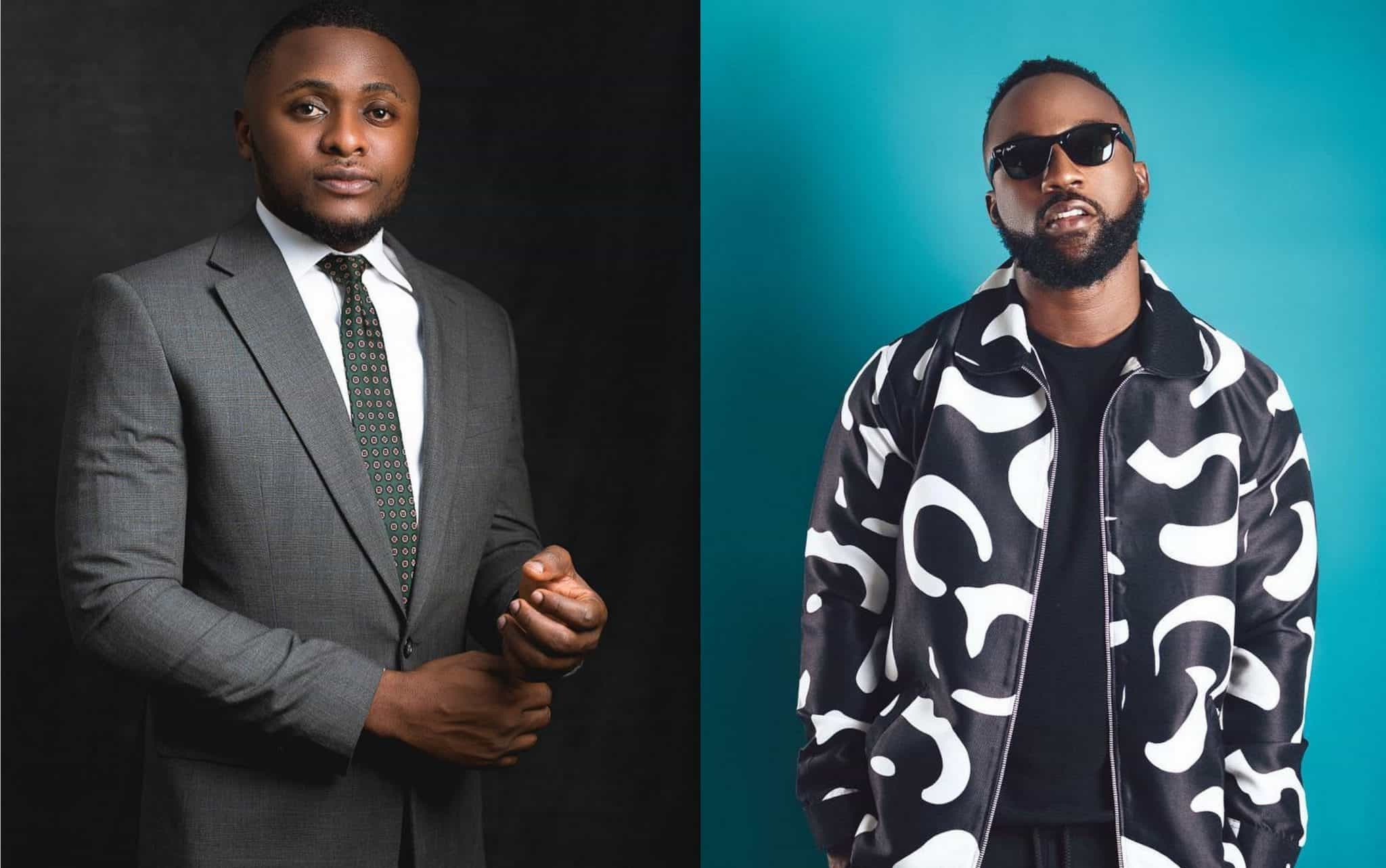 Ubi Franklin vs Iyanya: A Special Investigation by Joey Akan (Part 1)
Messy Messy Messy Group
By Joey Akan
In this 3-part special for The NATIVE, Journalist Joey Akan takes you into the intrigue and inner battles that characterised Made Men Music Group (MMMG). Speaking with Ubi, Iyanya, and many other key players, he takes you behind the scenes of how and why MMMG is fractured beyond repair.
The conversations have been edited for clarity.
**Note**: Some real names have been swapped for fake names, in an attempt to protect the safety and wellbeing our sources who agreed to speak to Joey Akan. These names are denoted through italics.
The background
On the evening of Saturday, June 30, 2018, Ubi Franklin walks into his Lekki penthouse bar and lounge, Tilt Terrace. The bar is uncharacteristically full, with young, colourful musicians, drawn from the rank and file of underground hustlers in Lagos crawling the place. They are buzzing, calling for drinks while paying attention to the reason for the gathering; Squeeze Tarela, on stage giving a live music performance.
In Ubi's company is his personal assistant, Omini Otah, a gymed-up, barrel-chested bro. Barely 30 minutes later, the place is in commotion. Ubi is bleeding with a cut to his face, while four boys drag him downstairs, with brutal blows and kicks interrupting the hurried journey. Bouncers and barmen are stunned, and before they can react, the deed had already been done. Ubi Franklin, a popular Lagos entertainment entrepreneur, father to a son, ex-husband of Actress Lilian Esoro, and the CEO of numerous companies, had been beaten by four young men.
The perpetrators of the violence were led by a musician named Chibbz, a singer who had been unveiled as a MMMG (Made Men Music Group) signing in 2016. "Ubi isn't the subject I want to discuss,"  Chibbz told me with conviction when I reached out to him for his thoughts. "He is dead to me." Attempts to further contact Chibbz and his management for further comments have been nought, as all parties have since requested privacy on the altercation.
Industry insiders who heard about the attack on Mr. Franklin, say it is no surprise that label boss was assaulted. They say it has been a long time coming – they legitimately sound surprised was that it took so long for it to happen. "That Ubi guy is a very shady person," says Adeshina, a prominent booking agent and talent manager. "He deserves more than just to chop that beating."
Deserving of assault or not, Ubi Franklin remembers the night differently. Fractures in his relationship with Chibbz began in 2016 when the singer approached him for a deal to use his record label as a public cover to kickstart his music career. "He told me he wanted to join us, his father was wealthy and he has the cash to pay for his bills and stuff. So I told him no problem, I'll talk to Iyanya," Ubi says in a telephone conversation with me. He says Chibbz agreed to a deal where he would pay a N5 million sign-on fee, and use the label's name for promotion. But that money wasn't paid in full.
"So he paid 2 million out of the money," Ubi says. "Iyanya took half of the money, I took half of the money. And then, two years into the game – like almost a year doing music he could not even shoot one video." Ubi, claiming a strong desire to help out and save the artist, offered him a proper recording contract, which all parties signed after Iyanya's exit from the label.
"Now, every time you tell him to go for an interview, he tells you he is not around," Ubi continues. "You'd tell him to go and perform a show, open a show, and he'd tell you he is not around; he has travelled to Owerri, to Aba, he travelled to this place or that place. I shot a video for him o! A very good video shot by AJE. One day I told him, 'you know I'm a businessman and all this money I am investing is my personal money I'm putting in. I don't want you to come and be taking my investments for granted.  I didn't hear from him again. One day I got a letter asking that he wants his contract terminated. I just laughed and ignored him."
Why did they attack him? He says when they walked into his lounge, Tilt Terrace, he approached them and asked them to leave because "once artist does that and you want to leave, go, don't come around my space."  Ubi continues: "So, he fought me, I have pictures of wounds, I just left him. His sister called me and asked me why are we doing this?  She said Chibbz is a kid that I should leave him. I said 'okay, no problem.' I just left him, I didn't say anything to him anymore"
---
Part 1:
The misadventures of Made Men
By pure coincidence, on July 1, 2018, the next day after Chibbz attacked Ubi, I was in a duplex near Jakande, Lagos, sitting in a living room and waiting to meet with a man called 'Illskills'. Over several weeks, he had tried to reach me via Instagram but we had failed to connect. Two missed appointments later, and a brief conversation with his assistant and we finally meet. He was a tall, lean figure, with a beard, whose first words  to me were: "Iyanya is finally ready to talk and I want you to write the story."
We were later joined by a group of people. Among them, I recognised an old music industry acquaintance, a guy named Demola Bishop. Bishop had worked with a few people in the industry. I first met him in 2014 when he was managing an artist named Zaina. She was signed to R&B singer, Darey Art Alade. Later, he pitched tents with Kiss Daniel, but was released by G-Worldwide after the singer had his breakthrough. Sources tell me that he was a troublemaker, who was fired because he tried to cause a rift in the label. One of his core brags, which he tells anyone who cares to listen, was that he was instrumental in splitting up Kiss Daniel and his ex-record label, G-Worldwide Entertainment. He got his revenge, I guess.
Being experienced, I understand that he had been drafted in by Illskills, who is his close friend for the meeting. Why? As they discuss, I find out that they were setting a plan into motion to release Iyanya from his recording contract with Temple Music, a record label which the singer joined earlier that year. Bishop, a self-proclaimed artist extractor, was to play a supporting role in the plot.
An hour later, an elderly man walked in with a small bag under his arm. Illskills tells me that it is his Uncle, a lawyer, who he had "flown in from London", to assist with ending Iyanya's contract with Temple Music. 
He also says that Iyanya's story – which they were about to give me as an exclusive –  was to be a key part part of their PR onslaught. That story would paint Ubi bad, shock the world and generate enough controversy to bring Iyanya back to relevance. They would use that momentum to release a project. I was interested. I am a journalist, I was being offered a story. Get that story! So I stuck by them, nodded and got on board.
It's also important to note that I was offered an undisclosed sum of money to help them execute this plan. They offered to pay me for my journalistic services, which they wanted to co-opt for a fee and use as promotion for Iyanya, while dragging Ubi through the mud. I never demanded, requested or agreed to collect their money for a story. I just wanted to hear all sides of this particularly compelling saga. 
We drive to Iyanya's house somewhere in Lekki, where numerous people have told me was a rental paid for by Temple. There was no car outside. We were ushered into a palatial home, with a butler who served everyone. Iyanya sits, and everyone takes a position around the dining table. We gather and introduce ourselves. As Iyanya begins to talk about his contract, I leave the room.
I go outside, and standing in the drizzle, smoked a cigarette and caught up on music. After an hour, the legal meeting was over. I was ushered back into the room whilst everyone shook hands and laughed. The mood was optimistic. Iyanya sat back smoking something rolled up. It was almost dark outside, I joined the elderly lawyer and his driver in a ride back to the mainland.
Two days later, on Tuesday, July 3, 2018, I was back in the house playing video games with Bishop and Illskills, while we waited for Iyanya. When he showed up, he hugs everyone, and they play us some songs. One of them is his single "No Drama", which they all agree to be his next single. Another single had Don Jazzy on it. They were all optimistic that a hit was present in their current batch of recordings. Orange juice was shared to take the edge off the loud that we all smoked at the table. Someone offered us food, White rice and chicken stew. We hold off on the food, Iyanya readies himself emotionally and begins to talk.
"See ehn, where do I start?" Iyanya breathed into the quiet room, exhaling a thick cloud of smoke.
The story of Ubi Franklin in the music industry is long and winding, but much of it is connected to the man that stood before me, ex-business partner and pop superstar, Iyanya. The duo were "co-owners" (more on that later) of Made Men Music Group (MMMG), a former powerhouse of the music industry which at some point was home to producer Selebobo, singers Tekno, Iyanya, Baci, and Emma Nyra.
Today, with the exception of Tekno, none of those artists are signed to the record label. Tekno, who is currently one of Africa's most popular and bankable musicians, isn't in a 360 deal with Ubi Franklin. He is a product of a joint venture between MMMG and Upfront and Personal Global Management Consultants (UPGMC). UPGMC is owned by Paul Okoye, the entertainment veteran businessman, who is also the founder of One Africa Music Festival. 
Ubi Franklin (real name Ubi Ekapong Ofem) was born on February 2, 1986. The artist manager and entrepreneur is the founder of popular music label Made Men Music Group, Triple MG and two businesses, Instant Pickup and Instant Apartment, that provide tech solutions for laundry and real estate businesses.
Ubi made his bones as a manager and partner of Iyanya. In 2014, I was in Victoria Island, Lagos, at a special edition of the weekly concert series, Industry Nite. This edition was dedicated to MMMG, as a celebration and launch of their group album, Evolution. On that night, Iyanya led all artists onstage for various performances. In between joyful choruses and verses from the team, he kept expressing his happiness with the lines, "It was just a dream."
Ubi echoed his sentiments too, beaming proudly in happiness. His team cut a public figure of a house in array, where music was their business, and each member was an integral part of the team.
4 years later, that night has become a distant memory. Only Ubi Franklin and Tekno still fly the MMMG name, Iyanya had pitched camp with Mavin Records, and later Temple Music. Tekno got half of his business signed over to Paul Okoye of Upfront and Personal, and Emma Nyra is far removed from the picture in France, where she has just given birth to twins. Selebobo has an affiliation with the company but is keen to exit. Baci cried his way out of the house. In their place, the company did become a management home for a new wave of artists including Ellyman, Kizz Daniel (who left almost immediately he joined), Rogerlino and a few others.
Ubi has always been a hustler. He started off as a índustry guy; a slang widely used in the music industry for people with no defined employment status who are present at music gatherings and events. His first major gig was with comedian Julius Agwu, whom he served as a personal assistant. He also had stints working with AY Makun, and a few others, as well as promoting concerts, and getting paid for gigs.
Iyanya on the other hand, was catapulted to fame once he hit the public eye. He began his journey as the winner of the debut edition of the reality TV show, MTN Project Fame West Africa. His victory, the first of its kind in Nigeria, was a watershed moment for the industry. But the euphoria failed to make his debut album succeed. Iyanya dropped My Story, but it was received with apathy from critics and fans alike. 
In 2009, he relocated to Lagos from Abuja, and found a sponsor named Kelvin Orifa. Orifa was a top management staff at a telecommunications firm, MTN, and he picked Ubi Franklin as his manager. All the planning and execution of Iyanya's breakthrough single, happened at this point. After the release and subsequent success of "Kukere" a couple of years down the line, Iyanya and Ubi struck out on their own. Partners, bound by music, the Nigerian dream, and the promise of wealth in the future.
"Iyanya had just enough money for that video," says Ade, a music industry veteran who was close to Iyanya before his breakthrough. Ade describes how Iyanya spent a night in his house, on the week of the video shoot, fretting over the video and if the song would become another failed attempt to fly. His fears were unfounded. 'Kukere' blew. The boy from Project Fame finally had become a star. "If that song had not blown, do you think Ubi would have happened?" Ade asked. We both don't know the answer.
Ubi and Iyanya struck out on their own to create a partnership and launch the music company, Made Men Music Group. Like all good business partnerships, they defined their roles and responsibilities. Iyanya was the evangelist; the passionate artist who brought business and opportunities into the door with his powerful singing, branding, machismo and chiselled abs. Ubi was the swift executor, with a head for numbers, and a business acumen that bordered on legendary. He was swift, he was cunning, and he got whatever he wanted done. On paper, this looked like a winning team; a fusion of talent and the brains to monetize it. They were a good fit.
The success of "Kukere" ignited a wave. The single was the spark for his sophomore album, "Iyanya VS Desire" which was a hit. It came ready with super singles "Ur Waist", "Sexy Mama",  "Flavour" and others. It was the pop record designed with a winning formula. Ubi Franklin and Iyanya were the winning kids in the game. They had crossed over from music hopefuls to Made Men. Money was being made.
"Iyanya was generating as much money as Ubi Franklin was ready to spend," says Jide, a former fringe staff at the company, who left after a fallout with Ubi Franklin. When I asked him how they were able to sign artists and invest in their art, accommodation and cars, he sighed, looked to the sky and shook his head.
"If you see how much Iyanya was making, you would know that there was nothing they couldn't afford. Iyanya was never in the house. It was one flight to another, one event to another. He was making plenty money."
Ubi Franklin handled the money, the conversations, the bookings, and many more. He was the one who put things in shape, structured MMMG and signed artists. In football parlance, he played the number 10 role. That's why the next set of events could happen. That's why he was able to carry out one of the most heartbreaking scams in music history.
---
Two years into his contract, Iyanya was at home when a strange number rang his phone once. He didn't pick up. The caller was relentless, and as the hours progressed, the number of missed calls were amplified. Iyanya refused to pick it up. It was a strange number, and superstars don't take strange calls. Might be a groupie, might be a conman, might be the father of your ex looking to shoot you for breaking his daughter's heart. Best not to touch it.
And then the SMS came. The message was short and simple, sent to Iyanya's phone: "Hello Iyanya, I am trying to save your life. Please, pick your call. It is very important."
According to a close friend who was in a room with him, Iyanya was disturbed and curious. He had never received a message with this tone and urgency. He pondered over his next steps for a little while. His curiosity won. Iyanya dialled the number.
His world was put on a fast spin.
A male voice told Iyanya to go to Abuja. "I don't know you, you don't know me. But I am trying to help you. Go to the Corporate Affairs Commission (CAC) and ask for your Made Men Music Group company papers."
All efforts by Iyanya to find out the owner of the voice and verify the person's identity proved futile. The caller didn't want to be known. According to him, he would lose his job if this tip was discovered. He just wanted to help because he liked Iyanya and his music. He was just a well-placed fan, looking out for his idol.
Iyanya obeyed. He flew to Abuja, found a hotel and began processing his papers at CAC. It took two days for it to be ready. When it got delivered to his room. Iyanya broke down in tears. 
The papers brought on a very grim reality: Iyanya was never a part of Made Men Music Group. His name was not found in any of those papers, neither was his signature located in those papers. While creating and registering the company, these were not the papers that his lawyers reviewed and got him to sign. Those were forged. In his place, equity for the company was shared between Ubi Franklin and his siblings. Iyanya did not own a piece of his company. He was only an employee and talent signed to the company.
It broke him down and led him to depression. Friends who saw him at this time recall that he was a different person. They said he "moved like his world was ended," and also stopped all activity and retired to his room, alone. "He just wanted to sleep, eat and stay indoors. He didn't even want to drink or see any of his female friends," one explained.
It was a grave betrayal, premeditated and executed by Ubi Franklin. He had dealt Iyanya a wicked hand and had broken the man.
"What made things worse was that Iyanya almost lost his life at the 2012 Dana Air Crash. So if he had died, it would have been all for nothing," his friend said.
The 2012 Dana Air Crash is a sad event in the recent history of Nigeria. A Lagos-bound Dana Air from Abuja, On Sunday, June 12, 2012, crashed into a two-storey building at Ishaga, at the outskirts of Lagos, killing all 153 passengers.
The aircraft, marked 5N-RAM, disappeared from the radar scope of the Lagos Air Traffic Control after communication from the tower to the pilot in command failed, before it crashed into the residential building on Tolulope Street, in Toyin area of Ishaga.
The General Manager of the Lagos State Emergency Management Agency (LASEMA), Femi Oke-Osanyintolu, said that the aircraft hit a power line and subsequently crashed into the building which comprised of six flats. The aircraft exploded on impact and razed the building. Iyanya narrowly missed that fight.
"When its not your time.. Its not yours.. it took me 30mins to convince my manager that we should stay back in abuja.. God is great. I don't think I had an authentic reason to stay back in (Abuja). I just came up (with) an excuse that I (wana) go to the studio in (abuja)…." Iyanya shared on Twitter, on the day of the tragedy.
What happened? According to a member of the crew who was with them in Abuja, Iyanya, Emma Nyra, Selebobo and other members of the MMMG travelling party went to Abuja for a concert. On their way back that Sunday, they were booked to fly on the ill-fated aeroplane. They got too busy and ran late, to ensure that the celebrities got on, the plane was delayed for them because the booking agent wanted a token monetary appreciation gift. But Iyanya was restless. He didn't want to be on the flight. He had not had enough of Abuja's finery and fast life. He wanted to spend another night in Nigeria's capital city.
First he had to convince the team to concede his plan. He argued endlessly on the way to the airport, fighting for them to have another go at the city, for one night. There was resistance. Everyone wanted to get home as fast as possible except Iyanya. And he won, thanks to his position of power within the group. 10 minutes to the airport, the vehicles were turned around on Iyanya's insistence.
They hadn't arrived at their hotels when they heard the news. The crew had stopped to buy food at a restaurant. And while eating, everybody's phone was blowing up. People kept calling to check up on them. Iyanya stood up, as he walked outside, Emma Nyra rushed in, tears streaming down her powdered cheeks and ruining her makeup, as she hugged him and cried. In between sobs, she kept repeating the words: "You saved our lives. I would have died today."
Iyanya and the team were shaken, but grateful. That would have been the end of the career and lives of Iyanya, Tekno, Emma Nyra, Selebobo, Baci and others. To this day, they are grateful to Iyanya for that.
"If Iyanya had died, Ubi Franklin's family would have inherited all of his sweat and hardwork," a former staff said. "You see Ubi, he is very wicked. Far more wicked than you can imagine."
The reconciliation process was long and winding. But it happened at the home and behest of their mutual Godfather. Ubi had no reason for what he had done. He attributed his criminal actions to the fact that "Iyanya was not very sure about the company." Their Godfather persisted, reunited all parties, and brokered a peace that involved a rectification of the crime, and also a reinstatement of Iyanya's equity and entitlement.
"It was a scary time for all of us working at the company," a former employee said over the phone. "Nobody admitted anything openly, but somehow, someone who knew about that event shared it via gossip, and  we all couldn't believe what just happened. In the end we knew not to trust Ubi."
From here, the relationship between Ubi and Iyanya changed. The trust from Iyanya had been broken. Friendship was no longer a possibility. It was all business. Prior to this event, Iyanya was inundated with numerous complaints about the business practices of Ubi Franklin. Every week, there was a new story of someone complaining about Ubi, and his allegedly shady ways. Iyanya paid no attention to it. Two people who were a part of their crew at the early stages admitted to Iyanya placing an unhealthy amount of trust with Ubi.
"I remember once when someone came to complain that Ubi had taken money for a show, and Iyanya didn't show up. When he confronted Ubi, all he got was that 'these people are making up stories because they are envious of our new success'," says Iyanya.
Artists who have been under Made Men Music Group till date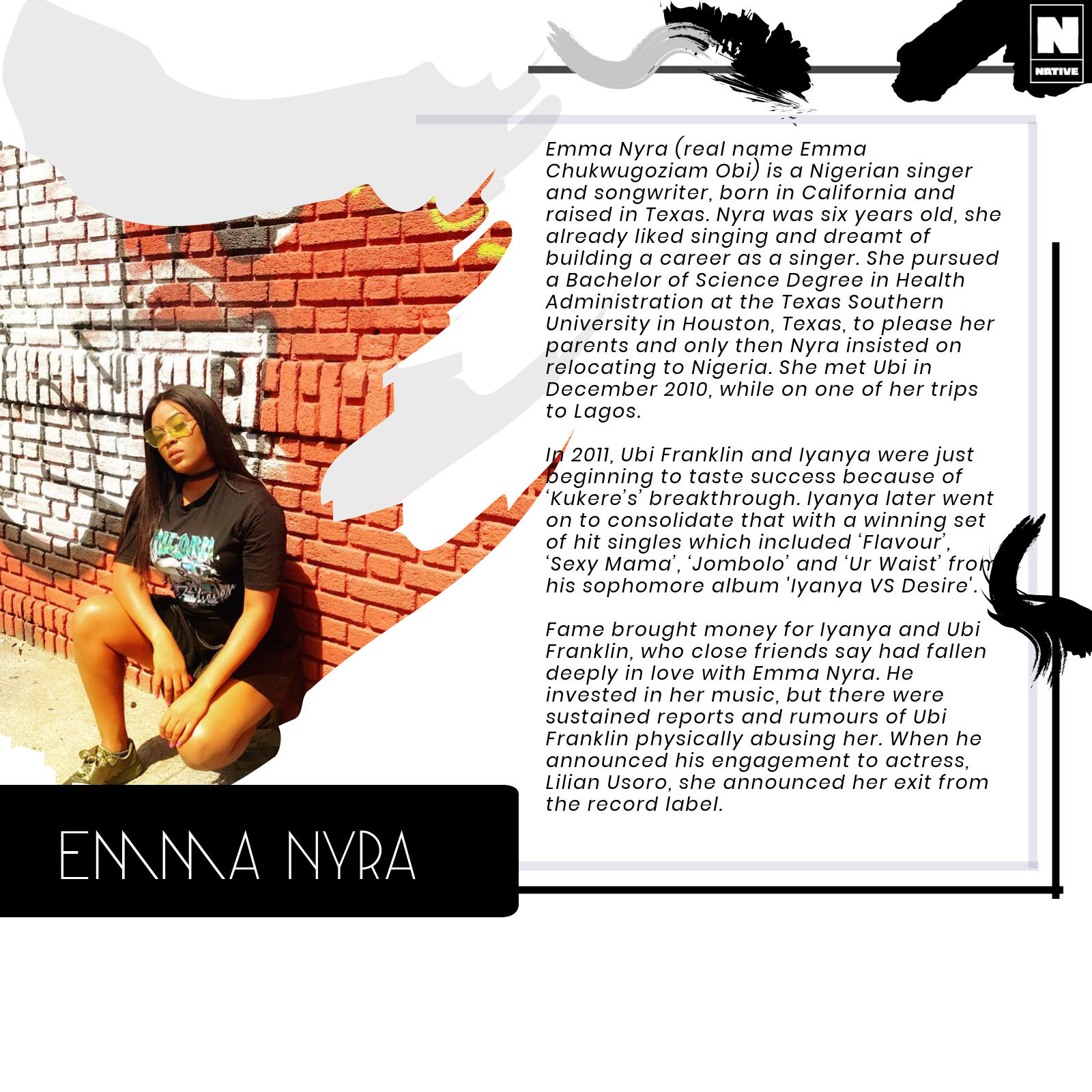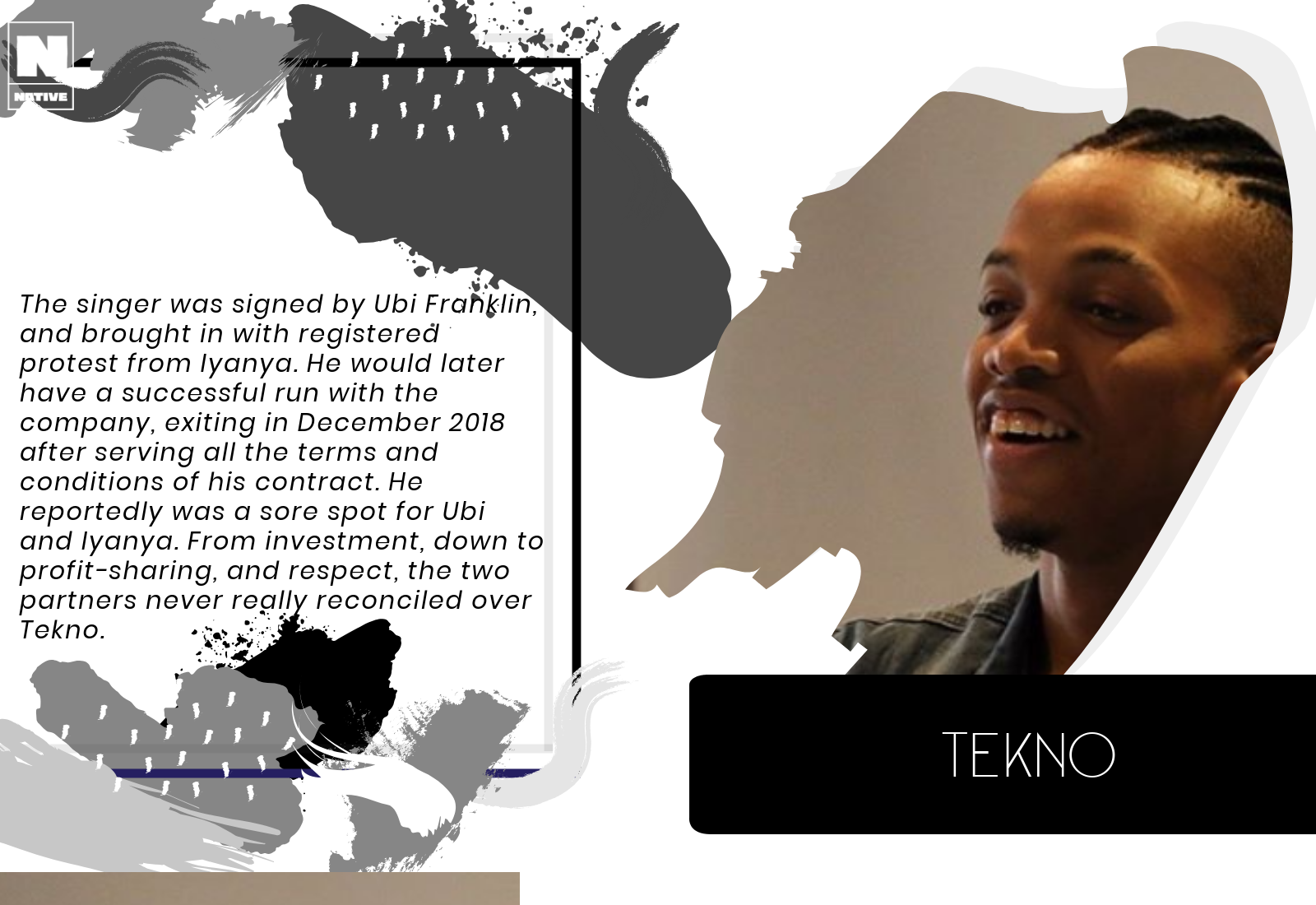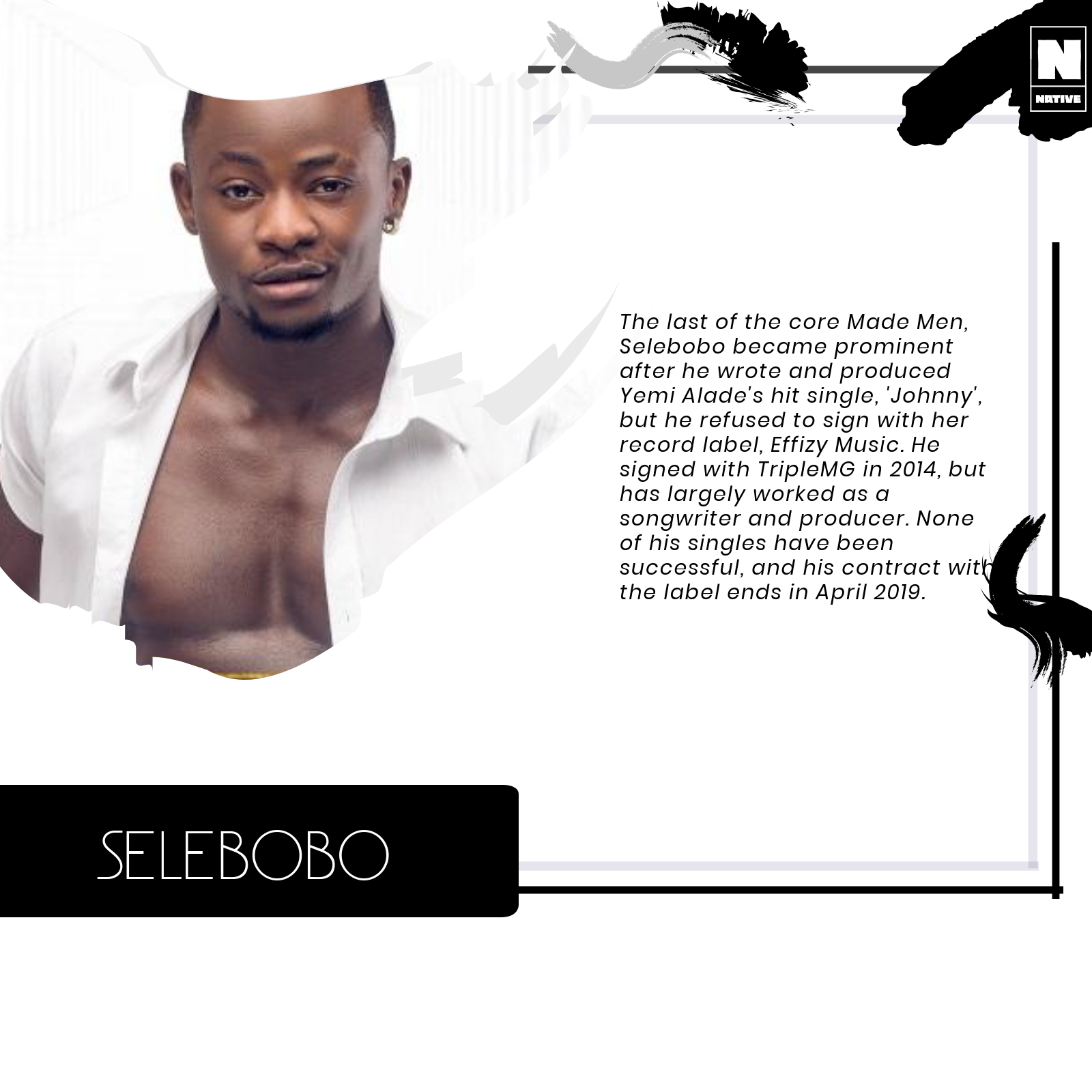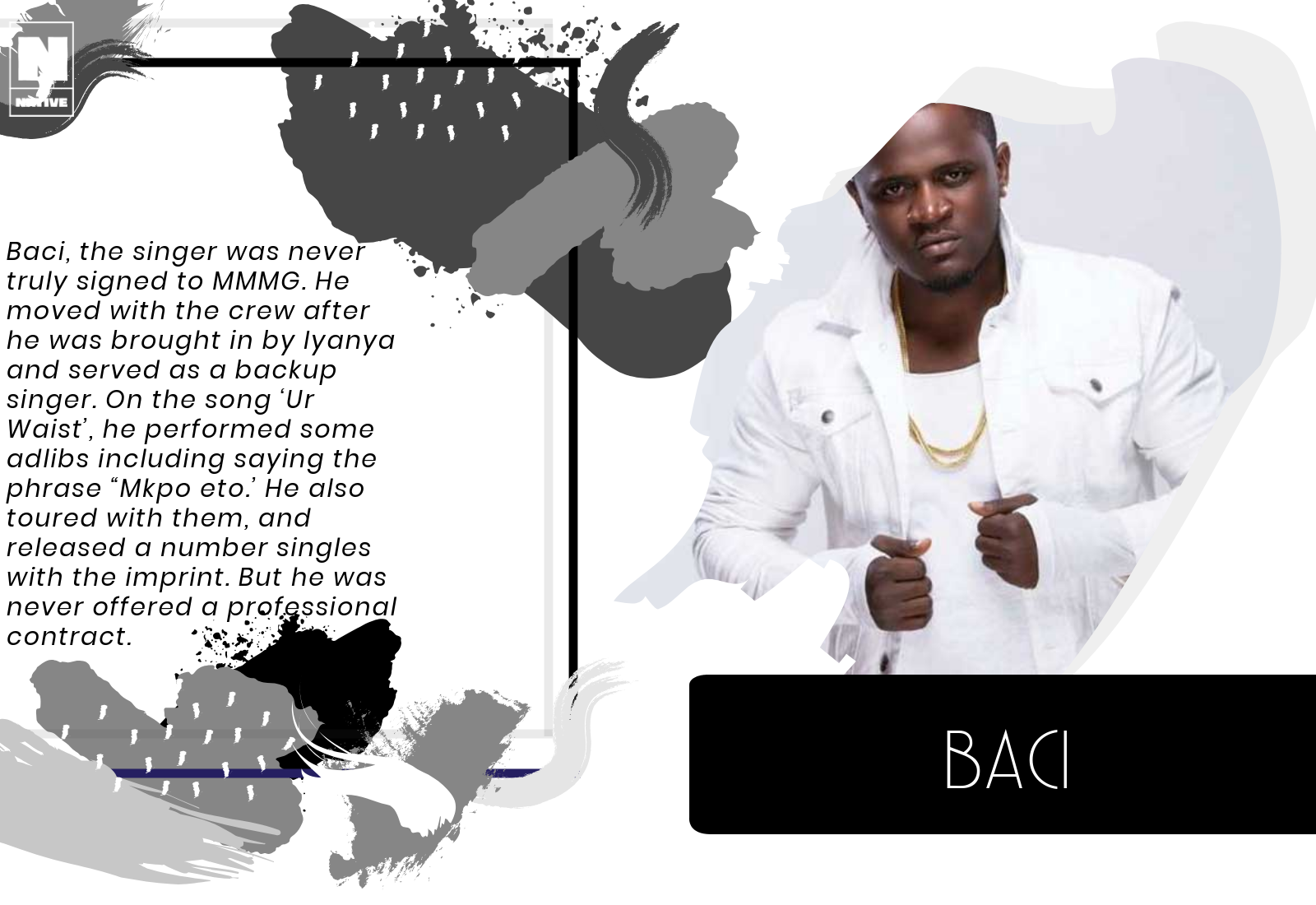 Another reason why Iyanya found it hard to believe the numerous accusations was because, the same people laying the complaints, are usually later pictured with Ubi, hanging at celebrity parties and events, and asking for favours. It's hard to believe people who party with their oppressors.
Things were never the same after that. Iyanya legitimately feared for his life. The label became shaky. Their investors were wary after these numerous stories. The duo appeared as a cohesive unit in public, but when the cameras went off, they were two enemies, installing a number of checks and balances to protect themselves from each other. Paranoia was their common bond. Sources close to the house said the tension was always felt, and they never spoke to each other, or enjoyed any semblance of a relationship. It was all work or nothing.
A source told me how Iyanya was torn on leaving, mainly because he didn't have the industry network that Ubi Franklin had, and to be honest – business was going well. "He saw how Ubi treated Emma Nyra, and all the moves he made against her, and was biding his time."
Iyanya was stuck between a rock and a hard place. It was either go to war with one of the strongest figures in the Nigerian music industry, or continue to live out your career looking over your shoulder. 
It was time to stick or twist.
The second part of this story featuring Iyanya's explosive uncut interview will be published 8PM tomorrow 20th of March, 2019
---
Joey Akan is an award-winning music journalist based in Lagos, Nigeria. He is a public relations consultant and commentator on African music and pop culture.
---