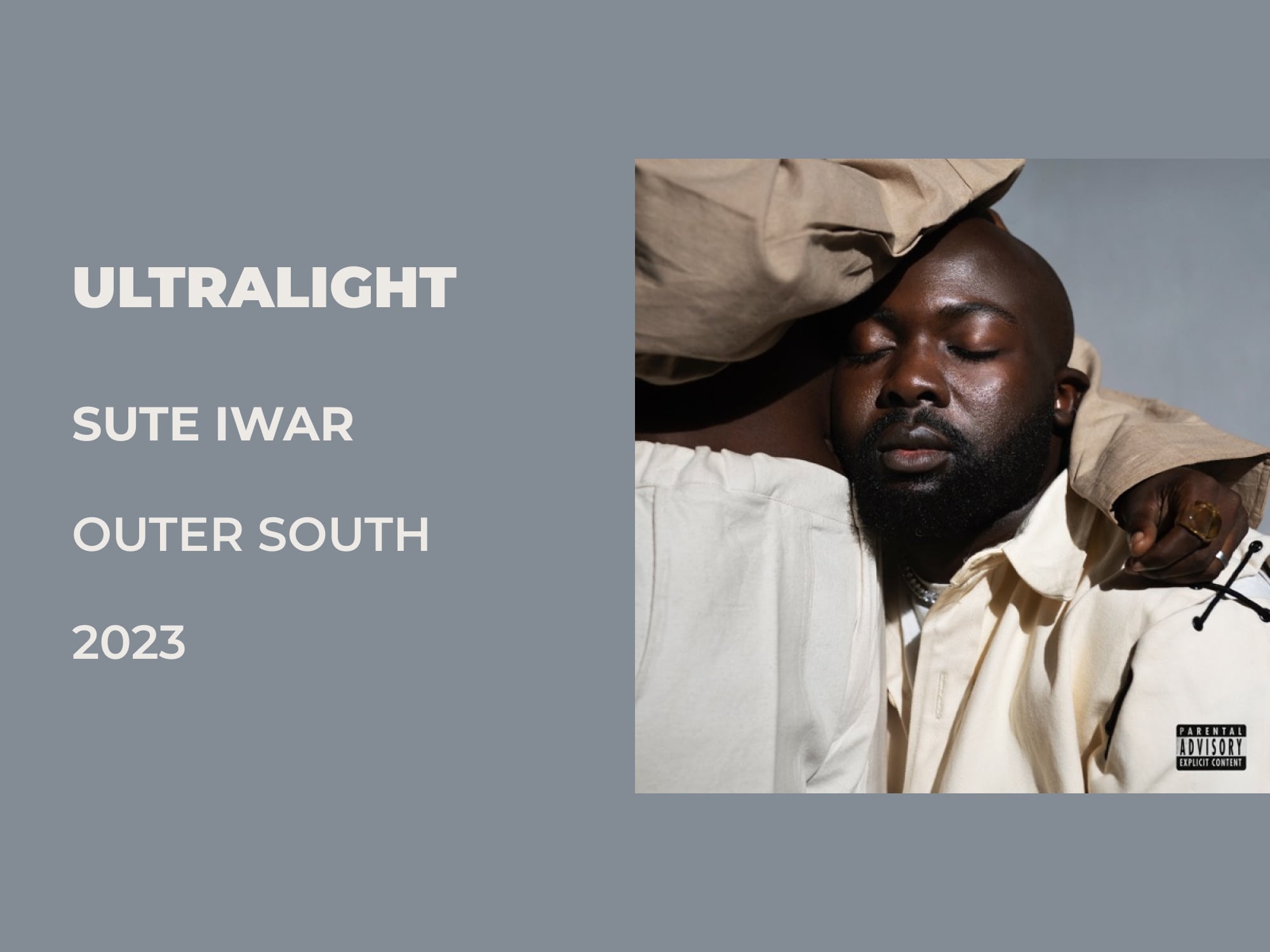 Review: Suté Iwar's 'Ultralight'
The Nigerian artist prioritises honest reflection on his latest opus In contemporary urban music, the '90s represent the ideal portrayal of what romantic love should feel like. A lot of that comes from the R&B of that era and the perception it created in the minds of millions of young black people, that fire, desire and unending devotion were all it took to make relationships work. Sure, Mary J. Blige exorcised toxicity on "Real Love" and Erykah Badu read "Tyrone" for filth, but rose-tinted memories elevate the significance of songs like SWV's "Rain" or the several videos where singers would perform dramatically under the rain.
On his 2021 project, '199X', Suté Iwar clearly leans into the idea that the '90s is the pinnacle for lovestruck expressions. At the end of the deep cut "Mushy Girl," a lady eulogises some of the hallmarks of the R&B in those years, including singers speaking mid-song while "the boy group is doing the adlibs" and how many women sang with a yearning verve. "I feel like the way that they sold love was just exceptional," she says. For much of that 17-song tape, Suté invokes fire, desire and unending devotion, but there's an obvious nod to the simple fact that times have changed.
Romance has gotten even more complex; no one is singing under the rain in an era where people are texting their way into infatuation, situationships and going ghost or being ghosted. "You know we gotta speak some time/'Cause I can't read your mind," he sings on the balmy "Pulp Fiction," situating his yearnings in the present. At that, Suté sings about two people pressing into each other emotionally and physically, with conviction that romantic utopia is reachable even in these times.
On his most recent project, 'ULTRALIGHT', the Nigerian artist is yet to figure it all out. In fact, it's gotten even more complex for him too. "Monogamy, that was the plan/that's one way we measure a man," he muses on the instant highlight "SHUGA PEACH." It's the perfect set-up to a sequence marked by raw introspection and bracing self-awareness, with the explicit acceptance of his own faults and flaws in making his relationships messy. That candidness is particularly refreshing in a time when male R&B and rap is marked by deluded solipsism, where artists are content playing the heel and toxicity isn't just revealed—it's almost always revelled in.
Suté's revelations are his way of growing out of toxic patterns, for himself and the people he interfaces with on a level as deep as romance. That's the core of 'ULTRALIGHT': Holding yourself up to the light as an act of purification. Like a revered rap artist once said, "You can't heal what you never reveal." The best part is that Suté doesn't break form with who he is to get introspective, putting in a typically vibrant shift as he switches seamlessly between singing and rapping. Largely self-produced, the album is a buoyant suite of booming kicks and breezy percussions, sunny melodies and humming bass, and a dub reggae song.
In several ways, this album is the culmination of his growth as an artist and many experiences as a person into his latest opus. As much as it's a great successor to his last project, you can hear spiritual call-backs to his older work here. Featuring a gleaming hook for RayTheBoffin, "THE PLEASURE PRINCIPLE" feels like a retrospective rendering of the sort of situation he sang about on "Time," a track off 2020's 'Colors'. Where that older track fixated on infatuation, Suté is better positioned to see the ill effects of a relationship built on shared vices. As an added genius, he links it to the crash that can accompany reckless thrill seeking, recalling a time he had to be taken to the hospital for smoking too much.
View this post on Instagram
Romance is the central theme of the last two albums but it ultimately works as a framework of evaluation for Suté, one that even applies artistically. "I don't feel like rapping again," he half-croons on "Feeeed" from '199X'. "I just want to sing/but all these things I have to say/can't say 'em one way." In the aftermath of his second project, 2015's 'Visions', Suté placed an increased emphasis on his versatility, refusing to be boxed in by rap messiah expectations after his 2014 debut, 'Jelí', achieved cult classic status in the SoundCloud era. He sang more on subsequent projects and it's intriguing the 2018 rap-centric EP 'Leopards' was nowhere to be found on the internet not long after its release.
In a post-'Take Care' world, the aversion to sticking to one mode of vocal delivery has increased; rappers singing and singers rapping is the norm. By making binary expertise the main point of his music, it felt like there weren't enough moments of definitive lyricism in Suté's music. As a rapper, intricate rhyme schemes are his vehicles for storytelling and perspective sharing. As a singer, he's mostly evocative and there are less details, which means there's a strong reliance on melodies to keep listeners fully engaged.
Suté does have an agile voice with a pleasant tone but it's limited in range, so rapping has to play an important role within the context of a full-length project, even if singing takes a larger share of the run-time. '199X' found that balance, featuring singalong highlights like "Fever" and tuneful rap slappers like "Funk Soldier," but they all worked in service of the artist creating paeans to falling in love. On 'ULTRALIGHT', that balance again works in service of Suté figuring out how to be a better version of himself, in relation to his love life and the world around him.
"My lady never let me go/she's my home when the world gets cold," he sings over the mid-tempo, Caribbean pop-influenced beat on "SIGNS," an image of romantic bliss that also nods to climate change. On the lead single, "JUDAH LION," WurlD adds to the ride-or-die attitude with his trademark charm, while Efe Oraka acts as the reciprocating love interest over the lustrous reggae guitars of "ICE DUB." Working with many outside voices isn't something Suté indulges in on his projects, but 'ULTRALIGHT' features more than a handful of complimentary guests, from Shalom Dubas' gorgeous 8-bar coda on the bright-eyed "BIG WORLD BABY" to brother Tay and Lex Amor calmly expelling their demons on "MEDITATE."
On "EARTH ANGEL," Ogranya's hook is succinct and soulful, while Suté raps with a defiance on the first verse, chipping at those regards as inferior and snarling at "industry niggas." On the second verse, he gets vulnerable and even changes cadence, revealing emotional issues with his father. It's the second time on the album he discusses that relationship, hinting that his dad might have cheated on the confessional side of "SHUGA PEACH."
In dealing with this inherited issues, he does offer grace to himself and his father, an indicator that he's putting the work in to not transfer it to his partners and those around him. 'ULTRALIGHT' is about the process—"I know sometimes I hide my trauma," he admits on closing track, "THE LIGHT." It's particularly endearing that Suté doesn't turn himself into an avatar, since all he's doing here is "sharing my journey so far." Tacitly, he's an advocate for personal effort on the path to being the kind of wholesome person deserving of that type of '90s R&B love. Sometimes, all we can do is our best.
---