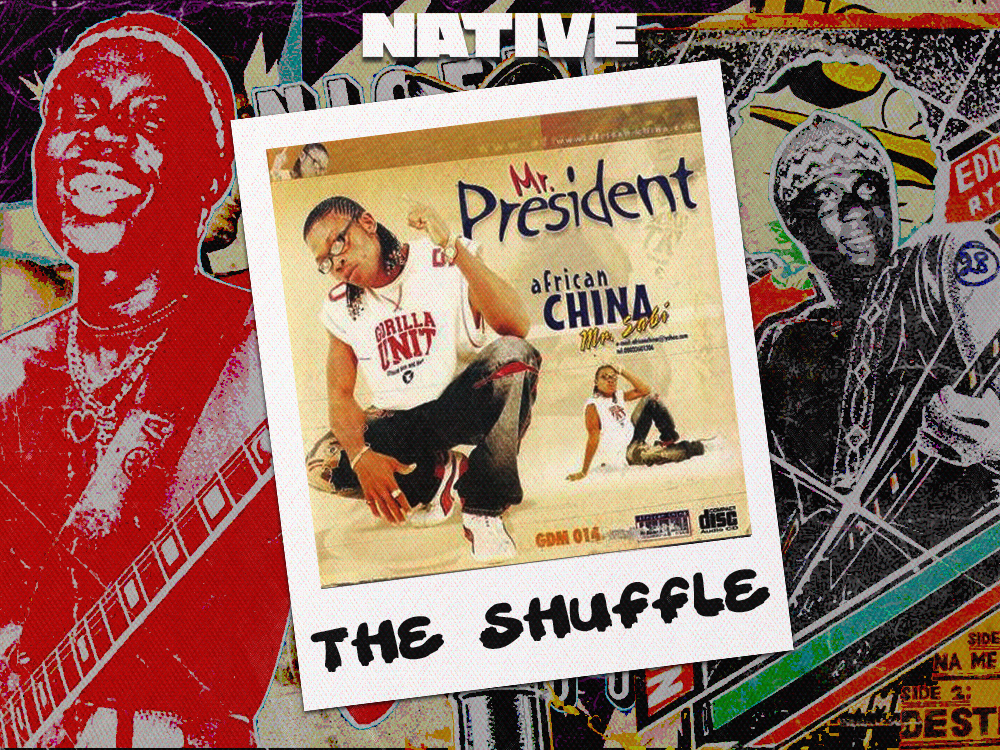 The Shuffle: Nigeria's Political Future As Exemplified by African China's "Mr President"
A searing account of deficient Nigerian leadership
African China couldn't have chosen a better stage name. In his prime period of the early 2000s, flamboyance was the ethos for sobriquets. You had Marvellous Benjy and Professor Linkin, Daddy Showkey and Danfo Drivers, Baba Fryo and Mountain Black. Revolving the Street Hop circles of the Lagos mainland, these names established the daring quality of Nigerian Pop's quintessential outsiders. With direct impact on their neighbourhoods and beyond, the soundscape of the era had this distinctive class working in its favour. African China at some point was arguably the most penetrative of this group, uniting several demographics through his urgent and melodious deliveries, and harping on subjects that were considered too commonplace to be translated into art.
In 2006, Nigeria was still relatively new to democracy. Although the supposedly messianic system came seven years earlier through President Olusegun Obasanjo, life in the country still possessed the gruesome edge of military times. Civil rights were impounded by armed bodies with government badges, and between themselves, communities often clashed in conflict. This was the backdrop 'Mr President' was created from, and when a people aren't convinced by similar promises of orchestrating credible governance, the messenger becomes as important as the message. African China had a name marked with the objectivity of an outsider; I remember that before seeing his videos, the younger members of my generation thought he was actually Asian.
"Crisis" was Nigeria's introduction to this messenger. A record as brutal as it was humane in its perspective, China gave a detailed account of the ravaging violence happening in several parts of the country. Starting with the revelatory turn of phrase "your worst enemy oh, go be your best friend," he paints the desperation of a people in crisis; he seems to say no one has the privilege of choosing their association when survival is the immediate concern. 
Among other events, he mentions the phenomena of the cannibal Clifford Orji, the aftermath of the presidential election in 1993 which was annulled by the military government of General Ibrahim Babangida—an experience my mother remembers vividly, scampering to safety with my elder twin sisters who were born three months earlier in March—and namechecks the areas of Ajegunle and Mile 12, where bloody clashes between ethno-traditional groups were frequent from 1999 into the early 2000s. Drawing from these events which shaped collective memory, the musician's career was burnished with the purposefulness of a Harlem street preacher. More importantly, his lyrics weren't the sole currency the record banked on; the music channelled the angst of his material, stamping its searing progressions into the mud of reality for all times. 
That song came two years before "Mr President," a record that would assume the elevated role of African China's signature song. It was also a commercial success, with the tendency to be played at a street party as easily as it would on a radio station or on television. While "Crisis" had focused on the plight of everyday citizens, "Mr President" was aimed at the high levels of national governance. If Nigerians were too weary for critical theories, African China broke the demands of a civil society into timeless music. His method was effective: rather than describe the opulence of perfection, he narrates everything it isn't. "Food e no dey, brother eh water no dey," he sings wearily in the unforgettable opener, before calling upon the wisdom of the aphorism, "Everyday for thief, one day for owner eh".
Further describing the parallels between the various extremes of social life, he goes on to plead, "Make una lead us well, no let this nation to fall inside well". The emotion is heightened by the chorus of female voices which sings the refrain which calls on the President, governors, police officers and other public workers to execute their jobs responsibly. With raw feeling in his voice, African China situates himself right in the thick of events. He was by then a national star, and the visuals weren't as incendiary as "Crisis" but the pairing of street reality with scenes from his more relaxed background was nonetheless affecting. In the song's latter parts, he peels further into the wound that is Nigerian democracy, commenting on the friendship and corruption which decides leaders while "People wey vote them in still dey live in pain".
Imagery in music can be a powerful tool, but only in the hands of people who have experienced the visceral nature of the described event. Throughout his career, African China was a masterful purveyor of this technique. Even a late-career standout like the Faze-assisted "If You Love Somebody" had this quality, and it speaks to China's ingenuity as a writer that the weight of his subjects didn't hamper the songs' replay value. In "Mr President" there's a line about collecting several permits and yet task forces would arrive to burn a trader's shop. A consequence of a country very low on accountability, it's a nod towards the opinion that regular citizens are as oppressive as political leaders. 
This week, Nigerians would take to the voting booth to elect a new President, along with other important roles in government. Young Nigerians are leading the charge, but it's an activity that calls on the conscience as much as physical and intellectual vigour. The past eight years have been nothing if not painful and life-threatening; it is so hauntingly omniscient that a record like "Mr President" could have been released today and would still make a great deal of sense. You'd see similar opinions on the YouTube pages of Victor Essiet and the Mandators' "Rat Race" and Eedris Abdulkareem's "Jaga Jaga", both songs released respectively in the eighties and early 2000s—providing insight into the stagnant status of the Nigerian state. 
Everything, of course, cannot change with one election. Saviours are a complex phenomenon in state politics (some of the most brutal dictators were once freedom fighters) but there's no basis for claiming ignorance in the aftermath of Nigeria's choice in the coming week. A dearth of historical information might have been responsible for the previous choice, but we're expectedly wiser now. If the articles and books prove too heavy for consumption, six minutes of African China's "Mr President" is the concise material one might need to make a decision that influences, not just the President's time in office, but indeed the entire trajectory of Nigeria.
---
---
---