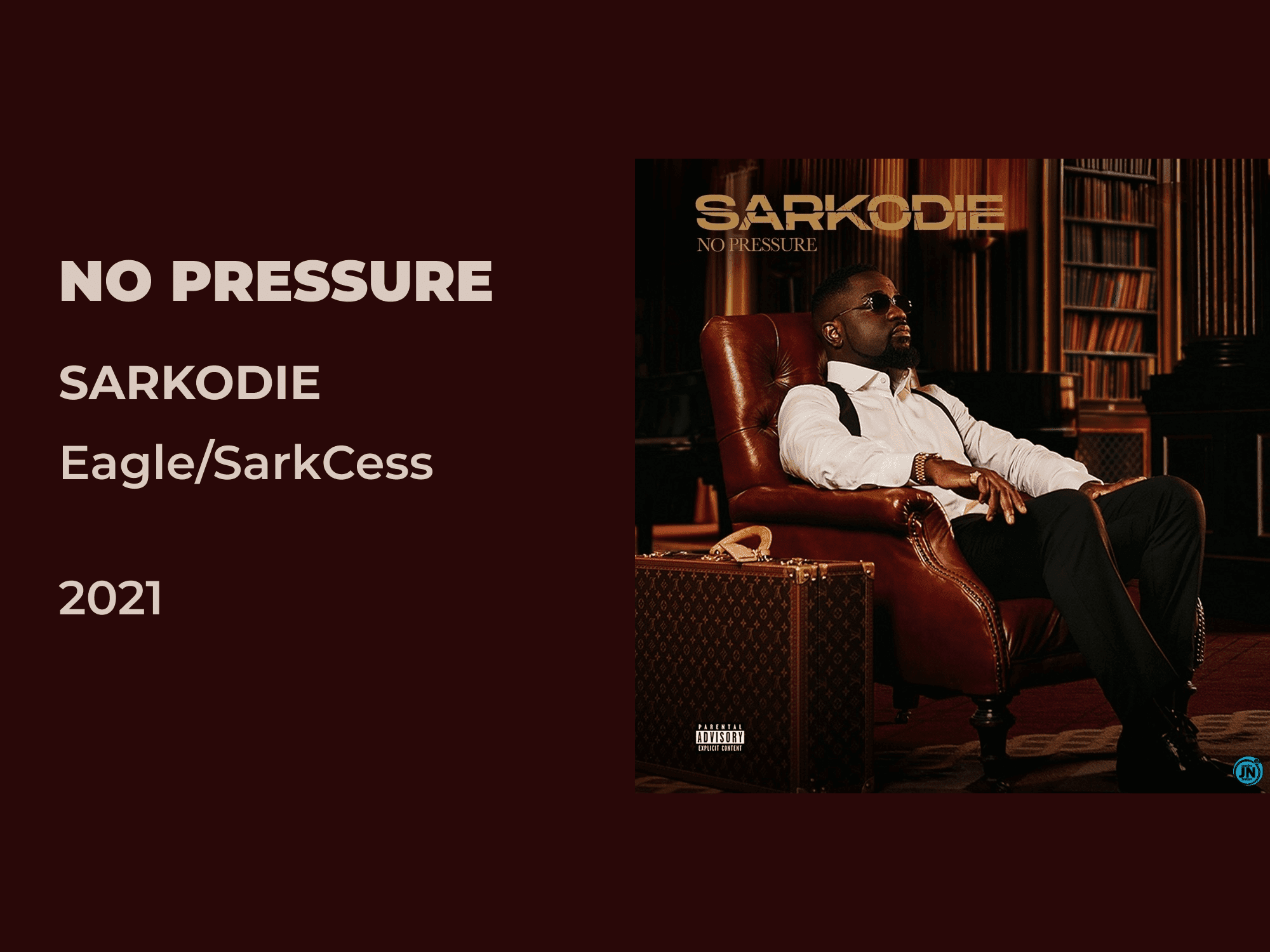 Review: Sarkodie's 'No Pressure'
Ghana's foremost rap figure makes an affirming reintroduction What do you expect from an individual with over a decade worth of experience under his belt, in an occupational field where staying on top for years is considered a phenomenal run? Then to do it for thirteen years in a growing industry, while performing consistently on top of your game, and with numerous accolades to show is a feat even the ancient Greek gods would applaud. So, when Ghanaian rapper Sarkodie declared, "I'm not a human/I'm a god," on "Angels and Demons" off his 2019 EP 'Alpha', it was clearly not a declaration informed by hubris.
For anyone familiar with Sarkodie's run, there is a method to his releases especially when he is in album mode. Some tell-all signs include his regular sighting on features, increased social media interactions, and eventually culminating in the release of promotional singles. For over a year, fans have been anticipating the release of an album by the Ghanaian rapper following a string of teasers. The anticipation increased when he started giving exclusives to his upcoming releases out during the 2020 pandemic.
Before the year ran out, Sarkodie had already released a number of singles including the Joey B-assisted "COLD" when his core fans – SarkNatives – repeatedly asked that he hop on the local Drill music wave, popularly known as Asakaa. A string of single releases would follow, including "Happy Day," "Hasta La Vista," and "No Fuzagy." By the time the Kwesi Arthur-assisted "Coachella" and "Vibration" with American rapper Vic Mensa recently dropped this year, it was beyond evident that an album was set for imminent release.
'No Pressure' is his seventh studio album and perhaps his most-well rounded effort to date. The 16-song album presented in two parts is replete with enough genre-mashing songs to satisfy the music palettes of his diverse fans. It is a hybrid of his two previous projects from 2019 namely 'Alpha' and 'Black Love'. The former was a blistering barfest hinged on self-apotheosis while the latter followed conventional pop-rap songwriting tropes with bright hooks sung by an array of guest vocalists. In its amalgam execution, 'No Pressure' comprises tauntingly good, all-caps RAP slappers, as well as several bops in conversation with contemporary Afropop.
This dichotomous approach is not by any means novel, ambitious rappers on the continent have always been tasked with finding a balance between lyrical pyrotechnics and modish Pop trends. However, what separates Sarkodie from many of his colleagues, and has become the axis on which his music spins, is his otherworldly drive, a constantly burning hunger to be and stay the best, even as the conviction in his skill-set remains supreme.
These attributes are reflected on 'No Pressure', offering an insight into his current state of being. In this new elevated level he now enjoys, Sarkodie does not feel the pressure that comes with staying at the top nor does he feel crushed under the weight of regular criticisms thrown at him by a section of the industry concerning repetitive subject matters. For Sark, success and love remain central themes, and he continues to work through them with an alluring confidence. It's almost synonymous to the position Canada's Drake now enjoys in his career, after almost a decade of delivering back-to-back hits, both artists still seem to be barely scratching the surface, staring down a further ten years of their lyrical dominance.
Produced by KaysoFromTema, swaggering standout "Rollies and Cigars" finds Sarkodie irrefutably reminding everyone of his place on the Ghanaian (and African) rap chain: "I'm still at the top/got y'all niggas vexing/Don't call me the best/Point of correction," before inevitably doubling back with, "'Cos I'm the best". All muscular bass, skittering hi-hats and unflinching boasts, it's not far-fetched that "Rollies and Cigars" was the initial album opener before it was replaced with the similarly toned "Intro." In fact, it won't be surprising if it goes ahead to replace "Original" as the curtain-raiser for his annual Rapperholic Concert, which has served as a consistent avenue to flaunt his imperial status and his unyielding commitment to the very act of rapping.
On "Married to the Game," Sarkodie claims that he'll be "rapping till I'm 80." Featured guest, South African rap superstar Cassper Nyovest retorts: "Imma rap till my baby got a baby." Over the excellently spaced beat nestled with a familiar concert room vibe, Cassper Nyovest, evidently aware of Sarkodie's potency, came out swinging with one of his best guest verses ever.  Of more consequence, though, the Altra Nova-produced song is an exercise in lyrical bromance between these two crowned kings of rap music in Africa, witnessed through the kinetic synergy between their flows and the will to best each other's lines. It's also an indirect rejoinder to critics who have pointed out his lack of collaborations with fellow rappers on the continent; within the context of the album, it's less of a course correction and more of a reiteration of his outward efforts.
Another worthy collaboration is from veteran grime artist, Giggs. For a while now, Sarkodie has been trying to build a boardwalk into the United Kingdom market. It started with his 2017 album 'The Highest', considered by some as one of his best works. The album not only featured UK-based artists like Big Narstie, Bobii Lewis and Moelogo, but it was also heavily promoted in the UK. Subsequent moves would include trips to the UK for business and holidays, all in his effort at building and solidifying existing relationships, so it isn't surprising to hear Giggs lending his gruff voice and laid back flow on "Round 2," a combination that fits right into the boastful, rap-centric section of the album.
Near the centre of 'No Pressure' is "Anything," a stunning soul-sampler Sarkodie has described as his favourite off the LP. Drawing parallels to Drake's "Emotionless," he indicts the expectations engendered by social media culture, especially the popularity of clout chasing antics. "Do you do it for the fans or you do it for the likes?" he questions with chagrin in his voice, admonishing listeners to live within their means and eschew external validation. Following a slew of self-aggrandising thumpers, Sarkodie's authoritative candour makes the diatribe more captivating than preachy.
View this post on Instagram
On the second part of 'No Pressure', the sound changes from the initial hardcore rap entrapments to a warmer musical palette, inflecting Afropop and tropes from R&B-infused rap songs. The boastful talk fades into themes of love and romantic affection, beginning with the Beatfreaks-produced "Fireworks," featuring American rapper Wale and British-Nigerian singer Moelogo on the uncredited hook. An endearing attempt to reach a love interest who harbours trust issues, Wale's inclusion is on-brand for the Nigerian-American rapper, whose biggest hits – "On Chill," "Lotus Flower Bomb" are mostly smouldering cuts within the same realm as this song.
The collaborative fit is symbolic of the compatibility Sarkodie engineers with his guests, especially on this side of the project. "Whipped" features Darkovibes' gravelly yodel overproduction which blends Afropop and contemporary R&B elements into a catchy bop; the affectionate "Don't Cry" is an excellent wedding song thanks to its Folk-Pop groove and assuring love lyrics, as well as being the perfect introduction vehicle for previously obscure Ghanaian singer Benerl. While Tanzania's Harmonize graces "I Wanna Love You" with his typically ebullient presence, crooning about his ride and die lover over a beat partly inspired by a French-Canadian children's song.
The arguable standout song in this section, and perhaps all of 'No Pressure' is "Non Living Thing" featuring the infectious voice of Nigerian singer, Oxlade. A perfect definition of unforgettable music, the Coublon-produced song is a potential runaway smash hit, down to the warm, inviting beat, Oxlade's expertly delivered hook and the relatable lyrics revolving around unrequited love, heartbreak and the influence of money in relationships. "I don't know what I am again/I'm a non-living thing without you," Oxlade sings with pain and vulnerability in his voice, heightening the emotive essence in Sarkodie's verses.
As a curative effort, 'No Pressure' is the best album Sarkodie has released in the last five years. As a rapper reasserting his superiority, many may have expected him to put out an album that would appeal more to his rap fans, but he clearly has grander ambitions on his mind than simply championing a facet of his artistry. As it is continent-wide, Ghana's mainstream music market is not wholly accepting of strictly Rap albums, and those identified as Sark's colleagues on a broader level – Wizkid, Burna Boy, Davido – make Afropop and Afro-Fusion songs with wide appeal beyond their home countries and in the diaspora. 
Fully aware of the semantics, his decision to make 'No Pressure' a musically diverse effort lands quite well. It's aided by top-notch production work, an intentional move from the artist, as he's credited as one of two co-executive producers. Working with longtime collaborator MOG Beatz, as well as contributions from Certified Bangerz, KaysoFromTema, AltraNova, and Beatfreaks, Sarkodie's vision for a 2-in-1 project is achieved by piecing together choices that fit specific moods. 
For the most part, this album reveals that there's fairly anything new in Sarkodie's world beyond slightly elevated ambitions. The criticisms of recycled themes become a moot point, however, when you take into consideration that life is a repetitive cycle – especially when you're living out your dreams, the bog picture becomes clearer. In Rap, it isn't entirely about what you're saying, but how you say it. The latter is what Sarkodie has mastered all these years, and 'No Pressure' is further searing proof of that undeniable superpower.
---
Rahim Munir is a writer, music critic and media strategist. He has written on the Ghanaian music scene including album reviews, articles and opinions for a variety of publications.
---