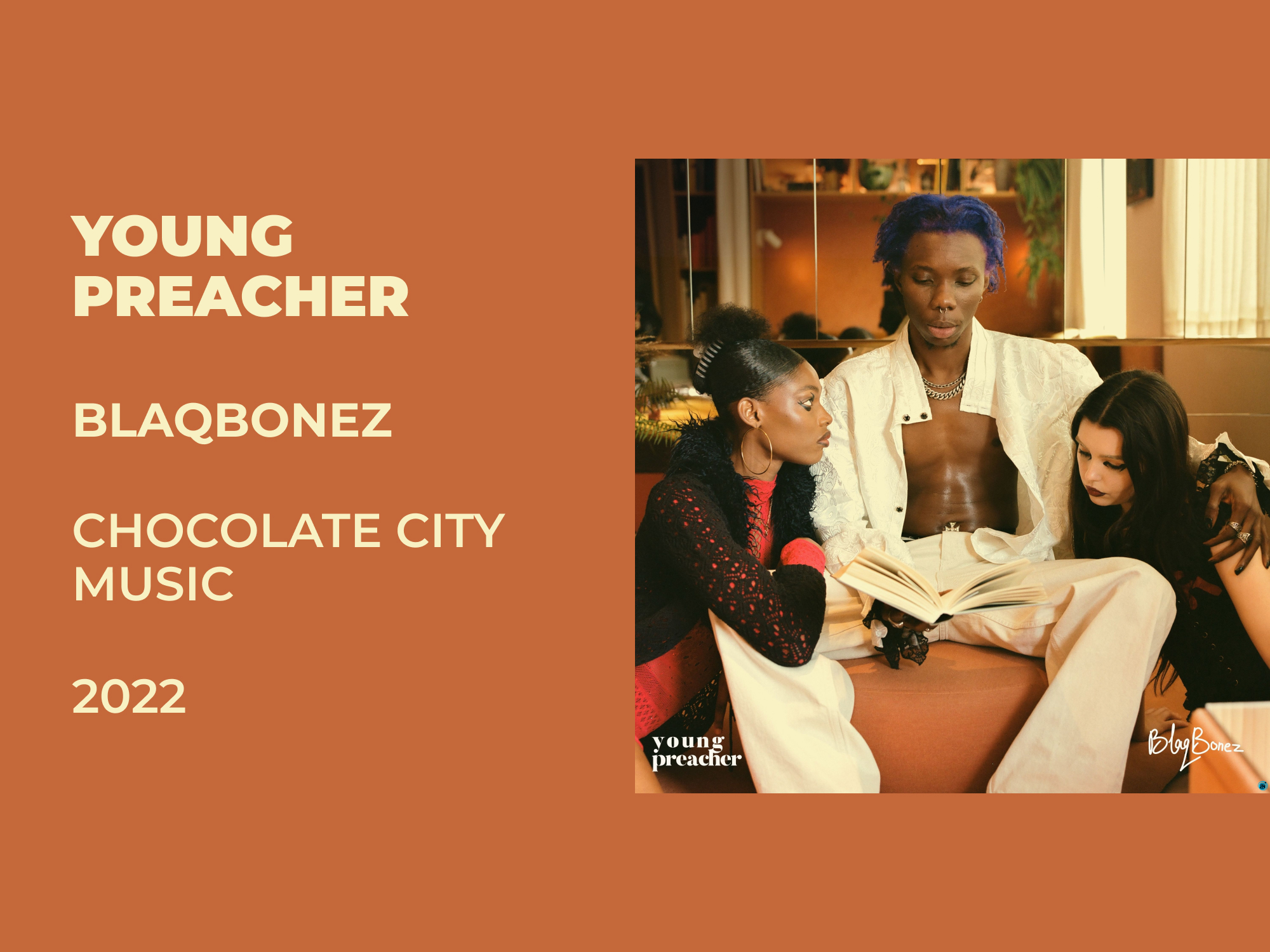 Review: BlaqBonez' 'Young Preacher'
a 13-song collection of anti-love anthems Blaqbonez's interest in religious allegory isn't going away anytime soon. After releasing his debut album 'Sex Over Love' in 2021, the artist underwent a promotional run which further explored the sex-crazed, hedonist themes of the album in the humorous style he's so far mastered. His Lagos-held concert 'Breaking The Yoke of Love' was billed as an anti-love gathering, presenting Blaqbonez and his supporting cast as preachers disillusioned no longer by the fleeting promise of romantic affiliations.
View this post on Instagram
When the album's run expectedly slowed during the year, Blaqbonez did not let off any steam and began oiling the wheels of his sophomore LP. Quite masterfully, the premise of a 'Young Preacher' was embedded already in the former's narrative—through that concert, of course, but also stretching far back in time, to the image Blaqbonez has fashioned since embracing pop star ethos on 'Bad Boy Blaq,' the project which spawned his breakout hit "Mamiwota." Of the new album, ingenious promotional tactics were similarly employed, including Blaqbonez's intent to enter the all-round creator mode with self-directed visuals for "BACK IN UNI," the JAE5-produced record.
Days before the song's official premiere, the ever-developing artistry of Blaqbonez went on flagrant display. Steered by the sonic direction of the revered British-Ghanaian producer JAE5, his vocals swung with exhilarating confidence, pulling the cheeky admissions of Blaqbonez into the Afro Swing-tinged beat. It was heavily embedded within innuendo, relating stories of supposedly broken hearts with aphoristic one liners such as "Big bank takes little bank, it's the law of the jungle" and "These streets no send your mental health, shey you no dey see am for internet?"
The direction was clearly charted. 'Young Preacher' unsurprisingly draws on these ideals, albeit with more eclectic sonic inspiration lining its seams. Curating the motions of youthful existence has long been a mission of Blaqbonez but in recent years, he's leaned further into an identifiable Nigerian expression. Through his colourful use of contemporary language and local sounds, he's cut an authentic figure of himself, bolstering the reasons why his latest album was anticipated with genuine buzz.
On The NATIVE's first impressions, I noted how 'Young Preacher' displayed the twin prowess of Blaqbonez — his ability to rap his chest off while retaining a softer-hued edge, testing the limits of his singing by taking the chorus and hook of most songs. It's a developing flair Blaqbonez proves to credible results, featuring accomplished African musicians and having them turn in just verses that never fully obscure his singular and precise vision. Barely two tracks into the project, he opens this bag of tricks. Bravado meets vulnerability on "YOUNG PREACHER," the titular track which soars with sharp synths and a soulful sample. Offering insights on his familial upbringing ("If I have a kid, he'll be a real ass nigga/ Cos Imma raise that nigga, I ain't gon dip like my daddy"), Blaqbonez paints a riveting picture of why he is the man he is today, a sort of Drake-esque admission that would otherwise be viewed as a shortcoming, but is rather upheld among one's life-changing periods. He gets candid about his strained relationship with his paternal figure in his life, while promising to break the cycle for his unborn kids, a sobering acknowledgement that speaks volumes to his artistic growth over the years.
In contrast to previous tapes, there's a recognisable need for Blaqbonez to honestly present his ethos. Fictional verve would have been a highlight of his days as a battle MC, but as a pop star there's an undeniable prospect for intimacy. Considering his rising profile, it wasn't bound to be long before listeners began demanding stories close to his life, and 'YOUNG PREACHER' does considerably well in that regard. Following up on the opener, "HOT BOY" checks in another affecting lyric about his father in its second verse, but as the track goes on, even then the rapper can't keep his eyes off the lust.
Indeed, these sharply-drawn vignettes take up the majority of the album's subject matter. Several records attempt a definition of the kind of preacher Blaqbonez is: one who is immensely knowledgeable in the ways of women, who knows the temptations of intimacy but revels in the edginess of being a disappearing act. "FASHIONNOVA" captures that thrill well enough, starting off with the stirring imagery of someone calling Blaqbonez who'd been in Quilox with his guys some hours before, living off debauchery. The verse ends with a foreshadowing of his activity, supposedly being spent with a "girl with the greatest whine". In the second verse, he's in bed with a clingy girl and still tries to "preach" to her why he isn't available. "All of my girls get love equally," he says twice for emphasis, before the catchy hook sweeps away the tension with exhilarating lightness.
"BACK IN UNI" and "LOYALTY" flip different sides of the same coin, whil both serving to further extend the album's arc. Where the former evokes Blaqbonez's relative youth through its setting across Lekki and the halcyon days of university, the latter shapes up more pensively, again evading the intimate arms of those who seek to establish a deeper connection. However, both tracks share an apparent sensitivity, there's an admission that Blaq sees the error of pursuing solely physical connections. Phrases such as "did her dirty" ring throughout both tracks, despite being reneged only three songs later, as Blaqbonez reiterates his inability to admit he wants his muse desperately because "if I did, if I told you that we gon end in a relationship." What's so bad about a relationship, the listener might at this point ask, but Blaqbonez doesn't offer much by way of psychological evaluation. To get deeper into his mind then, one must assume that the stories possess risque natures and maintain narrative intensity—a punchy take on a hot button topic rather than an immersive dive into his own mind.
Even when his guests explore the softer plains of romantic coexistence, the vision of Blaqbonez is intense and unrelenting. "WHISTLE" begins with the sleek pen of Lojay detailing the feeling of missing someone. "Cause streets na cruise, so na your leash I choose," he sings on the chorus, employing his svelte vocals to remarkable effect. It's one of the highlights on this album, which is saying something considering one strongly Amaarae and Blaqbonez delivered on their verses. Tekno wields such influence on "ESS MAMA"—with the drum patterns reminiscent of his upbeat sound, Blaqbonez's input can be summarised with the simplistic, humorous admission: "Me no get time to waste mama, me no want complicate mama/ If you get yansh make you shake mama."
Completing a trio of Highlife-tinged records are "SHE LIKE IGBO" and "STAR LIFE." The former takes the mode of an interlude which ends in a funny exchange with one of Blaqbonez's women. Among the rare moments when the artist admits the shortcomings of his ways, the latter speaks on the thrills of celebrity and the gnawing feeling of loneliness. It's perhaps nihilistic to think, but a holistic understanding of the world comes with understanding the fact no person's happiness is complete—there's almost always some aspect of their life that's lean, and it's a masterstroke of this album that Blaqbonez cues in that realisation.
There's obviously a thematic thread running through 'YOUNG PREACHER' but the highs come mostly as a result of Blaqbonez's pop-centric vision. He invites the expertise of producers such as Masterkraft, Chopstix, Jae 5, Blaise Beatz, Ozedikus and Telz, who are all recruited alongside prospective luminaries like BMH, Ramoni, 10Ten and Joffstar, to line similarly important records with their beatmaking prowess. The latter trio combine for the emotive closer "I'D BE WAITING" which samples Asa's classic track "360," providing Blaqbonez ample space to reminisce on his come-up. It's a masterful effort, but it's evoked impressively in different parts of the album: the titular opener flips Styl Plus' "Runaway" while "LOYALTY" co-opts the oh-oh-oh melody in Paul Play's "Forever." Contrary to widespread belief, musical creativity does not emanate from thin air and the hallmark of some of the most creative artists lies in their ability to meticulously pull from a range of influences, while staying true to the hallmarks of their own artistry. With just over twenty years of existence, contemporary Afropop is still in its development stages, and it is continuously shedding its hip-hop parody look for a more rounded and fitting identity as a genre with distinctly African music influences. By sampling these classic R&B records on his new album, Blaqbonez sets himsel apart as a deliberate curator and shows that an increase in sampling will only strengthen Afropop's identity, ensuring that the music is always rooted to its origins.
View this post on Instagram
Vocally, Blaqbonez is also very experiential as well. Blaqbonez's artistic interests are wide-ranging and the album brings those qualities stirringly to the fore. On the Trap cut "FAKE NIKES," his tonal measure contributes to the record's late night appeal, and the feature choices of South African rapper Blxckie and Nigerian rapper Cheque, colouring even more eccentricity in their raised middle finger against the trappings of capitalism. The second part of "HOT BOY" and "WHISTLE" reveals that Blaqbonez has been listening to more Afroswing, his bouncy flow in the former quite reminiscent of J Hus. "FASHIONNOVA" and "STAR LIFE" adopts the trendy elements of crowd vocals and Amapiano-coloured sections, but even then Blaqbonez is unique with his approach. Featuring the accomplished singers Takura and Sauti Sol's Bien, he continues in his great singing form, manipulating space to fit purposeful rhymes which espouse the record's direction of desiring someone who isn't with you in the moment.
For many listeners who followed Blaqbonez during his early days, it was obvious he'd always been a rare type of artist. Heavily convictive but open to self-development, Blaqbonez has continued to approach his craft with ears grounded on the ebbs of popular culture. It wasn't always so, as he began with the usual battle MC route, dissing anyone and everyone in sight. But as he expressed in "No Longer Stupid," a point came when he embraced that there was perhaps a better utilisation of his witty lyricism. From the sonic choices down to his language, he's utilised projects like 'Bad Boy Blaq' and 'Mr. Boombastic' in exploring the best way to situate his eccentricity in the larger conversation of Afropop.
'YOUNG PREACHER' is unarguably the most cohesive of his projects yet, embodying a pristine musicianship which doesn't underplay his skills as a rapper as much as it highlights them. Just as JAY-Z reckons he could sell water to a whale, on this album Blaqbonez could sell his preachings of no love to an unbeliever. He's very convincing, and it does help that the music is great as well. It's remarkable how far he's come—here are thirteen songs which fittingly captures where Blaqbonez is right now, in 2022. It's an enticing prospect to ponder on what subsequent years would sound like.
Stream 'Young Preacher' below.
Featured image credits/NATIVE