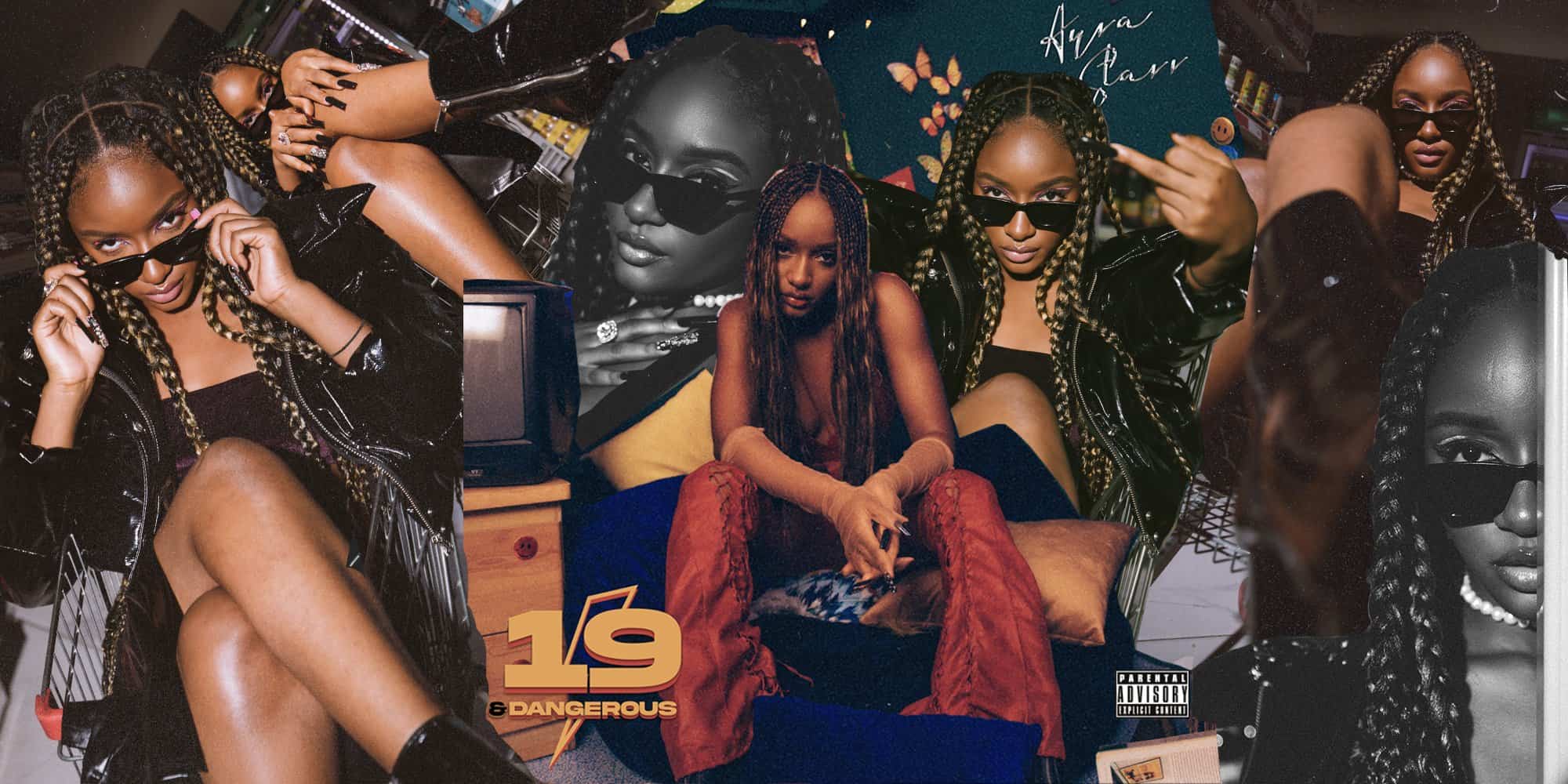 NATIVE Exclusive: It's Ayra Starr's Moment Now
Her first NATIVE Exclusive Interview
Much to the delight of the internet, there are moments that we share collectively that cannot be replicated or copied, no matter how much we wish them into existence. In a saturated market where streaming has made music uber-accessible at the click of a finger, these moments often arrive when we least expect it. Whether it's a female rapper breaking glass ceilings and inverting gender stereotypes or a fresh-faced artist seamlessly breaking into the current sonic landscape, music and moments that demand to be felt globally are once-in-a-generation occurrences.
Yet Africa's biggest musical conglomerate, Mavins has consistently found ways to hit the nail on the head and orchestrate these world-stopping moments all from their base in West Africa. Once upon a time, that position was reserved for Tiwa Savage and Wande Coal back in the early 2010s and then artists such as Korede Bello, Di'Ja, Dr Sid, and even rapper Ladipoe. Now, with a new generation of listeners in need of steady guidance from a formidable raconteur, Mavin has filled the gap once again with the likes of Rema, Crayon and more recently, its very own celestial being: Ayra Starr.
View this post on Instagram
The 19-year-old singer arrived at the start of the year with a line of bangers and quotable lyrics straight out the door. Much like preceding labelmate Rema, Ayra Starr's debut on the scene was felt greatly around the continent. Backed by Mavin and armed with a delectable self-titled debut EP, the singer came in hot and ready with an assured persona and a tightly-honed sound. 'Ayra Starr' included five glittering songs that touched on matters of love, life, family, becoming in a deeply comforting manner, with "Away" as its lead single. To many, it was immediately clear that Mavin had another star on their hands.
While Mavin found the right singer for the task, there was a slight chance that we would have missed out on this moment if the singer hadn't found the courage to share song covers on her Instagram. At the tail end of 2019, after uploading an original song titled "Damage" to her Instagram feed, a young Ayra Starr received a DM from none other than superstar producer, Don Jazzy. "I didn't even believe it was real," she admits as we settle down for an interview a few weeks before her debut album release. The singer's revelation is not surprising given that dreams are a luxury in these parts and they rarely ever look like we expect that they would. However, this reality hasn't stopped Ayra's shine as she is currently enjoying everything she's worked so hard for. Ayra tells me that she still has a video of that exact life-changing moment. It's a reminder of how far she's come and how far she still has to go to see her dreams come true.
Ayra is now a long way from the girl who received a cold text from one of the continent's greatest music producers and record executives, but she's not forgotten the older version of herself that got her to her present reality. Ayra tells me that she's always had an unwavering sense of self-belief in her musical abilities right from when she was a young girl. Music was peppered into the tapestry of her life right from the start, growing up in a musically-inclined family. The singer actually found her footing in music alongside her budding songwriter brother, who she tells me has been penning lyrics with her for as long as she can remember. It's this supportive family background that Ayra leans on to propel her sense of self and bank on her superstar abilities.
Born Oyinkansola Sarah Aderibigbe in Benin City, the singer, from a very young age, was armed with the tools she needed to show up in the world. It cultivated a willingness to be the one saying it out loud when everyone in the room was quiet. She speaks fondly of her mother who nurtured her musical abilities from an early age. It was Ayra's mum who encouraged her to remain consistent in her song covers on social media. Shortly after, a few stars aligned, social media virality came around and in no time, she was making music for audiences stuck inside during a global pandemic and ready to be connected to something deeper.
"I recorded and worked on my EP for the whole year 2020 during the lockdown."
The result is what we are now witnessing today. On 'Ayra Starr', the singer wielded an unquestionable voice that demanded that you stop and listen, a common feature among all of Mavin's brightest stars in the latter part of the previous decade. The sharp and soulful pulse of her music endeared the singer quite quickly to her new fans who have exponentially increased within the past year. Now, with all eyes on her and millions of views racked up across streaming platforms, Ayra Starr is ready to step into her most defining moment yet: the release of her debut album.
While it's only been seven months since she released her debut EP and carved a lane for herself on the music scene, the rising star is already unveiling the world around her debut album this weekend. With the release of promotional single "Bloody Samaritan", a powerfully charged number about guarding your light, and Ayra's near-daily exclusives about the project on her social media, it's infinitely clear that she's very good at creating a world that we want to be a part of, or at the very least observe.
View this post on Instagram
'19 & Dangerous' is the most well-rounded glimpse into the singer's colourful world. The album's lyrics which delve into topics of love, loss, growth, and more capture something both inspirational and relatable while shining a light on Ayra, the storyteller. The focus, however, remains on the span of moods that Ayra is able to run through within the project's runtime. "The first three songs are the badass anthems. Then we have the vulnerability side and lastly, there's the self-acceptance side which acknowledges my journey where I've accepted myself and I've come into who I was always meant to be," she tells me. The album is a testament to her growth and provides an aural balm for her listeners in need of healing.
"I'm allowing myself to grow. This album will speak for me in rooms where I am not there because I have put so much into the album so I want my fans to know that if you're feeling hurt if you're feeling sad, or powerful, this is the album for you."
Over our Zoom call, Ayra Starr explained the process behind '19 & Dangerous', her songwriting process, and staying true to oneself. Our chat, which follows below, has been lightly edited for clarity.
NATIVE: Hi Ayra, do you have an audience in mind when you create music?
AYRA: It just depends on the song. Sometimes when I go to the studio, I just want to vent out my feelings into the music. Sometimes it's like you know I have a mission and I know that okay, I want to write on this exact topic. It really just depends on my mood.
NATIVE: Tell me more about the moment leading up to "Away" and going from that to now releasing music this year?
AYRA: I recorded and worked on my EP for the whole year 2020 during the lockdown. "Away" was one of those songs that I wrote six months before I recorded it because I wasn't sure. I loved it so much, I didn't even want to record it. It comforted me when I needed it the most as I'd sing it to myself to remain calm. I put that power into the lyrics and the music video because I wanted it to be as perfect as possible.
NATIVE: What inspired the title of your debut album '19 & Dangerous'?
AYRA: I always knew I was going to name my album '19 & Dangerous'. I said that by 19, I would release my first project and now, I am doing exactly that. People told me it was too early and doubted me but I refused to listen. Danger is just me. I was manifesting the danger last year and now I can feel it. The moment I knew that I was not afraid to fail and make mistakes was the moment that I knew I was ready for hard and diligent work.
"Once you are not afraid to fail and make mistakes then you have nothing to lose, then you become dangerous. Yeah, I'm 19 and I'm dangerous."
View this post on Instagram
NATIVE: What are some of the themes you're exploring on the album?
AYRA: We have "Bloody Samaritan" which is the lead single for the album. Bloody Samaritan just talks about hypocrites and criticisms I get from people. It's just me telling people that you know you can't kill my vibe. I divided the album into three different moods. We have the bad -I don't want to say bitch- ok badass anthem. The first three songs are badass anthems. Then we have the vulnerability side then we have the self-acceptance side which is like oh I've accepted myself and I've come into who I was always meant to be. I'm allowing myself to grow. I'm allowing myself to be who I want to be.
NATIVE: What was the most memorable song for you to record during the process?
AYRA: Either "Cast" or "Bloody Samaritan". I was recording different songs that day and I wasn't feeling any of them. I told the producer to just play me the piano chords and I would sing over it.  I remember hearing the chords for "Cast" and I freestyled it from the beginning to the end. That's the energy, I'm dangerous. I'm not trying to be like anybody. Then also "Bloody Samaritan", when I was listening to this song in the studio, I was just so nervous because I had the beat for six months and didn't know what to use it for. I found it so challenging but I kept begging London not to play it for anyone else. The lyrics weren't flowing so London to leave the studio for me and I recorded myself. By the time London was back, he was in shock. I had pulled it apart and pieced it back together perfectly.
NATIVE: How was it like channelling so much of you in this album?
AYRA: I'd say it was kind of challenging. Without the EP I'm not sure this album would have been ready because I felt like the EP taught me so much on how to be myself. I used to criticise myself on everything I did and I wanted to ask for people's opinions on every single thing I did but when it came to the album I felt like I was ready. I want people to listen to my music and feel like it's therapy so I put all that emotion into my music. Without judging myself, I allowed myself to feel. For the first time in a long time, I allowed myself to feel. To feel love, to feel joy, to feel heartbreak, to feel all that and just put that into the music.
NATIVE: Now that you're so close to releasing your debut album, do any of the songs resonate with you any better?
AYRA: Definitely, "Under Water" because when I wrote it last year, I didn't even understand what I was writing because I wrote it in my sleep. I say that every time that I write it in my sleep but people never believe me. I didn't even understand what I wrote until this year when I came out. However, when I was going through a rough patch, the song was so relatable and I never knew I'd be writing it for myself.
NATIVE: With your debut album hours away, what's one thing you now want to share with the world?
AYRA: Just you know, believe in yourself, first of all. With this album I want people to not think of anything before they start to listen to the album. Just go into it with a clear mind and let the music take you away. Let the music take you away. This album i feel like will speak for me in rooms where i am not there because I have put so much into the album so i want my fans to if you're feeling hurt, if you're feeling sad, you want to feel like a badass, if you want to feel powerful, this is the album for you. Just go and listen to it and enjoy the therapy session.
Stream '19 & Dangerous' below.
[Featured image credits: NATIVE]