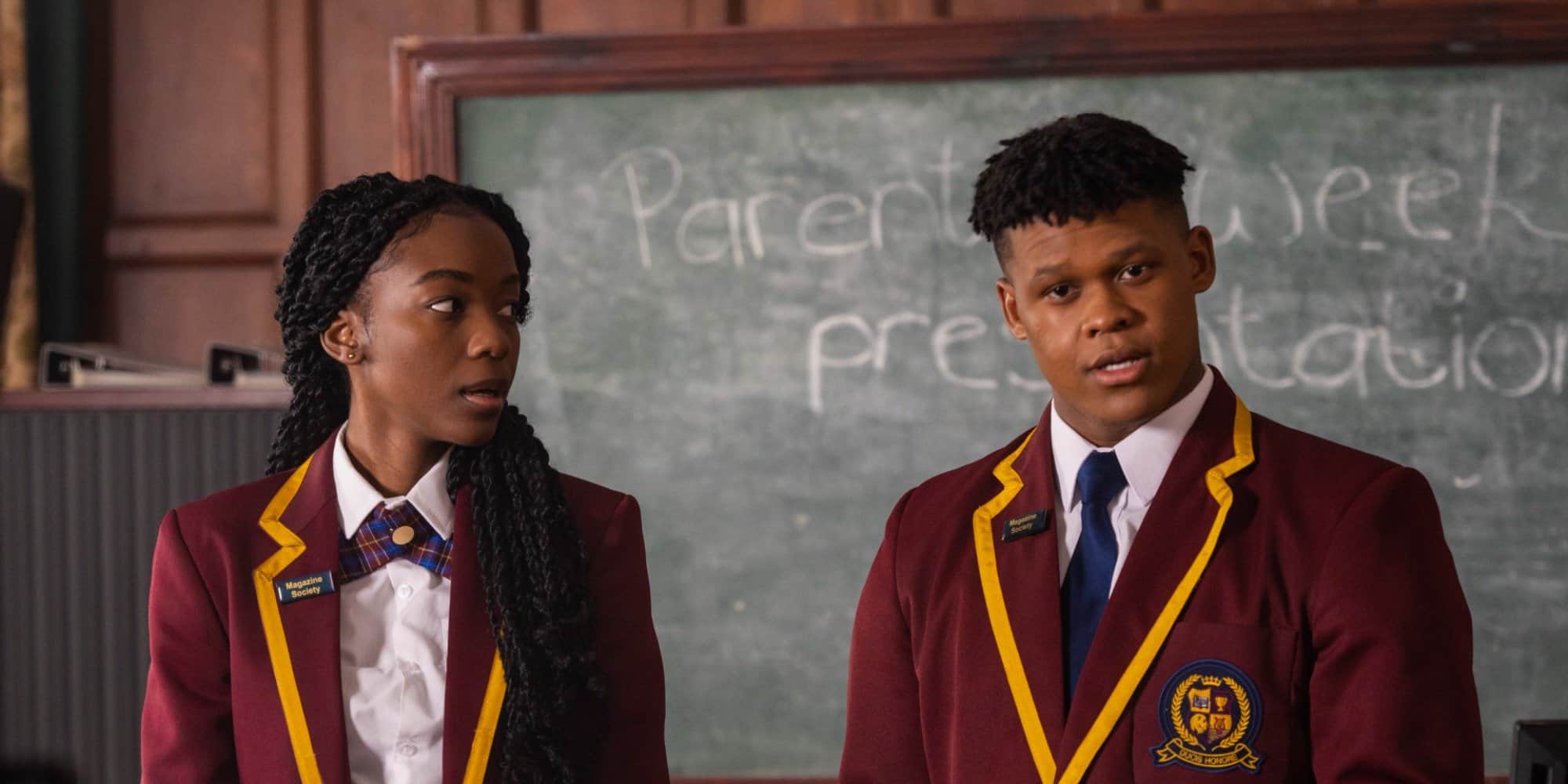 EXCLUSIVE: All You Need To Know About Season Two Of 'Blood & Water'
It's nonstop drama
Last year, during the peak of the COVID-19 pandemic, the South African Netflix original series 'Blood & Water' took over our screens and timelines with its exciting and mysterious plot. It quickly became a talking point for everyone who was sojourning into the streaming giant's recent move into African-focused content. For many, the attraction lay in the lives of the South African millennial and Gen Z characters who accurately portrayed life as a young adult in the country.
Generally in African television, young adults are usually merely accessories to the story, rather than the focus. In a continent where we don't quite have any television which adequately depicts Gen Zers and their growing pains, 'Blood & Water' is such a breath of fresh air that the novelty instantly attracts anyone who's watching. That's why the excitement for a new season has only doubled down as the release date draws nearer and nearer.
View this post on Instagram
Earlier in the week, we attended the official press event for the highly anticipated drama series which will be returning to our screens this Friday. Here, we had a chance to speak with some of the cast from the series including Puleng played by Ama Quatama, Fikile played by Khosi Ngema, Zama played by Cindy Mahlangu, Wade played by Dillon Windvogel and new cast member, Sam played by Leroy Siyafa.
In conversation with the young cast, we were able to get some exclusives about what to expect on the upcoming season as well as the forthcoming twists, turns and drama. From uncovering a deeply-rooted child kidnapping syndicate in South Africa to forging paternity tests, here's all to expect from the new season.
Our conversation which follows below has been lightly edited for clarity. Enjoy.
NATIVE: Your character plays a major role in the series, what does it feel like embodying this character?
AMA: It took a lot of preparation I must say to really get into it and I understood the character completely. For me, season 1 was a bit intimidating because it was my first time ever playing the main character or shooting for that long even but for season 2 I was used to being in front of a camera more, my confidence has grown and now I know the character a lot more than I did in season 1. 
KHOSI: It was definitely intimidating for me, especially in season 1. Getting into it without having proper prior professional experience but this time I know my character really well and I absolutely adore her and I'm so excited to be here again. 
NATIVE: What was the highlight of the entire filming process this season? 
AMA: For me, I'd have to say working with all of the cast again. We became like a big family. Getting introduced to new characters and just filming the show knowing that people are excited to see it. 
KHOSI: I'm definitely still starstruck from having to work with such an amazing set of people. 
DILLON: Everything for me is a major highlight but I will say filming and reading the script because when I first got the script I read it that same day because I was super excited about it. Being blessed to be able to shoot again and just seeing everybody again. 
LEROY: The whole process for me and just getting to work with so many talented and experienced individuals. Learning from them and just watching them was really fun for me. 
CINDY: For me, every scene was a highlight. It was a roller coaster, it was fun, it was challenging so I can't really pick out what exactly but every scene was a journey for me. 
View this post on Instagram
NATIVE: Did you feel any progressive growth in the script, casting and overall theme of the first season and the second season? Why or why not?
AMA: Definitely because season 1 was mostly about Puleng's journey but in season 2 we were able to see more characters and their journey. So there's a better understanding of the other characters in the show and what they were going through. So just incorporating different parts of African culture in season 2 was definitely something I was happy to be a part of.
KHOSI: As amazing as season 1 was, I think everyone just sort of brought their A-game in season 2. For myself I know I grew a bit and just getting to experience that life all over again and understand the process more.  
NATIVE: How accurately would you say that 'Blood & Water' shines a light on the lives of the average South African teenager?
AMA: It's quite broad and no one's life is the same as we all have our own personal journeys in life and I only know what's happening in my own journey. We were able to create a world that we want to imagine young black kids in because we're used to seeing black people being portrayed in stories as people going through trauma. We were able to create what we want to see black kids in which is a story about love, joy, and not mainly our pain as black people. 
CINDY: 'Blood and Water' touches a lot about teenagers in general, not just African teenagers as a whole cause there are certain things we go through in high school that we portrayed on the show that I'm sure a lot of people around the world are faced with on a daily basis like relationships, peer pressure, substance abuse, and everything. 
NATIVE: Leroy, your character is just joining the show but already is so important to this season and the cliffhanger at the end. How did you manage to seamlessly integrate with the rest of the cast despite joining later on?
LEROY: The cast is so welcoming and they really accepted me, they didn't make me feel like a "new kid". It was a really good bond between myself and the cast. It was really comfortable and that definitely helped me in the long run. 
NATIVE: What was it like working with such a talented team of storytellers and bringing this season to fruition?
KHOSI: For my career, this is a really good starting point for me because I'm learning how to treat people working with me and I'm learning that everyone is so important from the person holding the camera to the person standing in front of it acting
DILLON: It was amazing. Everybody's vibe and energy is so warm that they welcome you completely and for me personally I get nervous quickly before a scene and I've been able to be comforted by anyone I was acting with. It's a really lovely thing. You are allowed to just fully invest in a scene completely without feeling like oh one person is better than you or anything like that.
LEROY: Personally for me every single part has been amazing and what I love about it is that everyone is just so honest. As someone that is still coming up and who is just starting in the industry, there's so much to learn and it helps that I'm learning from people that'll willfully tell me the truth when I'm not getting something right and just redirect me. 
NATIVE: Having a show that brings the entire world into the South African culture, what are you most happy about that people can take away from? 
AMA: Our creativity as Africans for one is something I really want people to see. The fact that we get to tell our stories in a different and authentic way is really something. The beauty of South Africa and how diverse we are is really highlighted. 
KHOSI: I'm happy that the show is bringing new light into young black people's experiences but as valid as our struggles are i don't think that's the only thing that should speak for us as Africans. It shows how we deal with normal things as teenagers and I hope it shows the world a different perspective of Africa. 
NATIVE: What does it feel like knowing a lot of people around the world can relate to a lot of these stories and experiences? 
LEROY: I think it's absolutely great. I'm very grateful the show is streaming on Netflix, a globally leading streaming platform. People can watch it all over the world. It's not just South African based and they can also relate with some of the characters and just see themselves in the characters and I'm really grateful we can do that as artists.
NATIVE: What should viewers be expecting from this new season?
KHOSI: This season has a lot of drama, people are going to be at the edge of their seats for sure the entire time. What I would like for them to take away is for them to see themselves in the show in however way they can relate. The characters are messy but beautiful and that's just what being human is. 
LEROY: This season is going to be very entertaining and thrilling. Beyond that, the show touches on real-world issues and what people experience and there are things the younger audience can learn from. There's a lot of sensitive topics and decision making and people will be able to see some consequences of making some of these decisions. Overall it's really just entertaining. 
Featured image credits/