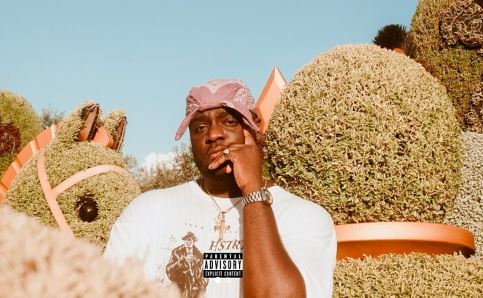 Essentials: dndSection's 'Love Lies Bleeding'
Delivering introspective storytelling for celebratory songs
"Brand New" was the first single released prior to dndSection's 'Love Lies Bleeding' EP. However, the melodic hook for Zarion Uti and Toye assisted "Take Time" is enough to make it an obvious lead single for a project that highlights the effectiveness of coating pop moments with an almost suffocating density to serve dance club audiences and rap fans. The 8-track tape showcases dndSection's knack for effortlessly switching between melodic singing to cocky raps like he's sunk all the way back in an easy chair, delivering introspective storytelling for celebratory songs about his rise to acclaim.
'Love Lies Bleeding' opens with "Head Shots", narrating his day to day struggles with the erratic detailing of a social media feed that establishes that he's confident, his life might be in danger and he the type to give his lover oral pleasure. AJ RMR and JZ Productions produce a thumping trap beat for the next track, "Get Out Ya Feelings", setting up dndSection to spit offensive bars aimed at his oppositions. But despite the crass and aggressive lyrics, his delightful cadence, flow and adlibs retain the lightweight shape of the project.
"Don't Tease" featuring Somadina finds him slipping into a more sultry mood, but it isn't so much a break from the youthful struggles that haunt him and inform his best work as it is a display of the range of his themes to include vulnerable confessionals over the laid back beat JZ Productions produces with synth arrangements that could soundtrack a Studio Ghibli anime. The next track, "Needs and Wants", is one of the project's standout moments, expanding on dndSection's romantic intention as his confidence returns to makes for a flashy song to knock boots to with his phone-sex operator lyrics; "You can ride the surfboard while I feed you/I can touch your body till it hurts right/ Hit it from the back, no need to front".
Though the enchanting chimes of bells and the airy beat JZ Productions produces for "In and Out" evokes dream-pop sensibilities, Northside Mally's baritone vocals roots his cocky bars in hip-hop's gruff soundscape. dndSection's partnership with Northside Mally seems to back up his thug ties to the streets, but the closing track, "Melatonin" finds him questioning the violent and brutal lifestyle.
You can stream 'Love Lies Bleeding' below.
Featured Image Credits: Instagram/dndsection
[mc4wp_form id="26074″]
---
You are meeting Debola at a strange time in his life. He wandered into a dream and lost his way back. Tweet at him @debola_abimbolu
---