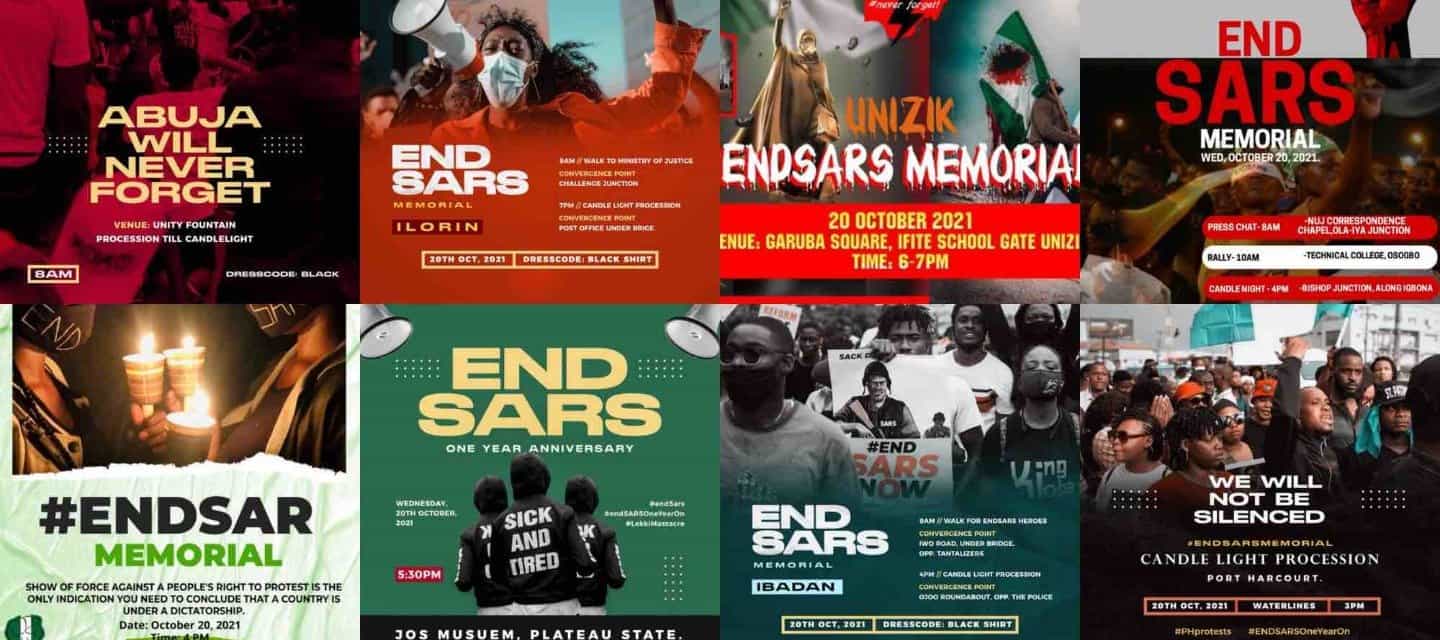 How the #EndSARSMemorial is being marked across Nigeria
We will always remember
Last year, the whole nation united in protest against police brutality, persisting insecurity and the woeful governance that propagates this neglect for the human rights of Nigeria's people. Throughout the month of October, protests to EndSARS – the rogue security agency notorious for their indiscriminate harassment and killing of young Nigerians – ensued. Tragically, as we stood up for our right to life, many Nigerians in protest, and even those as bystanders, lost theirs, to the same police we were protesting in the first place.
Honouring the lives of our fallen kin, who were brave enough to put their bodies on the line in the name of justice for us, their people, today #EndSARS memorial services have sprung up all over the country, and in the diaspora too. In our minds forever, today marks a year since the devastating Lekki Massacre, in which security forces opened fire on peaceful protestors, who were occupying Lagos' Lekki toll gate. Nigerians all over, in memory of those that were unlawfully killed at the toll gate, and throughout the EndSARS protests, mark today as the EndSARS memorial, and demonstrations have taken place all over the country this morning, with solemn processions scheduled for this evening.
BREAKING: An #EndSARS protester, Okechukwu Peter, has been arrested at the Lekki Toll Gate for protesting. His phone was also seized.

"Remember those that were killed," he said.#EndSARSMemorial pic.twitter.com/PWjToqA50C

— Pulse Nigeria (@PulseNigeria247) October 20, 2021
LOOK AT THISSSSSSSSS pic.twitter.com/0UzYWG0B2E

— HAPPY KID (@TheAjibolaGrey) October 20, 2021
Lagos and Oyo State
In Lagos this morning, a car procession moved through the Lekki Toll Gate, the site at which protestors in Lagos were killed by those sworn to protect them. A year later, petitions and panel hearings later, police brutality and abuses of power persist. Several demonstrators were injured and some arrested as the police presence at the toll gate, unsurprisingly, took a violent turn.
One of the first lives taken by police during the EndSARS protests last year was that of a young boy, Jimoh Isiaq, who was a bystander during protests in Oyo state. Following this distressing tragedy, as the EndSARS protests intensified, Governor Seyi Makinde ordered police not to engage with protestors and received praise for his actions to support the protests. This year, he seems to be on the same path. Reports from the Oyo State protests suggest non-violent police presence in Indian, where officers are supposedly escorting the protestors as they demonstrate through the street. The Oyo commissioner for Youth and Sports, Seun Fakorede is also said to have joined the protests this morning.
Benin city we move✊🏽#EndPoliceBrutality
#EndSARSMemorial pic.twitter.com/fEDmPiSAjr

— Maazi_swanky (@maazi_swanky) October 20, 2021
#EndSARSMemorial protest in Abuja 😔

— ICE cream 🇳🇱 (@toyor_pr) October 20, 2021
Abuja, Osun, Edo and more
In Benin City and at the Unity Fountain, Abuja crowds of Nigeria joined together to protest the injustices that occurred last year, the security and socio-economic failings of our state and to demand accountability from our leaders. Speaking at Unity Fountain human rights activist Omoyele Sowore condemned the incompetence and greed of the government, with police sirens blaring in the background as he implores us to "reject all their intimidation."
Reported live by JEOTV, corroborated by tweets from the region, the morning demonstrations planned in Ilorin were seemingly deterred by a heavy police presence at the Post Office site, where the protests were to be held. There remains a candlelight procession to be held in memory of the fallen this evening at 7 pm. Similarly in Oshogbo, Osun, and Enugu the heavy presence of police seem to have preemptively thwarted plans for protest as well. Osun State is set to hold a candlelight procession at 4 pm and Enugu the same at 7 pm.
Omoyele Sowore speaks on the #EndSARSMemorial protest from Abuja pic.twitter.com/OF9Jz5kbfe

— Gistlovers.blog1 (@Gistloversblog1) October 20, 2021
Abia, Port Harcourt and the wider diaspora
Protests were also planned for this morning in Aba, at the Abia State Polytechnic, a significant location in the fight against police brutality. Last month, Corporal Chinedu Nwachukwu was dismissed and found guilty of raping a female student at the university. Earlier this year, a Lagos-based businessman, Nnamdi Nwauzuo shared the story of how his sister was killed by security forces in their pursuit of EndSARS protesters.
In Port Harcourt demonstrations will begin at 3 pm, whilst in Jos, they will commence at 5:30 pm. Candlelight memorials are to be held all across the country, from Bayelsa to Ilorin, Oyo to Jos. Outside of Nigeria too, memorials in London, Long Beach, California, Toronto are all set to take place later today.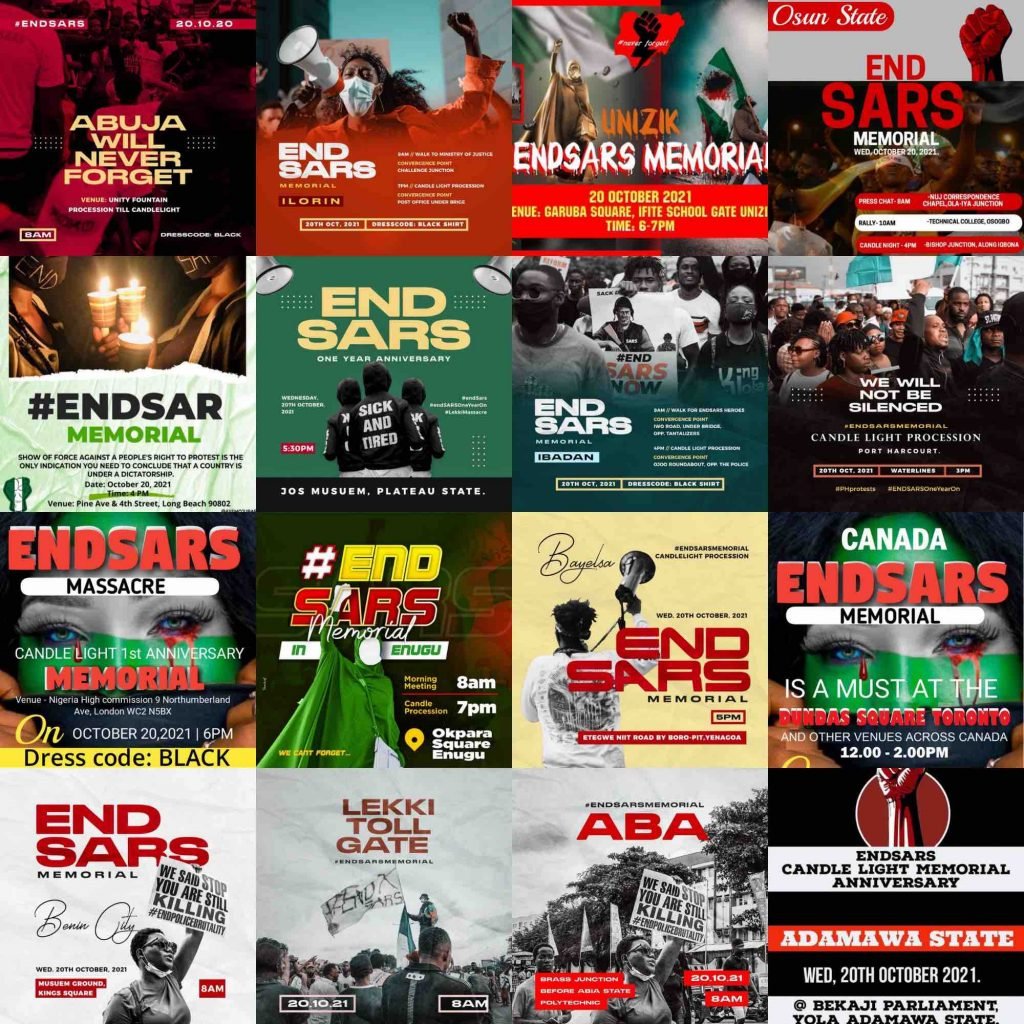 A year later, and Nigerians remain unified in our fight against corrupt and ineffective governance. Abusing their power and ignoring the plights of the people, our political leaders are facing a reckoning that will disrupt their corrupt systems. As we remain unrelenting in our protest, we keep the faith that the EndSARS movement and the political activism galvanised by the youth in this time will set our country on a brighter course.
---