Because street songs that crossover into the mainstream come out of nowhere, often with no narrative attached, the song may go viral while the artist remains relatively unknown. In the worst scenarios, the artist may return to the shadows following massive success, only to be remembered as a one-hit wonder.
Artists like Olamide have proven there can be exceptions with back to back hits that forced everyone to pay attention till he carved a niche for himself. Mr Real's "Legbegbe" has captured everyone's curiosity at the moment, but for the most part, the man behind the music still remains a mystery to many listeners. NATIVE ambushed the singer at a video shoot for "Legbegbe" to talk his beginnings and the grind so far.
Born and raised in Abule Egba, Lagos, Uchenna Okafor (Mr Real) tells us of how he was in a band named a Plantashun Boiz cover band back in secondary school. Though he was quick to name Tuface as one of his earliest musical influence, his viral hit, "Legbegbe" featuring Idowest and Obadice is inspired by South African house music group, Uhuru. Ever since Mafikizolo's crossover hit, "Khona", the influence of South African House music in Nigerian street music has been reflected In Nigerian street-hop; from Junior Boy's "Irapada", Small Doctor's "Penalty", to Olamide's "Wo".  Mr Real's "Legbegbe" is only one of the latest adaptation of this culture. "Legbegbe" is premium street-hop held together with fog-like synth percussion and drums looped off a Uhuru sample, streamlined by his street-smart impulses.
The concept seems simple enough, "iPhone 1, Legbegbe/ iPhone 2, Legbegbe/ iPhone 3, Legbegbe/ iPhone 4, Legbegbe/ iPhone 5, Legbegbe/ iPhone 6, Legbgbe, iPhone 7, Legbegbe/ O Man Lo O/ iPhone 8, Legbegbe". Despite the beat's South African origins but the lyrics are the most relatable to people who understand Yoruba street lingo. Unsurprisingly, like any viral street hit, borne of mythos, and suggestively vague expressions, we hoped Mr Real would provide further clarity on how he came about the song.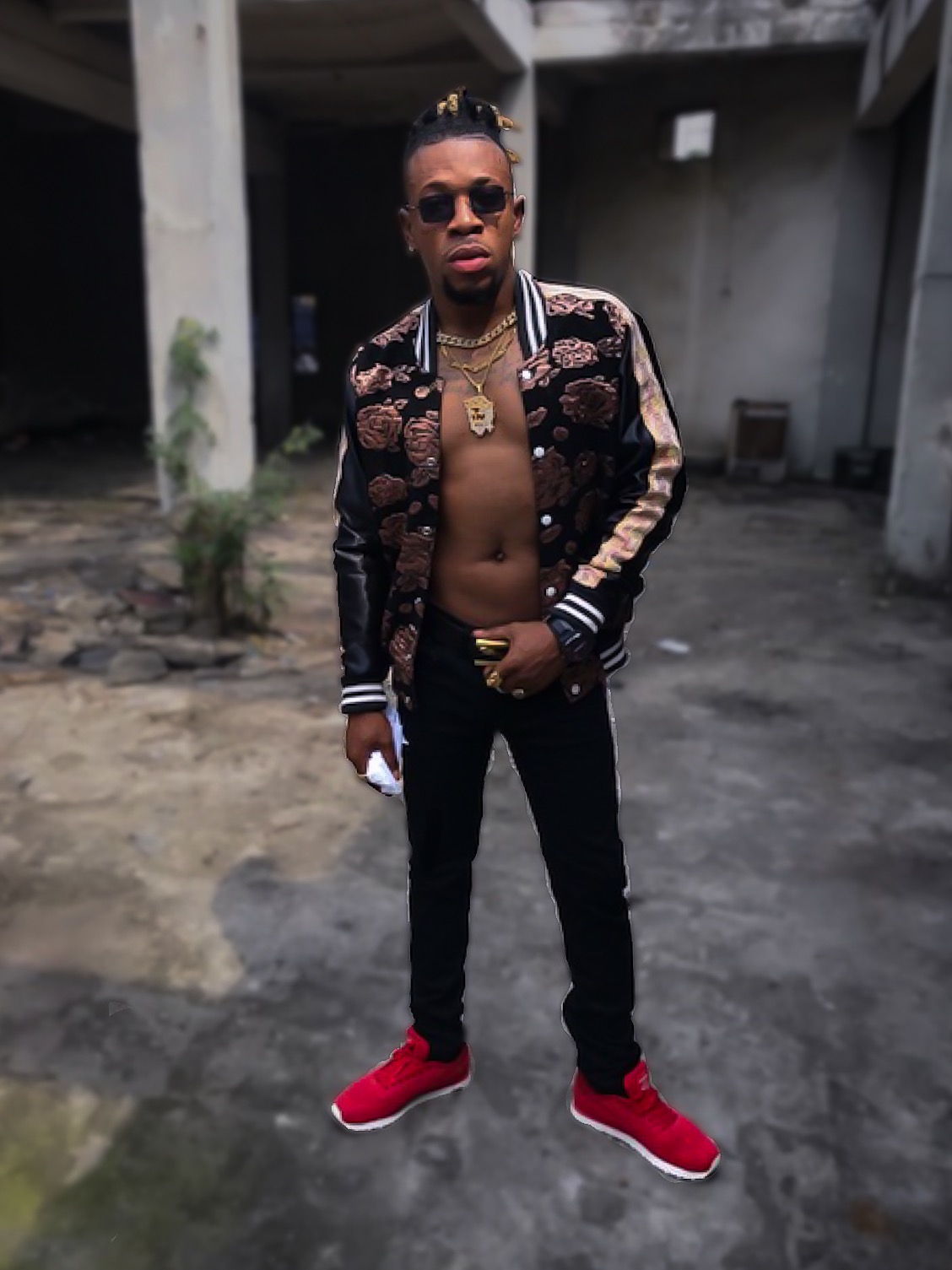 NATIVE: Why Mr Real and how does it connect to your music.
Mr Real: Well, my hair is real, it's not attachment. My face is real, it's not artificial. My skin is real, it's not Bobby Risky (laughs). My music too is real, that's why everything about me is real. It's my voice and my story. I'm a street artist, born and brought up in Lagos. I'm an Igbo boy that speaks Yoruba. The music has always been inside me, 'As they born me like this, na music they born'. 'Cos, I remember my parents took me to learn some stuff and I couldn't. I went to school and stuff but all I could do was just music. It has always been part of me so I decided to concentrate on doing music as a profession.
NATIVE: When did you start recording. Where was your first studio session?
Mr Real: My first recording ever was with Terry G, "Kakaraka" in 2006. Akin Alabi shot the video then. The song was released 12 years ago.
NATIVE: 12 years ago? That should have been a great head start.
Mr Real: Ehnn, but the song 'e no blow na.
NATIVE: Tell us about "Legbegbe". How did you come up with the song
Mr Real: It's a funny story. 'Na where I dey chop Semo and Egusi,' That's where I got the inspiration for the song. I was listening to a random song on my phone; I can't even remember the name. The song just came to me. "Legbegbe" in English means side by side. And the other lines like "iPhone 1" was just cause I wanted Apple endorsement. That's why I mentioned iPhone.
NATIVE: We heard a different story.
Mr Real: I no know the story wey you hear o. Na them talk that one.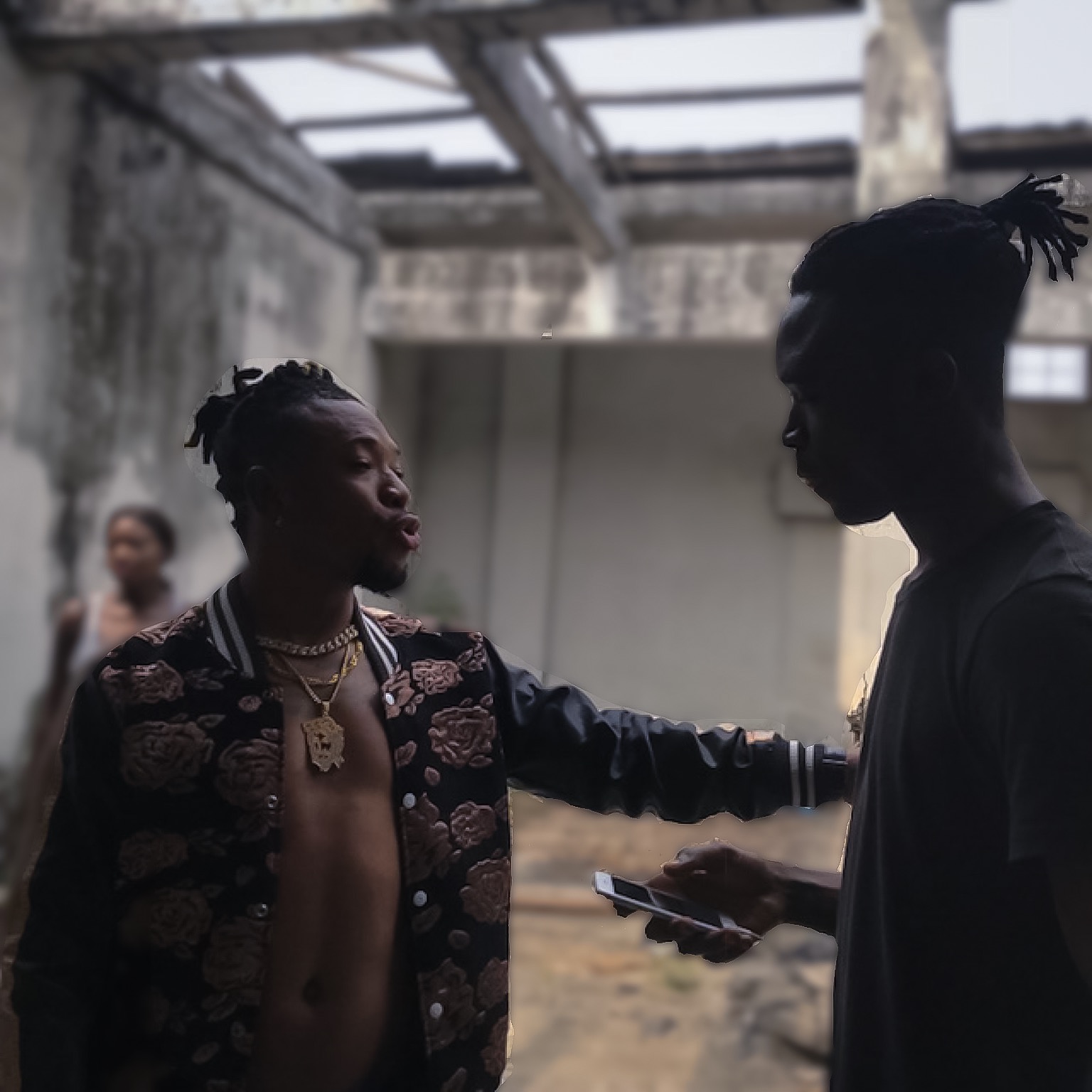 NATIVE: How did you create the sound?
Mr Real: I looped the beat and added some other sounds. It's from an Uhuru song that I don't even remember anymore. The beat just came in my head. That's not even my usual type of sound. I did R&B and reggae before this pop thing came.
NATIVE: Were you already doing shows before "Legbegbe"?
Mr Real: Yes, I was doing free shows before "Legbegbe" dropped when nobody was calling me to pay for shows.
NATIVE: How has managing been with the number of shows you have lined up these days.
Mr Real: I don't have any major management team yet and lately, I've been doing shows back to back
NATIVE: Describe a typically stressful week.
Mr Real: Let me even tell you. Day 'fore yesterday, I was in Benin. Flight to and fro. Yesterday, I was about to enter my house when Bangalee (D'Banj) called that he's heading to the airport. I just picked up a few things and joined him on a flight to Kaduna. I just got back and I'm here shooting my video now. And I have another show tomorrow.
NATIVE: What show?
Mr Real: I don't even know. I have to go and check.
NATIVE: Who's scheduling everything? Why aren't you getting management considering how busy it has been.
Mr Real: I have my small team of about 6 people including my PA and my manager. 'I no want management wey go come dey chop my money.'
NATIVE: Do you know about the active music industry outside of the mainstream. Have you thought about collaborating with these new generations of artists like Odunsi, Nonso Amadi, Lady Donli and others?
Mr Real: I've thought about the value of collaborating with artists like that community.  They are the ones on the internet, it will help me get more fans too. Do you have their numbers? If you want to link me up, I don't mind.
NATIVE: What's your ideal next plan from here with all the attention from the single.
Mr Real: After I release this video, I'm dropping a new single that will take over the streets like "Legbegbe" did.
NATIVE: Give us a quote for all the hustlers out there.
Mr Real: If you're talented, you'll be blind to yourself.
Stream "Legbegbe" via YouTube below
Featured Image Credits: Instagram/mr_realgram
---
You are meeting Debola at a strange time in his life. He wandered into a dream and lost his way back. Tweet at him @debola_abimbolu
---