It's a wet day in England's capital, yet fifty or so masked-covered faces sit entranced on an East London rooftop, convened by Boiler Room x Ballantine's as they launch their new global series, In The Round, that brings back live music both IRL and online. Our gazes are fixed upon an alternative singer and London native, Zilo. Though her bright green hoodie (which is styled with a black gilet, black pants and topped off with green and white trucker cap) is simple enough, her captivating vocals and suspiciously fitting lyrics keep the COVID-compliant seated audience transfixed.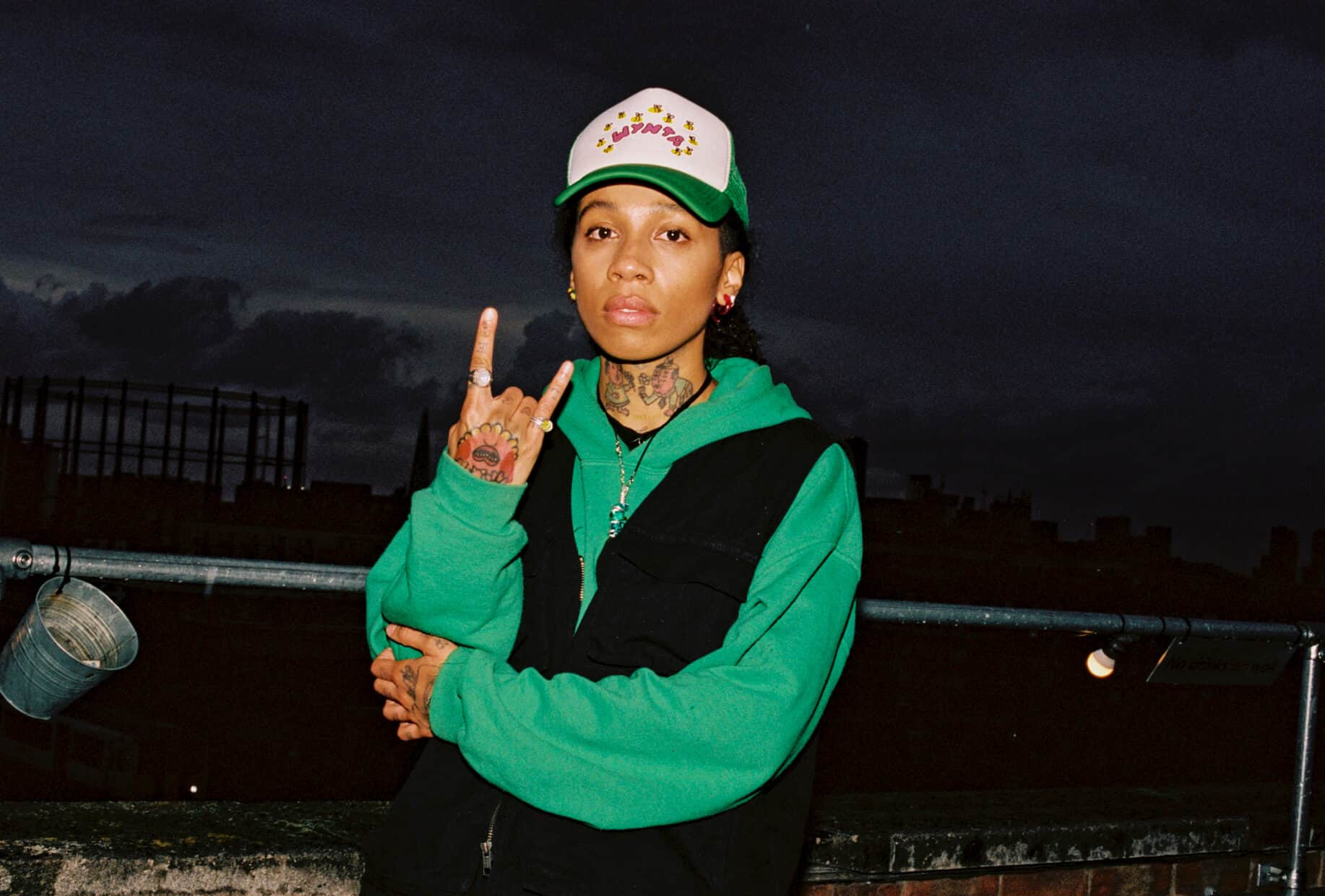 If you are a lover of Boiler Room x Ballantine's True Music events, the stark contrast between the socially distanced In The Round event held last month and the characteristic Boiler Room raves would certainly take you a moment to get used to; but for Zilo, the intimate setting was a space of sincere comfort. "I quite like that intimate, intentional sort of vibe anyway," Zilo tells me as I asked of how the implications of the coronavirus regulations affected her performances.
Unlike the "rock on" hand gesture that emerges as Zilo's default response to the camera would suggest, Zilo is an unmistakable introvert. As such, the rising singer's didn't plan for too many performances this year, meaning, in terms of performances at least the year the pandemic had in store for her didn't look much different to the calendar she had prepared. With only one show planned (and then, of course, cancelled), Zilo's first post-lockdown performance was the ideal set up for her. Considering this show was so far from Boiler Room x Ballantine's regular programming Zilo doesn't fail to appreciate the stars aligning and the perfect timing, she asks me, "what are the odds that the time I get asked to do this sort of a show it would happen in a time where there can't be a lot of people, so it would end up fitting my vibe?"
"But I don't know… I think they did a great job at still keeping that sort of vibe alive whilst showing you can adapt and make something positive out of everything that's going on," Zilo continues, congratulating the Boiler Room x Ballantine's team for pulling together socially distanced crowd of 50 in-person viewers as thousands tuned in from all over the world, via an exclusive Zoom link for a live viewing of the show.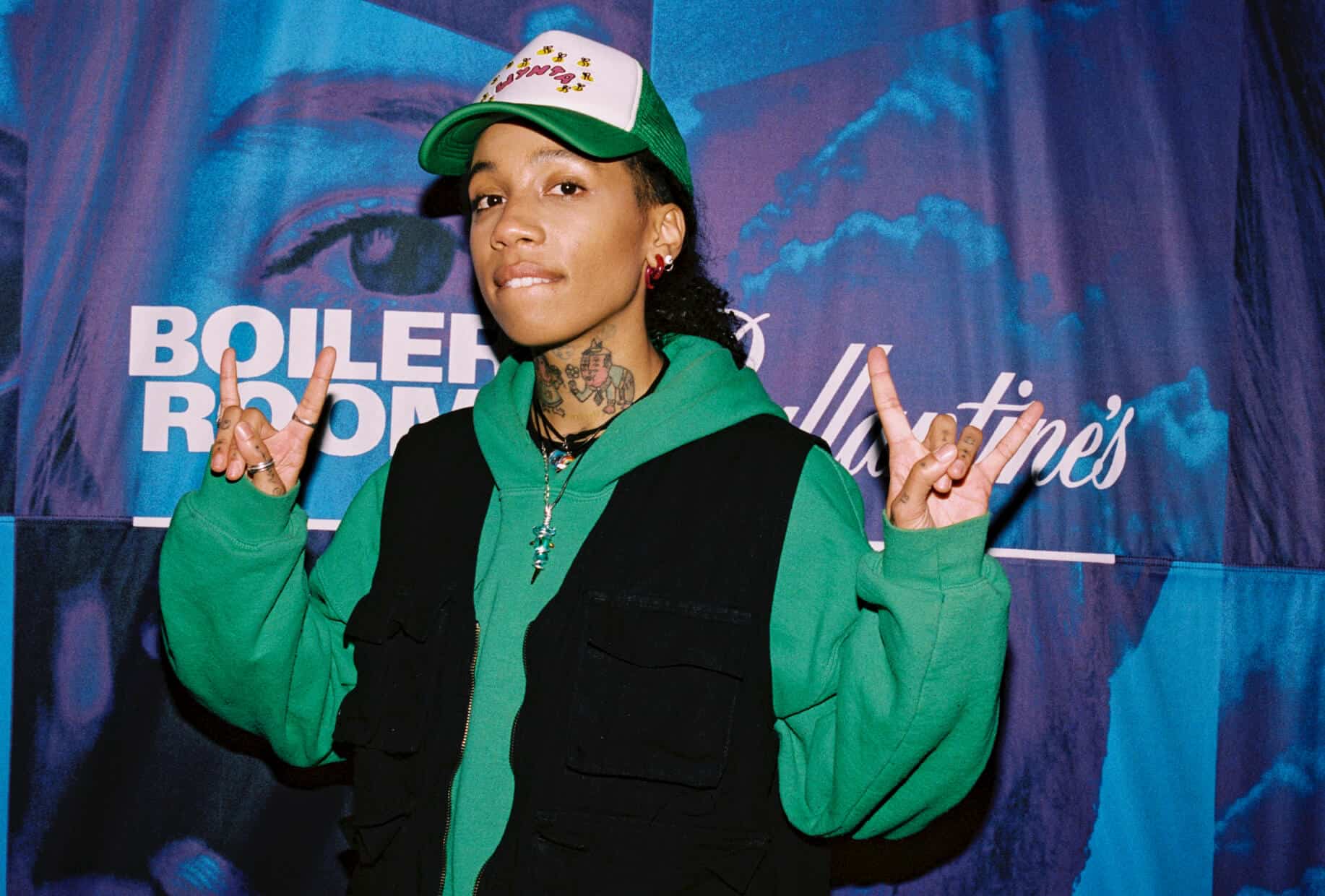 Within the music industry, the live performance circuits have been one of the most affected sectors, emphasising a need for us to reimagine how live shows will be hosted in the future. With In The Round, coming after the Boiler Room x Ballantine's 'Streaming from Isolation' series – an initiative that financially supported 20 music collectives globally, allowing them to stream their sets to worldwide audiences from the comfort of their homes, during the height of coronavirus restrictions – the club culture maverick's, Boiler Room and the whisky brand, Ballantine's continue to provide a template for how things could be done – how communities could be reunited and re-empowered – in our dystopian future turned present.
Not unlike Boiler Room's typical structure, that sees talent surrounded by their fans, friends and communities in a setting so intimate (regardless of capacity) the three melt into one, In The Round similarly offers the personal 360 atmosphere Boiler Room is renowned for… but like, make it COVID. In addition to the live show and stream, Boiler Room x Ballantine's shared the individual performances – Zilo was followed up by the well-established international star, Mr Eazi – to extend the community of viewers even further than those privileged enough to attend. Overall, the event's multifaceted approach to engaging an audience and cultivating a community from live music – Boiler Room x Ballantine's forté – proved a successful one. But even before the favourable outcome, Zilo was more than eager "to be a part of something that [is] the new wave of how shows are gonna be."
Finding "cool and interesting ways to connect with people and uplift people man, because these times are quite tragic for a lot people, so just keep everybody in good spirits so we can just keep it pushing and keep it moving," is how Zilo tells me she is going to spend this second lockdown period that has commenced in the UK. Ironically, that's exactly what she did when she graced the slightly raised Netil 360 stage to deliver one of the warmest embraces of the pandemic's disruptive 'new normal'.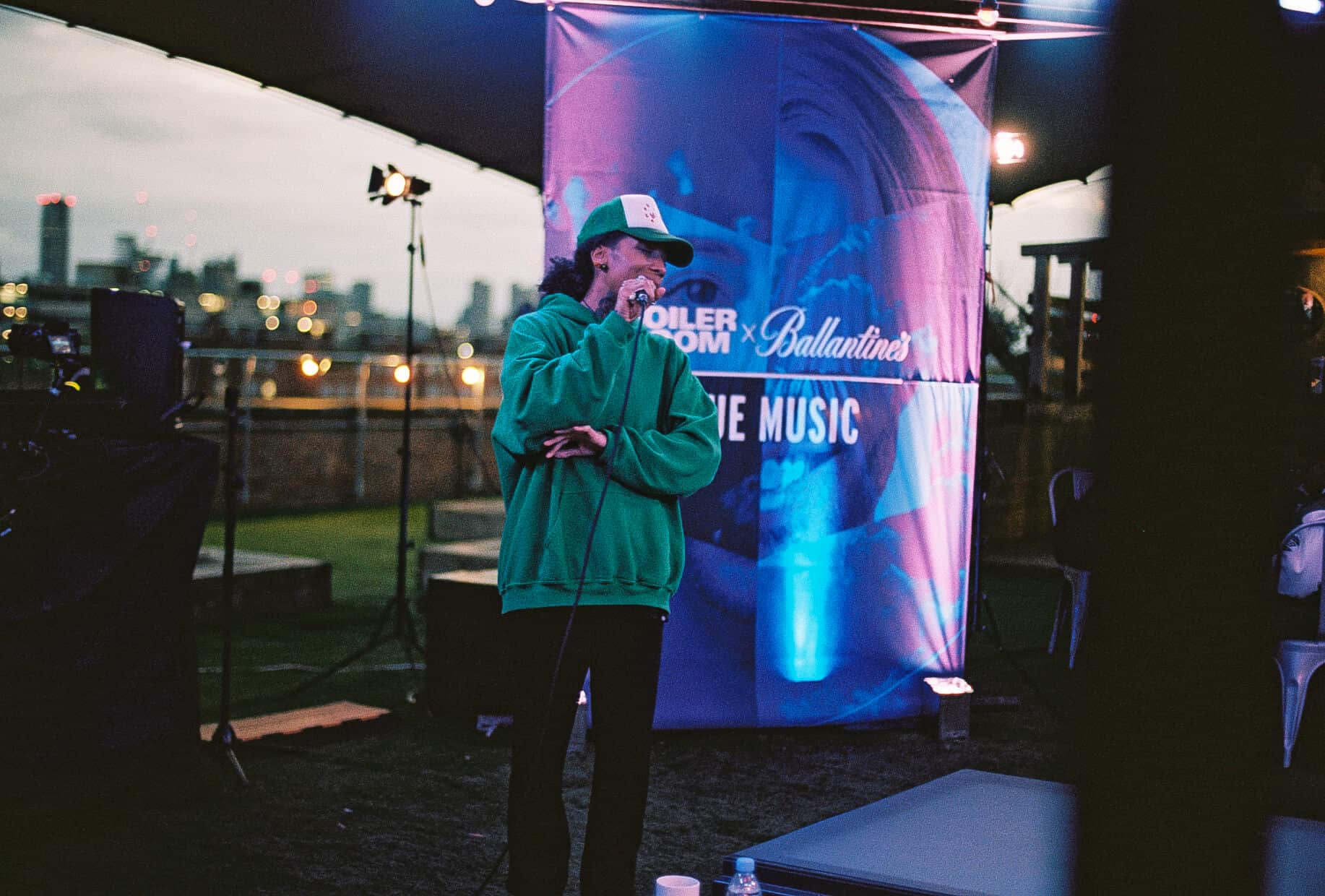 Opening with a sentiment so antithetical to the one shared by the world as we all endured our different countries' lockdown rules, Zilo introduces her audience to her stunning vocals through the words, "I don't want to go outside." Also the title of the song, Zilo reveals that this record (as well as all the records she performed) was written in January, before she had any knowledge that her wish would be granted in the most horrific way. "I'm just led by my mood, and at the start of the year, I was just in a mood to creatively express myself in that way," Zilo says, explaining the antisocial line that runs through the singles she performs at the show, "[it] was quite good, as well, because when everything started locking down, couldn't really travel, it meant that I couldn't access studios anyway."
With a bank of unreleased music already at her disposal, Zilo spent her early quarantine days making music with her collective Play Nice, recording on her phone given the lack of access to studios. Once her mood altered, Zilo "chilled for a bit, did a lot of other life stuff and just painted, got back into a little bit of painting," artwork which she has displayed all over her room to the extent that her four walls could be mistaken for a gallery. But, as you'll hear in the live performance video available on YouTube now, even Zilo, an introvert who is unapologetically "antisocial for the winter" found herself missing the outdoors, craving a sense of community engagement after the months too many in relative isolation.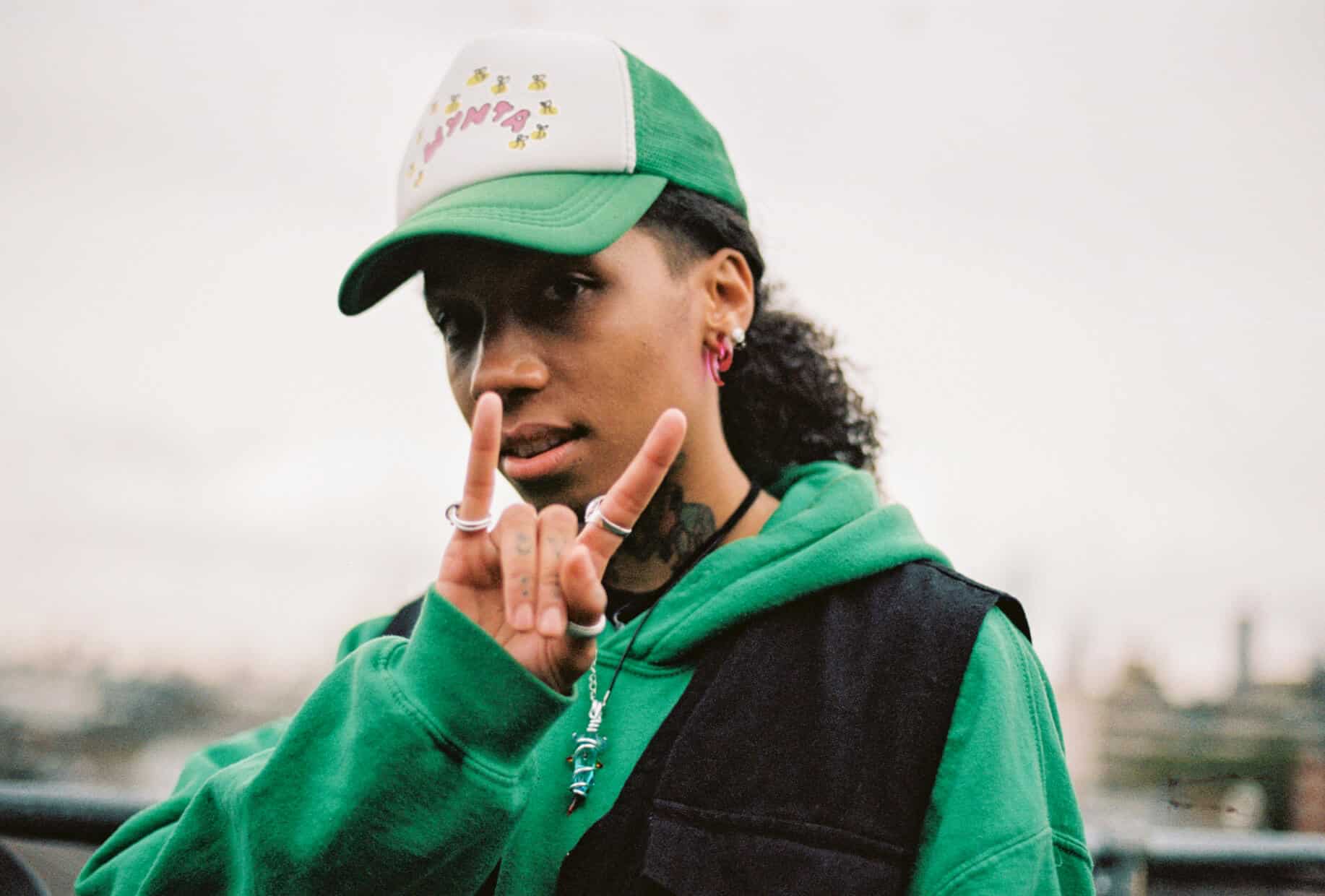 In our chat over Zoom, Zilo mentions Social Media as an important tool for her connecting with people, from her fans, to her friends and even the not-quite-love interests she chastises on the second single she performs, "Weird". More upbeat than "I Don't Want To Go Outside", "Weird" would normally see listeners jump to their feet, however, given the UK regulation against dancing, we remained resigned to bobbing our heads and swaying in our seats. Though standing would be the ideal position – which the Zoom audience obviously took advantage of – "Weird" and the mellow hip-hop number, "Lights Out", which Zilo performs a little after, exemplify the style of music that has soared during this crowdless period.
Laidback bops have been given free reign over the stay-at-home mandate, but with Zilo offering such an enjoyable performance, aided by the Boiler Room x Ballantine's True Music platform, Zilo is showing us that, when performance circuits open up, there is still room for mellow music on mainstream stages. It is the 'new normal', different to Boiler Room x Ballantine's performances that have preceded it, but nothing felt unnatural about Zilo's In The Round set. As Boiler Room x Ballantine's True Music tours the world, with series' in South Africa, Brazil, Spain, and more, we're hoping to see the music that lulled us through the lockdown continue centre stage.
Image Credits: Vicky Grout/Boiler Room x Ballantine's
---
To find out more about Boiler Room x Ballantine's True Music presents In the Round, head to truemusic.boilerroom.tv. And check out Ballantine's social via, Twitter, Facebook and Instagram
---