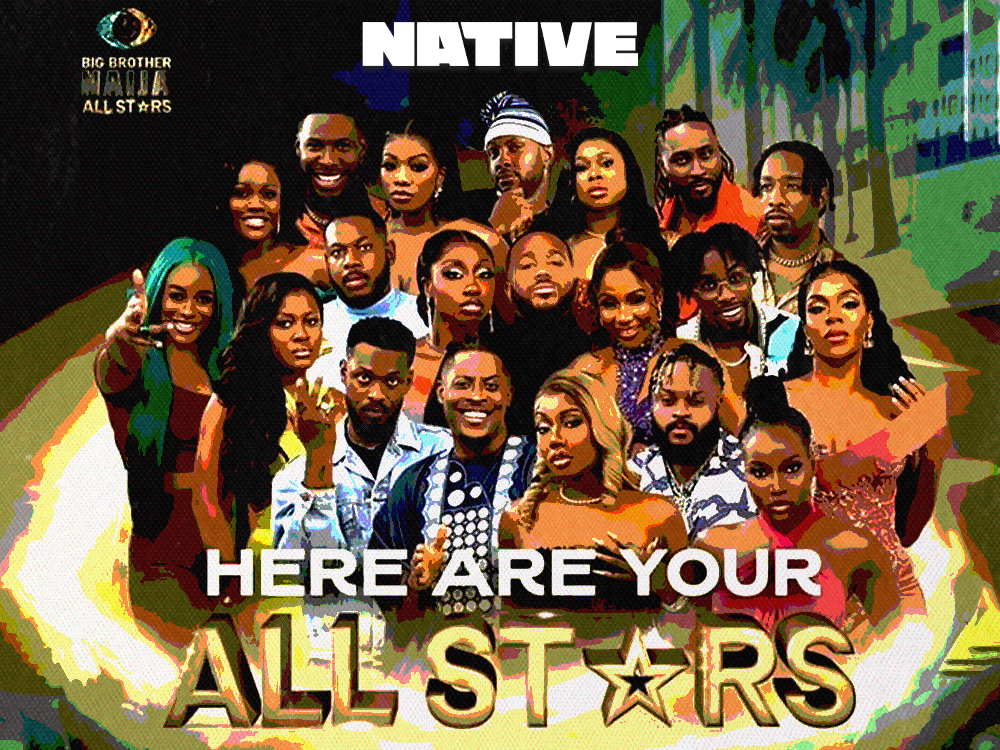 Our Expectations For The New Big Brother Naija All Stars Season
back for its 8th iteration
Big Brother Nigeria, first launched in 2006, as an experiment to capitalise on the influence Nigerians had on the Africa-wide franchise. Since then, it has welcomed and ushered ascendant stars and personalities into the entertainment industry including actors Tobi Bakre and Bisola, and rapper Laycon back in 2020. Social media and mobile data connectivity has also evolved sufficiently since the first iteration of the show, giving Big Brother Nigeria near-boundless virtual mobility. It has also made it easier for lovers of the show to create fandoms, rife with followers and led by influencers and brands with their own agendas. Today, during Big Brother season, it's near impossible to avoid its principal characters and rowing fan bases on the timeline.
View this post on Instagram
Although Multichoice and the Big Brother franchise has gained the lion share of audiences attention for the past few years, with its fifth season held during the lockdown recording over 14.6 million mentions from over 4.9 million fan. In recent years, local viewers have discussed at length the weaning attention from reality TV given the return to regular programming since the lockdown restrictions were lifted. Despite these concerns, its move to online streaming via Showmax has opened the show to audiences across the continent and the diaspora, who were once unable to tune into the action without illegal downloading or streaming.
Nevertheless, a new season of Big Brother is always met with attendant fans and audiences who are ever ready to ship new personalities and new contestants. This year's iteration is drawing in new eyes and longtime viewers by touting an all new All Stars special season featuring past contestants and winners of previous sinners. The new season which launched on Sunday welcomed audiences to 20 familiar contestants who have, at one point or the other, walked the halls of Big Brother's house. From Whitemoney who won the previous season to media personality, Kiddwaya, fan favourite Mercy, Angel, Cross, Pere, Ike and more, it's already clear that this new season is packed with all the action that will attract frequent watchers.
Reality TV is attractive to the public for many reasons. For one, it endears the audience to rising personalities at the start of their careers, who look, talk, act and sound just like the audiences that tune in weekly. It restores social capital in the hands of everyday influencers who show us that if you work hard enough, build a loyal community of fans and followers, then you could also chart a path to success and fame. It's aspirational and it's the sort of sentiment that sells reality TV. This is why it's not surprising that Big Brother emerged this year with its latest twist: an all-star roster of past favourites, villains and winners.
True to this, the launch episode of BB Naija All Stars was widely discussed across social media on the night of its launch with currently over 223K impressions on Twitter. With much to anticipate as the new season rolls on, the NATIVE team discuss our takeaways from the premiere episode and share our expectations for the new season and the chaos yet to unfold. Dig in.
Hey fam! What would you say is the most iconic moment from the different Seasons of #BBNaija? Tell us in the comments.👇🏾#BBNaijaAllStars.

For more: https://t.co/yhJJoGSYd0 pic.twitter.com/I2RlKfzSXx

— Big Brother Naija (@BBNaija) July 24, 2023
THE NOVELTY OF OLD FACES FOR FAMILIAR AND NEWER VIEWERS
In 2010, for its 5th edition, Big Brother Africa hosted a cast of select housemates from the preceding years. The fourteen housemates from across fourteen African countries comprised mostly previously evicted participants, with Tanzania's Mwisho being the only runner-up amongst the cast. Eventually won by Nigeria's Uti Nwachukwu, who was first evicted in the show's third season, Big Brother Africa: All-Stars was a continent-wide hit for its novelty in bringing back familiar faces, giving viewers characters they didn't need time to invest in.
The same effect is already happening with Big Brother Naija All Stars, especially since long-term fans of the reality show have watched these housemates in different years, and already have perceptions about each person – who they're already supporting, the persons they're already shading and much more dynamics to watch. Beyond those familiar with these faces, this season could be refreshing for the uninitiated as well, especially with the grumbles that the show has been graced by less magnetic characters in the last two years. With experienced housemates and a whole lot of chaos on the horizon, this should be far from the case of old wine busting new skins.
OLD RIVALRIES RESURFACE
Drama has always been a recurring feature in every season of the Big Brother Naija shows. With more than 20 strangers kept in one space for long periods, alliances will form and tempers will flare. The Big Brother Naija franchise has birthed some of the most heated rivalries; there was Bisola vs. TBoss in season two; Alex vs. Cee-C in season three; and Tacha vs. Mercy in season four, to mention a few. These rivalries, whenever they played out on screen, got the audience engaging in heated debates, with many people throwing support behind their preferred housemate. 
With the return of old housemates on the all-stars edition of Big Brother Naija, a lot of rivalries will be given new life and audiences are bound to be hooked to their seats to see who still carries bad blood for each other. Alex vs. Cee-C is one such rivalry that viewers will be looking out for, with host Ebuka Obi-Echendu hinting at it during the show premiere. In season four, Mercy and Ike were love birds but have parted separate ways since then. Once again, they will find themselves in the same house. There are also season six winner Whitemoney and co-housemate Pere who had a fallout during their stay in the house and season seven's Adekunle and Doyin who still have unresolved issues. These rivalries promise to garner attention from viewers and spark conversation, which will be a big win for the show.
This is a Promise! #BBNAllStars #BBNaija #BBNaijaAllStars pic.twitter.com/gVfZ08j6Ow

— Big Brother Naija All Stars Updates (@BBNaijaAllStars) July 23, 2023
PAST WINNERS MAY HAVE AN UNFAIR ADVANTAGE 
It seemed like at some point, Big Brother was only getting bigger. The day after the show's finale, all housemates are invited to claim the rewards earned through the season in an award ceremony. The show's host, Ebuka Obi-Uchendu always announces the unfathomable numbers in viewership and votes Multichoice is able to rack in each year. So from the production perspective, it's easy to understand why previous season winners, Mercy and White Money would return. The pair also went on to do big things and remained in the news cycle for one reason or another. After Whitemoney emerged the winner of Season 6's Shine Ya Eye, it's safe to say that was the point viewers lost interest so that justifies the choice.
However, this could be an unfair advantage to other contestants without a large fanbase. Though Double Wahala contestants, Cee-C and Alex were very popular in their day and undeniably pioneered the hardcore fan engagements the reality show has, their season was 5 years ago. Other contestants like Soma from See Gobe and Princess from Double Wahala also got evicted quite early on in their seasons. Their fan base is not as strong as the show's former winners who have also garnered a significant following on social media. These dedicated fans stir conversation around their favourites and as we've seen in previous years, it plays a major role in how contestants are perceived in the real world. That being said, the advantages are clear but it doesn't guarantee a win seeing as staunch supporters can be built overnight on this show.
A SECOND CHANCE AT LIFE & FAME
A lot has changed since the reinvented first -technically second- season of Big Brother Naija over 6 years ago. For a number of older contestants, life looks very different and this return comes with new goals and renewed perspective. The first runner up from the Double Wahala season and the first returning housemate, Cee-C, shared with Ebuka Obi-Uchendu, the show's host that she's much more mature now. This comes after several fights and disagreements with her love interest at the time, Tobi and his closest friend in the house, Alex. While many expect that old rivalries may resurface, others shared that the pair [Cee-C and Alex] made up several years ago. See Gobe star, Uriel similarly shared with fellow All Stars housemate, Adekunle that she is returning with a more outgoing personality after battling self esteem and confidence issues during her last run.  
Other than fresh perspectives, a number of contestants have expanded their families and this leads viewers to believe this comes with maturity. Pepper Dem contestants, Seyi and Frodd are married and the latter had a daughter not long ago. While the discourse around married contestants and their success rate during and after the show is tricky, the Big Brother Naija:All Stars season undeniably provides these crowd favourites a second chance at life. Many are coming to promote their brands and gain an even larger platform than before while others are here to right their wrongs from ages ago. Regardless of personal motives, this season holds potential to be the best one yet.
The Real Hot Girl is back for the #BBNaijaAllStars 🤩 and she is A23 now 😅 pic.twitter.com/bGL64Dnn1M

— Showmax Naija (@ShowmaxNG) July 24, 2023
Featured image credits/The NATIVE
---
Words by Uzoma Ihejirika, Dennis Ade-Peter, Nwanneamaka Igwe & Tami Makinde
---