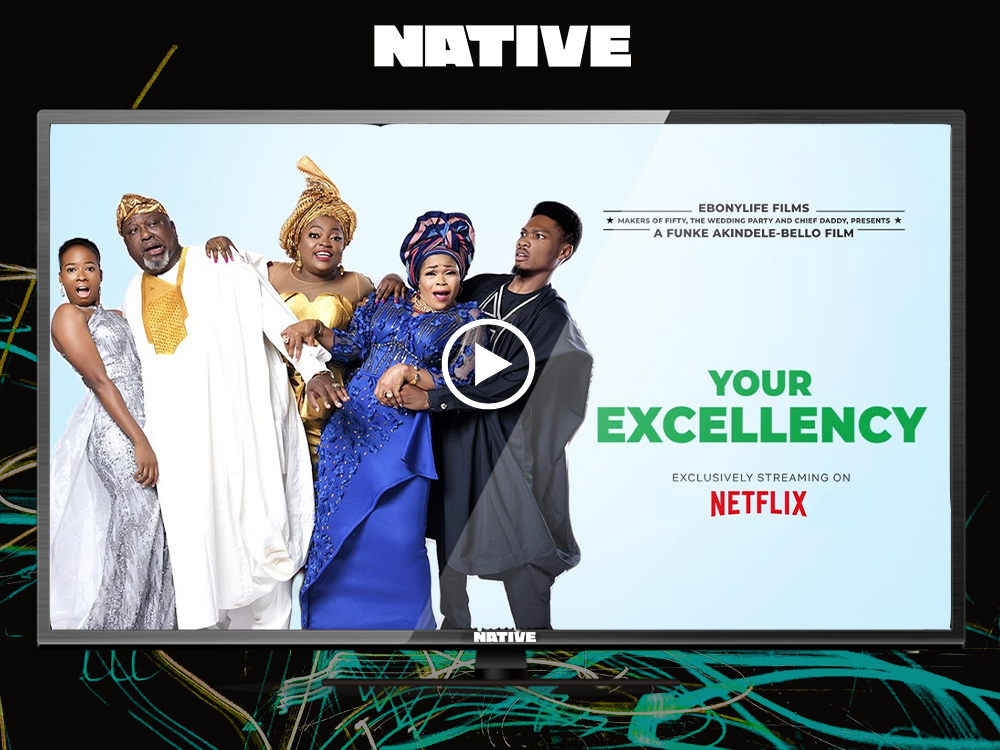 AV Club: 'Your Excellency' Encapsulates the Power of Media in the Political Arena
Pertinent to the ongoing election cycle
2019 was a bagful of events: Muhammadu Buhari ended his first term as Nigeria's president and was again elected into office for his second term; BBC News Africa's investigative documentary "Sex for Grades" cast light on sexual harassment issues in tertiary institutions; Naira Marley drew the attention of the Economic and Financial Crimes Commission (EFCC) and owned the airwaves with hit singles; and Nigeria's first Oscar entry 'Lionheart' was disqualified over dialogue requirements. 2019 was also the year Funke Akindele made her directorial debut with the EbonyLife Films-produced political satire drama 'Your Excellency.'
Just like the year it was released, 'Your Excellency' is set in 2019 and while the film's location isn't explicitly mentioned, the camera shots of areas such as the Third Mainland Bridge and the Lekki-Ikoyi Link Bridge provide one answer: Lagos State. 'Your Excellency' hosts a fine cast that includes Akin Lewis, Funke Akindele, Shafy Bello, Bimbo Manuel, Kunle Coker, Alex Ekubo, Osas Ighodaro, Eku Edewor and Deyemi Okanlawon, among others. At that time, the film, by toeing the path of politics, was a further deviation—started by 'Chief Daddy' (2018)—from EbonyLife Films' romance-based film productions: 'Fifty' (2015), 'The Wedding Party' (2016) and 'The Royal Hibiscus Hotel' (2017).
View this post on Instagram
In 'Your Excellency,' the fever of the presidential election campaigns has everyone in its grip. Chief Olalekan Ajadi (Akin Lewis) is a billionaire businessman who, after three failed attempts, is contesting for the fourth time to become the 13th president of Nigeria. He has two individuals in his life he wholeheartedly trusts: his second wife Kemi Ajadi (Funke Akindele) and his assistant Fred (Oluwaseyitan "Seyi Law" Aletile). Although Chief Olalekan has good intentions for the Nigerian people (that involves creating a Ministry of Happiness), he is a fun-loving man who is naive about the complexities of Nigerian politics. When the more formidable political party Democratic Action Congress (DAC) makes Chief Olalekan their presidential candidate,  he, without much thought, jumps ship, jettisoning the political party he co-founded for a better shot at the presidency. 
One of the other contenders for the seat of the presidency is Michael Idehen (Deyemi Okanlawon), the son of a well-respected family who carries the weight of expectations hoisted on him by his father and grandfather. Michael is viewed as an upstart, who, like Chief Olalekan, is inexperienced about the ways of the political world. "My lack of experience also means that I am not tainted by this corrupt political system…It also means that my government will not be business as usual," Michael says about himself during a debate. While Michael has the potential to become an engrossing character, the film kicks him to the sidelines, offering him the unwarranted role of the most desirable bachelor who has women drooling over him and plotting meet-cutes.
The story world of 'Your Excellency' is fuelled by the media. Any occurrence, whether true or false, is processed through news media, social media and web media for public consumption. There is the TV show Eki Talks hosted by the broadcast journalist Eki Adua-Evans (Eku Edewor) who seems to be the only media space in the film's Lagos that has access to all politicians and media personalities. There is the social media-addicted couple Kachi (Alex Ekubo) and Candy (Osas Ighodaro) who, through their reality TV show, make their everyday dealings content for their online followers. And there is the gossip blogger Stephanie (Toni Tones) whose job it is to spy and drop opinions about the lives of people.
The ability of 'Your Excellency' to capture how media permeates every aspect of the characters' lives is the film's biggest win. From cameras to phone screens to TV screens, privacy is absent: while some characters try to hide as much about themselves as they can from the public, many more characters want to reveal as much as they can about other characters to the public.
In 2021, the Nigerian government banned Twitter and, despite the uproar, the ban lasted for seven months, with the government claiming the ban was due to "persistent use of the platform for activities that are capable of undermining Nigeria's corporate existence." Presently, the year is 2023 and Nigeria's presidential election is three days away. Social media has become a useful tool for candidates to rally their supporters and for supporters to spread the reach of their candidates. The country is also grappling with the scarcity of cash (due to the change in naira notes) and on social media, there have been videos and photos of riots headed by frustrated citizens. It is evidence of today's world: social media is an instrument that can do both good and harm. It also behoves stakeholders in the media—journalists, broadcasters, bloggers, and influencers—to ensure that information is disseminated responsibly. 
By no covert means does 'Your Excellency' draw parallels to the real world outside of make-believe. For instance, Chief Olalekan is a huge admirer of former American president Donald Trump, who was in office in 2019. In Chief Olalekan's palatial home lay a portrait of Trump, which Chief Olalekan sometimes stands beside and admires, while trying to recreate the man's pout. Also, Chief Olalekan's political slogan "Make Nigeria Great Again" is a copycat version of Trump's "Make America Great Again." Elsewhere, Michael is referred to as Nigeria's Obama and, in a scene with his father (played by Bimbo Manuel), his father tells him, "You need to find your own Michelle." Funke Akindele's Kemi, who does well as a semi-literate person (although bits of her 'Jenifa' character seep into her dialogue), is portrayed, in an ill-advised move, as an actor and the real-life Funke Akindele. There is also a movie crossover moment when 'Chief Daddy''s AK Famzy (Folarin "Falz" Falana) makes a cameo appearance. 
While satire allows for the ludicrous, there is still a need for believability. In a pivotal moment in the third act, Kemi admonishes Chief Olalekan about his obsession with Donald Trump. "You are kind. You are not revengeful. You are not a racist. You are not a bad person, so please stop comparing yourself with him," she says. Chief Olalekan replies, saying, "I am different from him. I'm nice to women. And I respect everyone." Throughout the film, Chief Olalekan's love and admiration for Donald Trump is an important motif—Trump is more than a mentor and is everything Chief Olalekan wishes to be. That scene, regardless of the emotional pull it stirs, crushes an important element of the film. It raises the question: Why did the filmmakers spend so much time setting up Chief Olalekan as a great admirer of Trump when he wants to be nothing like him?
View this post on Instagram
'Your Excellency' is a good watch, though. For the most part, the sets and costumes (except for Pastor Leke (Emmanuel "EmmaOMG" Edunjobi) who is referred to as a pastor but costumed as a reverend) match the luxurious lifestyles of the moneyed politician-characters. The campaign rallies, election polls and inauguration ceremony show the muscular skill of the filmmakers. Interestingly, four years later, Funke Akindele is contesting for the position of the deputy governor of Lagos State, joining a growing list of actors who have delved into politics: Banky W, Desmond Elliot, Kate Kenshaw (who played the role of a governorship aspirant in 2019's '4th Republic') and Yul Edochie, among others.
As Nigerians troop to the polls on Saturday to once again exercise their civic responsibility, it is important to be on guard against false content and information. As exemplified in 'Your Excellency', media, if used in the right hands, will yield positive results. If not, it will breed manipulation and distrust. For many Nigerians, most especially the young population, this ongoing election cycle isn't just a fight for the present but also the future.
---