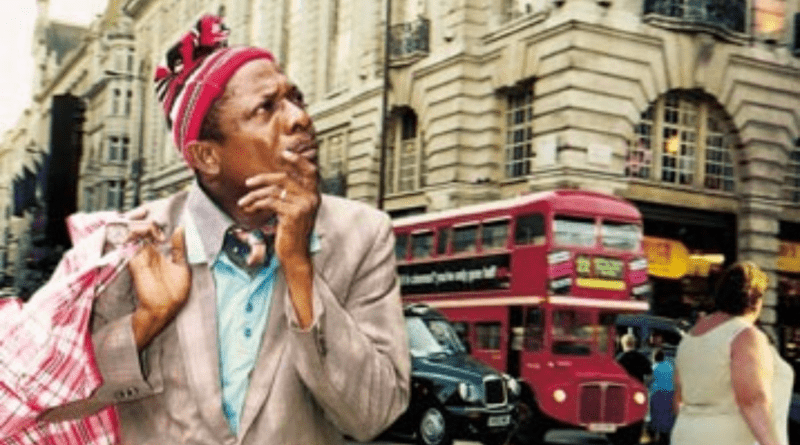 AV Club: The Irrefutable Legacy of Osuofia In London
Osuofia's legacy lives on
If you grew up with any sort of tangentiality to lack at the turn of the 2000s like me, I can only imagine that your knowledge of pop culture is sketchy, to say the least. When I say sketchy, what I really mean is that there were gaping holes that left you unable to relate to many of the shows that your classmates talked about with gushing excitement during the short breaks between classes. With excessive power cuts, no access to cable TV, and the Internet still a long way off from penetrating Nigeria, it could often feel like you existed on a different plane to your peers.
But that is not to say that there were not pop culture moments that bonded us as Nigerians navigating the world. There are several Nollywood veterans that filled up the long hours before Saturday home tutoring and kept us awake long into school nights. Nkem Owoh was one of such veterans.
The man was a bridge that made things less awkward; with his mischievous glint and hypnotic comedic refrains that transfixed his audiences. The Enugu-born actor seemingly only had joy to give on-screen, often in the company of the late great Sam Loco Efe.
View this post on Instagram
By saying Nkem Owoh was the bridge, I do not claim to have watched all his movies over his decades-long career, just that we intently tried our best at mimicking him because, at his peak, he was a mesmerising force to behold on screen. The film that many immediately recall from the copper-skinned actor is the redoubtable 'Osuofia In London', the slapstick Kingsley Ogoro-directed comedy flick released in 2003 to critical acclaim. In the years since then, Owoh has moved on to more serious roles, winning an African Movie Academy Award in the leading actor category for his performance in 2008's 'Stronger Than Pain'.
Curiously, however, what remains ingrained in the psyche of the nation is that landmark role as a deer hunter in 'Osuofia In London' that has defined Owoh's career. So much so, that many half-expected him to provide some comic relief in any role he took on, however high the emotional stakes. Part of this pining may be traced to the nostalgia for what the film – and the times it existed in – represented, and with limited avenues to watch the movie legally, it has mostly lived on in short clips shared on social media platforms and YouTube. So, when streaming giant, Netflix, announced in June that they would be bringing the movie on their platform, many were excited to re-discover the movie and all it represented.
Whatever might be said about Nigerians, no one can accuse us of not knowing how to have a good laugh and 'Osuofia In London' undoubtedly delivers on that, presenting a humorous picture of a clueless hunter who more often than not fails to succeed at his endeavours. However, he keeps at it, interjecting his tales of woes with banter aimed at his wife and daughters in the film set in a village in Eastern Nigeria. Besides worrying about providing for his family and taking care of his children's school fees, Osuofia's worries were also out-facing with one scene near the beginning of the movie revealing that he owed over 4,000 Naira – quite sizable in 2003 – in community dues. Osuofia chases the men sent to retrieve the money out of his compound with a Dane gun, a limp move that seems bizarrely out of character, but is quixotically amusing.
Osuofia's luck changes when a messenger from Lagos arrives to inform him that his brother, Donatus, who had been in London for over a decade had passed away and he needed to go to Europe to claim an inheritance. In a remarkable case of foresight, the messenger had already organised a functional passport for Osuofia despite having never met him or known what he looked like. It's one of the moments in the film where plot choices don't follow any specific direction, seeming like it's being made up as we go along.
View this post on Instagram
If comedy is the immediate intention of 'Osuofia In London', its largely unheralded achievement is how much it transforms into an examination of how people handle change. After initial skepticism at the prospect of an inheritance left by Donatus in London, Osuofia's mood immediately lifts when he's convinced the wealth does in fact exist. He also goes to great lengths to warn the teacher not to disclose any of the details to anyone else. In London, he's confronted by a modern society underpinned by irreverence and at odds with his conception of morality of patented living. Osuofia's patriarchal and rural instincts are challenged – almost insulted, going on his reaction – by London kids who chain-smoke and dress in a peculiar fashion. The unchecked modus of hunting that Osuofia is used to is also significantly alien to the London society, leading to his arrest when he tries to hunt pigeons at Trafalgar Square.
As Osuofia meanders through London, a sinister plot to defraud him of his inheritance is thickening and his brother's fiance, Samantha, played by Mara Derwent is in on it alongside the Nigerian-British lawyer, Ben Okafor. Unintentionally, the film lifts a lid on the self-repulsion that many immigrants felt at their Nigerian heritage in that time capsule through Okafor's anxieties at being perceived as less British because of his subtle Nigerian accent. It is often said that art mirrors reality, and while 'Osuofia In London' is still a highly fantasised take on the village-to-city troupe, it still reflects the dynamics of racial relations fairly accurately: Osuofia slightly blames racial intolerance for his arrest at Trafalgar Square and when Okafor is arrested in the follow-up to the movie, he infers that the police are unnecessarily harsh to him because of his origin.
If anyone has complaints about the excessive comedic theatrics that litter many Nigerian blockbuster productions from the last decade, they can point to this film as a sort of historical precedent for that type of grandstanding. The scenes of Osuofia rejecting a water closet system and taking off with a loaf of bread without paying, seem like a page out of the over flogged Broda Shaggi as a gatemen playbook. By fate or chance, Osuofia refuses to sign a document giving away his wealth, instead of hoping for physical cash – it is unclear how he hopes to get the money back to Africa – but when Samantha prevails on him, he relents and gives in to her charms; soon after, the union between Samantha and Ben falls apart, forcing her to flee with Osuofia to Nigeria where she hopes to pry cash away from him.
View this post on Instagram
'Osuofia In London 2', the less-heralded part of the iconic film, opens with its titular character overjoyed at the prospect of taking a white wife back to his village. That joy soon turns to strife as his wife and teenage daughters plot to send Samantha out of their home. On the other hand, the white woman is also plotting to spirit away Osuofia's money – a move he counteracts by keeping his chequebook on him at all times. Overall, the plot holes grow larger in this follow-up and it degrades on a bigger scale when Samantha concocts a plan to poison Osuofia only for her plan to be foiled by his daughter who is conveniently placed to catch her in the act. The sense of jeopardy that enlivened the first part of the film is visibly absent by now, instead what is left is a film desperately trying to resolve its mess without removing its humorous elements. At this stage, not many of the actors are equipped to accurately represent the gravity of the situation, especially not Nkem Owoh, who had spent the better part of the film bordering on parody. In the end: Osuofia doesn't die and, upon a heartfelt confession by Samantha, he returns the £500,000 she lent Donatus to start up his business.
Some say that imitation is the ultimate compliment, and by that measure, 'Osuofia In London' was a peerless piece of cinema when it dropped, setting a new standard for filmmaking in Nigeria as proved by spinoffs like John Okafor's 'Mr. Ibu In London' and many more similarly-themed titles. Watching with today's eyes, it is difficult to avoid rolling your eyes at the casual hints of patriarchal tendencies, even if Owoh's character never seemed like the type to act out some of his proclamations. Similarly, there are technical aspects of the film we have outgrown, but overall it is an instructive look at a movie in the foundational stage of the behemoth that Nollywood has become, especially one that shaped the comedy circus that the modern Nigerian cinema-going experience was caught in for many years.
Stream 'Osuofia in London' on Netflix here.
Featured image credits/Netflix
---