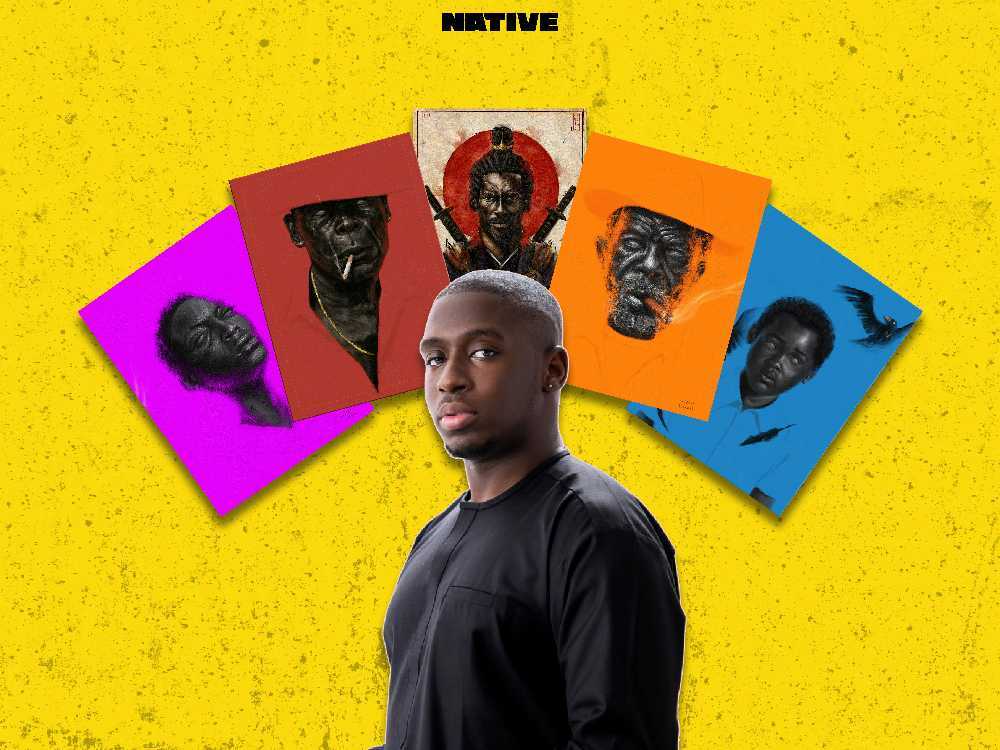 NATIVE Exclusive: The art, life & times of Anthony Azekwoh
The awe-inspiring journey of Azekwoh
Anthony Azekwoh is a Nigerian-based artist and writer who took the internet by storm in 2020, when his artwork "The Red Man" was sold as an NFT online. Within his catalogue, he has also designed album and single covers for several artists, including Adekunle Gold, Blaqbonez, Show Dem Camp, and Masego. These days, Anthony holds the attention of a global audience, both for his writing and art, and has received a number of accolades for them, including the Awele Trust Prize in 2017 and the Loose Convo grant in 2018.
Following the successful execution of his Lagos exhibition last year titled 'Homecoming', the 22-year-old creative just staged 'Becoming', a month-long exhibition running from April the 1st through the 30th at the Discovery Museum located inside Abuja's Art-Tech District in Wuse 2.
Nearly a week after the exhibition's launch, I arrive at the venue at 11:59am to meet the artist himself for a 12-noon appointment. Less than 2 minutes later, he arrives at the venue and greets me warmly. He leads me through museum's narrow entrance adorned with lit images of Nigeria's leaders, icons, and personalities. The exhibition is one of a kind. Perhaps the first in Nigeria, complete with a cinema room, a 360 room, and digital frames displaying live paintings. The first question I ask him is what he thinks of the space.
"Oh, it is great. There is nothing like it throughout the country", he says, matter-of-factly. "In Lagos last year, we had to build our own temporary space from scratch, you know, just to exhibit. So, yeah. I really appreciate the existence of a place like this."
View this post on Instagram
The 22-year-old's foray into art and his ascension to the status of one of Nigeria's most successful digital artists is familiar in some ways, and yet very unique in many other ways. Having been kicked out of Covenant University, one of Nigeria's foremost private universities, for writing a scathing article about the school, he was subsequently kicked out of the house by his parents who didn't approve of his focus on art over completing a Chemical Engineering degree.
"They weren't so much upset about my engagement with art and artistic things, as they were about it not being what they had imagined for me," he tells me as we settled down on a table in Lagos Bistro, a restaurant situated within the same premises as the exhibition. "And also, how much time I was spending on it as opposed to my Chemical Engineering work."
It didn't matter that he was already being recognised for his work all over the world, his parents were still unconvinced that he was making the best life decision. "To their credit though, things happened for me really quickly and it was a whole shift for all of us," he offers an empathetic explanation. "I was blinking and things were happening for me, so imagine it as a parent of this child. One day your child is studying Chemical engineering and the next day he is telling you about this writing thing and the day after he is doing these crazy, crazy stuff. It can be a lot to take in and I understand how that must have felt for them."
Reflecting on his influences as a writer, Anthony points to a time in his childhood when reading books like 'Cat in the Hat' bored him. His mother, on noticing that, gave him a newspaper to read instead and that made all the difference. Years later, he would be enamoured by the writings of Nnedi Okoroafor, Nneka Lesley Arimah, Neil Gaiman, and Kola Tubosun, who was his teacher in secondary school and the person who inspired him to take his artistic instincts more seriously.
*
In the exhibition halls, the paintings glow off the framed digital screens hanging on the walls. Nearly all the paintings, though their subjects appear human, exude a familiar superhuman, extra-terrestrial aura across board. For instance, the painting "The Traveller", depicts an old man in a beautifully adorned red turban on a yellow backdrop. This portrait could pass for a representation of a real-life subject were his left eye not pulsating with unusual light.
The portrait of Mansah Musa, the richest black man in history seems perfectly normal until you look deeper into the background. From "Mama Gold", to "The Red Man" to "The Orange Father", one thing is constant: the ethereal, almost stone cold eyes of the subjects, and their pulsating cigarette lights. And on the digital screen, they have even more room to play on. The flames flicker of the cigarettes while their chins twitch under the glow of the diamond above the heads of the subjects.
*
Seeing all one can do with digital art, from NFTs to the way they are exhibited in current times, I wanted to know what his thoughts were regarding the current climate for Nigerian artists. Were digital artists receiving some of the attention that other creative sectors are getting, whether it is tech, writing, Nollywood or the music industries. He takes a big swig of his lemon flavoured water, pauses a second, then says:
"Revolution is going on in every single craft or area you can imagine right now. In the Nigerian scene specifically, digital art is one of those things where equipment is expensive, the people who know the skills themselves are few and far in between and at the same time, there are people beating those odds. Like me, for instance, when I started, I was using mouse to draw and watching free YouTube tutorial videos. It is the same for other people I know who have embraced the reality of the moment and saying 'this is how we have to learn it now'." 
Anthony chooses his words carefully. Although he is cautious not to sound too arrogant, his demeanour is of a young man who is self-satisfied with his achievements, and yet is humbled by what he is yet to achieve. "We weren't trying to start a revolution, per se. It just happened to be what was beneficial to me at that particular space and time. What then happens is that it automatically subverts the prevailing system of how art should be or should look like. Art wasn't normally exhibited like that, with screens, cinema room, 360 room, and the rest, but at the same time it is natural for me because that's what is available to this medium of digital art. You can do many crazy things like make the cigarette light glow with smoke; you can see heads move. Yes, so I think a revolution is already here because the capabilities have exponentially improved."
"Revolution is going on in every single craft or area you can imagine right now."
View this post on Instagram
What about NFTs, the much raved about Non-Fungible Tokens? What are the implications of minting your work on the Blockchain and selling it after an auction? What is the value if anyone can still have a copy on their smartphone? Anthony had himself made $40,000 off his "The Deathless Star" NFT collection last year, with the (in)famous "The Red man" NFT going for over $25,000. What better person to ask if not the artist sitting in front of me? 
When he first discovered NFT in 2020, he was hit with the same confusion, incredulity if you will, as many of us. "I didn't quite get it", he says. Then he adds, "It took me for a spin as I tried to figure it out. But then, the more I read about it, understood it, and used it, it was more like, oh this is just same old, same old."
I am not satisfied, so I ask, what about ownership and provenance? How does that work here? He smiles, sips his glass of water again, then goes:
"So, let's say for instance, let's say a hundred years ago you made your oil painting called White Handkerchief. That painting was special for the main reason that when you go through this galaxy above and beyond, there's still only that one painting of White Handkerchief by you. That makes it special. This explains why the value of artists' works skyrocket when they die because that supply is now limited and it's now fixed. Imagine 100 years later and it's now digital art, art that can be infinitely reproduced across the internet. When I mint my work on the blockchain, everybody can see it. when I sell it; it's been transferred. It's the same with say TheMonalisa, you can take pictures of it all well and good, I can even make my own forgery but the original copy and ownership still belongs to that one person who has it."
My new painting.
The Red Man. pic.twitter.com/aSsMDvGBhw

— Anthony Azekwoh (@AnthonyAzekwoh) June 24, 2020
To what extent are Nigerian artists benefiting from NFT's? "As for me in particular, my audience is global," he tells me. "I have been building it long before I dabbled into NFTs. In that sense I can't be a parameter for measuring that. However, anyone who is putting in the work and have taking their time, it shows."
He alludes to Osinachi, arguably the most prominent NFT artist in Africa and curator of the first ever NFT-focused exhibition at the Lagos-based Art X last November. Art X is West Africa's most prominent international art fair. "He started minting on the blockchain around 2018 or 2019 when his works were selling for $80 or $90. Now he sells them for hundreds of thousands of dollars", he says of Osinachi's success, even as he immediately acknowledges that it isn't the case for everyone.
"It is a process, and nothing happens within a day. I recognise that while it [NFT's] is working for a lot of people, it is still confusing for others.
This is because there's a lot to navigate, with your audience, with your craft itself.  That process of rediscovery again and again and it just takes a while."
View this post on Instagram
*
The 360 room envelops you with screens and sounds. "This is something I have been working on for a while. Feels good to finally let it out," he says with grins.
The screens display the cascading and swift movement of the artist's various works surrounded by shapes and lines. The accompanying sound is sonorous and each screen displays the same thing but from a different angle. I almost twist my neck from stealthily trying to 'catch' the moving images as they morph. I am convinced that it would be a playful toddler's paradise.   
*
Unsurprisingly, Anthony's influences as an artist are diverse. They range from his contemporaries and mentors like Duro Arts, to modern American artists like Norman Rockwell. Notwithstanding, his works both as a writer are steeped in a firm conviction that as a Nigerian artist, he cannot afford to make his works about things not connected to issues of the time.
He draws inspiration from history and the present times and brings them to an elevated stratum of existence. Often perceived as mystical and supernatural, the characters in his writing share certain resemblance with the subject of his paintings – a sentiment he reluctantly accepts. Author of several books and short stories, including 'Stars', and a series on Brittle Paper titled 'The Fall of the Gods', he has a forthcoming book titled 'Sango Oya.'
He not only speaks about the need for nuance and balance in the stories coming out of Nigeria, he tries to do it in his works. He set up the Anthony Azekwoh Fund, where a percentage of every income from his art goes to, and is donated annually to upcoming Nigerian artists who need it. 
He tells me that the 'Becoming' Exhibition is the closing of a chapter for him and the same time the opening to a new one where he gets to find himself again. "I feel like the journey so far has been about me doing things that feel natural and then figuring out the best possible way to keep doing it."
"Few years ago, I was known mainly as a writer and now few years later I am known mainly as an artist and I am still evolving and trying to stay more connected to myself. Right now, the only thing I'm working on is learning how to do 3D sculpting", he adds.
More than anything, one of the most striking things about Anthony is his humility and clear sense of duty to himself and society. "My paintings have been seen by millions of people and sometimes I wake up to messages or posts online of someone saying, "look, I tattooed your work on my body". We live in miracle times, because as a Nigerian artist, to achieve this level of exposure in say, the '50s, at my age, would have been unthinkable."
---
Sanusi Anselm writes short stories, poetry, essays, research papers, and policy briefs. He is a Contributing Writer at The Question Marker and the Non-fiction Editor at Fortunate Traveller. He is the anchor of our monthly Book Club and co-curated the book, Government Pikin: An Anthology of NYSC Travels. He lives in Abuja.
---