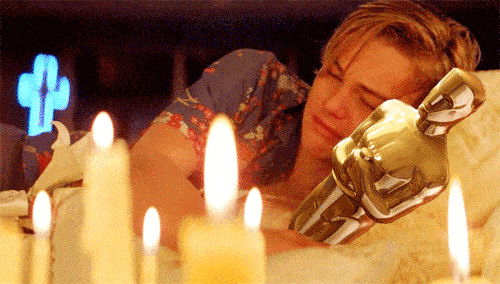 Aiding and abetting a shitty Nollywood and Other OSCAR related dilemmas
Tears for another Oscar ceremony without Africa's big brother
In the years where Nigerian music is progressing with international magazine features and Grammy nomination, one would expect Nollywood to follow suit with a place at the Oscars. Yet, another year  has passed and no Nollywood movie or director got so much as a shout-out at film's biggest night.
The Academy Awards are the highest recognition for film and despite being the third largest movie industry in the world, all 89 editions of the award ceremony have gone without a Nigerian presence. Those in the movie industry would argue that people who say Nollywood movies are bad, don't actually watch Nigerian movies. In fairness to them, recent works from Kunle Afolayan  ("October 1st", "Irapada", "Phone Swap"), Mildred Okwo ("The Meeting") and Kemi Adetiba ("The Wedding Party") indicate a progression of a storytelling culture. But between piracy and low investor confidence in big budget productions, Nollywood has only a handful of movies like this to show. Other than that, Nollywood is still steady churning out your average badly shot and ridiculously scripted films only fit for memes and Instagram skits.
The current Nollywood is riddled with a creative complacency. This is in part because consumers are satisfied with what they've always gotten from the industry. The lack of alternative entertainment for many Nigerian house holds means directors can get away with badly produced movies because people would still watch them anyway. There is no denying that Robert Peter's "30 Days in Atlanta" had great cameras, lights and fancy locations but none of it could make up for the watery plot or a story that seems intent on reinforcing stereotype characters and over familiar themes.
Usually, a safe argument for many is the 'for a Nigerian film' context. A low scale that demands that quality of our films are measured by the average standards we expect of 'Nigerian films' ( although we have better shot music videos).
Our apathetic attitude towards the movie industry has deprived us of a good critique culture. We grew up watching these poorly produced movies and get defensive when they are compared to movies from outside Nigeria. Yet, African directors like Darrell Roodt (Yesterday 2004), Gavin Hood (Tsotsi 2005), Jehane Noujaim (The Square 2013) and more have been to the Oscars as nominees and winners. If their achievements prove anything, its that even Nigerian film makers can aspire to more, if stories tackle more universal themes without compromise.
We need to stop letting the noise of hype drown critical value when high profile budget movies with plot holes come out of Nollywood. Its time to start demanding more from Nigerian producers who are stuck in the "If its not broken don't fix it" limbo. Nobody should get cool points just for trying.