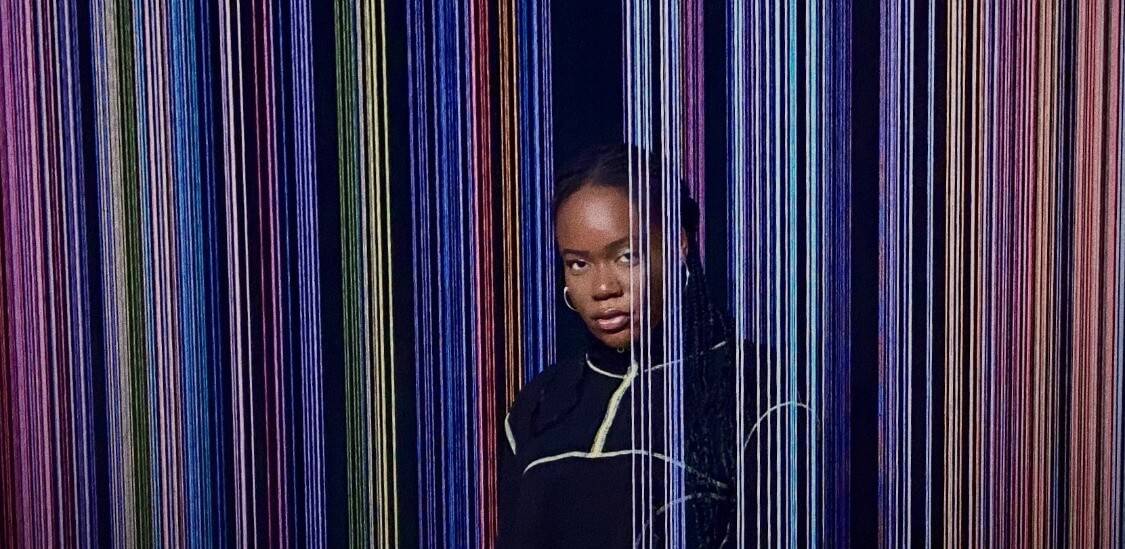 For the Girls: Inside Nneoma Kanu's creative world
Nneoma Kanu wants to let you into her world
Multifaceted creative, Nneoma Kanu doesn't like to refer to herself as a videographer even though her penchant for visual storytelling makes the label hard to run away from with each creative project she embarks on. That said, this year alone, she's been tapped by creatives like rapper and Fresh Meat Alum, SGaWD who saw potential in the budding videographer and trusted her with the lyric and music video for her latest single "Feel Alright". For a young woman who taught herself to code and shoot during her formative years, it feels like a full-circle moment for the DC-based creative who is now rolling out her very own website.
Unveiled last month, her exciting new website (found at the shiny dot.com nneoma.work) is an immersive and interactive space for the multidisciplinary creative to properly document and account for all the incredible work she's taking on, boasting of everything from her inimitable videography skills to her knack for design, creative writing, playlist making and photography. The decision to create her website now was borne out of her desire to work with more creatives and expand her growing resume as she taps directly into the creative scene in Nigeria.
"I have this hunger to tell a story and to document and really just give my own perspective because my experience is multicultural and that has afforded me this unique perspective on a lot of different things."
View this post on Instagram
Nneoma's passion for storytelling was borne from her non-traditional upbringing.  Her parents, who were first-generation Igbo citizens were deeply fascinated by the arts and amassed a vast collection of artistic relics and valuables, teaching a young Nneoma the importance of history and documentation of culture and tradition from a very young age. It was her desire to reconnect with her Igbo ancestry and spirituality in the last year that informed a lot of the work she now undertakes as she reveals that everything she does is in a bid to exalt her ancestry and tap into these lost memories that help guide her work.
She believes that it's her job to document the monumental times in history she is privy to witness. She says, "I wouldn't even call myself a videographer, but I am just someone who is very passionate about telling stories exactly as they occurred," and this is what she has spent the majority of the year doing. Earlier this summer, we audaciously fought against police brutality following the death of George Floyd and Breonna Taylor, and as a creative living in D.C,  the epicentre of America's socio-political affairs, Nneoma felt compelled to document the protests that took place right on her doorstep.
"I felt obligated to pull out my camera and take note of what was going on for the present and for the future," she tells me. History is very important to the visual archivist who sees it as a personal mission to document everything for fear of our history been whitewashed, wiped out, and erased. It's this same passion that she brings to the current #EndSARS protests taking place in Nigeria. Though she's not home to record videos herself, she's been collating an archive of videos and pictures from protesters on the ground in the country, in preparation for a video collage that celebrates the drive and determination of young Nigerians. For her, this is quite unlike anything many young Nigerians have ever experienced, and as a creative, she's vowed to take an active step in joining this current movement in her own way.
The influence of her stylistic inspiration is palpable in her work especially that of Emmy-nominated Kahlil Joseph whose avant-garde cinematography has earned him a league of his own in the art and pop culture scene. She'll modestly deny this if you draw these parallels, which she chucks up to the battle with anxiety to share her work publicly. "I don't think I am ever going to get over that fear of putting myself out there, it's almost like you're naked in front of people," she tells me. Her creative work, therefore, can be best described as an emboldened attempt to work past the self-doubt and become a consistent player in the budding creative scene sprouting up in the cities she now calls home – London, Lagos, and DC.
Though she's nowhere near where she wants to be, Nneoma is still growing her CV religiously and she's most proud of her work with the young rapper SGaWD who she connected with earlier in the year. "I love Seddy's work and when she came up with the idea to include her supporters and make a fan-inclusive video, I really admired her vision and hopped on board," she tells me. Due to the tumultuous year, we have all had that demands we remain socially distanced from each other, Nneoma knew that the importance of SGaWD's vision would shine through and she saw an area to diligently hone her skills.
The video titled 'When Does It Feel Right?' is an honest exploration of love in all its many phases; examining the tell-tale signs that young people feel when they are in love. Right at the onset of the visual feast, we are introduced to cinematic films that touch on romantic love from black love represented in Mati Diop's Atlantics to queer love in Barry Jenkin's Moonlight. This stylistic choice was necessary for Nneoma to drive the song's heartwarming message home being a die-hard romantic herself.
when does it feel right? from Nneoma Kanu on Vimeo.
Nneoma reminds me that the entire point of her new website is to be a one-stop hub where she could present all her work in a way that puts her in total control of her vision. One quick look at the website reveals that this is not a regular run of the mill content that she's churning out but ostensibly an immersive and creative world of her own making. She channeled her love for video games from her younger days and her nostalgia for websites like Tumblr into the site's creation and now she's ready to share it with the world.
At the moment, Nneoma is just trying to make it through this year unscathed as living between America and Nigeria has been bleak this year. Caught between both worlds, Nneoma is channeling all her energy into her work and her undergraduate degree in environmental sustainability. She tells me, "everything I am doing is just an exaltation of myself, my body, my family, my past, my ancestors, my future, my children" and that's the reason she deftly works in her lived experiences into her art. So even when she seems to be playing by the rules, she finds her own way to break and remold them.
"I want to be able to reach more like-minded people and more people that are willing to collaborate.
One thing I am looking forward to with putting this out there is that just building connections with people and being able to add my perspective to someone's vision or them being able to add to my vision".
Featured image credits/NneomaKanu
---
.@tamimak_ Is a Staff Writer at The NATIVE
---