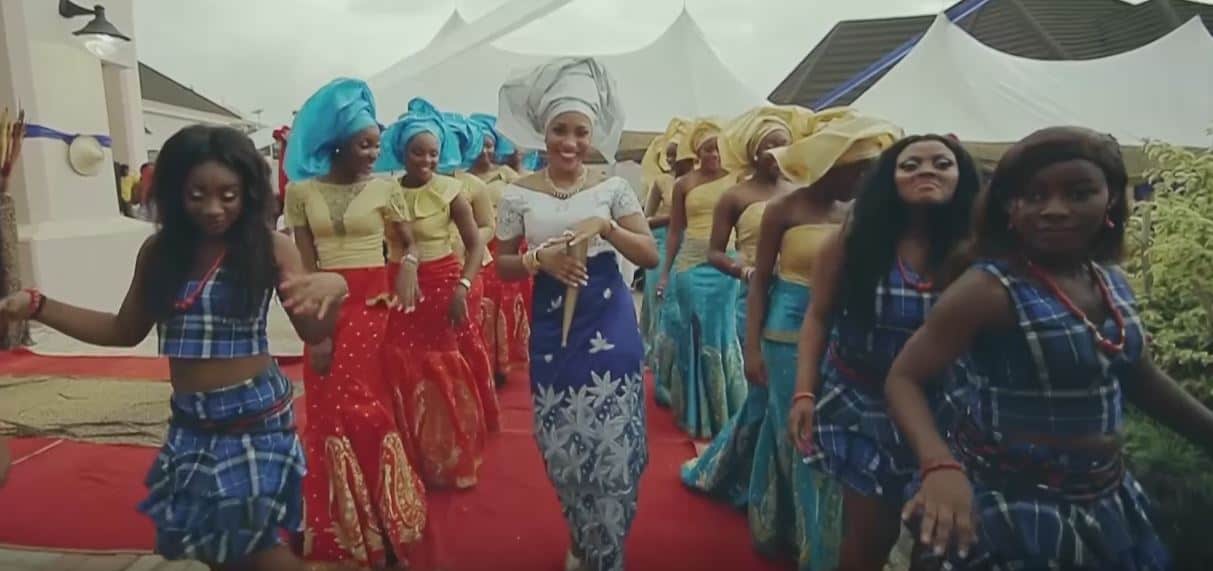 16 unique songs that have defined modern Nigerian weddings
A definitive ranking of modern Owambe classics.
This story afeatures contributions from Ehimenim Agweh, Fisayo Okare and Debola Abimbolu
Last year, a Google map of collected geo-tagged searches over a 12 month period revealed "wedding" as the most searched keyword in Nigeria. We won't bother to reaffirm the importance of marriage and the symbolism of weddings in Nigerian society, but one thing will be clear today and forever more: no matter the scale, Nigerian weddings always go hard. Over the years wedding formats have changed to incorporate modern trends in nuptial culture, but from the ceremonial procession to the first dance, the significance of music at the celebration of love will never be understated. On this list, we bring to you a definitive ranking of a mix of classics and modern Afropop hits that have shaped Nigerian weddings of the new millennium. Here's a curated list of Nigerian songs that have definitely featured in at least one wedding ceremony you have been at.
16. Mo Money, Mo Problems – Notorious B.I.G
It makes sense that Notorious B.I.G's "Mo Money, Mo Problems" ended up on wedding playlists across the country. Released in July 1997, it is old enough for our parents to have heard it on the dancefloor, but also new enough to resonate with 90s babies. Whilst on odd mainstay at an event commemorating the union between two people before God, it is probably the most honest track you'll hear about adulthood. So in that sense, it makes sense.
15. Pop Champagne – Dr Sid
In reality there aren't many reasons to have a Dr Sid song at your wedding. But then again, there won't be another song that perfectly captures the penchant of the average Nigerian party-goer for champagne popping regardless of the celebration. So here is a song for those of us that came for the free booze. Cheers brethren.
14. "My Darling" – Tiwa Savage
A song which reaffirms the affection of two lovers from chase, meeting, marriage, parenthood to challenges, "My Darling" tells a love narrative of a couple through the eyes of the female partner, who is now an older, wiser woman giving her own daughter away in marriage. She reminisces on her past as her daughter prepares for her own wedding ceremony.
13. "Angel of My Life" – Paul Play
https://www.youtube.com/watch?v=4DSorRSscU0
Paul Play's massive 2006 hit, is prolific in conveying deeply felt sentiments. The kind of words you would expect to hear from a guy who propositioning himself. for an attempt to make a paramour fall for him. Better still, the kind of words a groom would want to say to his gorgeous bride on their wedding day, while they receive stares and applause from an audience of family, friends and well wishers.
12. Today Today – eLDee
Looking for a classic wedding song with all the tropes and types? Look no further than eLDee's Today Today. The song is chock-full of every single wedding cliché you can think of. Even though it mostly resonates with traditional ideas of marriage, it was the song to put singles on the edge with the prospects of how good a loving married life can be.
11. On Top Your Matter – Wizkid
For curating wedding playlists, the essential thing to keep in mind is the public acceptance the song gets. Of course it would go without saying that for a wedding, the song should cover themes of eternal love, prayer and respect for parents and Wizkid's "On Top Your Matter" checks all the appropriate boxes.
10. Yori Yori – Bracket
Sometimes the songs that make it to turn table at weddings parties are just commercially acclaimed songs that discuss the subject of love however loosely. "Yori Yori" is not one of those songs. The up-tempo song features the trademark vocals of the Bracket and it quickly grew to become the official wedding song in Nigeria at the time. It's longevity is today, is tested in live band covers and procession music between order of programs.
9. Baby Girl – Nel Oliver
https://www.youtube.com/watch?v=zqzBFXa2js0
Baby Girl did not only become the unspoken official song for Father-Daughter dances, the very narrative of the song was scripted along the line of a father realising his daughter would be happy with another man. Nel is a Beninese singer but he harmonises Yoruba, English, French and Gun to reflect the very concept of putting aside differences as a father to accept the choice of his daughter's spouse. Given the touchy sentiments regarding inter-tribal marriages, this classic song still reiterates the need for unity regardless of wherever he/she might come from. Afterall, love trumps hate.
8. Laye – Kiss Daniel
They say weddings are the best places to meet single people. Perhaps there's some truth in that because it's easily to imagine the numerous friends and acquaintances dressed to the nines and looking to mingle. Kiss Daniel's Laaye plays very nicely into this, starting off as an honest declaration revealing he didn't come alone. He also states his interest would be the one he'd be going back home with. Perhaps, this song also be interpreted along the lines of someone meeting the ideal one after filling up his time with other people, it won't be a reach to say it also fits the meet-ups that happen at the reception hall. Plus, the drum-heavy production on this Afrobeat single makes for a really good procession song for the newly weds.
7. Obi Mo – Obiwon
Obi Mu O in Igbo, literally means "My Heart" which should give a sharp insight about the nature of this song. Scripted as a vow to his lover, he promises to love her as long as he lives. He sings of her virtues, calling her a good woman, the only one he wants to settle down with. Coming from a young man who has "seen it all" like his character depicted, this proclamation is pretty heavy. Needless to say, this song is a wedding favourite as it captures the essence of marriage as a lifelong commitment from one person to another.
6. Fall in Love – D'banj
There is a silent word on the street that you'll only hate a corny song until D'banj makes one. Perhaps this is why "Fall In Love", a single that is soaked deeply in all of its own cliche(s) has remained relevant as a testament to true love. But besides being a go-to song for newly wed's cake feeding segments at the wedding reception it also makes for great covers by Yoruba live bands in the Western part of the country.
5. Eji Owuro- Shola Allyson Obaniyi
It's unclear if Shola Allyson's "Eji Owuro", a song about love 'like a morning dew' speaks of a pure love without blemish or love from the almighty being in the sky, but the inherent poesy lies somewhere in between. Initially released as part of a soundtrack to a Nollywood movie of the same name, Shola Allyson's "Eji Owuro has survived through the years as the perfect cross of gospel and romance themes. Allyson's somber melody and choice of words has made the classic a favourite of live bands and DJ for weddings in and out of religious settings.
4. Iyawo mi – Timi Dakolo
"Iyawo Mi" plays like a love letter and with Cobhams production, the chances of being critically and commercially acclaimed was already a given at its conception. In weddings today, Dakolo's traditional themes on the mid-tempo light jazz song has made it a reference for couples requesting for the number during their slow dancing sessions.
3. "Aye" – Davido
"Aye" takes a significantly different turn from Davido's usual aggrandized personal image. The singer released "Aye" off an announced (but still unreleased) sophomore album to celebrate Valentine's day in 2014. In the following months "Aye" became source for memes, Gifs and even pre-wedding photo shoots themed around real love not based on material wealth.
2. Oruka – Sunny Nneji
https://www.youtube.com/watch?v=GxGkcYbvZU8
"You've found the harmony to the song you sing." Sunny Nneji croons on "Oruka", the undisputed greatest revelation to modern wedding playlists. Coupled with some Toni Braxton-esque songwriting and a Latin-inspired guitar, Sunny Nneji's Oruka fulfills all wedding day righteousness. From a chorus announcing the newly weds will never be separated ever again to an outro imploring both bride and groom to bade their parents good bye, "Oruka" listens like a number plucked from a Disney fairytale. But what has given Sunny Nneji's 2003 single unrivaled relevance till date, is that unlike any other song on this list, the veteran uses a the third party but detailed narrative without immersing himself into the lives of the newly weds. Add a little psuedo-poetic songwriting to that mix and what you get is a timeless classic that may never outlive its place or relevance.
1. Olo mi – Tosin Martins
Tosin Martins for the most part is know for his "Olo Mi" single because his subsequent releases have struggled to reach the heights the love themed song attained. The classic carries the message of being in love with such a distinctly melodious tune that you'll be hard pressed to find a wedding where the song isn't played. Yoruba or otherwise.