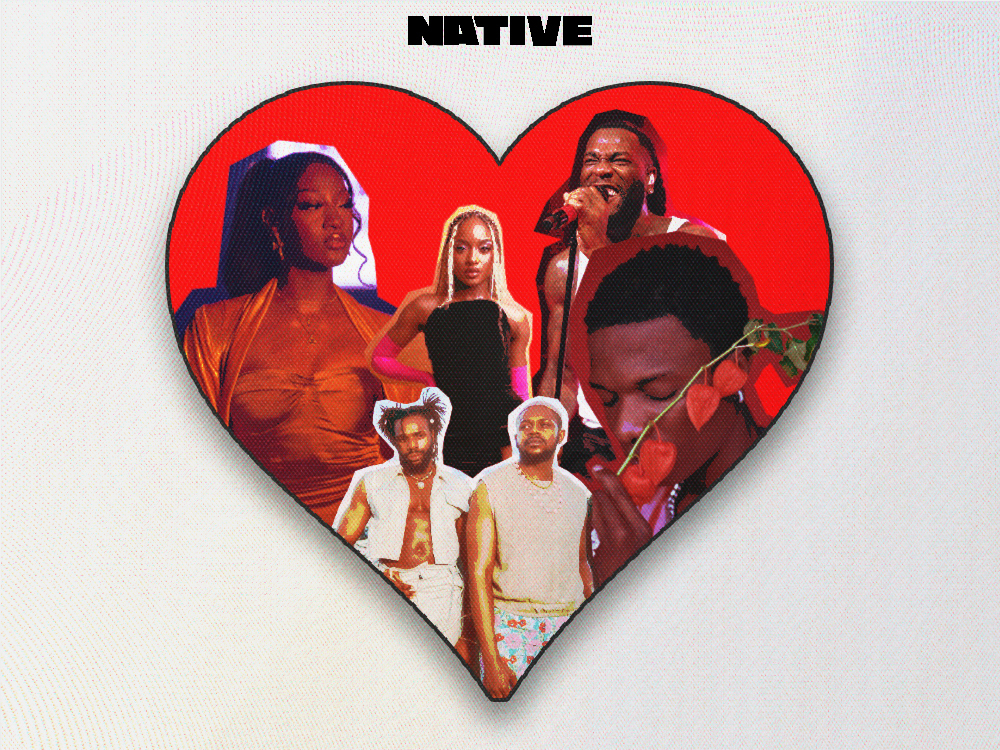 14 Afropop Songs That Describe The Vast Terrain of Love & Relationships
Featuring Obongjayar, Sauti Sol & more
With February now entering its second week, the day of love is here once again. For many people around the world, Valentine's Day is a memorable day in the calendar year to show and express your love for your nearest and dearest ones. While we don't exactly need one day of the year to show our loved ones just how much we care for them, it's become a yearly tradition where Cupid puts in overtime to present jaw-dropping gifts and vibrant bouquet arrangements.
Love is certainly in the air for some this year, but for others, the cards aren't quite on the table yet. While most people are going on dates and serenaded with saxophone solos, others (you) have a full day ahead of coping with your crippling emptiness. Don't worry, though; we've got you covered with plenty of songs to soundtrack the capitalist holiday. Here at the NATIVE, we believe that the gift of music curation is powerful, a love language to be wielded with care.
As such, we've compiled a list of 14 Afropop songs which the NATIVE editorial team believe soundtrack the different forms of love that we celebrate and champion on the day of love. Featuring Grammy-award winning Tems, Kenya's Sauti Sol, Johnny Drille and more. Enjoy.
2FACE IDIBIA – "AFRICAN QUEEN"
Nearly twenty years after 2Baba—fka 2Face Idibia—released "African Queen," it remains the apex love song in modern Nigerian pop music. Everything about the song quickly became iconic: the glistening ripples of the guitar strings that sets the tone on OJB's instrumental arrangement, the singer's gossamer tenor cooing "I love you" over and over again, Annie Idibia's eye-holding appearance in the music video, and several other unvarnished details. It's such an institutional love song that a long-running allegation of song theft against 2Face, by a former close collaborator nonetheless, has done absolutely nothing to tarnish its greatness. The blue-eyed magic of "African Queen" hasn't and will never again be replicated.
Dennis Ade Peter
 TEMS – "FREE MIND"
Tems is a valiant purveyor of self. On several levels of intimacy her debut tape 'On Broken Ears' peeled into a young woman's search for independence and peace. "Free Mind" is all that and more: over the bouncing drums, Tems' vocals soar like a flag over the territory of her heart, calling home the soldiers of her mental landscape. Anxiety isn't explicitly mentioned but rather painted, the first verse ending on the line "I try to get by but I'm burning" and the second, with "I need to find release". Yet Tems isn't vulnerable just for the mere sake; she works this inner turmoil into strength, so that listeners such as myself emerge with a feeling of reinvigoration rather than resignation. "Free Mind" stands peerless in the canon of new school Afropop—personal, poetic and practical, it's a dive into uncertainty while acknowledging one's own determination in coming through the other side. 
Emmanuel Esomnofu 
AYRA STARR – "LONELY"
When Ayra released her debut album '19 & Dangerous' in 2021, the record "Lonely" immediately stood out to me. On "Lonely," Ayra writes an open letter directly to a love interest who hurt her. She opens the song with the standout lyrics "Every night I dey cry o, just to blame myself for loving you like I did," expressing hurt and heartbreak in its deepest and its most authentic form. Ayra does not shy away from telling the most relatable story on "Lonely." 
Wonu Osikoya
THE CAVEMEN. – "FALL"
A month after The Cavemen. released their debut album, 'Roots', I was ready to declare it a classic with a straight face. Over two years later, that description remains fitting. In their Highlife-fusion retrofit, the sibling duo of Kingsley and Benjamin often sing about romantic relations, and an example of their prowess at showing love's intoxicating feeling is in full display on "Fall," an endearing standout from their first LP. Led by Benjamin's helium-tinged voice and strengthened by Kingsley's backup melodies, the brothers sing of being smitten in a simple and utterly beautiful manner. "My lady, I don fall in love" goes the refrain; nothing complex, just plainly stated words carried by a heartfelt performance over vintage music.
Dennis
AYRA STARR – "BLOODY SAMARITAN"
There are songs that are revolutionary: not just from the composition but from the ideology communicated. Living in the 21st century can be a tard too hard especially when plunged into adulting without a guide book. Ayra Starr fully understands this and with "Bloody Samaritan" she created a tune to remind you to be the baddest version of yourself. Released in 2021 as the lead single to her album '19 & Dangerous'  the artist writes a love letter not to anyone but herself as she croons "I'm a ticking dynamite//I'll blow your candle light//You know i'm just that type," over the London infused track. While championing self adoration, "Bloody Samaritan" is an ode to all sabi girls and boys about bringing yourself to the fullest potential while ensuring your energy is zen warning the haters to back off. 
Tela Wangeci
AṢA – "GOOD TIMES" FT. THE CAVEMEN.
Last year, Nigerian singer/songwriter Aṣa returned to the music scene with her fifth album 'V,' layering her signature emotion-laden vocals with influences and assistance from some of Africa's most innovative contemporary music creators – Wizkid, The Cavemen., Amaarae and producer P.Priime. Amid 'V''s heartfelt explorations of love is "Good Times," which features neo-highlife duo The Cavemen.; through easy-going rhythms, Aṣa and The Cavemen. heap appreciation on the friendships that have jubilated with them in happy moments as well as comforted them in sad times. "Good Times" is an ode to both people who make space for us in their lives and people who we allow access into our most vulnerable spots.
 Uzoma Ihejirika
BURNA BOY – "NO FIT VEX"
Life takes us far and away from the people we love. Over time pop music has reflected that longing through affecting production. Burna Boy's approach is a bit different but recognisably Nigerian; "No Fit Vex" has an heartwarming quality, but it's also realistic in its reactionary stance, calling on one's friends to move on with life because time waits for no one. As more people complain about feeling disconnected from their oldest friends, Burna Boy being a superstar would understand how he'd come across to people who influenced his early life and yet have no place in the present one. He pulls a page from the 2Face Idibia book, looking ahead while handling the past with emotional intelligence. For someone who's had friends come up with the same remarks about forgetting them, nothing beats the honesty of the line: "Life e no easy my brother; you dey find your own, me I dey find my own". 
Emmanuel
THE ONLY ROSA – "NO CONSEQUENCES"
The Only Rosa has a knack for penning lovelorn stories. Recalling the first time I heard "No Consequences"  I was immediately jolted into a world where nothing but love exists. Drawing inspiration from the naive dating scene when in High School, she paints love as pure and patient. We can all remember our first love and the thrill of sneaking around hiding your relationship from your parents while stealing glances and  seductive touches. The Only Rosa's sultry and warm vocals against the powerful yet mellow and complex saxophone background formed a perfect backdrop as she sings about young starving love with no baggage adding up to a magnificent euphoric single. 
Tela
OBONGJAYAR – "I WISH IT WAS ME"
Our relationships with our siblings can be complicated. Even when the love we have for them is overwhelming, tension is always nearby. It's how we get to know them and how they get to know us, and it almost always culminates in admiration. Obongjayar's "I Wish It Was Me" is a perfect representation of how deep filial love can get. An ode to his brother, the Nigerian singer delivers every note with a preciousness, letting his admiration out like he's singing a sacred hymn. "I adore you," he powerfully sings several times. To catch all the feels, watch Obongjayar sing the song in front of his family—and maybe get your sibling(s) Valentine's presents right after.
Dennis
JOHNNY DRILLE – "HOW ARE YOU (MY FRIEND)"
When it debuted, Johnny Drille's "How Are You (My Friend)" was the song you loved but didn't know you needed. The Mavin Records act has always carried the torchlight for soul-stirring music centred on everyday human emotions and connections. On "How Are You (My Friend)," a precursor to his 2022 EP 'Home,' music mogul and record producer Don Jazzy affords Johnny Drille a delightful beat for his love letter to long-time friendship and camaraderie. With the song, Johnny Drille reminds us to not let the pressures of day-to-day living suffocate the fondness we share for our loved ones; it is an apt portrait of the times we live in and a call to never let go, even when time and location separate us.
Uzoma
SAUTI SOL – "STILL THE ONE"
Before Sauti Sol took over Africa with eccentric Afropop songs, they were crafting love songs confessing their undying love for their first love. Over nine years since its release the song is still impactful and relevant to many lovers who have experienced love in various stages of their lives. Telling the life story of how they adore their muse Sauti Sol give a detailed timeline of how love evolves from enemies to frenemies and eventually leading to a relationship. Touching on how you can adore someone from childhood till old age, this is a sure number to always play in a romantic setup reminding your significant other your love is still burning just as it was the first time you met. 
Tela 
WIZKID – "BLESSED"
'Made In Lagos' has today become a modern day classic album as the impact of the album was greatly felt across the world. On the album's standout record "Blessed," he taps Damian Marley for the mid tempo tune which shows both artists are seen at their most grateful. Wizkid expresses a different level of self love and self confidence on this record while still infusing a large amount of gratitude. Damian Marley feeds into the message of the record seamlessly with his verse. 
Wonu
SHOW DEM CAMP – "DUADE"
Masculinity, the big old M. While mental health features prominently in Afropop's thematic canvas, in-depth portraits of masculinity aren't as accessible. On "Duade," the revered SDC duo investigate the manifestations of trauma with particular emphasis on how the Nigerian society shuns vulnerability. A soothing record carried on Cina Soul's spirited vocals, I won't forget how deeply Tec's verse sunk on first listen. When he raps "She asking questions that's exposing all my inner scams," several situations open themselves up to further scrutiny. And for a generation in perpetual search for connection, Ghost's recommendation to cater more sensitively to "the interior decorations of our mental palace" is quite revealing. Covering the distinct journey from individual doubt to desires of collective distraction, "Duade" demands more work from the listener, a mission that's intrinsically noble if not necessary. 
Emmanuel