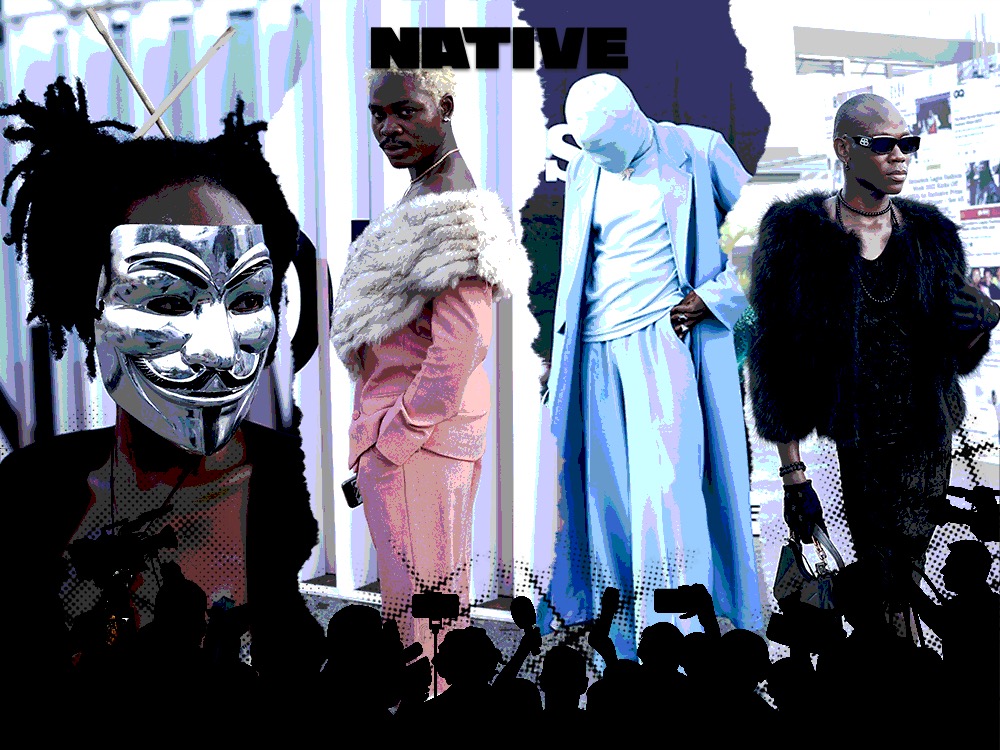 Where Were You: Lagos Fashion Week is a hub for sartorial creativity
Collaboration, Co-creation and community
You don't truly understand the chaos of a backstage fashion show till you have experienced it first hand. It's a whole production, from the builders working on construction to designers frantically rushing, and models eagerly waiting to get prepped by the hair and makeup team. This was the scene I experienced last week, when Heineken Lagos Fashion Week opened its doors to fashion lovers and the potential investors on the 26th to 30th of October.
Contrasting the chaos behind the scenes, guests at Fashion Week strolled in to the venue ahead of the runway shows, with delectable looks and outfits. A pink arc with the words 'Welcome to Lagos Fashion Week' ushered eager guest into the venue, as people mulled around waiting for the day's events to kick off. Streetwear, elaborate frills, colourful ruffles and casual looks were just a few of the recurrent themes amongst the attendees of one of the most highly anticipated events of the social calendar. 
For me, the first day was the most exciting. The show which was slated to begin at 4pm, did not kick off until much later in the evening. At around 7:30pm, just as the sun set on the Federal Palace Hotel, guests began taking their seats inside the Fashion Week tents with audible excitement in the air. On entry, photographers and press had set up opposite the runway with chairs for attendants on either side, all eagerly waiting for the main event to commence.
View this post on Instagram
The show opened with womenswear brand Kadiju, which was founded by Oyindamola Aleshinloye. She is known for her collections marrying complexity and sophistication through brightly coloured fabrics and voluminous silhouettes. In the same vein as its previous collections which adopt a maximalist approach to ready to wear designs, Kadiju's 004 collection "The Antithesis of Convention" did not shy away from this. The collection was breathtaking and effervescent, with a standout being the hand crafted pieces including Kadiju's Orange v Lotus which is made with 17 yards of silk dupioni and Silver Metal Spiral Skirt.
Desirée Iyama followed shortly after with a collection filled with pastel greens coupled with bright hues of red and pink. Her stunning collection was one of, if not the only ones, that featured a plus-size model in her signature Eudaemonia Crepe mini dress. As her bright collection was ushered off the stage graciously, the real scene stealer came next with LGBTQIA+ activist, Fola Francis who made her runway debut on the LFW stage. Boldy strutting the runway, Fola Francis modelled for Cute-Saint and Fruché, a landmark moment that was widely celebrated because Francis is the first openly trans models to walk Lagos Fashion Week and any other fashion shows in the country.
She was styled in a red Cute-Saint number which also featured a batik logo imprint while her Fruché runway featured a snow white dress which adorned with elaborate cutouts and celebrated femininity in all its greatness. Fruché's presentation was made more memorable given that the collection served as a touching tribute to his father, Gabriel Onuwa Aghuno. As such, Frank Aghuno, the brainchild of Fruché, enlisted a painter to redesign one of the collection's standout dresses live on the runway. Clips from this moment have been shared on social media and received rave reviews for mimicking Bella Hadid's spray-painted dress moment with Coperni.  
View this post on Instagram
The second day of LFW had an equally interesting line-up of designers including the Green Access finalists Oshobor, SVL Designs, Sahrzad Design, House of AKACHI and Olisa Kenya. The Green Access initiative was created to provide a platform and spotlight the young designers prioritising environmental sustainability, recycling and other ethical means of production. Alongside their LFW debuts, there was also collections from the talented designers at the South African Collective and Nigerian designer, Tia Adeola, who has stacked up a roster of clients including Gigi Hadid, SZA and more. 
Kenyan designer, Kiko Romeo, utilised elegantly simple silhouettes for models of all genders, perhaps to balance out the uniquely dyed patterns used on most of the pieces. A memorable part of the show was Tia Adeola who opened her set with a ballet performance by a dancer in a bright yellow leotard with ruffled hems. The dance was set to Fela Kuti's "Lady", showcasing more familiar roots to a dance form that is often exclusively seen as European, with unabashed femininity. The collection followed through, utilising sequins, lace and the brand's signature ruffles to give the looks a soft and romantic flair.
Under the SA Collective, designers laid emphasis on prints with Munkus' use of portraits colliding with wide set, bold silhouettes which created pieces to remember.  Imprint by Mzukisi Mbane also tapped into the designer's roots by using traditional Xhosa prints and the use of cowboy hats also contrasted with the prints, creating an allusion to the old American west. Another SA designer known as Ezokhetho had allusions to classic American imagery with hats, high boots and fitted skirts that evoked the 1960's uniforms of Pan Am flight attendants.
View this post on Instagram
The final day of LFW was indeed one of the most memorable. The Green Access designers showcased their daring and audacious collections to the eager attendees who's anticipation seemed to rise as the days went on. Despite all the pomp and circumstance around the finale, many presentations had quietly sincere moments. There was emphasis on family, with the sustainable designer Abigail Ajobi kicking off the day's events with a video depicting the influence her parents' love had on her collection and ending with a tearful family meet up on the runway. 
There was also a reminder of the growing need for environmental consciousness in fashion through the Green Access brands, perhaps in acknowledgment of their emphasis on reducing waste. The collections mostly took the minimalist approach, for example, HOUSE OF AKACHI featured unique designs with refined silhouettes. A major exception, however, was the brand Oshobor, which stood out with boldness both in colour and feathery textures. 
BLOKE, known for their gender neutral, androgynous pieces also showcased stunning looks from his SS23 collection 'A POLAROID NAMED CAMOUFLAGE'. On his inspiration behind the collection creative director and founder, Faith Olujimi shared, "This year, I traveled a lot. I started the year in Ghana and went back twice. France and Italy, twice. I also went to Germany and Seychelles. So it was a combination of everything and all the places I've been through. My experiences with customs, the people, the culture and everything mixed together inspired the works I'm about to show."
View this post on Instagram
Alongside the riveting collections on the runway, there was also other interesting brands invited to the stage. The most memorable of which was Lush Hair, the synthetic hair company which has been donned by your favourite celebrities including Ayra Starr. One model's russet locs framed the upper half of her body in a discrete lion-like fashion. While some models featured bald and low cut looks, others donned ponytails and the rest, intricately woven cornrows. It was also refreshing to see some brands utilise such experimental hairstyles, as most other presentations prioritised simplicity, understandably to ease the rotation of models.
Music also played a big part in the memorability of the nights at Lagos Fashion Week. While a lot of interesting music choices were used throughout the shows, a standout was from Austrian Lace who exhibited their collection on Day 3. The brand had live musicians performing string covers of contemporary African music, the most distinctive of which was Asake's "Peace Be Unto You". Fruché models also walked to "Alien Superstar" and "Heated" from Beyoncé's latest studio album, 'RENAISSANCE'.
All in all, Lagos Fashion Week returned with a bang for its 11th year running, and continued its mission of fostering a hub for African creatives across all spheres. Photographers, designers, models, dancers, musicians, stylists and more, were in attendance for the celebration of some of the best innovators in the fashion scene in Africa. I definitely will be back next year.
Featured Image Credits/NATIVE
---
Words by Moore Wright and Nwanneamaka Igwe. 
---