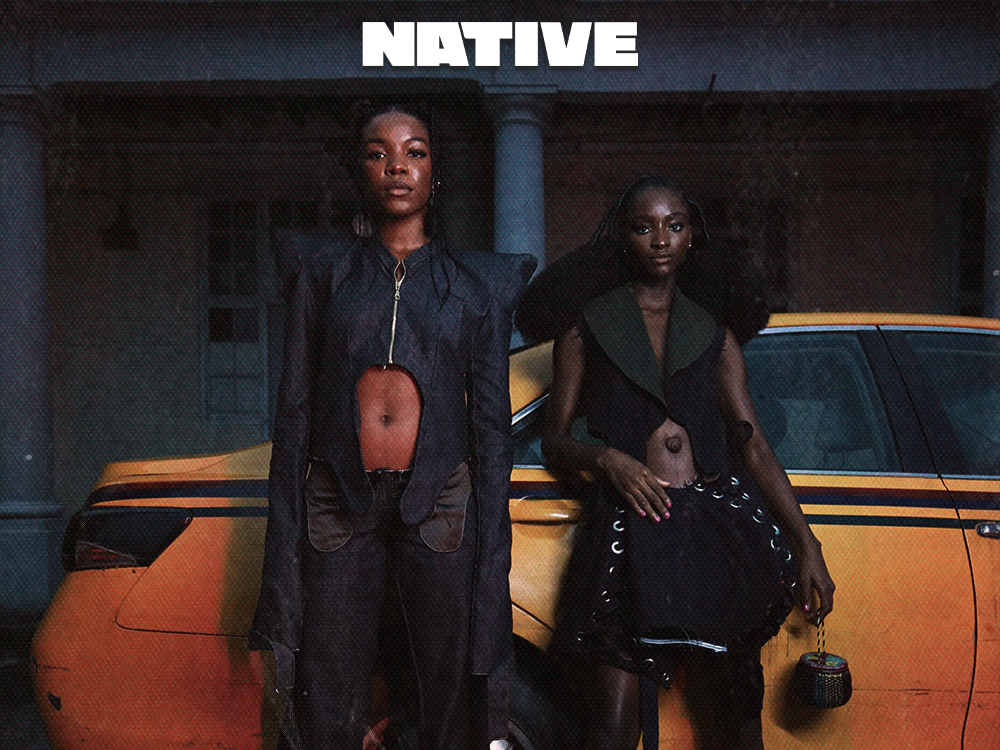 NATIVE Exclusive: Chinye Mugo Is Telling Meaningful Stories Through Fashion
"Let Live"
These days, social media brings audiences up, close and personal with their favourite brands and online personalities. Consuming this deluge of information can be exhausting for any twenty-something African who is finding a balance between consumption and creativity. For Nigerian designer, Chinyemugo Obiekwugo-Charles, this is a familiar struggle that she recognises while owning and maintaining a ready-to-wear brand in Lagos. 
"I just want people like me that don't really fit into any one circle to know that it's ok not to fit in. That's what makes you special. That's what makes you perfect. Being imperfect is perfection in its own way," she shares in an interview with the NATIVE. This desire to seek comfort within ones self is firmly at the centre of her namesake brand, Chinye Mugo which is known for its neutral colour palette, distinctive layers and recycled hand-woven knits. 
While it has been in the vault for many months, Chinye Mugo only launched its debut collection this July and already, it's making waves. The collection split in two parts titled Controlled Chaos and Growing Circumspection – an honest reflection of intentional imperfection with references to the Nigerian Civil War. For Obiekwugo-Charles, utilising clothes to tell a wider story and make someone feel accepted or welcome is as important as the clothing itself. "I do portray an air of imperfection intentionally," she shares candidly.
View this post on Instagram
Following the brand's recent successful debut and entry into the fashion scene, we caught up with the brains behind Chinye Mugo to discuss all there is to know about the must-have label.
Our conversation, which follows below, has been lightly edited for clarity. 
NATIVE: Thanks for joining me today. Could you talk me through the inception of Chinye Mugo?  What pushed you to establish a brand in your name?
Chinyemugo: My brand is Chinye Mugo and it's taken from my name, Chinyemugo. I thought it would be cool to separate the two. I've wanted to create this brand since I was young and I feel like this has been coming for at least ten years now. I've been designing since I was 10. I initially wanted to start in 2025 but last year, I decided that there was no point in putting it off for so long. I'm never going to be 100 percent perfect at the start, so I might as well get started. I only hoped I'd be able to push myself to grow as time progresses. 
How does your Nigerian heritage influence your designs or processes?
The fact that I'm already designing from the subject position of a Nigerian is going to naturally affect the outcome. However, I don't naturally pull so much inspiration from Nigerian culture. It's always going to have subtle Nigerian influences but I don't think that's the main thing. This collection, however, was inspired by the Nigerian Civil War but not in terms of culture or anything like that. 
Talk to me about your background in fashion and how long had the brand been in the works? 
I designed a quarter of the collection last year; two or three outfits. I designed six this year. I currently attend Parsons School of Design in New York. Before that, I went to Cambridge School of Visual and Performing Arts where I studied the UAL extended programme for two years. I have been doing art. 
If you had to describe the brand's ethos, what would you say? 
My brand ethos is let live. Just let live and be yourself mainly because it's ok not to be perfect. As cliche as it sounds, it's genuinely the truth. In my designs, I do portray an air of imperfection intentionally. I feel like garments lose their personality and individuality when people expect it to look perfect. I like garments that have a bit of wear to them. You can see that time has affected a change in it. Maybe it's distressed or the seams are ripping. I like things like that. I feel like we live in an age where we are almost being pressured to take upon different identities aside from our own. Being imperfect is perfection in its own way. 
View this post on Instagram
Who are some designers or creatives you look up to in the African fashion industry or beyond?
I try as much as possible to admire people's work and not necessarily take inspiration from them. The people I admire in the industry, I'll say Thebe Magugo, Supriya Lele. I'll also say some of the greats like Karl Largafield for Chanel and Christian Dior. I'm also a big fan of Craig Green and Kim Jones. I really loved Virgil Abloh. He is a genius. 
Longevity in creating as opposed to being trend is something a number of conscious consumers pay attention to. How do you draw the line between these two whilst creating products that appeal to your audience now? 
I feel like there's a collection for everything. As for now, I am more interested in creating pieces that have a story. I'm not focused on the monetary part of it even though the money is important. When I design, I do so from a concept and however, I'm feeling at the time. I'm a very emotional person and I cannot really process my emotions without putting it down on a piece of paper. I don't really design from a consumer's point of view mainly because  as designers, we tell consumers what they want. It's just about reading and knowing your customer well but I don't design from the perspective of the consumer. 
How would you describe your inspiration for the looks in your collection? 
The title of this collection is "Controlled Chaos" and it's a theory of design where I propose that control and chaos cannot be mutually exclusive when it comes to design. The two should not be mutually exclusive but they should become one functioning machine. So, I factor in a little bit of chaos and a little bit of control to create controlled chaos. I referenced control in this collection with the Catholic church. That's religion so there's a lot of control there, naturally so. I also referenced control in terms of government officials which I studied in the Biafran war. I did a lot of hand knitting from existing sweaters I owned or found and that's also a sustainable aspect to this collection. 
I do think for my brand, I am striving to include a lot more sustainable aspects in how I design. I also referenced chaos in terms of brutalism. When you look at brutalist architecture, you might see a daunting shape appear out of nowhere and it's just made out of cement. It's very obstructive. I use that as inspiration. I create these layering techniques in my skirts that are very obstructive because it's not constructed in the way that it looks. It's constructed in a new, innovative way. It's really just about taking subtle references and ideas behind these movements as inspiration.
Why did you adopt more neutral colours or patterns in this collection? 
Yes. I'm not really a fan of vibrant colours. I like darker green, moss, creams, browns and denim mainly because I feel these colours exude a rustic aesthetic that's almost antique-like. I'm trying to portray the feeling of wear and tear even with the colours I choose. 
View this post on Instagram
What would you say has been your biggest challenge establishing Chinye Mugo the brand? 
I would say designing my logo myself. I designed that logo probably about twenty times. I also changed the name many times. At one point, it was Mugo Mugo or Mugo. I think establishing my brand's identity was really difficult for me but I decided to allow the brand to form an identity on its own. Consciously or not, I'm already curating a specific aesthetic for the brand without knowing. There's no need to put too much pressure on how the brand looks. 
Carving your way through an industry as a newcomer must come with its own challenges. How do you navigate them?
I'm definitely learning on the go. Thankfully, I'm surrounded by a lot of people that are very happy to help and lend me advice. It's been very exciting to step into that world and understand what goes on. I'm usually also in my own head a lot and I stay by myself. I tend to create my own space and exist in it. I'm finding that now, I have to put myself out there more. I have to allow people to take part in my creations and that's something I never really anticipated. I'm looking forward to learning and discovering more in that regard. 
We spoke earlier about sustainability and using more ethical methods to production. Are there any changes or methods you see yourself adopting in the future to adjust to this? 
I'm very focused on my prints at the moment. I create prints with bleach and I'm trying to solidify that. One of the jackets is completely lined with this bleach pattern on the inside. I'm looking into more sustainable ways to create prints. Even beyond prints, I don't see my brand as an extreme fast fashion one.
What are some of your goals for the brand moving forward? Any next steps you could share? 
I will be having a fashion show so that's something to look forward to. I feel like it's going to be really groundbreaking. I'm also looking at dropping a ready to wear collection very soon. 
Who is the quintessential Chinye Mugo customer?
They're definitely brave. They do not give a fuck about what anyone has to say. They just do their own thing. They're going to wear what they want and say what they want because at the end of the day, it's a free world. The world can't be free on only some people's terms. They're individualistic. 
Featured Image Credits/The NATIVE