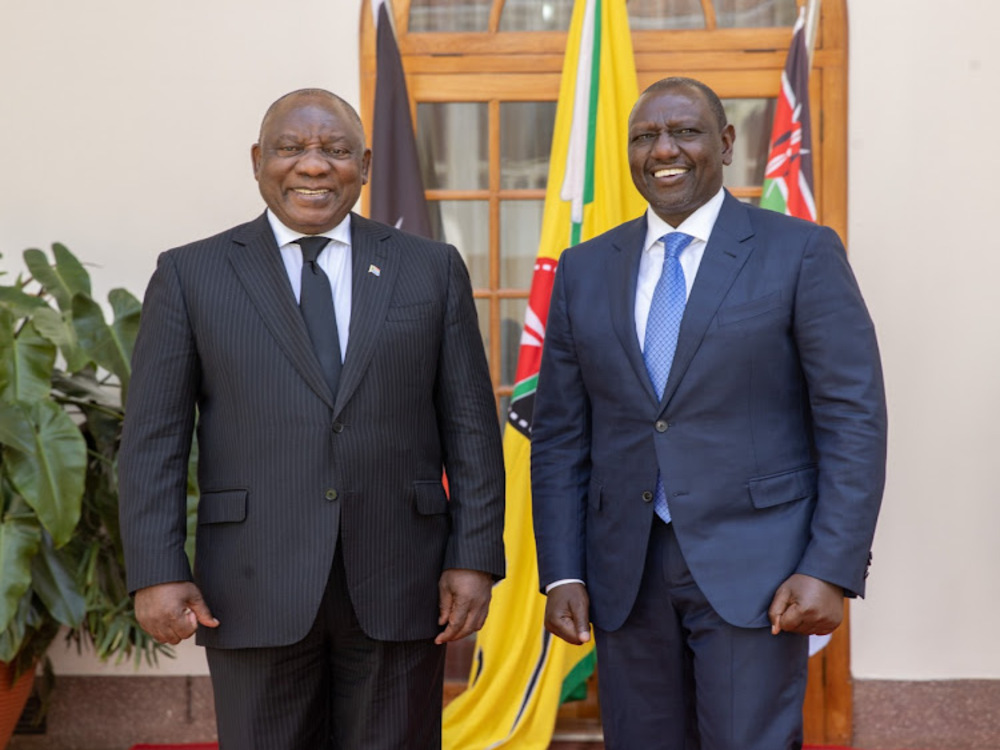 What's Going On: Nigerian Tiktokers Arrested, Sudan State of Emergency & More
Notable headlines from around the continent
"What's Going On" Tallies Notable News Headlines From Across The Continent — The Good, The Bad, And The Horrible — As A Way Of Ensuring That We All Become A More Sagacious African Generation. With This Column, We're Hoping To Disseminate The Latest Happenings In Our Socio-Political Climate From Across The Continent, Whilst Starting A Conversation About What's Important For Us To All Discuss. From Political Affairs To Socio-Economic Issues, 'What's Going On' Will Discuss Just That.
---
NIGERIAN TIKTOKERS PUBLICLY PUNISHED FOR DEFAMING NIGERIAN GOVERNOR
Two Nigerian skit makers have been found guilty of mocking and defaming Kano State governor Dr. Abdullahi Umar Gadunje on their TikTok and Facebook pages. Nazifi Muhammad Bala 23 and Mubarak Isa Muhammad 26 were arraigned on Friday at Kano State Magistrate Court where they were accused of tarnishing the governor's name and position and inciting public disturbance following a skit they had created.
"The man Ganduje is not trusted by the people of Kano and is someone who can use his eye to see any parcel of land he will sell," the duo said in their TikTok video. "He is a husband to an influential woman and a father to an Arabian. He is also from Kano State. The qualities of this Ganduje are as follows: He is a governor that loves to sleep," they added.
According to a Kano State Judiciary Spokesperson, the duo didn't ask for a lawyer and immediately pleaded guilty.  Kano Court Magistrate Aminu Gabari then ruled that the convicts would each receive 20 public whippings to serve as a punishment for defaming the governor. They were also subjected to a fine of N10,000 each for public disturbance and ordered to sweep the Kano Magistrate court complex for a month. In addition, they would immediately apologize to Governor Gadunje through their social media platforms. The director of Amnesty International Nigeria, Mr. Osai Ojigho condemned the ruling stating satirizing those in authority is not a crime, and bashed the Nigerian authorities for holding the two tiktokers in remand for a week without a trial. 
KENYA AND SOUTH AFRICA AGREE ON MUTUAL VISA-FREE TRAVEL FROM 2023 JANUARY
South Africa has removed visa requirements for any Kenyan traveling to South Africa for a  maximum of 90days from January 2023. South African president, Mr. Ramaphosa was in Kenya for a two-day official visit to boost bilateral trade when he came into agreement with Kenya's president Mr. William Ruto. South Africans have enjoyed the privilege of visiting Kenya without a visa since 2017 while Kenyans have often complained of the hurdles faced when traveling to South Africa including the long visa processing period which currently takes at least five days. 
This move from the two governments comes in an attempt to promote trade and investment. Furthermore, the two countries signed cooperation agreements in correctional services; housing, and human settlement; the Kenyan School of Government and the National School of Government, and an audio-visual co-production agreement. 
[READ]: Joint Communiqué on the occasion of the State Visit by His Excellency President Matamela @CyrilRamaphosa to the Republic of Kenya [1/2]#SAinKenya 🇿🇦🇰🇪#BetterAfricaBetterWorld 🌍 pic.twitter.com/Bb3XmCv8ry

— Presidency | South Africa 🇿🇦 (@PresidencyZA) November 10, 2022
President Ramaphosa further emphasized that both South Africa and Kenya were leading economies in their regions. "Kenya is the leading Economy in East Africa, and so is South Africa in Southern Africa. We have demonstrated a firm commitment to sustainably increase trade volumes and foster greater investments in each other's economy," Ramaphosa said. Ruto stressed that specific barriers of trade between the two countries had to be removed to upscale trade volumes between Kenya and South Africa: "President Ramaphosa and I have also agreed to develop a sustainable mechanism to identify, monitor and resolve non-tariff barriers that limit the trade potential between our two countries." 
STATE OF EMERGENCY DECLARED IN SUDAN AFTER TRIBAL CONFLICT
Sudan's Central Darfur state has declared a state of emergency after gunmen opened fire on mediators who were settling an inter-communal dispute, killing 24 people. The conflict broke out last week between the Arab tribes of Misseriya and Aulad Rached. A Misseriya tribal leader said it started with a stolen moped. On Sunday evening Central Darfur Governor Saad Adam Babiker held an emergency security meeting of the state security committee and issued an order declaring a state of emergency in all parts of Central Darfur for one month. According to locals, the mediators were accused of being biased, sparking anger from the other community. The attack killed at least 24 people and left 41 others wounded.
Last week, the governor of Blue Nile state, Ahmed Al Omda Badi, issued an emergency order also banning all public gatherings, events, and unlicensed activities. Badi acted after communal clashes that killed more than 200 people. The order prohibits blocking public roads, encroaching on public and private property, and circulating content that calls for discrimination among citizens on an ethnic basis, among other activities. Inter-communal conflicts have been on the rise in Sudan since the military coup by army chief General Abdel Fattah al-Burhane in October 2021.
IVORY COAST TO HOST THE AFRICAN CUP OF NATIONS IN 2024
The Officials from the Ivory Coast government have signed a formal hosting agreement for the 2023 Africa Cup of Nations with the Confederation of African Football on Friday. Six stadia in five cities—Abidjan, Bouake, Korhogo, San-Pedro, and the capital Yamoussoukro—will host the 24-team finals, which will be held in January and February 2024. The African Cup of Nations was initially scheduled for June/July 2023 but due to the rainy season in Ivory Coast, it was pushed to 2024. The CAF president Mr. Motsepe stated, "We don't want to run the risk of having a competition that's going to be washed out. It's not good for African football, for our image and we have to work on that basis."
This is not the first time the CAF has moved the finals to a different year. In 2017, CAF announced its decision to move the finals to a summer slot to appease European clubs reluctant to release African players during their domestic seasons, but so far only the 2019 tournament has been played in the traditional off-season. 
Meanwhile, Caf is also looking for new hosts of the 2025 Nations Cup after stripping Guinea of hosting rights last month because of a lack of suitably advancing infrastructure and facilities. Guinea had nearly a decade to prepare for the finals, having originally been named as host of the 2023 Nations Cup in 2014, before then being asked to host in 2025 instead The political situation in Guinea, which has been under military rule since a coup last year, had led to concerns over security and organization for its Nations Cup hosting. Motsepe said he visited Conakry out of respect to discuss with local authorities how Guinea can improve its infrastructure to a level whereby it can host major events in the future. "This will enable Guinea to bid for the African Nations Championship (Chan) which will take place after the Chan in 2023, in light of the decision not to proceed with the 2025 Nations Cup in Guinea," Motsepe was quoted as saying in a CAF statement.
---