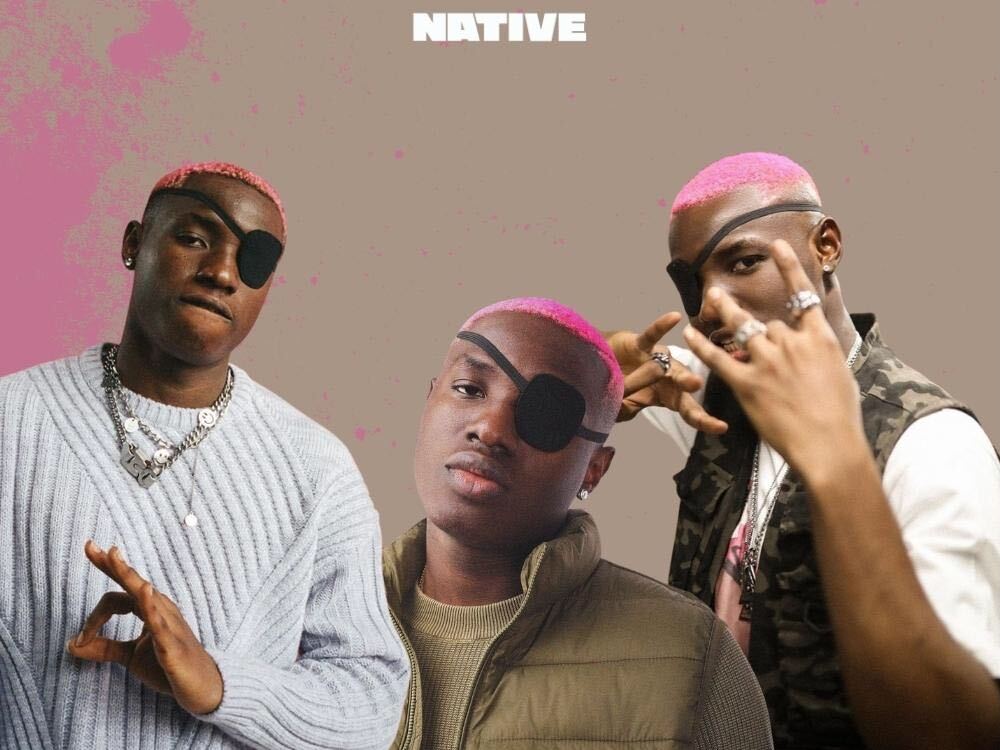 How Ruger is championing the hypnotic sound of Dancehall
exploring the musician's sensational second wave
There's a video currently making rounds on social media; it's of the Nigerian artist Ruger performing at a packed venue in Port Harcourt, the capital of Rivers State. He's leaving the stage, the crowd roaring and his gait triumphant. Then suddenly, he turns back and the familiar, sunny bounce of "Girlfriend" fills the room, causing the audience to go even wilder. The artist then raises his shirt to flawlessly execute the waist-turning dance move he's associated with the record on TikTok and other social channels. 
View this post on Instagram
That seconds-long clip highlights everything that makes Ruger a very unique artist in the African pop scene. With bold splashes of Dancehall, the 22-year-old artist has created truly big records while adapting a similarly energetic edge to his overall brand, not excluding stage performances. Right now, only a handful songs are circulating Nigeria with the vim of "Girlfriend". It's not yet a fixture on the charts but, in a way akin to "Buga," it's being championed in the streets and all sorts of public spaces, as Ruger sings a sweet tease about not sticking to one woman. 
Interestingly, the song is housed in a project titled 'The Second Wave,' which acts as a statement on Ruger's evolution. He arrived like many before, snapped from the gift that is social media and chiseled into almost perfection by Jonzing World's D' Prince. The self-styled Omo Oba became highly revered after his discovery of Rema, proving that he had eyes and ears for not just singing talent, but characters with big personalities. On "One Shirt," he united both proteges to sing of trying times, which from the onset, weaned Ruger towards that level of introspection. As an active artist, he'd blended his sex-alluding tracks such as "Take Banana" with comically-delivered lessons, as on "Oga Titus". A way sort of, to diversify the thematic material.
Those were big shoes for Ruger to step into. He had undergone a year of artist development under Jonzing Records but the world of music, with its slippery field and charts system could easily leave one disillusioned. If he was nervous, it never showed in the music. On his eponymous single, his spritzy lyrics laced with Jamaican patois, and his lyrical dominance ("it's crazy none of them ah can debate me") earmark him as a rising star to watch. It was remarkable to witness as Ruger's potency wasn't solely rendered by the words he sung, but how he sung them. Each line was delivered in a zesty style modelled after the object of his moniker, bending syllables akin to the ways of great Dancehall purveyors.
That debut project was named 'Pandemic,' a title that could have easily been a PR disaster if the music wasn't that good. Though the self-titled record aligned his values of ghetto-bred resilience, "Abu Dhabi" exposed his sweeter ways, a broad lyricist capable of pulling the heart's strings as easily as the trigger of a gun. "Yekpa" and "Monalisa" were sweaty entries into the frenzied state of a party. The latter was especially vibrant, bursting with full drums as Ruger coerces the named maiden, in summary promising a good time and wanting to "deplete your ozone layer." Lewd? Perhaps. Creative? Sure. 
Ruger comes from a generation of clever songwriters with enviable wordplay, blending their real messages behind the assurance of a metaphor. It's a particular talent of Ruger to know how to switch in-between, when to openly state what is and when to utilise an imagery, to evoke a moment in time. Those characteristics abound in "Bounce," the longest lasting hit off 'Pandemic' and the biggest emblem of his first wave. It wasn't the immediate catch off the six-track EP but when it did, those sunny progression of its early notes couldn't leave one's ears.
Whether at an outdoor party or in a market, "Bounce" easily slotted in. Its leap into the Apple Music Top 100 in sometime in June 2021 was visibly emotional for the artist who tweeted a note of appreciation to  his fans, D' Prince, his Jonzing World team, and to producer Kukbeatz, "for helping me produce the HARDEST project out now." That alliance between producer and artist has birthed two acclaimed projects, fitting everything within a cohesive whole yet colouring the individual songs with unique sounds. It's a marvel of artistry which hasn't been given its deserved acknowledgement until now.
Kukbeatz's cockcrow signature sound has been a consistent feature of Ruger's hits. On the Dancehall-leaning records ("Bounce" "Ruger"), he's adept at looping bright keys which jump around solid bass. Following Ruger's knowledge of indigenous music, disruptive drum patterns are borrowed from Fuji for records cut for an Afropop classification ("Yekpa" "Monalisa"). So far, "Snapchat" portends his finest entry into the lush plains of R&B, painting sensual pictures and with a really good hang of his tone, working that to chilling effect over the song's three-minute runtime.
Ruger's second wave began with the release of "Dior" last year November. Inspiring covers among other things, it was readily soaked into the folds of popular culture and set a course for Ruger's global aspirations. With themes of opulence embedded within that catchy line, "Bad man looking good in Dior," the effortlessly fun vibe sped up its acclaim. 
On the back of the record's chart success, Ruger released the visuals earlier this year and has toured massively ever since. His travels on the road have revealed him as an energetic performer, eager to embody the sensual direction of his music much to the pleasure of female fans. He's been sexually harassed, severally, and has refused to comment in interviews. In all, Ruger's been in our faces, but it's credit to him that music is always connected to the reason why.
The well-publicised "clash" which coalesced in a thankfully short-lived show-off between BNXN and Ruger started with someone raising a slight at Ruger by comparing him to the artist previously known as Buju. Looking closely at Ruger's take on what stands him out–multiple hit songs, no features, stagecraft–he's not far from the truth. He's perhaps tired of the underrated tag, casted with the image of a second-tier player. You get the sense this is what the second wave is about: to solidify his name in such discussions, to command respect by being a dope writer and an even better performer.
Musically, he's been able to place that never-ending search for artistic excellence in perspective. On project opener "Champion," he's set by ominous keys and scenic chords as he charts the pain of his come-up while acknowledging recent wins. "I be the only Ruger, nobody fit take my place," he sings assuredly. His well-narrated experience of being a phone repairer at Computer Village enters the autobiographical record, extending the triumphant edge of "Bow" into a more informed check at the popstar material he's cut from. 
Even a lesser acclaimed record like "Useless" still burns with Ruger's passionate artistry. Artists usually claim to have no bad songs, but with Ruger that's stating the obvious. A deluxe version of the EP saw Ruger include three songs, namely, "Girlfriend," "Wewe" and "Warning". The first two are engrossed in the everyday affairs of love and sensual existence, heavy on the sharply-delivered innuendos Ruger has dazzled with over the past year. 
Personally, I return to "Warning" more than any other record in Ruger's discography. Part of the reason is because of his recognition of musical lineage, which is obvious in the shout-outs he gives to Nigerian musicians Burna Boy, who brought him out last year at the O2 Arena, Wizkid, D' Prince, D'Banj, 2Baba, the late Sound Sultan, and his elder brother Baba Dee. 
Ruger is a student of the game, and it's a record that also reminds you how assured he is for one so young. The debut albums of Wizkid and Burna Boy were released around ten years ago, which means Ruger's formation and evolution all happened within last decade. With the mentions of Marley and Dube, he notes an underlying love for Reggae. There's a shared ancestry between both continents, and crystallised through Reggae's entry into Africa starting from the seventies. Sonny Okosun's 1978 record "Fire In Soweto" was one of the early African songs with a recognisable Reggae element, and in latter years musicians like Ras Kimono, Majek Fashek and Evi Edna-Ogoli did great things with the genre. In the late eighties and nineties, Dancehall struck off from that success with a less moral perspective on life. Of the many, Blackky's "Rosie" has become the quintessential record of that period.
In someway, Ruger's sound harkens back to that era. In style, the sound of contemporary Afropop is audibly influenced by Dancehall and we've had musicians try to infuse its distinct feel into the Nigerian mainstream to different results, from Shank to General Pype, Endia, Ketchup, and Cynthia Morgan. Even ahead of his protege Patoranking, the Bayelsa-born Timaya has arguably been the most successful in this category, parlaying years of continental dominance into an early crossover in the mid 2010's, collaborating to potent effect on records with Caribbean music icons such as Sean Paul and Machel Montano. 
View this post on Instagram
So far, Ruger has collaborated with Dancehall and Reggae artist, Projexx on the remix of "Sidepiece" while his growing profile indicates he'll be getting a much bigger act on a record soon. In interviews, he's been quick to show love for Popcaan and Gyptian (whose "Whine Slow" is Ruger's favourite song ever), while he could also orchestrate a crossover with an R&B leaning act. There's a lot of potentially great ways Ruger can go with his career and for that he deserves a lot more respect whenever the next conversation comes up.  As gleaned from "Bounce" and now "Girlfriend," Ruger has the potential to become Africa's biggest musical export to the Caribbean.