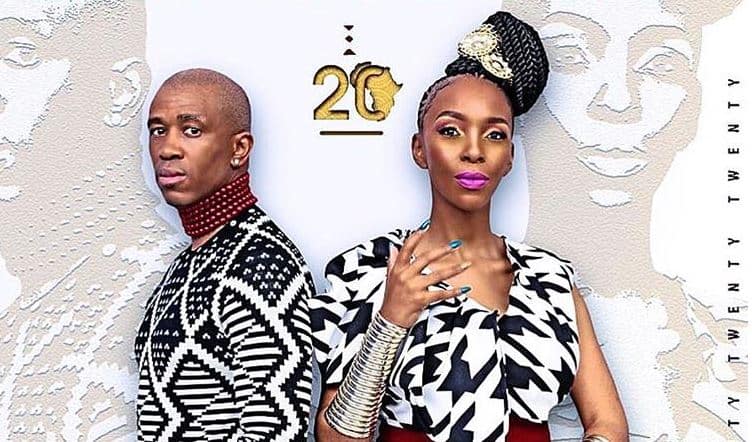 Mafikizolo mark two active decades in music with new album, "20"
Happy 20th anniversary Mafikizolo!
When a relationship has lasted longer than usually anticipated, it is only right that it be celebrated, in whatever way its upholders deem fit.  South African music duo Mafikizolo have been on the scene for 20 years, what better way to celebrate this feat than with music? In celebration of what could be called the duo's  porcelain jubilee, Mafikizolo has recorded and released a new album titled "20" (how creative).  The duo took to Instagram to announce this album's official release.
https://www.instagram.com/p/Bb4JR3VhPmc/
Mafikizolo, are nine albums deep in African music, thus it's not unexpected for some of their initial fervour to have been petered by the passage of time. Perhaps this is why 20 heavily leans away from South Africa's house-indented pop, keying into the West African style of Afropop that has become increasingly popular over the past two years. Those already on board with the duo know that the collaboration of Vocalists Theo Kgosinkwe and Nhlanhla Nciza has always been built on a steady, but enjoyable mix of elements: corroded drums, bass guitar rhythms, and Afro beats.  Conjuring both the whirling cosmos you would get in a typical discotheque and the jolly effect at a traditional setting.
On 20, the duo tap sounds and lyrics from around the continent, collaborating with Yemi Alade, JAH Prayzah, Harmonize, Wizkid amongst others. If you're into artists who are sonically fluid,  then you won't be disappointed by the sixteen tracks here.
Listen to 20 below
>
---
"Ifunanya is too queer to live and too rare to die" Tweet at her @Iphynaya
---